The Great Wolf Lodge
A Resort for Kids - Scottsdale Arizona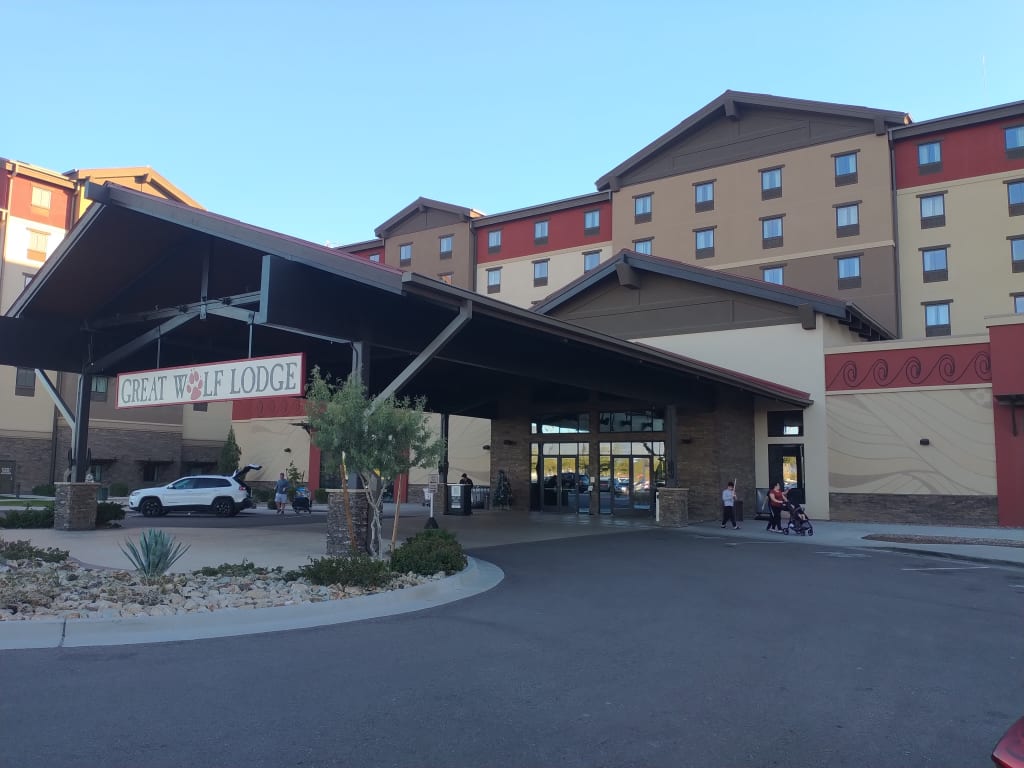 Great Wolf Lodge / Scottsdale/Salt River Arizona
Hunter and I had the opportunity to stay at The Great Wolf Lodge in Scottsdale Arizona on my last business trip for my feature film. We booked at the right time with a 50% off deal as this can be a pretty pricey stay at one of their resorts. We did pay a little extra to have a very cool room.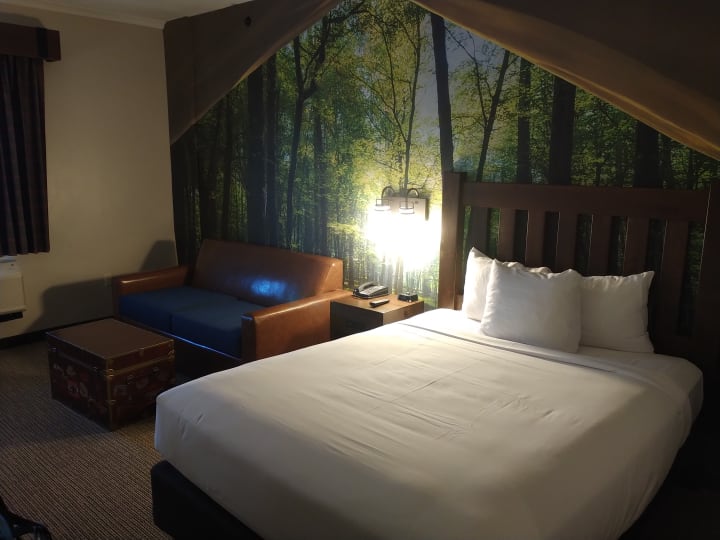 We are very happy that we spent a little extra on our room.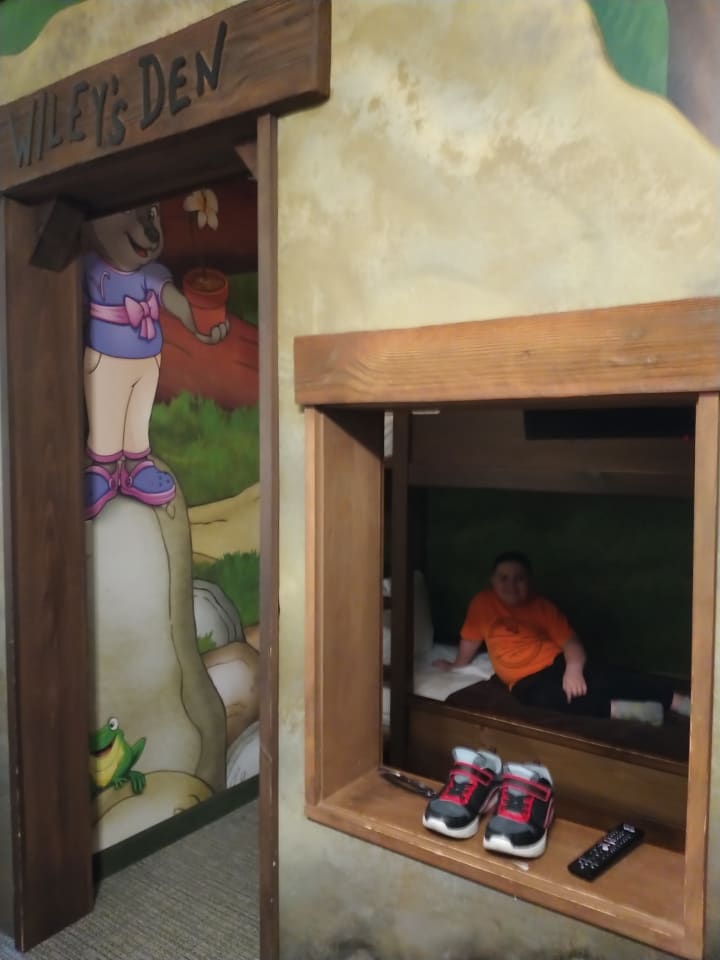 The theme of the entire lodge is very well thought out. The lobby is huge but cozy the second you enter the building. Greeted by friendly staff. Check in was quick. Your key is a wristband that opens your door and also gives you access to their indoor/outdoor water park. We were given a list with all the kids activities for the entire day right up to 9:30p.m.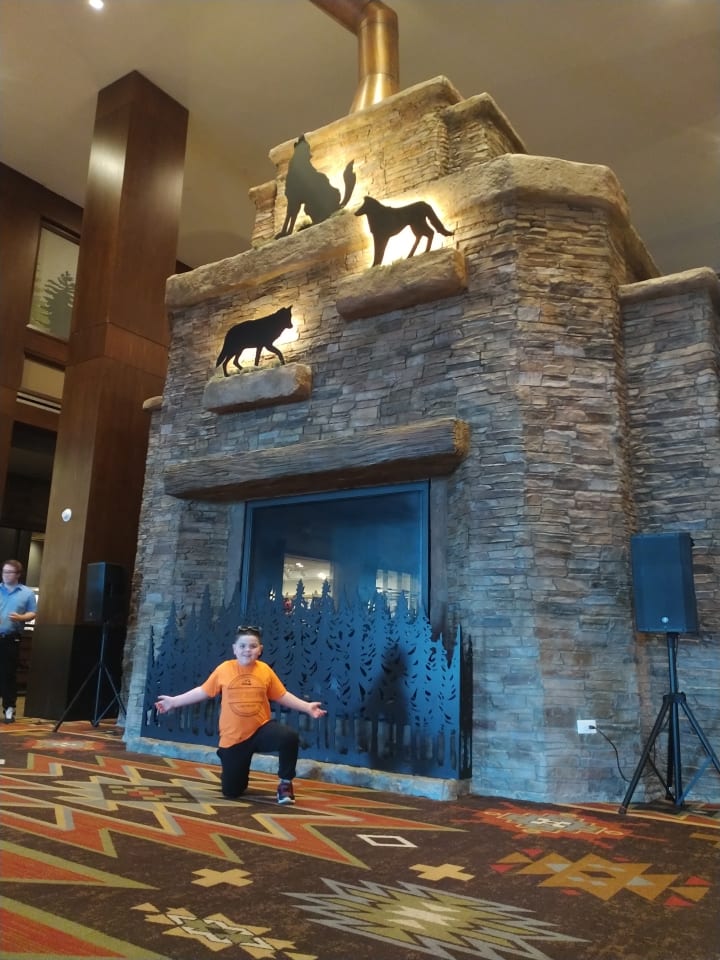 We headed over to the gift shop to pick up our free wolf ears. They are for the kids but they gave me some too. Our room was on the third floor. We followed the bear prints on the floor to our room.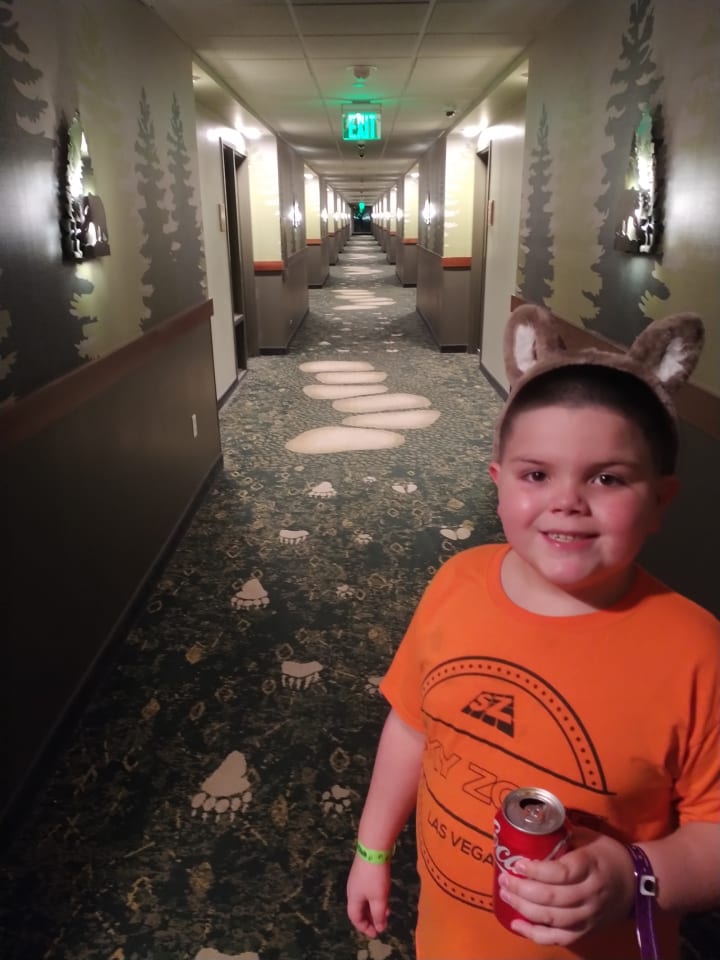 We got ready and headed straight for the waterpark. You can enter the water at 1p.m. even before your check in time at 4p.m. We had driven from Vegas that day so we got there right at check in and lucky the waterpark was open till 8p.m.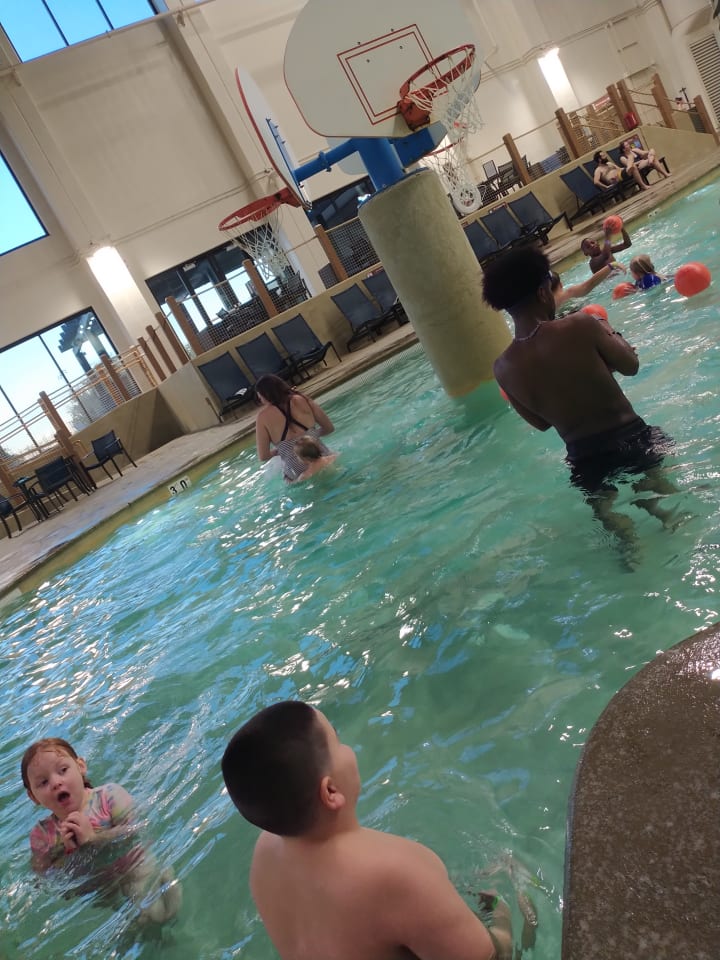 Hunter went straight to the pool and played Basketball with the other kids. I got in there as well. More pools need this in them.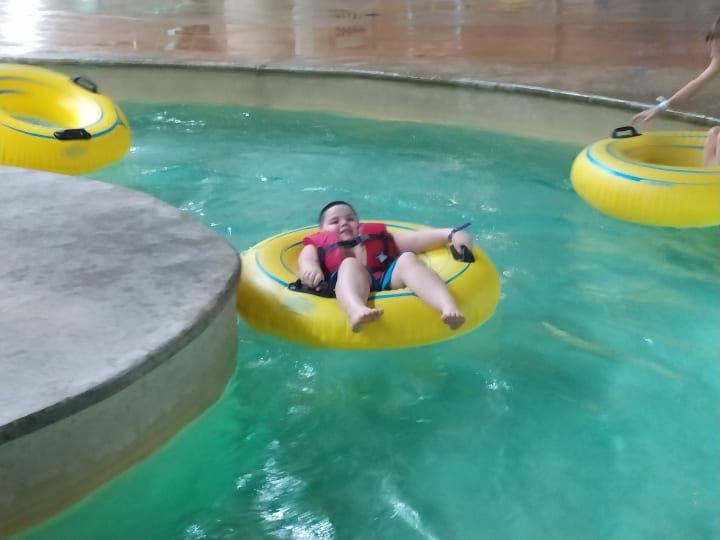 We then grabbed Hunter a life jacket and jumped into the lazy river. It's just a small river but perfect for the kids. It wasn't that deep so the kids can float around and touch the bottom without a tube as well. Eventually he went in without his life jacket as he is a decent swimmer.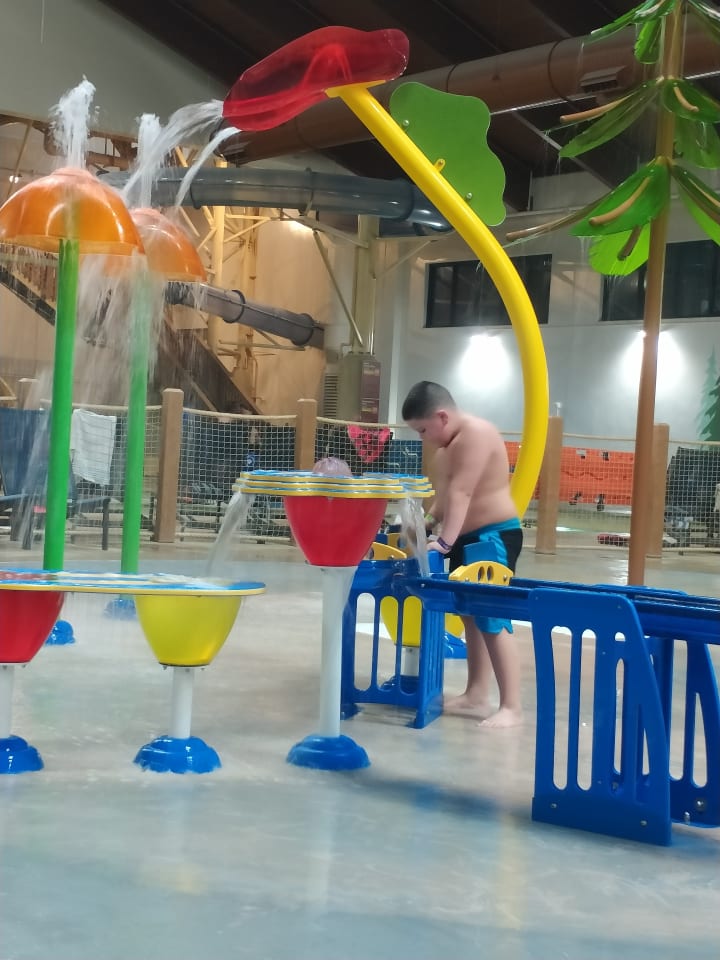 Hunter tried the little kids area. He went on a couple of the little water slides. For the little ones you do need to catch them at the bottom. Hunter may have been a little big for this area. He is a very tall 6 year old.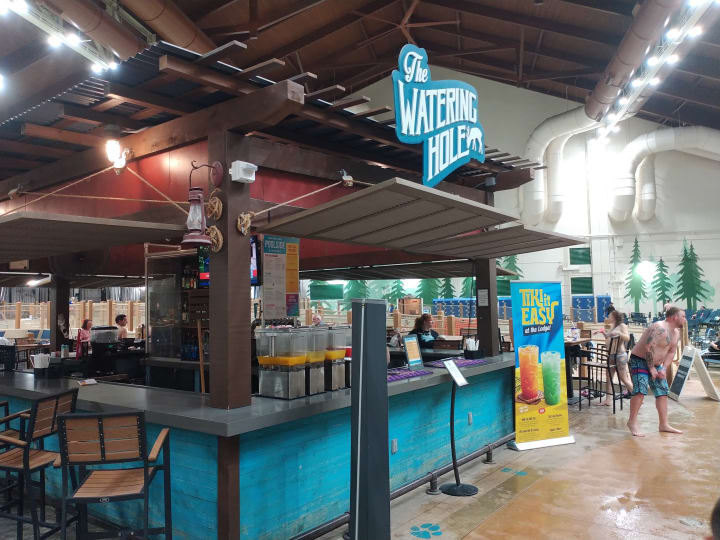 Drinks where available at the Watering Hole, There was also Buckets, a burger joint in the waterpark. So no need to leave while having fun all day.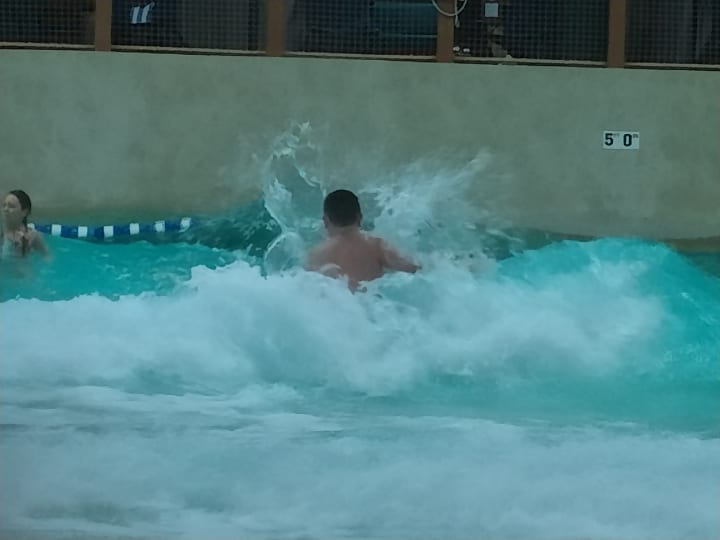 Hunter then jumped into the wave pool. I did too of course. Every so often a wolf howls and the waves start.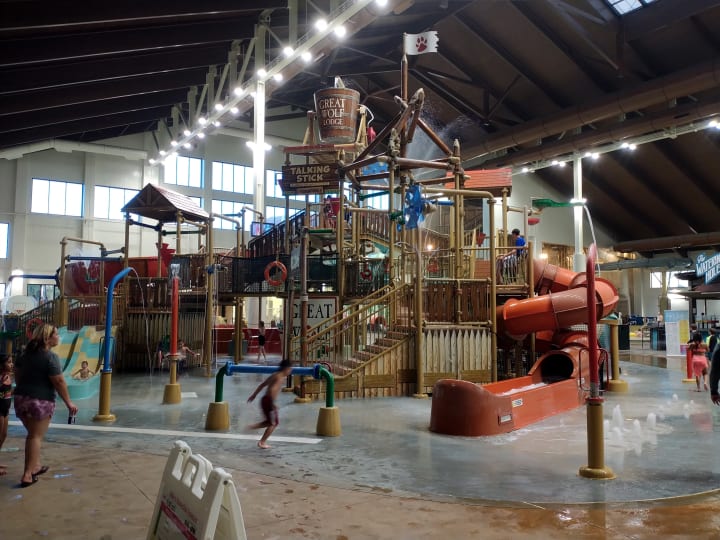 It was time to head over to the Talking Stick Treehouse. Hunter seems to be getting over his fear of those giant buckets that dump a ridiculous amount of water on everyone. He is getting a little bit more brave on the waterslides as well. This little park had 3 bigger slides for the kids a couple little ones.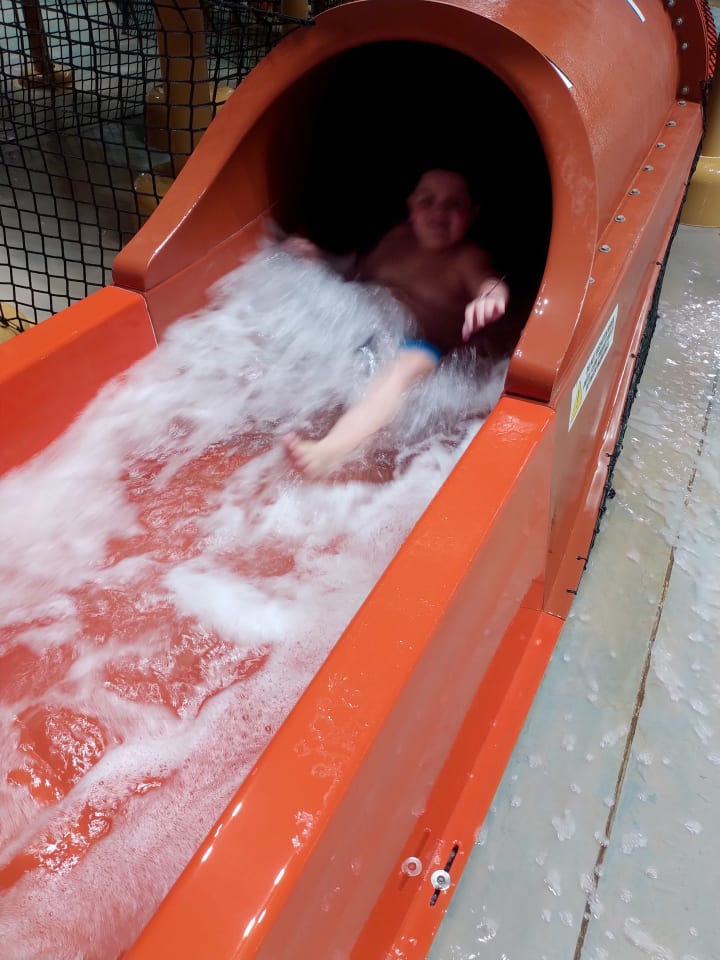 After a few hours at the waterpark on the first day we headed back to our room and got ready for diner.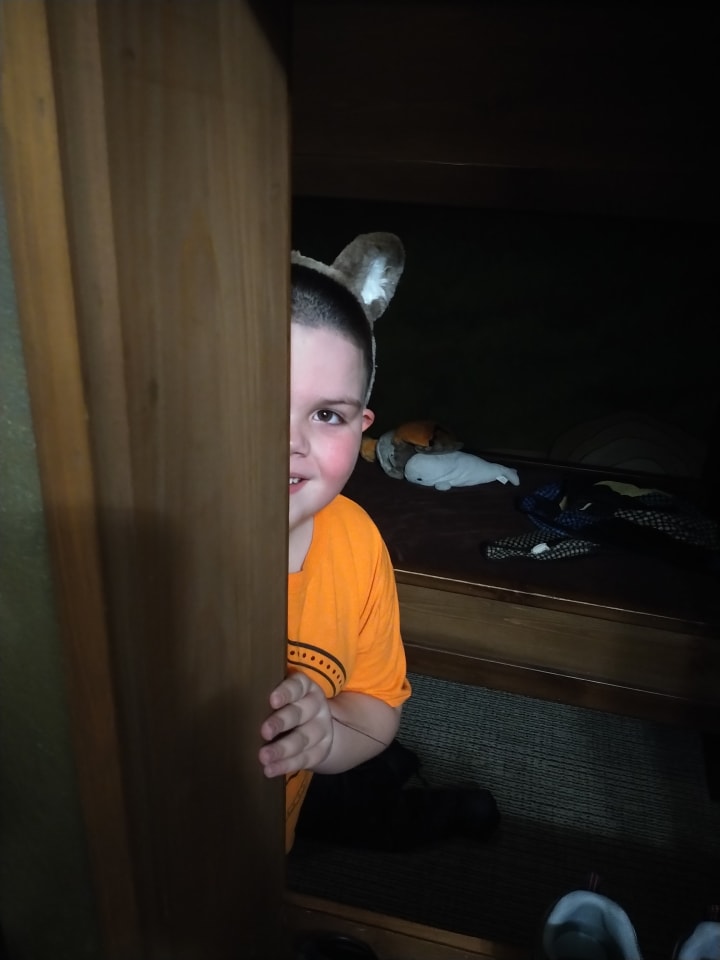 We headed down to get some food over at the Barnwood Restaurant. Wow, what can I say but that our diner was great.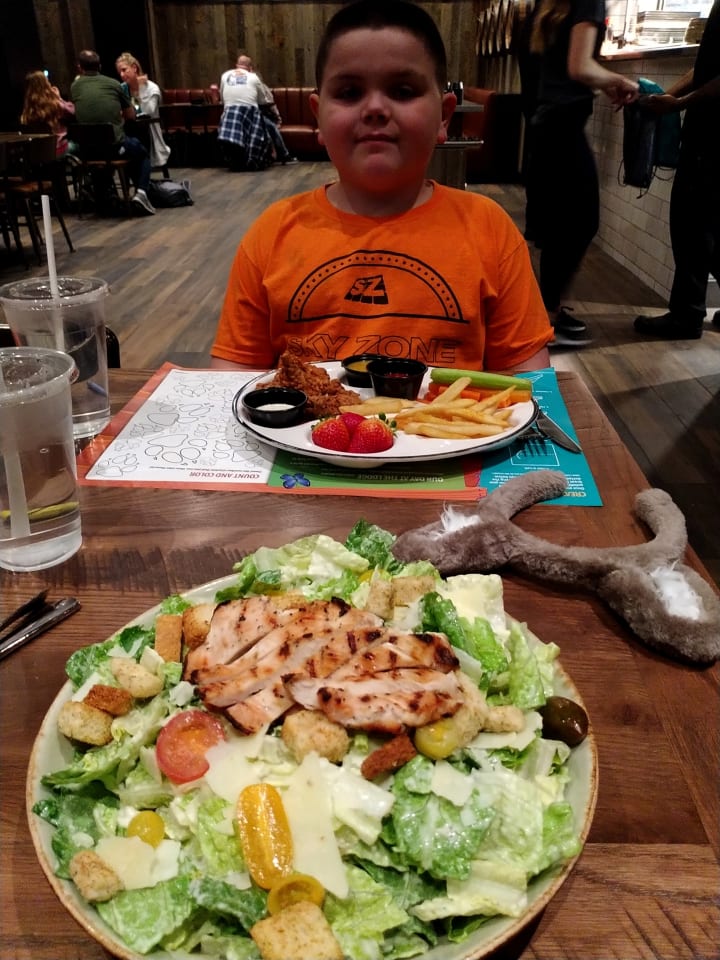 We missed a lot of activities as we were at the waterpark all day like character meet and greats but we did make it out for Storytime. Hunter was selected to play Oliver the Raccoon in the Story Time Play. Look at that smile.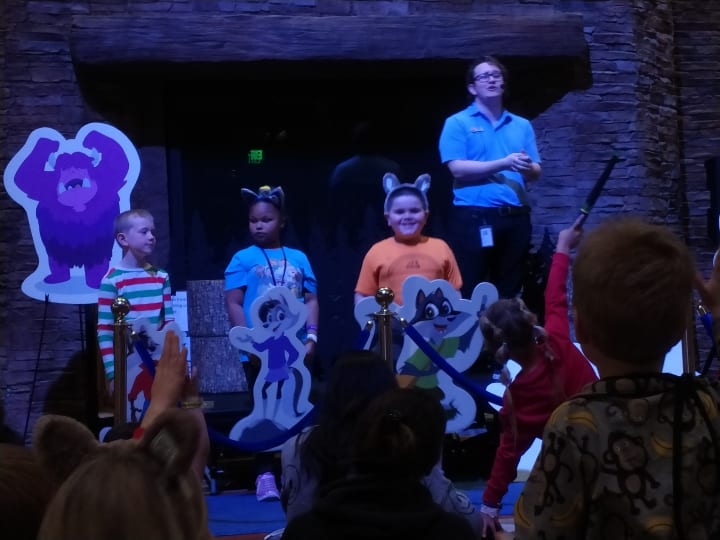 Just before the play Hunter also participated in the Kids Dance Party for a few minutes before our food was served at the Restaurant. The kids where running around the resort in P.J.s at this point. After a very long day we headed to bed for the night.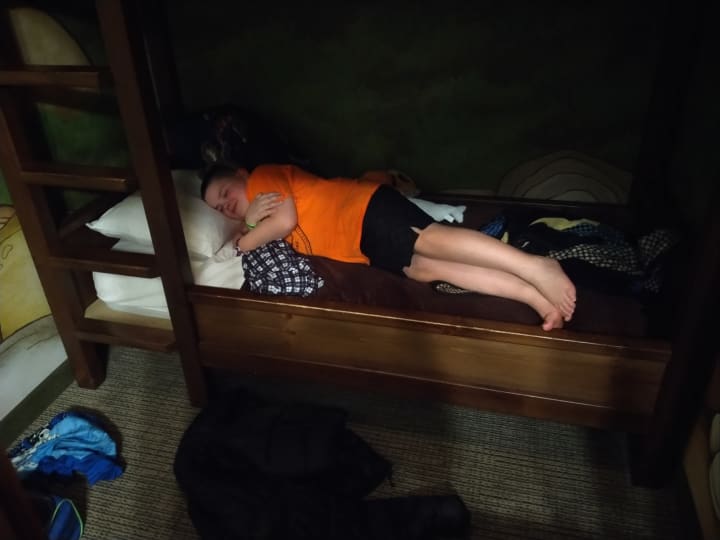 In the morning we packed up, had leftovers for breakfast ahead of our check out time. We headed down to do some arts and crafts.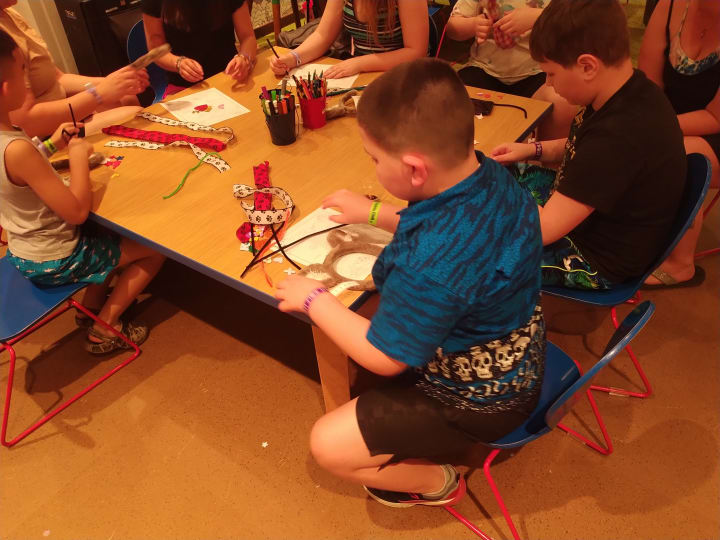 We checked out for the day, headed to finish up my film business in town and then headed right back to the resort. Even though we had check out, our water park passes are still good for the day you check out. We decided to swim outside to start while the Phoenix sun was still out bright and warm. Keep in mind the pool was still open in January. Have to love the heat out in the desert.
The sun started to set so we made our way over to Northwood Springs Hot Tub, at least that's what we call it in Canada. Jacuzzi I guess we call it down south in the USA.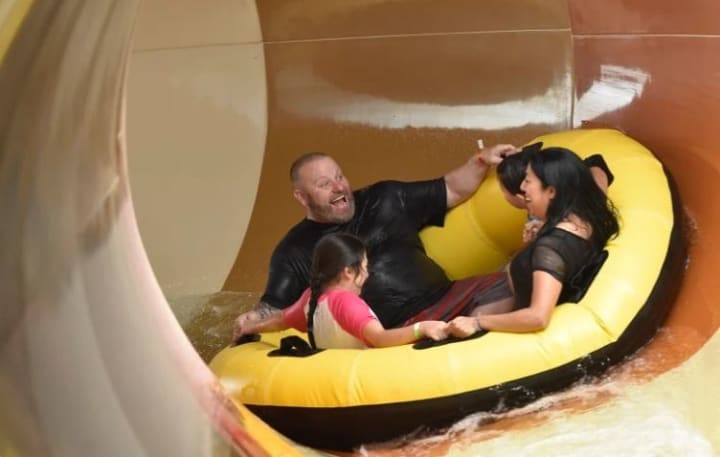 It took some convincing but Hunter went on the River Canyon Run with me. He was a little scared but baby steps. He did it. The park also had other waterslides like this including the Diamond Back Drop, Alberta Falls, and the Wolf Tail which was one that drops you through a trap door.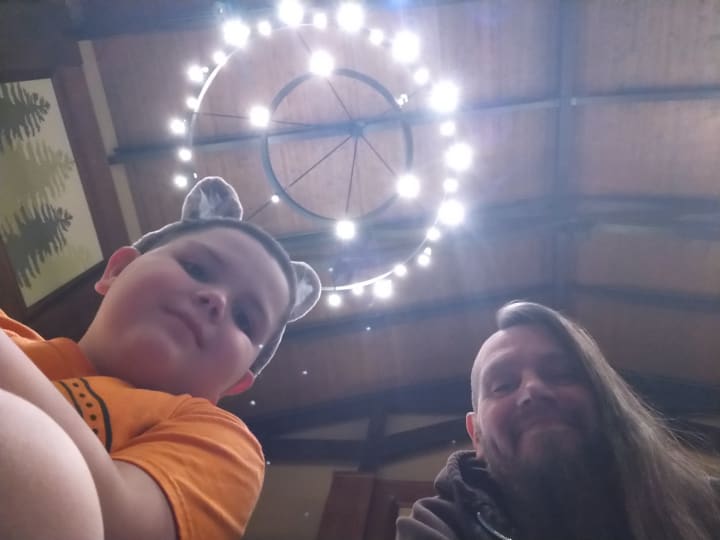 Now we had just a short day so we payed for Mini golf on their little 9 hole course but there is so much that we didn't experience as well. You can get wolf passes for the MagiQuest game in which you run around the resort with a magic wand that activates all sorts of fun things. They had bowling, an arcade, rock climbing wall, a ropes course, The moonstone mine. They even had a build a bear workshop and more. You can pre-purchase a Pup Pass for all those activates. You can also purchase dining passes as well.

Well it was time to go, so we ordered a pizza to go at Hungry as a Wolf pizza joint. Very good pizza by the way and headed back to Vegas in the car. Next time we will stay a little longer. Just look for the deals as regular pricing can be very pricey. You can find Great Wolf Lodges all over the country. The staff where so friendly, the life guards where very professional and very well trained, they did drills once in while where they would through in a fake child and they would jump in and save them to keep them sharp. Endless activities, great food, and nothing but fun. We can't wait to go back again.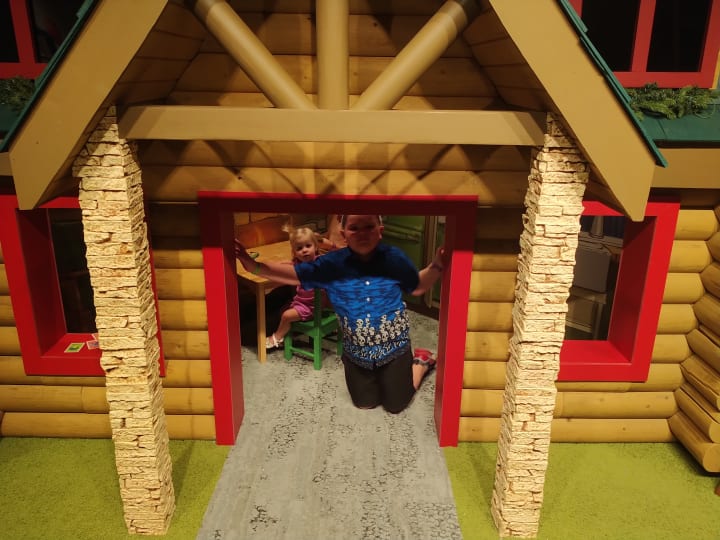 Maybe our next stay will be in Anaheim. What a fun experience at The Great Wolf Lodge; A Resort for kids.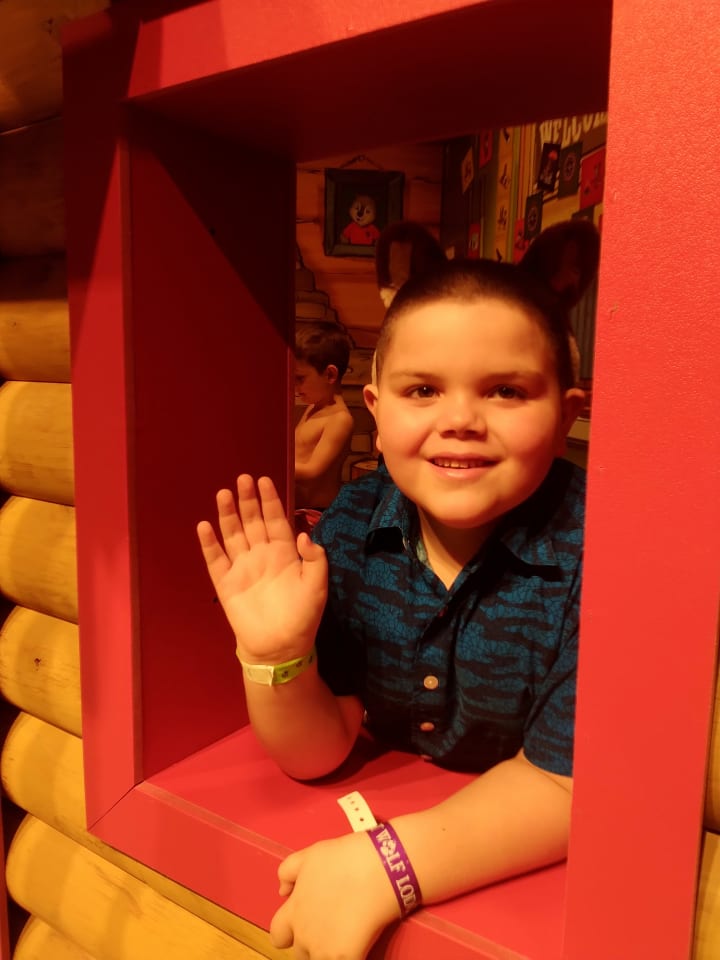 About the Creator
Film Writer, Director, Producer, Props Master and full time single Father. My Son Hunter and I travel the world together. We both make movies together. Here we will show you the coolest places to visit with travel tips and reviews and more
Reader insights
Be the first to share your insights about this piece.
Add your insights