The Beauty of Budapest
Travel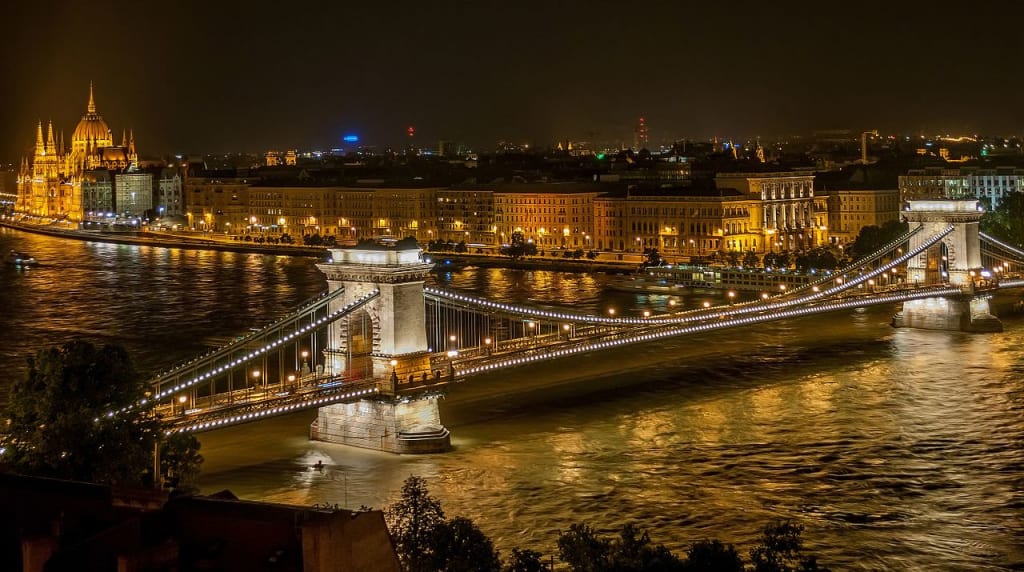 Night view of The Széchenyi Chain Bridge from Buda Castle in Budapest, Hungary
Traveling the world and seeing different cultures is always an amazing experience. In Eastern Europe there are a great many wonderful countries to visit and sites to see. One of the most amazing countries that I have experienced is Hungary. Hungary is an amazing country that has one of the oldest languages and is one of the only European countries to have its own language that is not similar or in common with any other country in the world. I have a special love for Hungary and Budapest in itself, as my ancestors are from there, but that is not the only reason I find it a beautiful place to visit. Hungary is host to one of Europe's longest and most beautiful rivers called "Big Blue" by Europeans: the Danube River. The Danube is used for many things in the lives of Hungarians. On either side of the Danube river lies the capital of Hungary: Budapest. Each side a completely different lifestyle is at play. One is all about the peaceful calm of the countryside and the other is full of the hustle and bustle city life!
If you are one that looks for the small towns that are quieter in nature, then crossing the Chain Bridge to the Buda side of Budapest is the place for you. On the Buda side, the one with beautiful countryside and rolling hills, there is a peaceful sort of feeling as you tour the quiet streets. On Castle Hill, there are beautiful tourism destinations that are a must see on this side of the Danube, such as The Matthias Church and The Fishermen's Bastion. These two places are much more than a tourist destination, of course. The Matthias Church is a catholic church that people still use as a place of worship, not just a relic of old times. The church fits into their castle district in the way that it is Gothic in structure and yet beautifully ornate. It draws you in to its amazing beauty. Lying behind this beautiful structure is the Fisherman's Bastion, which is a pavilion and terrace that overlooks the Danube and the Pest side. The towers represent the seven tribes of the Magyar who are the first to settle in the region. It is called the Fisherman's Bastion, because when war broke out long ago, the fisherman guarded the castle wall. The stone walls of the structure look as though they came out of the sea and also like they have won the world's best sandcastle competition. The small cafes on the rural streets offer all of the delicious authentic cuisine that this country has to offer with a calming and quaint atmosphere. The people here will make certain that you are well fed.
The "Pest" side of Budapest is the city side. Here is where you will see a great amount of lively atmosphere that you would think you would see in a country's capital! The shopping on the "Pest" side is phenomenal! There is everything from designer and brand name to local merchants selling their wares in little shops or at the Bazaar. The Great Market is a great place to go to get a sense of how the people in Hungary get all of their groceries and home necessities. Walking in, you will be blown away by the sheer amount of items that are for sale here. There are rows and rows of different "shops" that vendors have set up to showcase their specialties. If you were to do your weekly shopping here, there is no way you would not find exactly what you were looking for and then some. Not only is there a surplus of brightly colored, fresh produce, aromatic home-baked breads and pastries, succulent meats and fish, but there are those that sell clothing and fabrics in bright hues that are traditional to their country. The embroidered fabrics are not seen in many places besides here. There are also those that sell souvenirs for those that are just visiting the area and want to get loved ones something that is specifically Hungarian; such as the beaded jewelry and hand blown egg decorations that are custom to Hungary. There are many other great places to see in Budapest that showcase the culture of Hungary. There are folk dancing shows with traditional Hungarian dancing and music and bus tours that take you around the city to places like Hero's Square, a very important and popular Hungarian monument, and river boat tours of the great Gothic castle that is the Hungarian Parliament Building, or as I liked to call it: the big and scary building. The Parliament Building is a sprawling Gothic castle-like structure that has a great many spikes and points on the outside; it looks as austere as the meetings that I am sure go on inside!
Don't just take it from me. Add this city to your bucket list and see all that Budapest has to offer. From the food to the shops to the gorgeous castles, you cannot go wrong. You will leave full and happy with a little bit of weight taken out of your wallet from all the spending you will want to do! It will be an amazing time and a great experience that you will not want to miss out on.

Lindsay Clay
Just a girl who loves to write. I have so many thoughts and ideas that I definitely need a creative outlet. You will see a lot of different genres from me as there is not only one thing I will write about! Hope you enjoy my posts!
See all posts by Lindsay Clay →