That ship has sailed
Lost in time but not in mind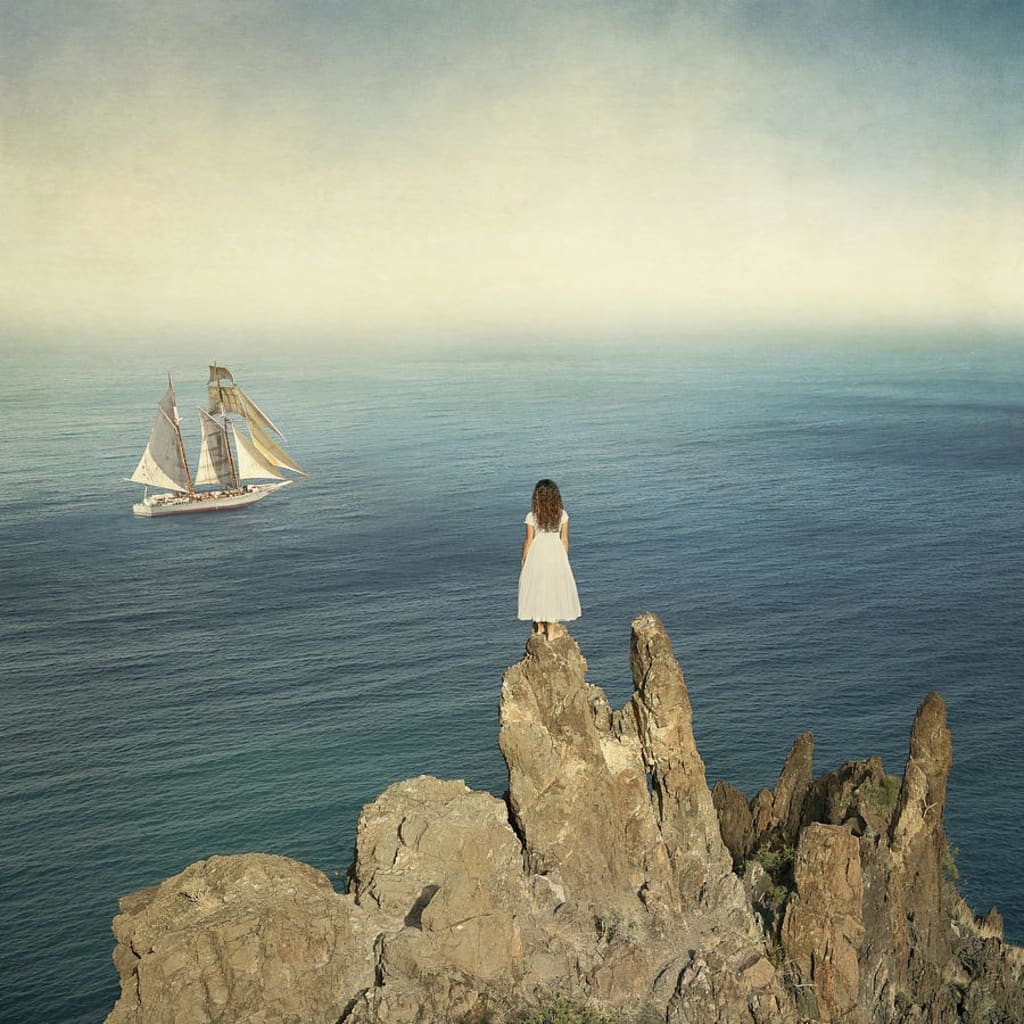 https://images.app.goo.gl/qSQ27cNkGS26XBDn9
'Tick, tick, tock', Stop.
The hands of my gold-rimmed pocket watch stops. 6:37 pm and still waiting. I remember when I was gifted this timepiece, a masterpiece of delicate architecture and precision. Its heavy silver baselined beautifully with 24k gold and the faintest detail of a bird engraved perfectly on the side. For thirteen years I have had this watch and for thirteen years it has never stopped.
Until now.
My face had filled with joy as he got down onto one knee and opened the black lined velvet box containing this unique work of art. I had loved clocks and watches for as long as I could remember. My earliest memory is sitting on my grandad's dusty knee as he wiped the sawdust from his corduroy trousers, a million clocks ticking frantically in the background of his workshop and endless stories of adventure and travel. Every story contained a watch, much like mine now.
My eyes lit up as I took my timepiece. After two years of pure adventures and mind-numbing feelings of love and joy together, he had popped the question every girl wanted to hear.
Do you want to spend all of our remaining time on this earth together?
Of course, I said yes and gazed down at my new gift, filled with admiration for the man who had listened intently to what I loved and what was important to me and showed that through the kind gesture of time. This watch would signify our time and for thirteen years, our time was precious.
A little over a week ago we travelled the Atlantic ocean in need of new adventures. He was rich and I was easy. I didn't like the big things, simply the little. The wind in my hair and a watch in my pocket and I'm home. From Island to Island we went until we found a paradise. Our paradise. At first sight, it looked abandoned but the truth was it was full of life.
30ft palm trees hung and swept the Islands outline, the pearly green of the coast mixed perfectly with the royal blue of the deep to form the most beautiful turquoise I had ever seen. The bubbles of the waves mixed on the salty rocks gathered under the cliffs that hung heavily over the roughest part of the water that met the Island. Turtles, wild boar and birds of many colours filled the Island with life. Coconuts and Yukka trees were abundant and our 80ft yacht looked nothing more than a speedboat next to this tropical giant.
It's now 6:37 pm. I'm still alone.
I hadn't been alone for so long, while I had always enjoyed my solidarity, Greg (my love for time) had made me enjoy company for the first time in years. I could read a book on the deck of the boat, sweat trickling down the side of the shoulder and the soft glow from my face used to make him look in awe.
I love you
He would often say, and I believed him.
Within hours of being on this tropical dream, we had decided this would be our home for the next few days. After all, it was full of food and we had coconuts to drink and water on the yacht if we needed any more. It was a tiny Island in comparison to most, maybe 500ft in one straight line and you could walk from one end of the Island to the other. It didn't take long for the thirst to kick in though and Greg made his way to the yacht to get some extra water.
Shit!
I heard him remark, as I asked him what was wrong. He explained he had forgotten to pack the water since our last stop but he would go back and get some. After all, he was a fantastic navigator and we had only been sailing for all of 30 minutes before finding this Island. As I said earlier, I enjoyed solidarity so I wasn't worried about being left alone. A little apprehensive maybe but not worried.
I'll sail back, get some water and I'll be back before dark. If you miss me, just look at the timepiece and remember as long as those hands are ticking, I'm yours.
He had a way with words so all apprehension disappeared as I waved him off before lying in the 90F sun and enjoying the lone tranquillity.
That was 3 days ago.
I never thought I could feel so cold in such heat. But I do.
My mind wonders as I frantically fill with emotion every time I see a ship on the horizon. But, sheer want or the lack of luck. That ship never sails to me.
It's now 6:37 pm and my timepiece has stopped.
Greg is no longer mine.
And the worst thing is, I don't even know why.
But I'll stand on the highest cliff, over the sandiest beach, with the warmest sun on my face and I'll wait.
I'll wait for that boat on the horizon and finally be able to enjoy my solidarity once more and listen to the tranquil sound of my timepiece once again.
'Tick, Tick, Tock'.
caribbean
Kayleigh Taylor is an award winning poet and published author with a love for writing the raw reality of topics including sex, parenthood and politics.
Kayleigh enjoys literature, music and creating items which she sells on her Etsy store.
Receive stories by Kayleigh Taylor in

your feed