SUP Tonic Australia
The tonic for just about everything, really!
Fun is always guaranteed with Maree and SUP Tonic
One of the first things you notice about Maree Martin is her mane of curls and how she always moves with a sense of purpose. She is quick to laugh and likes nothing better than welcoming new people into her group, SUP Tonic Australia. Maree is always happy to see you; she is warm and friendly and makes everyone feel comfortable, even if it is their very first time on a board.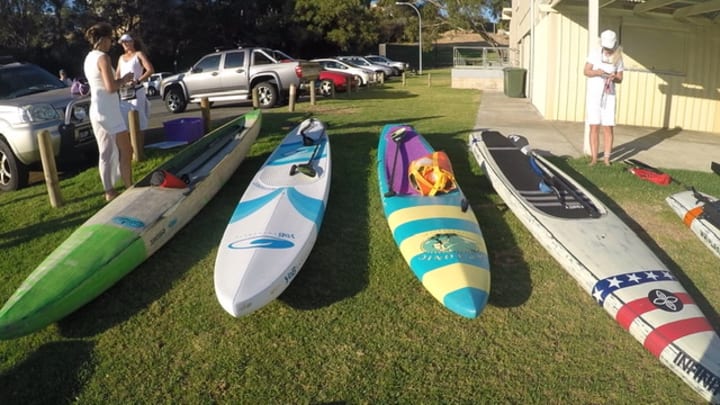 Maree is 54 and looks much younger than her years. She was born in Victoria and comes from Numurkah, a small agricultural town suffering severe drought conditions for some time now. Maree left Numurkah at the age of 4 and moved to Western Australia. She left home at 16 and has travelled broadly overseas and within Australia. She currently works part-time at Mercy Care and has played her hand at everything from retail to a stint in the corporate world.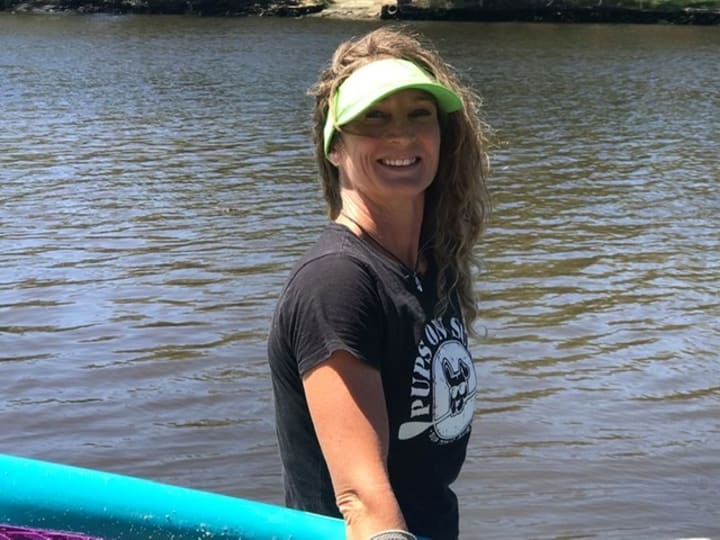 Maree is a nature-lover and an environmentalist, and someone who loves to be active. Aside from SUPing, Maree is a gun squash player, and she also likes Netball, walking, dancing and boxing for fitness.
Maree purchased her first second-hand Stand Up Paddle-board 5 years ago and hasn't looked back. She started paddling around the upper regions of the Swan River, where she noted that mostly she was the only one out on a SUP.
Maree decided to form a community group for like-minded recreational paddlers, and from there, SUP Tonic Australia was born. Because Maree lives so close to the Swan River, she researched places easy to launch from for people of all abilities and ages.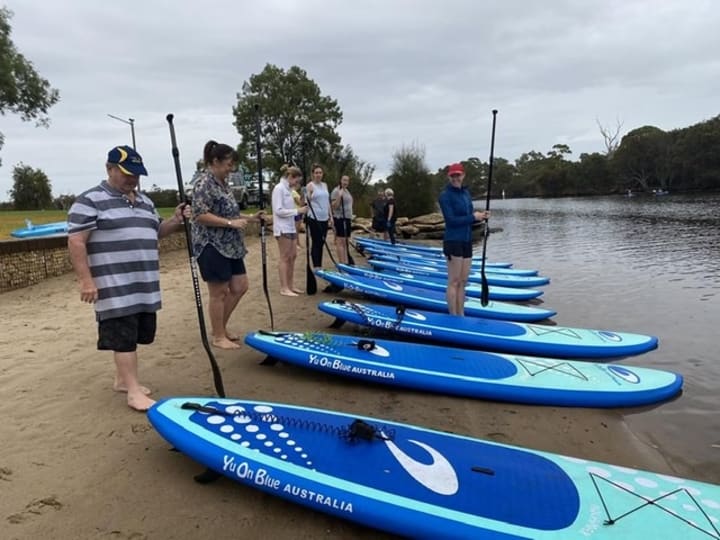 Maree now has a collection of 9 personal boards and her fleet that she uses for her classes and social SUP sessions. Her first classes were held in 2016, and she had six willing participants for her first ever lesson.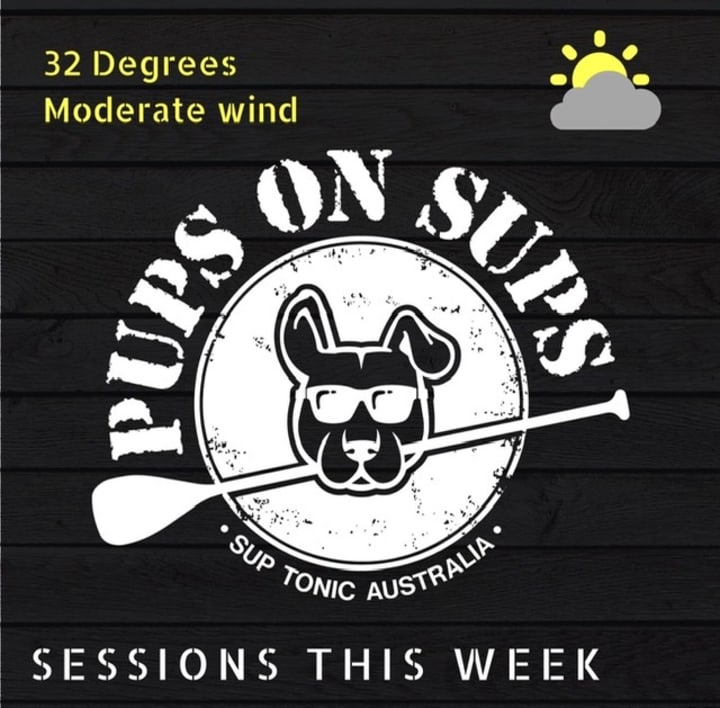 She is into her 4th year of Running SUP Tonic Australia, which includes her side hustle "Pups on SUPS". I have attended some of these pup sessions, and they are a joy to behold. What is not to love about dogs, water and happy pet owners. Pugs leaping from board to board, small dogs in life jackets, massive dogs tipping their owners into the water and the sound of happy barking and people laughing. It makes me wish I had a dog!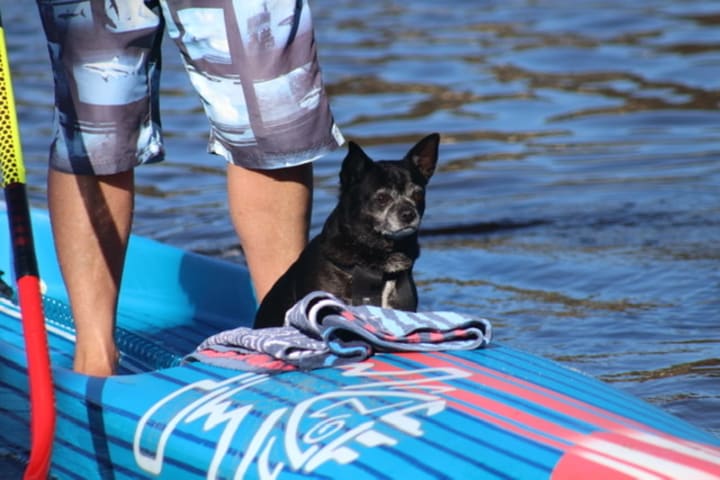 Maree says what she loves most about "Pups on SUPS" is that she is "offering a unique activity for owners and their dogs to do together as a team. Pups on SUPs are challenging and therapeutic and bring so much joy to our customers and people passing by who stop to watch. Most first-timers are sceptical and don't know if they will be able to stay on the board, but we know they will. It's awesome to see how delighted they are with their achievements."
"Sunday is Funday; it's our happy place!"
When you get to know Maree, you can tell that her ideal life would be to be out on the water every day, teaching people to SUP, and that is why this period of restrictions due to the Covid19 pandemic is hurting her and not just financially.
Sup Tonic had started to take off in the last six months.
In addition to the "Pups on SUPs", she was running beginner lessons on the weekends, SUP Tours, including a unique Halloween SUP where everyone dressed up as witches and warlocks, a White Night SUP Tour on Valentine's night with a dinner and everyone dressed in white, regular Swan River clean-up events in conjunction with the local council, regular members training sessions and twilight adventures on the river.
"We're only just scratching the surface of the infinite possibilities of SUP and working very hard to bring ideas to life. It's just the beginning and very exciting!"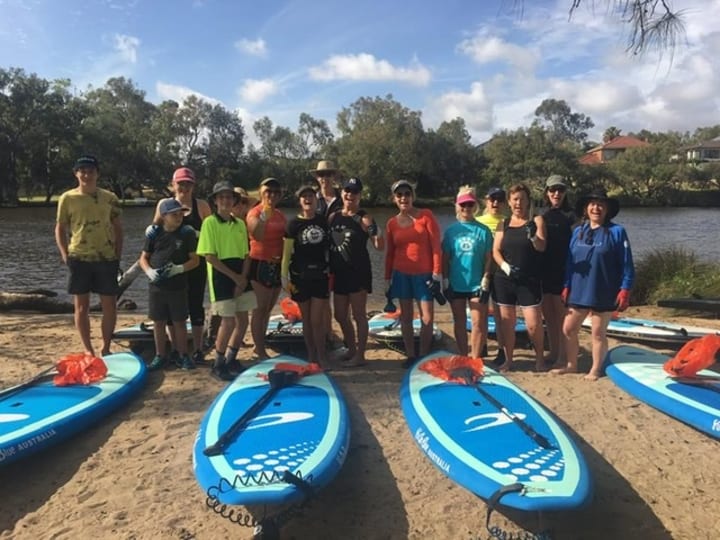 Maree is a certified ASI (Academy of surfing) Instructor. ASI is the world's leading training and professional membership organisation and international governing body for instructors, coaches and schools in the outdoor recreation industry for surfing, stand up paddle and bodyboarding.
According to the blurb on SUP Tonic's Facebook page, "SUP fun is endless. From organised events, tranquil paddles, down winders, yoga, SUP surfing, or makeup something completely new and ridiculous!"
"SUP Ball...a combination of netball and football played on a board."
Speaking of something "completely new and ridiculous", one event Maree has added to her social SUP calendar is "SUP Ball". A crazy ball game on a SUP. Participants can expect to get wet and are guaranteed to have fun. The rules are a mash-up of Netball and football with a few made-up rules. "We have two teams, and the game's object is to throw the tennis ball to your team players while paddling towards the goal to score; the first to 3 or 5 wins."
"There is a lot of falling in, a lot of cheating and a lot of laughing." She says.
Maree believes that SUP has the potential to change people's lives both physically and mentally, and I am inclined to go along with that. I have been SUPing with Maree at her regular Wednesday training sessions for over a year. I have enjoyed the company of like-minded people even throughout the winter months. There is certainly nothing better than being on our beautiful Swan River, and nothing beats being outdoors.
australia
About the author
Freelance writer, amateur photographer, occasional performer of personal stories @Barefaced Stories. Lover of nature, music and art. I write content and copy for small businesses and teach part time in Perth, Western Australia
Reader insights
Be the first to share your insights about this piece.
Add your insights