When I was 23, I finished university and got an admin job in local government. My friends, on the other hand, went travelling.
I remained at home in North London because I was too busy building a life of my own. Or so I thought.
I had grown up in a poor family and subsequently had been a poor student. I didn't want to then become a poor traveller.
I was sick of having nothing to my name. So, I embraced the working life, believing corporate emancipation from poverty was possible and I then would finally be able to get my life in order.
Shoot forward a handful of years when my friends arrived back home and I found myself toiling on a mediocre income, still unable to afford a London property, with no experiences to my name other than knowing what the inside of various offices looked like.
I had made a mistake and it's one that has stung ever since.
Yet even at 25, when one of my work friends went travelling, I still stuck to my guns, doubling down on my disappointment, not wanting to admit defeat or give up my room in a rented apartment, as it's all I had to show for my hard graft.
I had a scarcity mindset.
It's not completely my fault, when one grows up with nothing, you're taught every day to hold onto jobs, be thankful for the roof over your head, be pleased food can be put on the table and to keep your head down and not rock the boat.
The biggest curse of the poor is the stifling, limited mindset handed down to us as we grow up.
The Travelling Bug
In my late 20's, I began paying attention to the travel bug that had been gnawing at me for all those years.
I went to New York with a girlfriend, then Thailand. I married at 33 and travelled for a month around America as a honeymoon.
In my mid-30s, someone I know got married in Nairobi, Kenya, so some friends and I took the opportunity to go out there on safari. Another friend got married, this time in Bali, and the same group of us went out there too.
I also visited India, a place I've always wanted to go. It didn't disappoint; the colours, the food, the cities. I loved it and want to go back.
Even though these were all just holidays, not travelling, I never planned more than the first stop and just winged it once I was there. I craved adventure. I missed out and I wanted to make up for that mistake.
I still do.
The Dream Adventure Around the Arctic Circle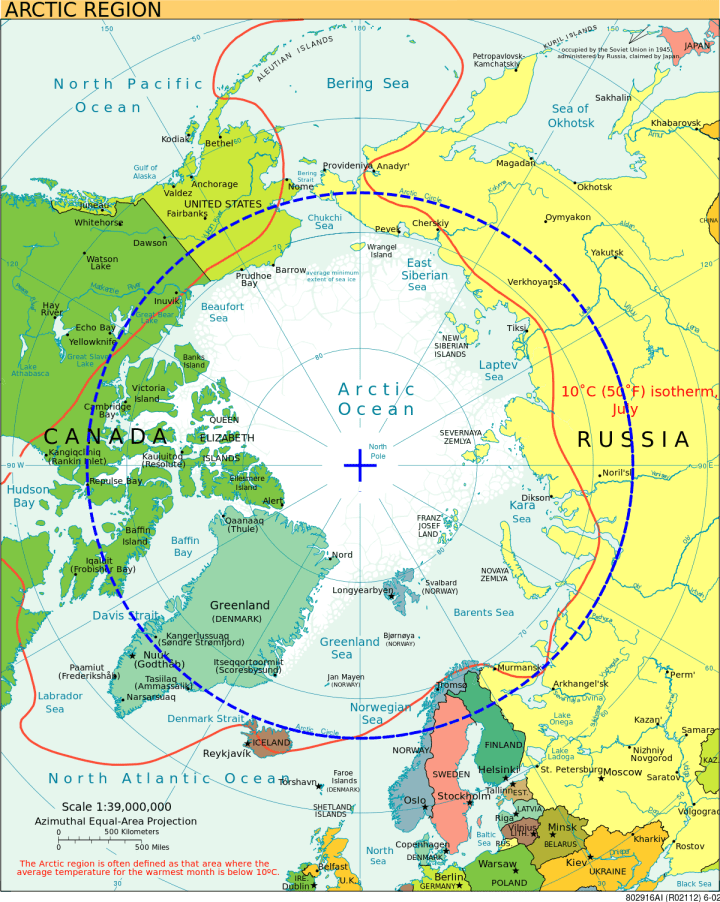 I now have a family, step-sons and my own young boy, a beautiful wife and a lovely home. I'm grateful every day for all of it. It's truly wonderful.
But that doesn't stop the travel itch.
For reasons unbeknownst to me, I've always had a dream about visiting countries in and around the arctic circle. I want to do a tour up there, above the UK, where the sun barely reaches the icy shores and life rolls forward in long, snowy winters.
I've done the heat, the safaris and desert-scapes, the tropical islands and the warm blue seas. And I've done it with friends, partners, companions.
My arctic adventure would be solo. That's always been the vision.
There is something pure about those lands, something reflective and quiet, yet enormously brutal, I feel the pull of their solitude. I want it to be just me and the mountain, just me and nature.
Perhaps I've been doing the Wim Hof method for too long and now feel a need to be near cold water.
Or maybe I've been influenced by Chris McCandless, the American 20-something who went to live alone in the wilds of Alaska. He didn't fare well, his cavalier and daring approach to travel ended up being the end of him, but his spirit of adventure and solitude live on in those he influenced. He's certainly become a cult figure for the call of the wild.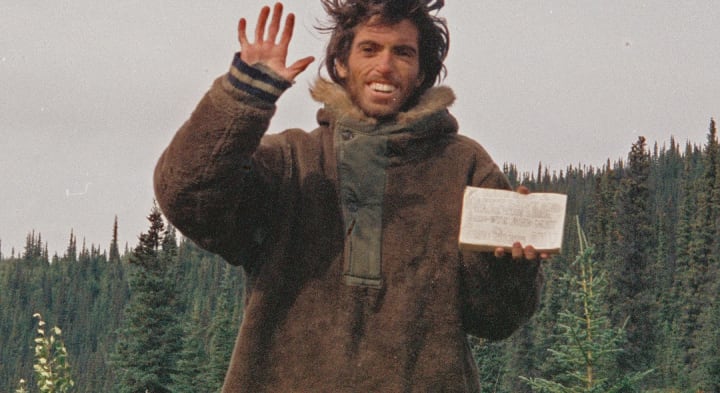 Alaska, USA, is just one country on the arctic circle, the others are Norway, Sweden, Finland, Greenland, Iceland and the edges of both Russia and Canada.
Planning the Trip
I'd start close to home, Iceland. I sometimes catch myself looking at this enormous, Volcanic landscape on Google Maps. There is something about the expansive beauty of sheet white snow and mountains, ice-cold waters and steamy wooden houses huddled together that makes me bristle with excitement.
1. Icelandic Springs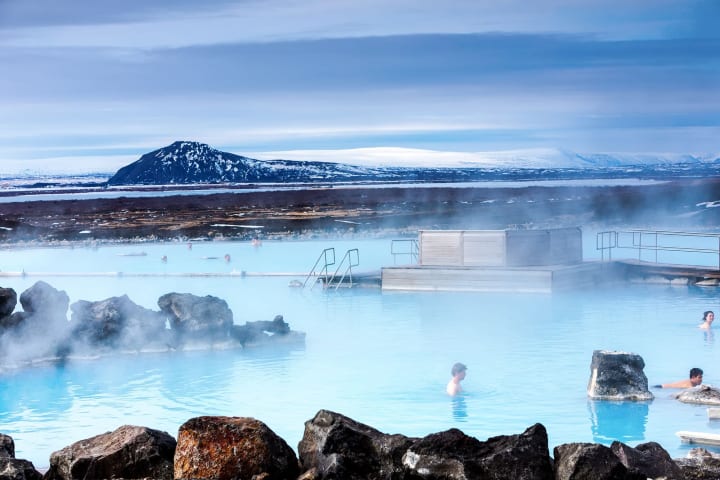 I've always wanted to bathe in the volcanic springs during the freezing winter months and The Mývatn Nature Baths seem magical. They are 6 hours outside of Reykjavík, far enough to deter heavy tourism, remote enough to be surrounded by wondrous landscape.
2. Tromsø, Norway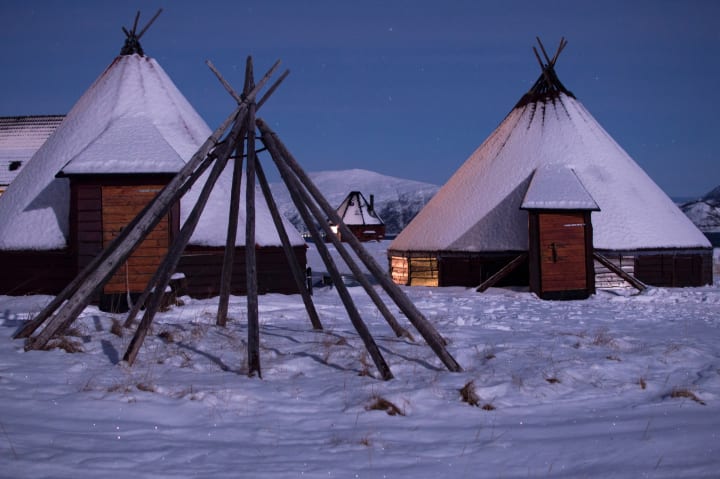 Next stop, Tromso in Norway. A friend of a friend went to live in this north Norwegian city and she told me of her endless snow shovelling as part of her morning routine just to be able to leave the house.
I have never seen or walked in 3 or 4-foot snow. I felt a boyish excitement when she explained how common it was.
Tromsø is famously beautiful with its Arctic Cathedral, a glowing pyramid style building, illuminated and visible around the city. This would a must-visit. A holy place in an icy land sounds too good to swerve.
Also, I'd like to go winter camping, traditionally a drive out of the city where one can find refuge in the blanket of snow and watch the Northern Lights - the aurora borealis - nature's greatest sky display.
You can get package deals such as this, but they are costly and more suited for holiday goers, not solo travellers, so I'd opt for a more low-key affair that would grant unfettered access to the surrounding landscape.
Sidenote: Glamour isn't compatible with travel. My greatest time in India was staying at the worst, most run-down motel, my greatest night on safari was moving to a downgraded tent in the pitch black by the edge of the savannah where animals ran around outside.
Glamour can separate you from your surroundings. There are plenty of Tromsø campsites on Google, I'd suggest the worse the website, the better the experience!
3. Lapland, Finland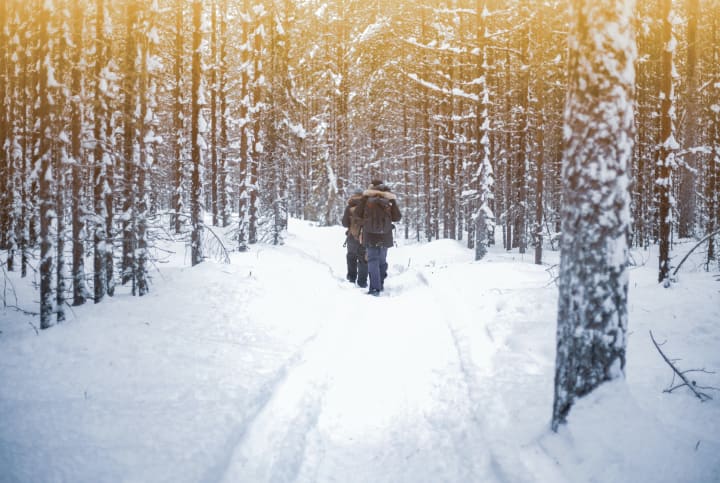 I've already been to Finland, I went with friends to Helsinki in the summer. I fell in love with its clear skies, spacious streets and oh-so relaxing vibe.
This time, I want to go north. My cousin and family went to Lapland a few years back and I was sick with jealousy. When she told me about dog sleighs and snowmobiles my stomach tightened as the travel bug took another bite.
Sorry Santa, but these will be my main Lapland activities.
I love huskies, so the idea of watching these proud working dogs, eager to please and pulling me along sheets of ice would be an amazing experience, one that has eluded me thus far.
Also, I haven't got over wanting to ride snowmobiles since I watched the James Bond film 'The Living Daylights' at the cinema in 1987.
But it wouldn't be about gadgets or toys, I'd be there mostly for the land, the climate, the isolation and to experience the indigenous Sámi people and their culture (they are often referred to as "Laplanders" though they occupy the north of all Scandinavian countries).
Oh, and I might visit Santa's grotto if I have time. Maybe. Probably. Ok, it's on the list, but whatever.
4. Sarek National Park, Sweden
Still in the north, as close to the arctic climate as possible, I'd next hop over to Sweden and visit the Sarek National Park.
This is no simple feat. As the website says:
"Sarek is one of Sweden's most inaccessible national parks for anyone who cannot hike or ski in on their own. There are no roads leading up to the national park."
The idea of traversing this landscape, just me, my breath (and of course a trained guide) is incredible. You don't come to the northern tip of the world for any other reason.
It is the oldest national park in Europe and contains Sweden's second-highest mountain, Sarektjåkkå. There is something about mountains I find terrifying and alluring. As they say, if it's scary and exciting, you should definitely do it.
5. Ice Hotel, Marknadsvägen, Sweden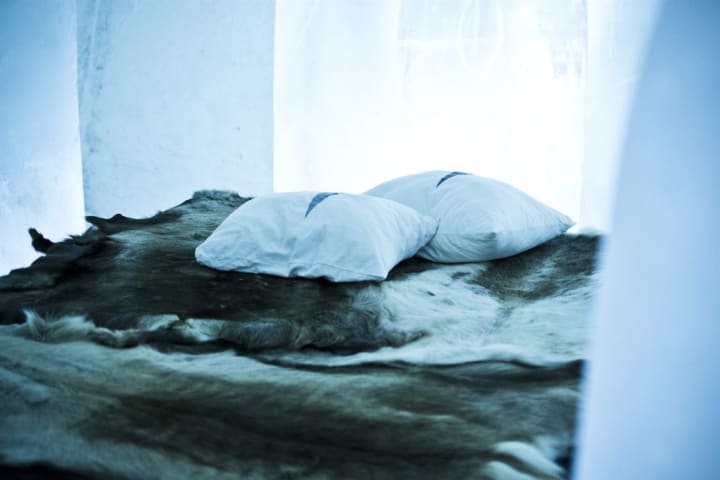 To end this extensive trip, I would travel down to nearby Marknadsvägen and stay in the famous Ice Hotel - if only for a night - before heading to Helsinki and home.
My friend stayed here a few years ago and told me it is fun and novel, but he got a bad night's sleep because his sleeping bag couldn't cover his frozen face and he developed a small layer of ice on his top lip.
Warm cabins are available for the night, but what would be the point? The world is full of warm hotel rooms. I say, bring on the icy face and ludicrous novelty, I would book a room and live like a frozen king for the night.
6. BONUS STOP: Whale Watching, Greenland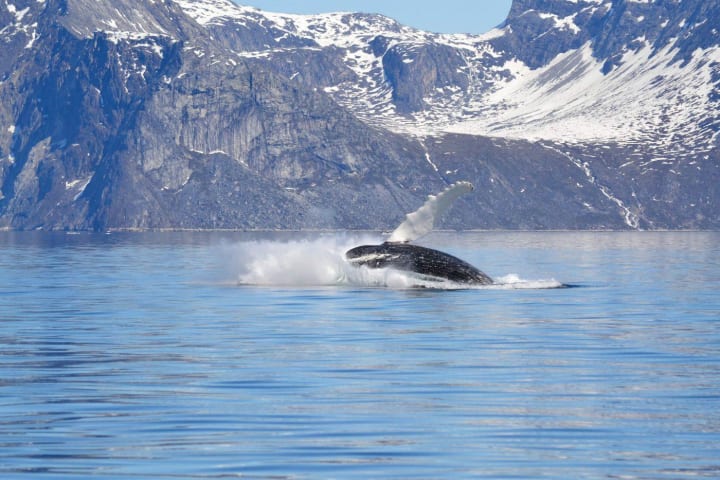 This is a fantasy trip, right? Everything on the list so far has been geographically consistent, clustered in North Scandanavia, but this final leap to Greenland would be a little out the way and take a few days travelling.
Yet I am drawn to the place. It is this type of youtube video I keep revisiting in stolen moments to re-enforce my artic circle dreams.
It's of whale watching off the coast of Greenland.
Greenland, owed by Denmark, is the biggest island in the world, and a seemingly magical place. A woman watching the whales says it best when she exclaims "This wouldn't be possible in a normal country."
Greenland isn't normal. This isn't an insult, their tourism motto is "When you've seen the world there's always Greenland." Their capital has a population of 16,500 (whereas I grew up in a London suburb with 330,000 people in the local area). It's unique.
Also, the main place to watch whales is called Disko Bay which sounds about as cool as it gets.
Greenland, I'm coming for you.
Returning Home
My arctic circle adventure would be as much to discover myself as the barren and remote landscapes at the top of the world.
I'd take some hand-picked books, perhaps Henry David Thoreau, Albert Camus or George Orwell, novelists that chime a bell for experiencing life and connecting with the human spirit, whilst I'd simultaneously be marvelling at blanket white vistas and tenacious, thick-skinned animals that rebel against the freezing lands and survive.
For what is life if it is not to fight and rebel against entropy and declare to the world "This is who I am!" Camus taught me that. But perhaps it is Chris McCandless who would be most proud of my arctic travels.
All I know is it's calling me and one day, I want to answer back.