Queen Mary 2
The only Ocean Liner on planet earth.
Queen Mary 2
Introduction
As an enthusiast for maritime history, I feel that I should write about my experiences aboard something which is special among ship enthusiasts, Queen Mary 2 and to provide my input and advice to anyone wishing to sail on this ship.
In 2016 and 2017 I sailed aboard the Queen Mary 2 as my only two holidays (or vacation if any of you readers are from the States) on my own. I have to say, it was an experience well worth remembering and it will be for you, if you are a maritime history enthusiast.
History
Let me tell you a bit about Queen Mary 2's owner/operator, Cunard. Cunard are a luxury cruise company, founded in 1840 by shipping entrepreneur Samuel Cunard. In the mid to late 19th century and well into the twentieth century, Cunard were a very dominant company operating many of the fastest ships in the world, on the North Atlantic and all the other seas.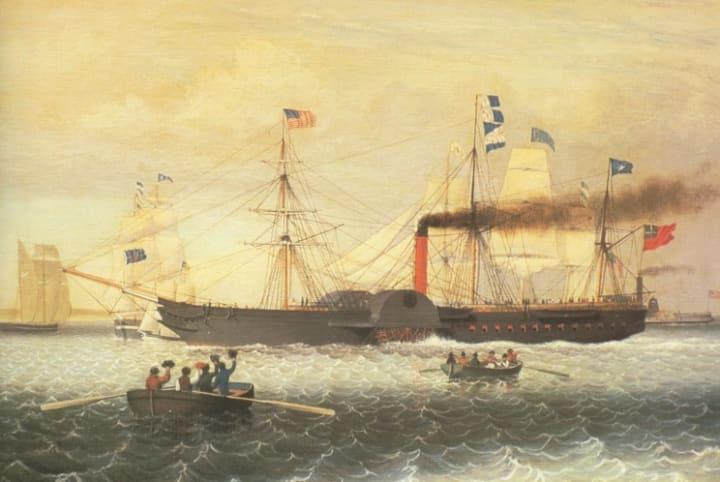 They were also known for their competition with fellow transatlantic shipping company White Star Line, the owners/operators of the ill-fated RMS Titanic. In fact Cunard have a strong connection to the Titanic, via their ownership of the White Star Line name, their competition with White Star and that the ship that went to the rescue, the RMS Carpathia was a Cunard ship.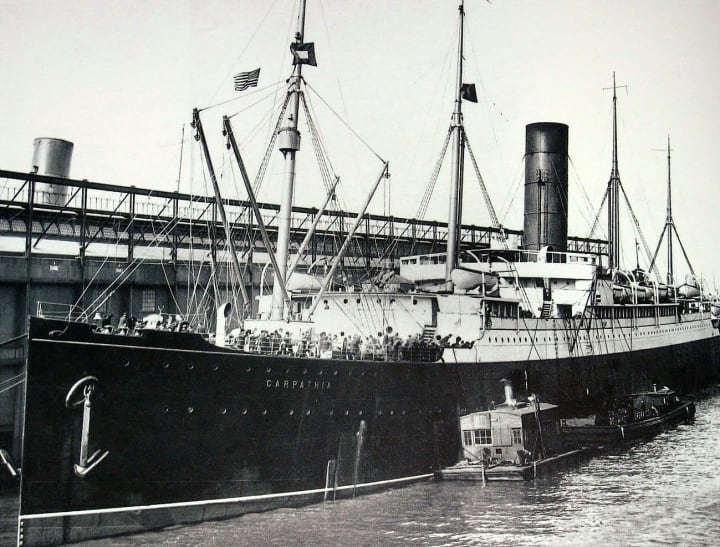 I will explain how Cunard own the White Star name in due time. Like White Star were, Cunard are no strangers to disaster, perhaps their most famous loss was that of their prized ship RMS Lusitania in May 1915, when she was torpedoed off the Irish coast by a German submarine. They had also lost more of their other ships during World War One, Carpathia was one of them.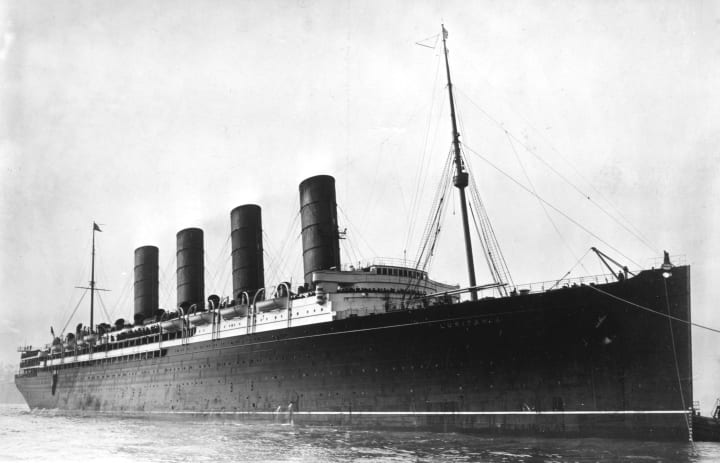 After the war, Cunard continued to offer transatlantic crossings. However, when the wall street crash of 1929 occurred and the Great Depression was at its highest, passenger numbers were dwindling. As a result, Cunard and White Star were in massive financial trouble. This is where the ownership of White Star comes into play. The British Government agreed to support the two lines under the condition that they merge into one and in May 1934, a new company was formed: Cunard White Star Line Ltd. However, Cunard owned two thirds of the shares and White Star only owned the other third. By 1947, Cunard had acquired the other third of the shares owned by White Star and in 1950 the name reverted to "Cunard Line", giving them full ownership of the name "White Star".
Cunard then operated as a separate entity until it was acquired by Carnival Corporation. In the 1960s, Cunard launched what was thought to be the last ever true ocean liner afloat: Queen Elizabeth 2 (QE2).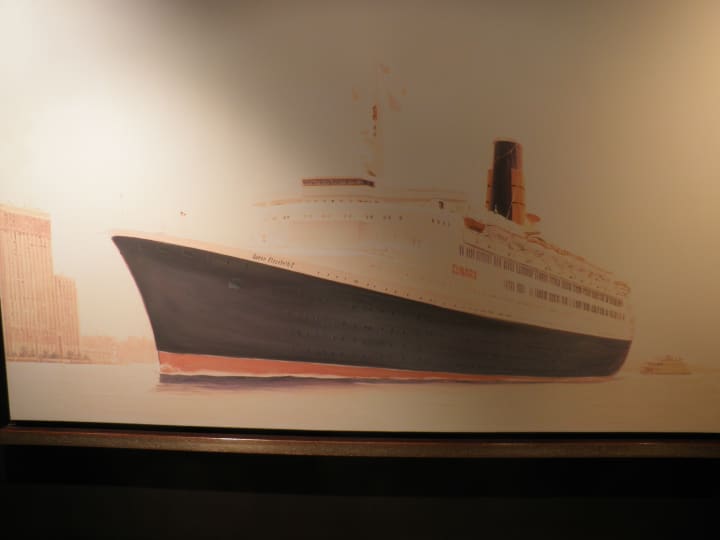 By the early 2000s Queen Elizabeth 2's age was beginning to show and Cunard was in financial trouble. However, Carnival Corporation stepped and saved the company from liquidation by ordering the construction of Queen Mary 2 (QM2). Today, Cunard are a very popular cruise line, operating QM2, Queen Victoria (QV) and Queen Elizabeth (QE). In late 2017, Cunard have announced that they are planning a new ship which will be launched in 2022, though it's name hasn't been released yet.
Queen Mary 2
Now with a little history lesson out of the way, I will now talk about Queen Mary 2. Launched in 2003 and with a maiden voyage in 2004, Queen Mary 2 is the current flagship of Cunard. She can carry 2,695 passengers and 1,253 crew members. She was built at the Chantiers de l'Atlantique shipyard in France. She is 1,132 feet long, 135 feet wide and 236.2 feet high, on top of that she weighs 149,215 Gross Registered Tonnes (GRT). She is three times the size of the Titanic. At the time of her construction she was the largest ship ever built, and when we take into account the kind of ship that she is, an Ocean Liner, she still holds that title. Now that I've mentioned that, I should explain what I mean: Queen Mary 2 is a transatlantic Ocean Liner, she is NOT a cruise ship. There are other ships that are far bigger, such as the Oasis-Class ships by Royal Caribbean International, each one of them is five times the size of the Titanic! But they are just what I mentioned, cruise ships. So, by now you must be wondering: what's the difference? An Ocean Liner is a ship that is designed to carry passengers from point A to B on a regular basis. By this, they must be capable of crossing extremely dangerous seas to tight schedules and on very regular basis'. Cruise ships are not capable of this, they may be capable of crossing dangerous seas such as the Atlantic Ocean, but not to regular schedules. Queen Mary 2's regular schedule is Southampton England, to New York, which in my experience, takes exactly seven nights. This is the usual crossing that QM2 takes, but she is known to make world cruises, along with QV and QE.
Boarding
A transatlantic crossing on QM2 is an epitome of what Cunard once were and a means of keeping tradition alive. It begins at Ocean Terminal in Southampton.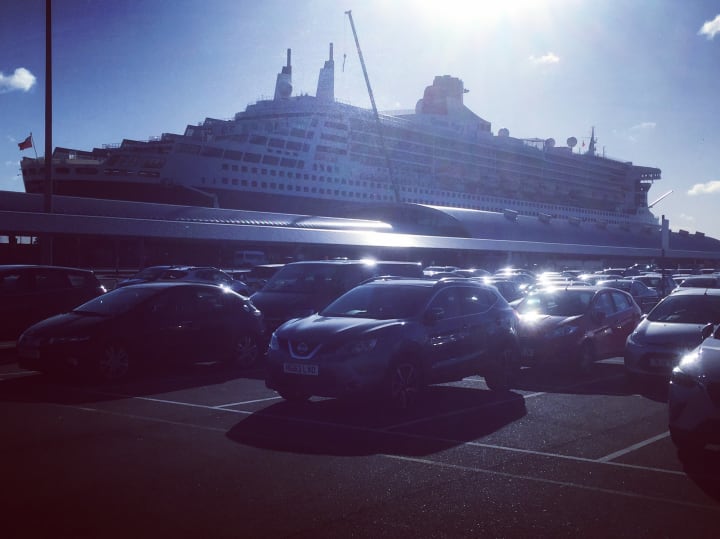 Upon arriving, you will then be offered to have your luggage taken aboard by some dockhands employed by Cunard, but make sure you have your Cunard luggage tag on it, which will be emailed to you via your voyage personaliser, as will your e-Ticket, the document that will permit you to board the ship. When you enter the terminal you will be given a coloured card with a letter on it. When your card colour and letter are called, you will then check in, show your passport and register a credit card, so that you may open an onboard account (cruise companies operate on a cashless system) and you will then receive your stateroom key. You will then enter an airport-style scanning area before boarding the ship.
After this, you then board the ship, entering the area called the Grand Lobby. The purser's office is located on the deck below where you enter the ship, as well as the casino.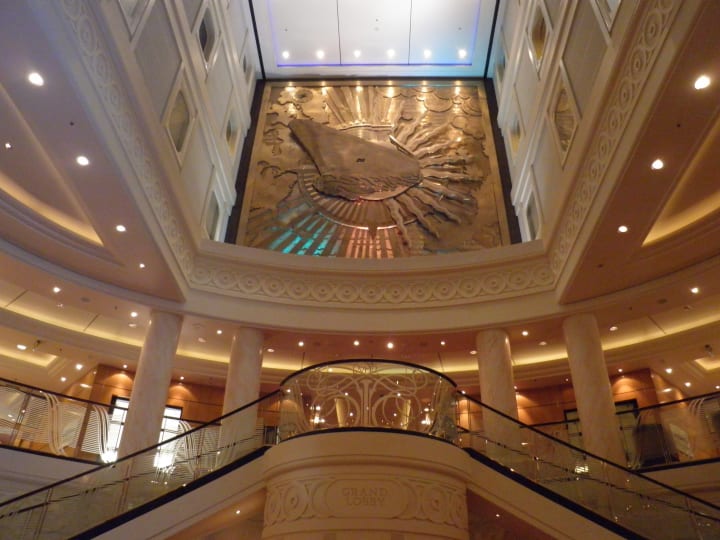 You can then find your stateroom. Queen Mary 2 has thirteen decks, twelve of which have staterooms (decks 2 to 13). Staterooms are numbered based on which side they are on: odd numbers on the starboard (right) side and even numbers on the port (left) side. They are also numbered based on the deck they are on. In due time, your cabin steward will introduce themselves to you and show you how everything works, such as the refrigerator, telephone, wi-fi connections etc. After this, your luggage will be brought to your stateroom.
QM2 is a huge ship as I mentioned, so after you've settled into your stateroom and received your luggage, I would recommend you familiarise yourself with the ship's layout, maybe even have a drink in one of the many bars, or enjoy a stroll on the promenade area of deck 7.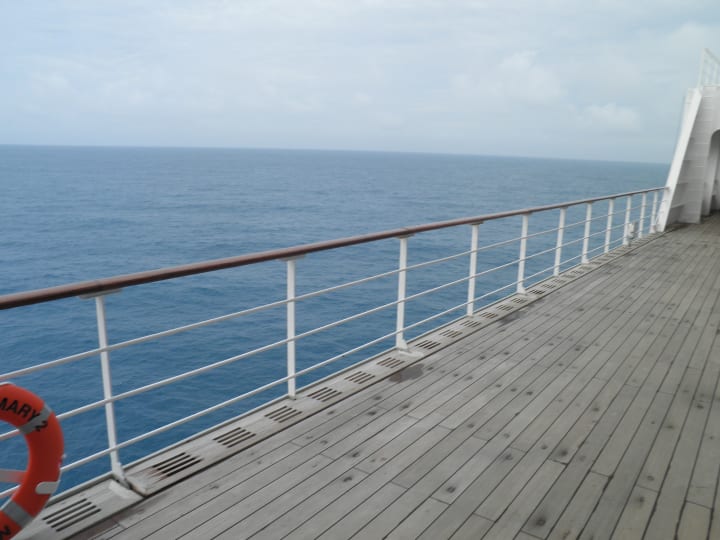 Sailing away
Before the ship sails, maritime law demands that an emergency drill is carried out. The captain will announce the time of the drill. When the drill commences the ship's muster alarm will be sounded, which is a sounding of seven short sounds followed by an eighth longer one. Once you hear this alarm, you must return to your stateroom, collect your lifejacket, head warmth and any medication you need and proceed to your muster station. Your muster station is pointed out on the emergency board on your stateroom door. All muster stations are located on deck 7, this is where the lifeboats are stored.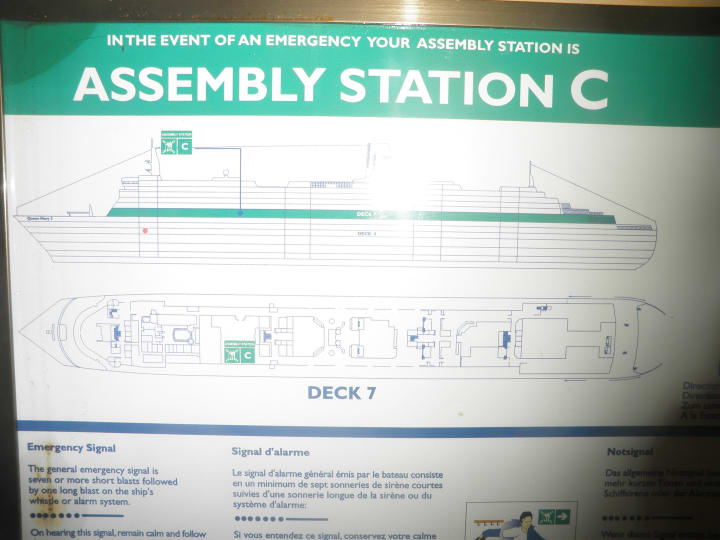 If you cannot return to your stateroom, you must proceed to your muster station, where a lifejacket will be provided for you. Do be aware however, the muster alarm is NOT the signal to abandon ship should it be sounded while out at sea.
Once the drill is over, you may return your lifejacket to your stateroom and then it is time for sailing away. A party is the usual celebration of this and it is held at the aft end of the ship, where the two outdoor pools are located. If the weather is not convenient, then the party will take place at the Pavilion Pool on deck twelve, the only indoor pool that is not part of the spa. Sometimes a tribute band are used to undertake this and an assortment of luxury beverages are provided for passengers.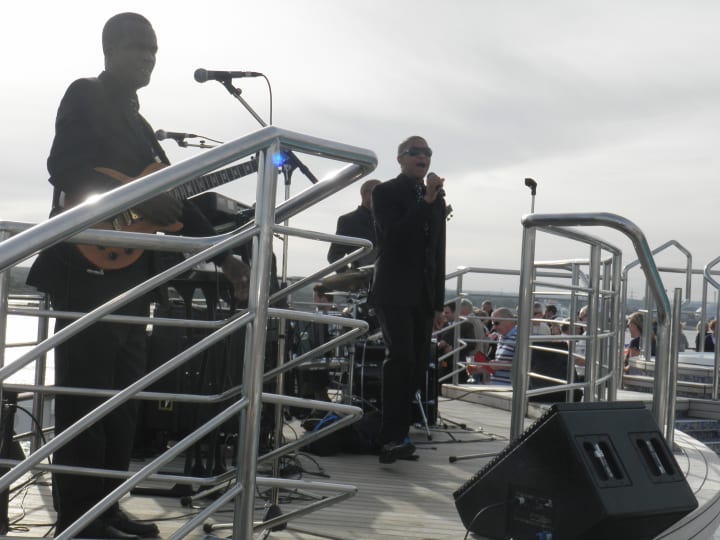 The ship will then depart from the terminal. I should let you know, the horn is VERY loud. After sailing away, it will be time to get ready for the first dinner on ship. By the following day the ship will sail through the Celtic Sea, before heading into the open Atlantic Ocean.
Crossing the Atlantic Ocean
Now that we are at sea, it's time to enjoy the ship's facilities and the weather. However, let's talk about the weather first. I have sailed on QM2 twice, both in different times of the year. The first time was in September 2016, the other time in November 2017.
Since September is still technically summer, the sea was relatively calm, but not as calm as one might expect the Mediterranean to be. However, both times the sea was not as still as a millpond. The further out to sea, the more likely it is to get rougher. In my September 2016 crossing, there was one instance where the ship was going up and down with the waves one night and every time it went down, my stateroom creaked. The roughness of the sea is not the only thing which can cause discomfort though, it's all high winds. Sometimes, the open areas of the ship have to be closed off for safety matters because of the wind.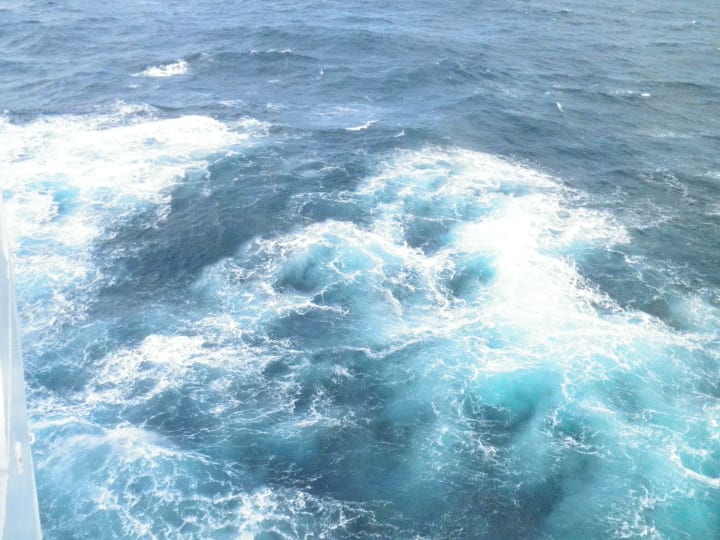 In November 2017, which was a later time of the year, closing in on winter, the weather was quite rougher than usual. From inside it's quite thrilling to see the waves pass by. There was an instance, where the ship was very clearly going up and down.The ship moving with the waves did make the noises of the interiors groaning more intense than last time. Every night, I was plagued by creaking sounds from my stateroom as the ship moved with the waves.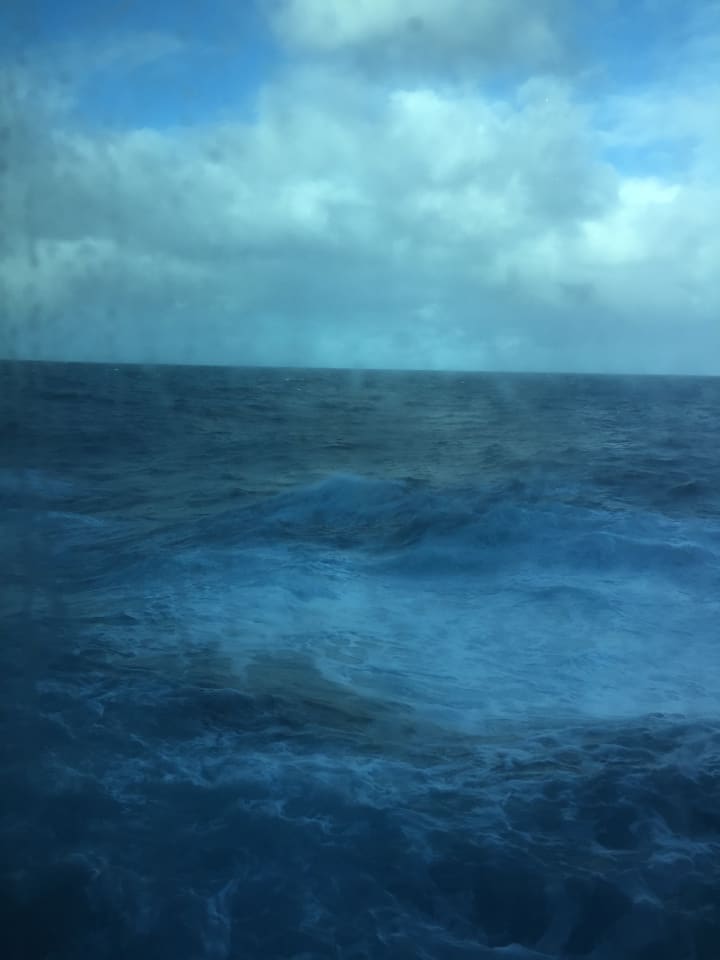 However to my surprise, despite the Atlantic's weather, the deck 7 promenade was always open and spray did not make it onto that area of the ship. Although the winds were much worse than in September 2016.
Activities and Facilities
Queen Mary 2 has four swimming pools (five previously before a refit, which saw the addition of deck 13), a Canyon Ranch Spa, A gymnasium, and fitness classes, if you're one for not being socialable, or need a break from it. The Canyon Ranch Spa is equipped with a hydrotherapy pool, saunas and steam rooms, all of which are accessible with a standard pass. There are other treatments available, but at an extra cost.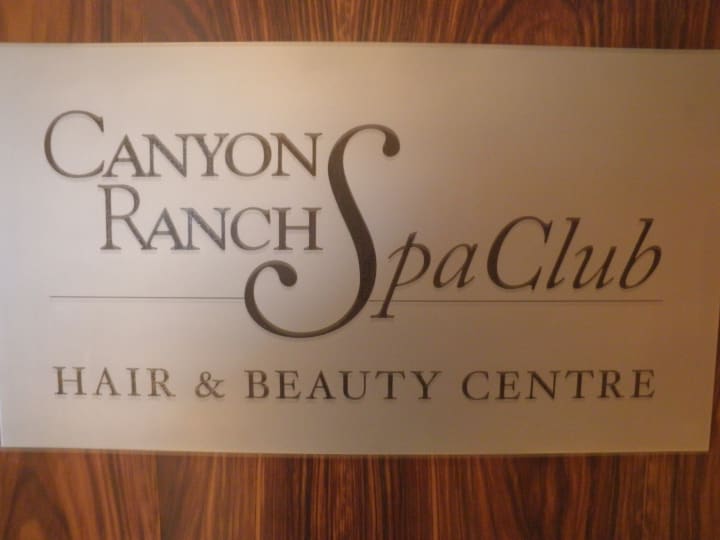 The gymnasium is free to use, but there is the option of having a personal trainer to accompany you. Other fitness classes can include meditation. The swimming pools are open for all passengers, there's two on the ship's stern, one inside on deck 12 and the hydrotherapy pool in the spa.
There is a theatre, the only planetarium at sea, pub entertainment, wine programmes, and movies. The Royal Court Theatre has performances almost daily, and even in the evenings, ranging from tribute singers, orchestras and theatre shows.
The only planetarium at sea, also known as Illuminations is an experience for those wishing to know more about space. It features an interior dome, in which you are taken through a 360 degree video produced by NASA, fuelled even more so by the fact that actors from Hollywood Sci-Fi films narrate the videos. This room is also used for cinema showings, including some of the latest showings. The wine/liqour tasting programmes are held in the Duty Free shops.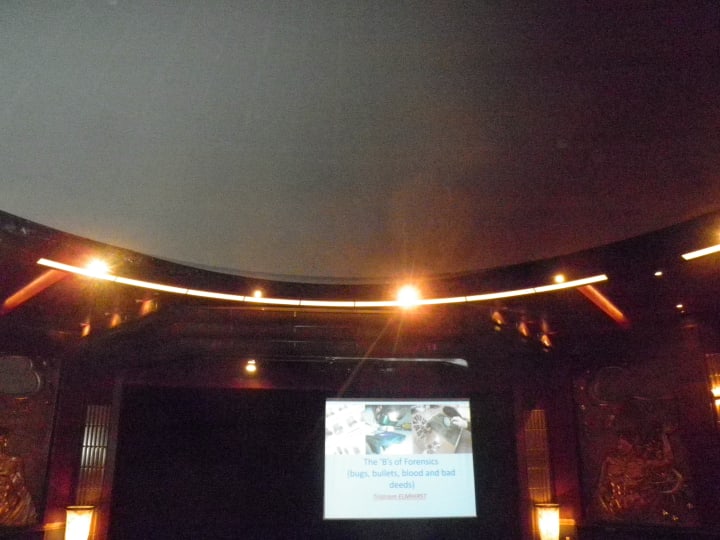 Other means of entertainment are Guest Speaking events, book club, Games deck, sports court and dance classes. Cunard regularly have celebrity or high-profile guest speakers onboard, which can be in a broad range of subjects, which can include Science, History, Fashion. During my September 2016 voyage it was the first transatlantic fashion week, and the works of acclaimed fashion designer Dame Zandra Rhodes were on display.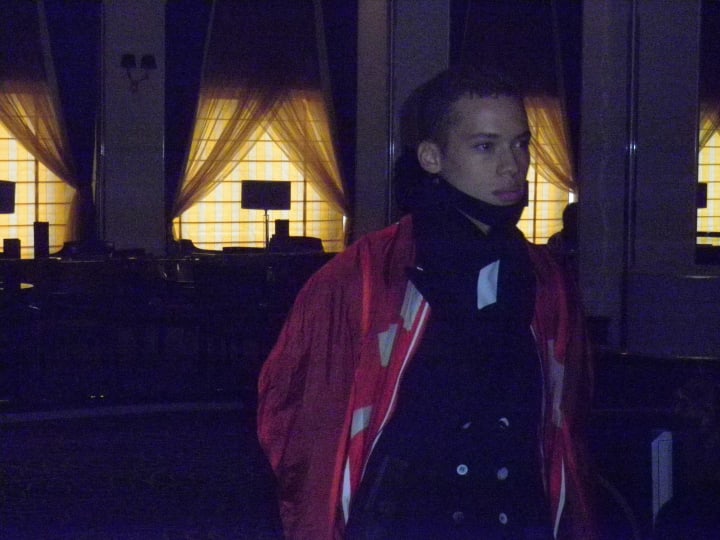 The gaming activities are usually held on the open area of Deck 11, and the sports court is located on Deck 12. The sports court has facilities for sports such as basketball and tennis, these are enclosed to as to ensure that any balls don't go overboard.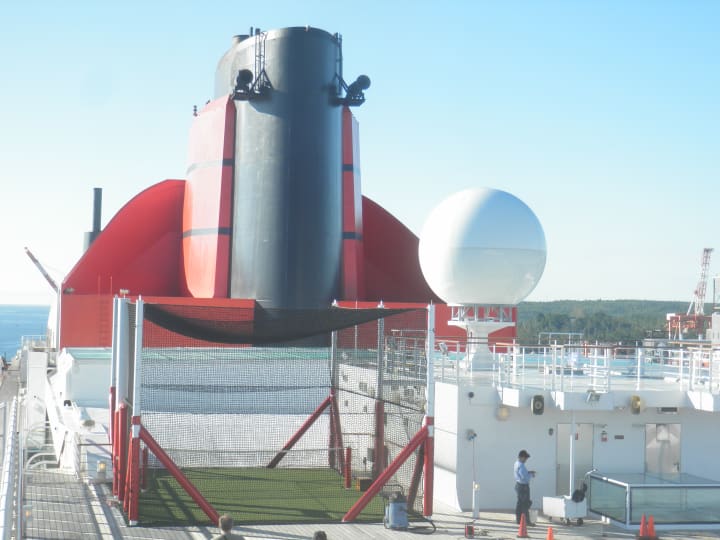 Dance classes are held during the day in the Queen's Room at the aft end of the ship. There are Line Dancing and Ballroom/Latin Dancing classes. Ballroom and Latin are the ones I have been known to attend, as I take classes at home. The Ballroom/Latin dance classes are taught by a dancing couple are are international competitors, and these dancers may also give performances in the evenings, whether formal or informal. Ballroom/Latin dances taught include: Waltz, Quickstep, Tango, Foxtrot, Cha Cha Cha and Rumba.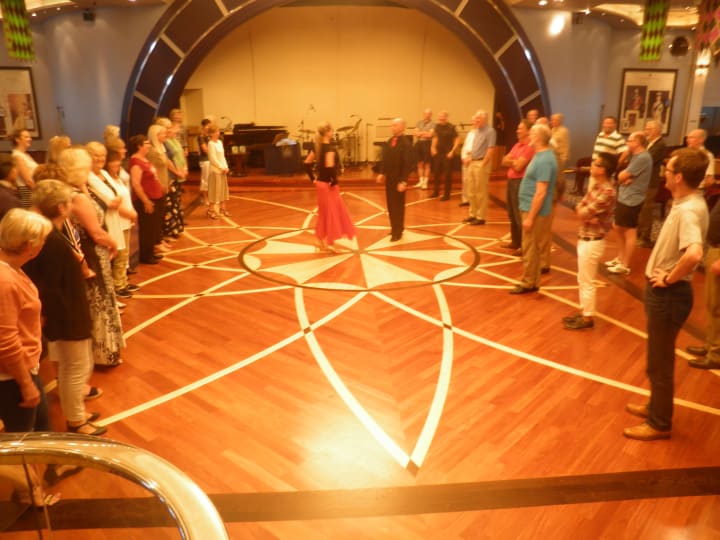 During the day there is also Cunard's signature Afternoon Tea, which is also held in the Queens Room. Here, you have your tea continually filled up by uniformed waiters, and are served luxury scones. There is also the option of upgrading to having Afternoon Tea with Godiva Chocolate or Champagne Afternoon Tea, but these come at an extra cost. If you choose one of these options, you will have your tea served to you in an appropriate location. There is a Godiva Chocolate restaurant on deck three on the port side, which is where Godiva Chocolate afternoon tea is served. Should you choose champagne afternoon tea, it is served in a luxury seating area near the Grand Lobby staircase.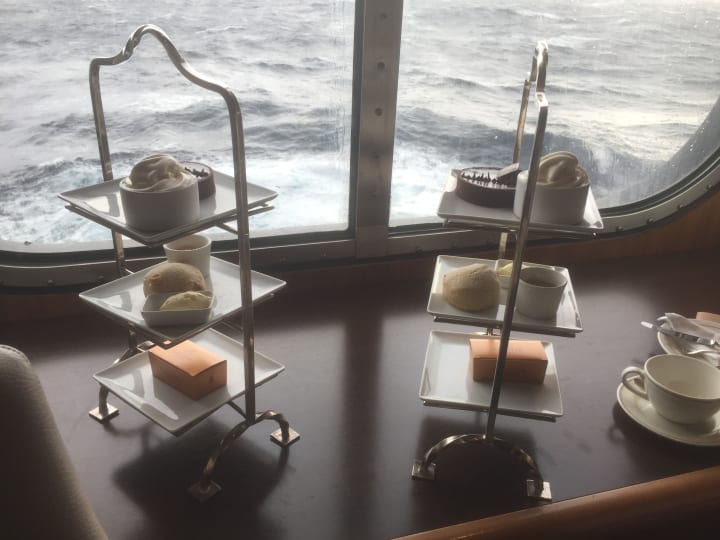 Dining and Evening Activities
The ship has several restaurants, the most prominent one is the Britannia Dining Room, named after the RMS Britannia (1840), the first ever ship built for Cunard. This is where most passengers from either single staterooms, inside staterooms, ocean view rooms or standard balcony rooms dine. There are two different sittings an early one at 6pm and second one at 8:30pm in the evening.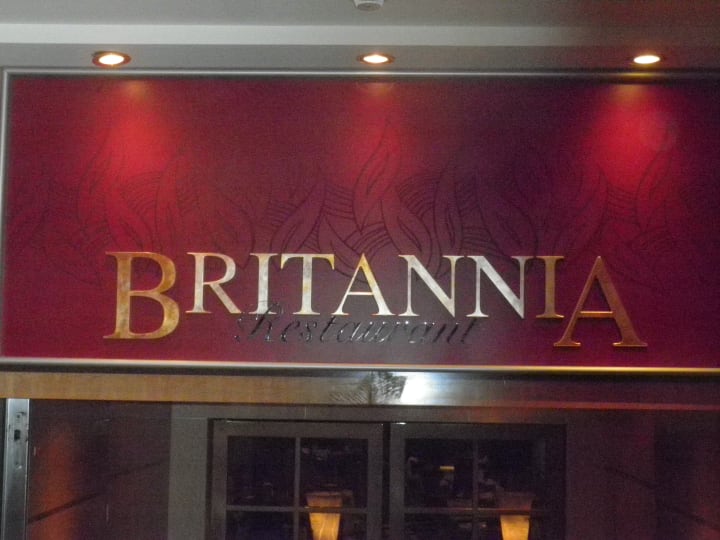 There is a Britannia Club restaurant, reserved those travelling in Club Balcony rooms. Also there is a restaurant reserved for those travelling in Princess Grill and one for those in Queen's Grill, the most expensive grades of stateroom aboard Cunard ships. Should you be lucky enough (unlike me) to travel in one of those grades of stateroom, you may dine whenever you please in you assigned dining room. These restaurants are included in the price of your stateroom. There are other dining options but these charge extra, one of them is the Verandah Restaurant as well as light refreshments in the Carinthia Lounge on deck 7.
In keeping with tradition, Cunard have dress codes for dinner: Formal and Informal. Formal dress code requests tuxedo and bowtie for gentlemen and formal cocktail dresses for ladies. Informal asks for a minimum of shirt, jacket, smart trousers and shoes. In my experience, I have donned White Tie (evening tails) for the formal nights and a normal suit on the informal nights.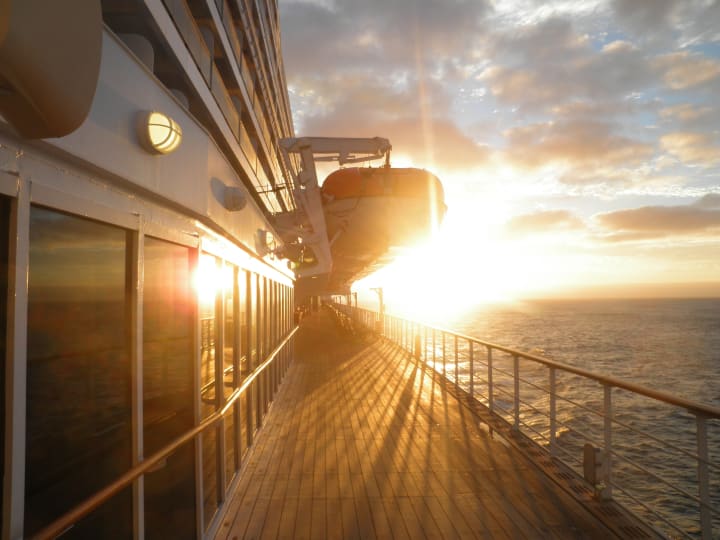 When the evening commences onboard, some people go into one of the ship's bars for a drink either before or after dinner. Cunard offers a range of luxury cocktails and other drinks, from martinis to soft drinks and hot drinks such as tea and coffee. As late sitting is my preference, I usually donned my suit or tuxedo and had a drink at a bar called the commodore club at the very front of deck 9. As a James Bond fan, I was usually seen with a Vesper Martini (shaken, not stirred). After dinner, I would go into the ship's ballroom.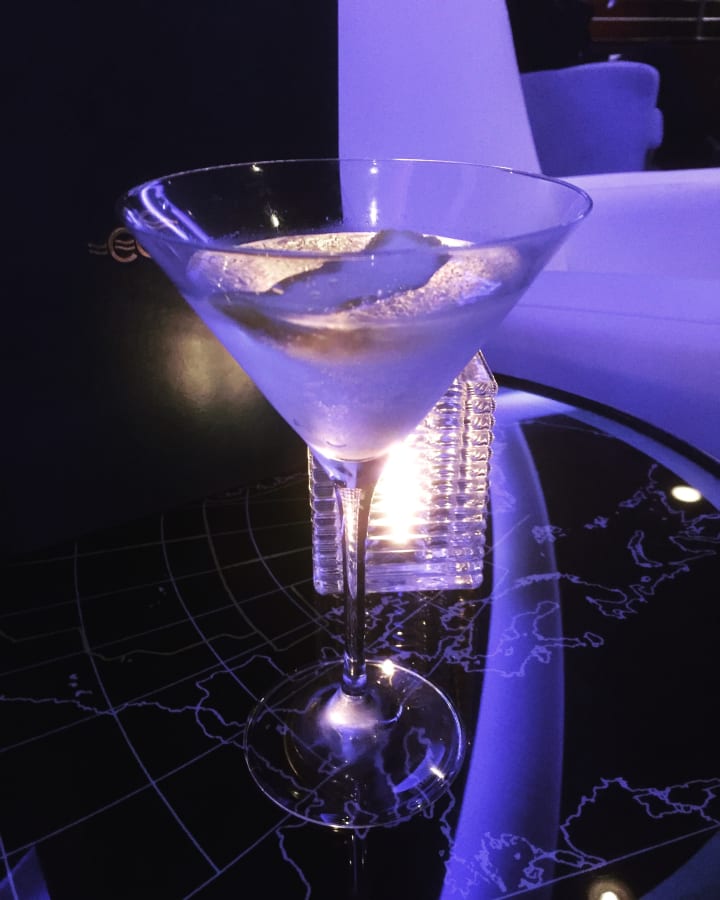 On formal nights, it is a night for ballroom dancing. All passengers are welcome in that area of the ship, some even do dancing, particularly those that attend the ballroom dancing classes. I take ballroom and latin dance classes at home and I must tell you something that happened on my November 2017 crossing, my dancing received so much acclaim from other passengers that I was mistaken for being one of the ship's Dance Hosts. The Dance Hosts are there in case there are any single ladies aboard that would like to dance, or any married women whose husbands do not want to dance.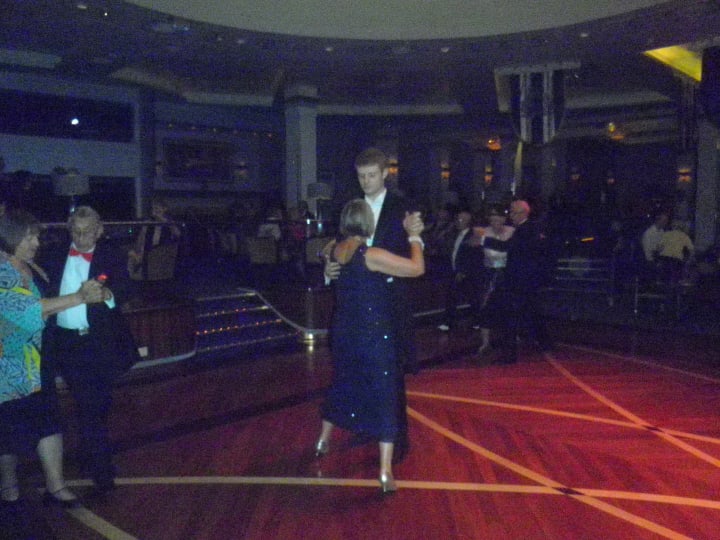 Personally I appreciated the compliments initially about my dancing, but it did get irritating after a while and I had some passengers expect me to do errands for them. Therefore, if you're into ballroom dancing and you're thinking of taking a Cunard cruise, I'd advise against going on your own. Bring someone who knows how to dance ballroom and latin.
On Informal nights, it is a general elegant party, but not ballroom dancing. It is usually what I would call a formal disco. It is a little like a disco, but it is never like a club where the music is so loud you have to get up to people's ears in order to get a message across. Neither are there blinding, flashing lights everywhere.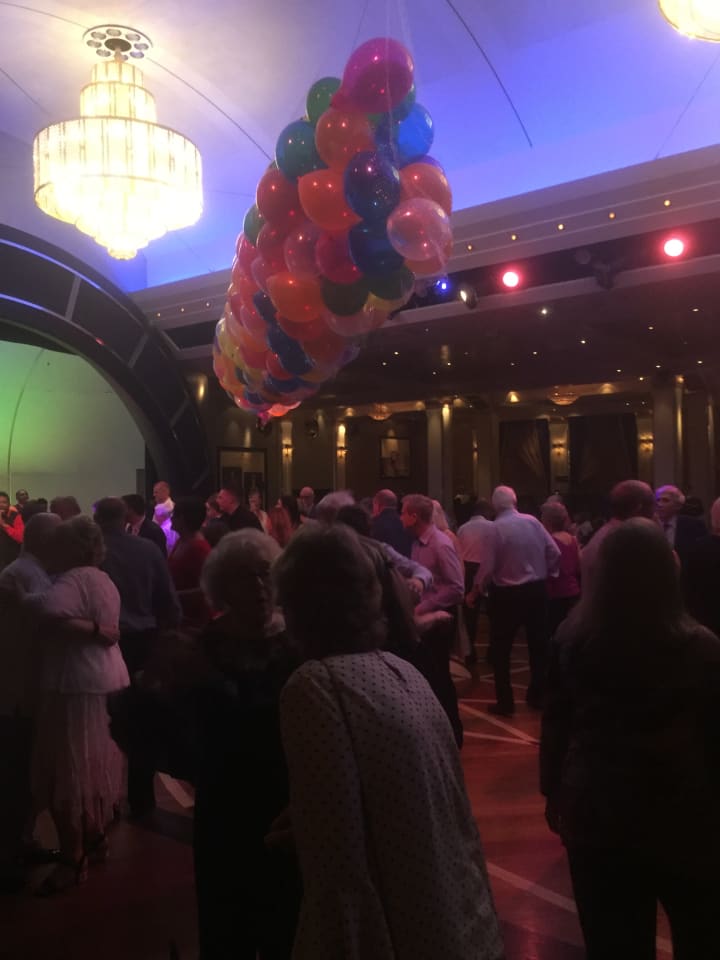 Captain's Cocktail Party
After sailing on the formal evenings, the captain has a party to welcome passengers onboard, and to give a history of the ship. There are usually two of these parties, one for those in the grill suites and those in club balcony down to the inside staterooms. You are first welcomed to the party by having your portrait photograph taken with the captain himself, which you can purchase at the photography studio later. After which you will then be given a complimentary drink by some of the professionally uniformed waiters, and have the chance to socialize with other passengers before the captain gives his speech. He will first welcome you aboard and wish you the best for the voyage, as well as talking about the ship itself and the weather, or perhaps about the other ships he may have commanded. He also talks about how many different groups of people are aboard.
Arrival in New York
Before we arrive in New York, if you are disembarking the ship for a stay in New York or elsewhere, you will have to leave your luggage outside your stateroom the night before. It will be ready for you to collect from your coach when you arrive at your hotel, or it will be available to collect at customs.
Now that we've crossed the Atlantic, its time to arrive at the city that never sleeps, the Big Apple itself, New York City. This you will want to see for yourself, and so many passengers assemble on the open decks at around 5am New York time to see the ship arrive. To begin with the ship sails under the Verazzano-Narrows bridge, which is an unbelievably tight squeeze that must be done with perfect prescision. Every time, it looks like the funnel will collide with the bridge.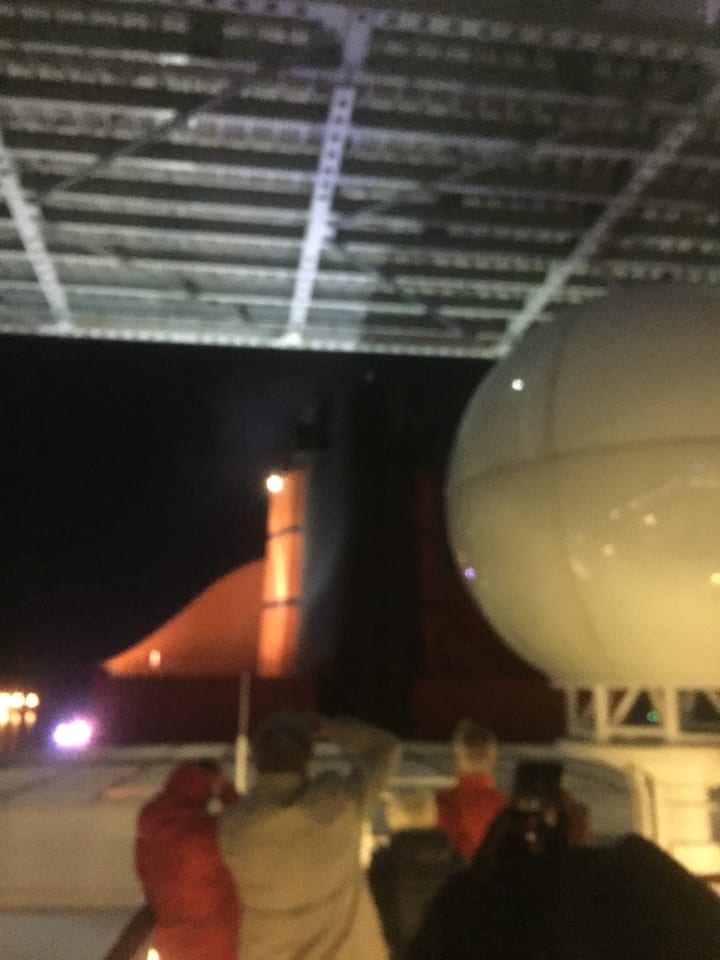 In fact, going back to the construction of the ship, when they were testing the height of a standard funnel, the builders knew it would collide with the bridge. Therefore, they had no choice but to shorten it. So what did they do to ensure that smoke from the engines didn't envelop the passengers? You may notice the enormous curved structures at the side of the funnel? If so, they serve a purpose of more than just looking pretty and majestic, they are there to force air up and blow the smoke high above those on deck.
After getting under the bridge, you will then see the magnificent bright lights of New York city. Whether it is still dark once you enter New York, or whether it is sunrise, the sight is unimaginably breathtaking. I have only seen it at dark, due to September and November being time of the year when we get less daylight, but even still the sight of New York never fails to enthrall me. The ship then docks successfully at around 6-7am, during which time passengers go for breakfast.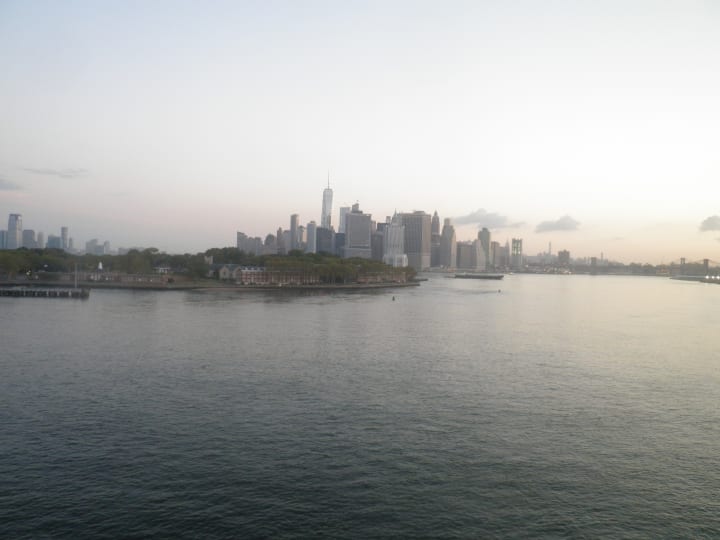 If you have booked a shore excursion, or are staying ashore, you will be given a location to congregate and you must go there by a certain time. One group will be led off one after the other. You will then disembark the ship and present your ESTA information and form to customs, who will then take your fingerprints. Then you are free to enjoy your stay or shore excursion.
Re-boarding
If you have chosen to stay in New York, then its goodbye and I hope you enjoyed your voyage. If you have chosen a shore excursion and are sailing back to Southampton afterwards, then this part only applies to you. Your shore excursion will take you back to the ship, where you will be asked to present your stateroom keycard and this will allow you back onto the ship. Once you and the new set of passengers have boarded, everything is almost the same as what it was before when we embarked at Southampton.
Sailing Back
If you are sailing from New York to Southampton, there are a few pointers I need to tell you about. It should be noted that your assigned dining room table will change, and the clocks go forward an hour during the day. This is because New York is 5 hours behind Southampton. Usually 11am to 1pm happens in one hour, midday becomes 1pm while sailing to Southampton to New York. Apart from those things, sailing back from New York is no different from sailing to New York.
Concluding comments
Overall, Cunard are a fantastic cruise line in my opinion. If you are passionate about maritime history like I am, and you enjoy formal occasions and ballroom dancing I do reccomend you try it. However, going back to my story about being mistaken for the dance hosts, I do reccomend that you bring someone with you who is also into dancing.
A few negative pointers I've had with Cunard are their customer service, which has been seen as dissatisfactory with some customers. One time when their customer service did a poor job of helping me I was compensated with onboard spending money. Please bare in mind, I am not the only one who has had a problem with this.
Queen Mary 2 truly is an exquisite, not to mention unique ship and aboard her is where you feel like you're truly in the golden age of ocean liners, when the only way to get from country to country was by ship. There is no other ship like her, and travelling on her is a unique experience, one that can never be found on another ship. Therefore if you are into those sort of things, a voyage on Queen Mary 2 is something you won't want to miss.