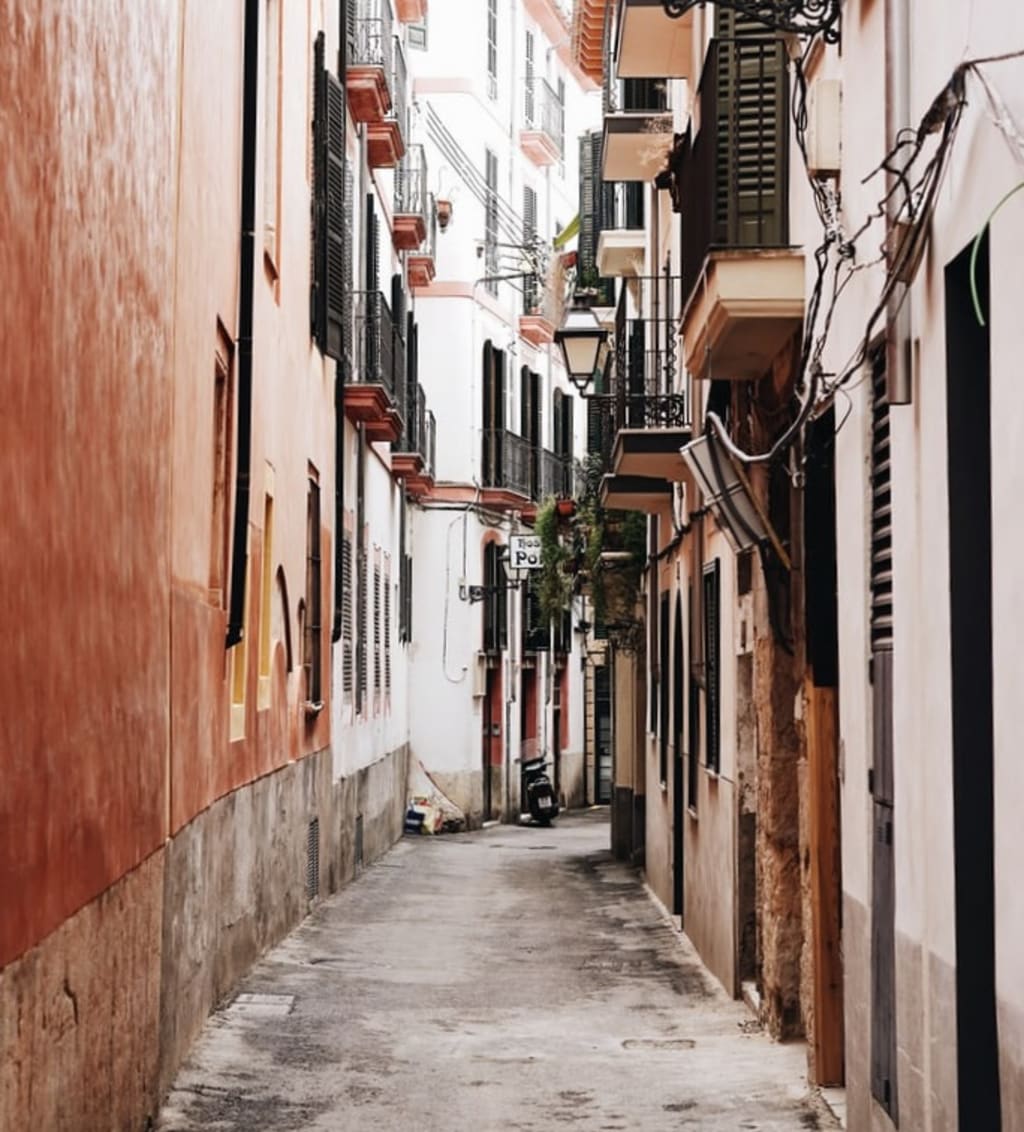 Agde is a little-known town one hour's drive west from Montpelier. Traditionally beautiful with boulangeries around every corner, each likely having served there fair share of TV commercial scouts through the years.
Tucked in against the banks of the L'Herault river yet close to the sea, old Agde was once a busy trading port, and the volcanic rock mooring posts used by ships of the line, still stake her quayside path to the Mediterranean.
Looking at the town from the waterway's western bank, the façade of tightly packed and terracotta roofed terraces, could lead a visitor to imagine Venetian gondolas might punt past at any second.
However, behind the tourist brochure—even without the Corona effect—the low season in such places exposes working parts, real people doing real occupations.
The old streets are still working class, as so often in the south of France wealth tends to migrate out into newly built villas amid the vineyards. Where-as in England, the older the street, the higher the likely-hood of four-by-fours, fold up bikes and first class season tickets to Victoria.
Before the Pandemic I saw how the locals got on with life, displaying a nonchalance to the remarkable beauty of their town. It's worth noting nonchalance is a cultural artifact here (perhaps even across the whole of France), passed between parent to child like a bridge of a nose or hair colouring.
The residents accept by instinct their town amplifies in charm through missing a manicure or two. Wildflowers root out of old walls at head-height without anyone considering it necessary to pull them up. Centuries of sun have curled the paint on old fenêtres and sculpted the cracks that run between their hinges into patterns so deftly, that a skilled hand would struggle to match the effect.
In the cramped hard-to-park-in streets—unloved in just the right places as to seem romantic—houses still collect generations of the same family, a pétanque ball's throw from the bones of their previous inhabitants and the shadows of baroque public fountains lengthen to the entrance of the local store.
In Agde it seems a door can be three hundred years old and falling off its hinges but if it still shuts, locks and has a hole in one corner suffice enough for the local stray to come and go, then I doubt anyone would say it was in need of attention.
Alas, even Occitànian nonchalance is powerless in the face of the Corona-virus, these days it seems to verge on irresponsible merely to remark on the beauty of a place, when a world is turning on its axis.
The pandemic has brought all France to a hard stop for well over a month now, with May 11 penciled in as the moment lock-down may end. In recent weeks, I have found myself observing how the locals have adapted to this sudden and unexpected period of change. As in England, global emergency has filtered through to individuals finding their own ways of coping.
The acoustics of my lock-down are provided by the faint but distinctive rhythms of a neighbour's passion for Latin music. For an hour or so each day Monsieur Gamel—a retired piano teacher—likes to sit out on his adjoining roof terrace popping a cork and listening to his favorite salsa and tango records.
I can't see him, but I can imagine as he leans back in his comfortable chair, his feet twitching, as thoughts recount steps with the slender waistlines of younger days; bars in Buenos Aires and beach parties with barefoot bellezas in Cartagena.
Like everyone I have seen 2020's horizons retract till they go little further than the regular expedition to the local supermarket. A trip to the shop takes five minutes on foot and every time I go it is a sci-fi like interaction with Corona-virus France.
This morning I left the house at around nine, taking my bag-for-life with me. It may have taken a global pandemic but I have finally heeded my Mum's long-standing advice to 'take my own', as touching the baskets wasn't in anyone's interest and the bag-for-life these days may actually help save one.
I threaded through the maze of quiet roads, seeing no-one, until I reached the corner near the town church, a place of worship whose bell has struck hourly, exactly five minutes before the hour, ever since I arrived.
It was a middle-aged man passing with a red handkerchief tied around his face, cow rustler style. Normally an exchange of 'Bonjour' would follow, but now the French—for the most part—prefer to cover their mouths than open them and he moved swiftly on.
As I reached the local square with its boulevard of lime trees, I saw every shop closed except for the small Spar supermarket and the Pharmacy. The normally busy road aside the river, almost empty. One car parked next to the roundabout, the driver sporting a surgical mask, returning to the vehicle as I watched.
In the shop I saw the reliably agreeable faces of the checkout staff covered in the familiar sky-blue protection. A couple of shoppers were wearing their own version of 2020's must have facial accessory, another was buying armfuls of beer cans with a scarf wrapped artistically around his head and all of us were reluctant to even share a grocery isle. A formerly mundane act that these days feels like anti-social behavior. Our horizons have shrunken, but the definition of personal space has expanded to include a vast radiance around us.
I had suspected that the French Government's effort to control the population would be tricky. Ordinarily France is a nation of people who go out of their way to put two fingers up to authority (unless it's their own authority they are asking others to follow). Only last year I missed several flights due to les gilet jaune protests that swept the country periodically.
Tell a Frenchman who has parked in front of your driveway that he can't and what was likely planned to be a five-minute stop could be turned into five hours if only to prove a point.
It took me a long while to get my head around this mindset, it's somewhat different to the UK where the population veers to a form of apologetic Tourettes syndrome. A British person's first word is likely to be 'sorry' and abroad I tend to know a fellow country person by their willingness to apologize to anyone or anything that crosses their path (inanimate or otherwise).
In that light, it is a stark contrast to feel a little fear in the air, to see the streets deserted day after day (though recently there is a slight increase in activity) and see masks on the vast majority that venture out.
During the last few years, I've seen the French in many states: post terrorist attacks, during forest fires, and when winning the World Cup. However, I've never seen them like this, a little scared, shaken and irritated as they anecdotally adhere closely to the measures implemented by President Macron in mid March.
Regardless of nationality, our fragile biology has been exposed by a new threat, one taking little note of national borders. This is a time on the Continent perhaps unlike any since World War II. In old Agde the trees have broken into new leaf and the first swallows have found their way back to the eves under which generations of their number have hatched, but there seems little sign of spring, not for those watching from their balconies. The French way of life, like so many, is holding her breath and hoping that will be enough to see it through to better times ahead.
____
If you enjoyed this article please show your appreciation by sharing on social media to friends, or use the 'leave a tip' option available on this magazine platform. For further article inquires reach out at [email protected]