On the Prowl at Kangaroo Island
Searching for koalas, roos and other wildlife in an Australian paradise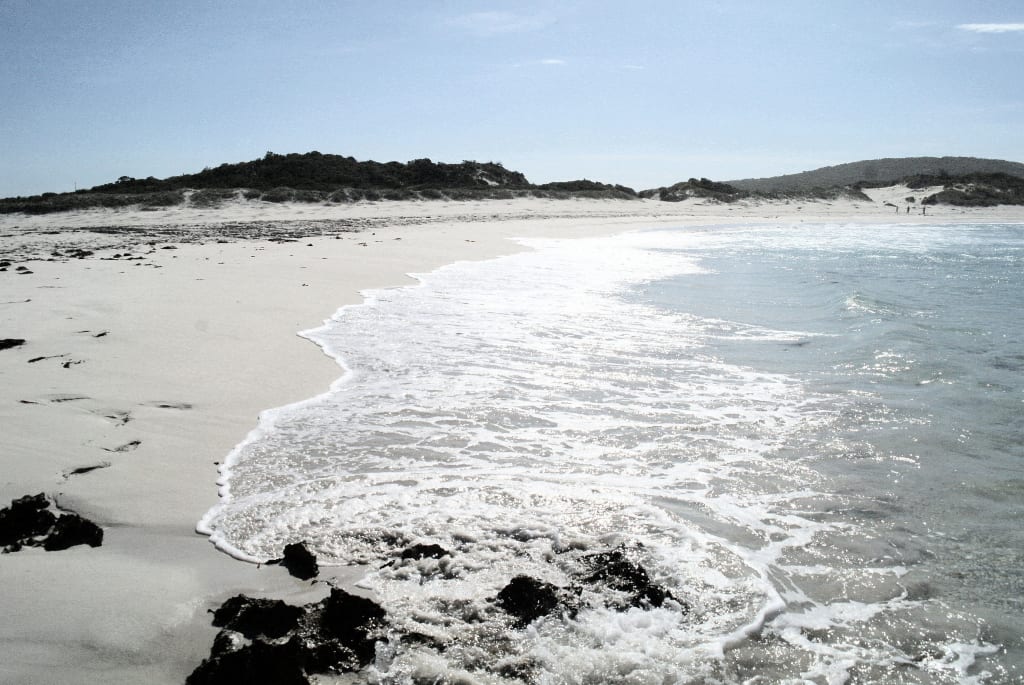 Hanson Bay, Kangaroo Island, South Australia. Photo by the author.
Kangaroo Island, a 96 mile sliver of land 70 miles south of Adelaide, Australia, is a bit of a misnomer. Sure, there are lots of kangaroos around but the island is a nature preserve, often called Australia's Galapagos, with hundreds of other animals as well - echidnas, possums, penguins and koalas - sharing the area with 4,500 permanent islanders who farm or service the tourist trade. Connected to the mainland by air and ferry, the Island is a favorite vacation spot for Aussies and foreigners. Animals may have the run of the place but people live here too.
Because of its popularity, there are over 70 places to rest your head, everything from rustic cabins to five-star hotels. Just before the pandemic struck, I stayed at Hanson Bay, on the western end of the island, in a well-appointed cabin overlooking the water. I looked out over the breakers. It was hard to believe Antarctica was just over the horizon.
The island's biggest supermarket is in Kingscote on the eastern side of the island so I jumped into the car to load up. My sister, who moved to Australia decades ago, told me the local custom is to give oncoming traffic the Kangaroo Island wave, a wiggle of the index finger. It's a friendly gesture that goes back to the horse and cart days when life was simpler and neighbors were neighborly.
A car approached. I fixed my gaze upon the solitary driver and gave him the finger. He recoiled in horror, mistaking my friendly gesture for that other one finger digital salute, the one's that definitely unfriendly. I thought about my sister back in Adelaide sipping her tea and laughing herself silly after giving me some really bad advice.
Hanson Bay is a stone's throw from Flinders National Park and a unique natural formation called Remarkable Rocks. And they really are remarkable. High winds have lacerated the rocks with sea salt over the centuries creating the most unusual shapes. I walked under a granite boulder; its base eroded so that the overhang looked like an eagle's beak. A sheer drop to the crashing waves 60 meters below greeted me on the other side. A short walk took me to another geological formation, Admiral's Arch, home to a colony of New Zealand fur seals. Here, erosion had created a cave-like shelter where the seals breed. Huge stalactites dangled from the rocky ceiling but the floor was surprisingly smooth, an ideal platform from which to watch the seals play in the surf outside.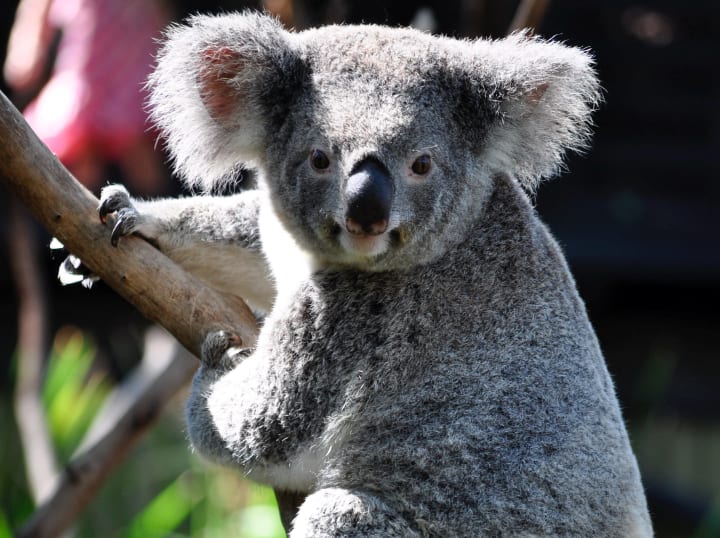 Later that evening I popped into the Hanson Bay Wildlife Sanctuary, one of three private wildlife parks that charge admission for their escorted wildlife "walks." It was dusk when the 12 of us set off on our tour led by our guide Sally Morris. Koalas are nocturnal creatures and we were hoping to catch them getting up from their midday nap.
"There are two up there," Sally announced as she pointed to two shadows high up in the eucalyptus trees. All I could see were two furry rumps. Not much of a photo opportunity, I thought to myself. I put my camera away when suddenly the leaves rustled and the two koalas jumped from branch to branch. Others followed and the whole grove came alive with marsupials. Soon, it became too dark to make them out and Sally took us over to the kangaroo enclosure instead.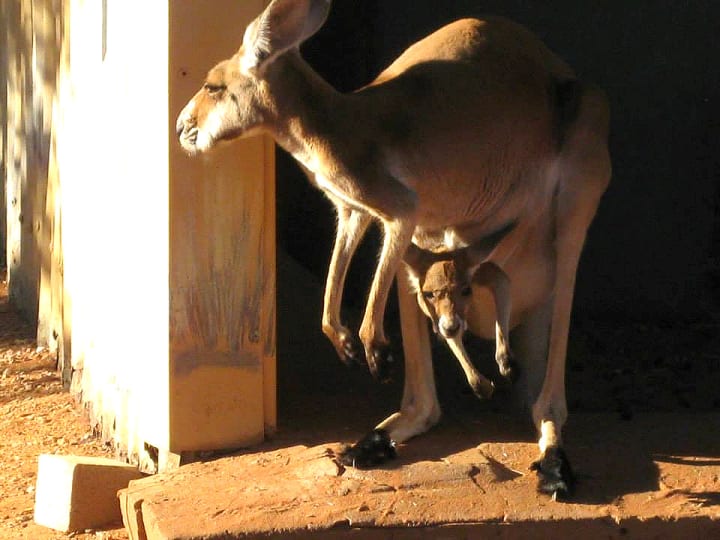 "Kangaroos are gentle creatures," she said, as she casually swung her flashlight onto a bunch of roos. There were kangaroos everywhere except for a small wooden fence that separated the pasture from the walkway. "Unless they're provoked," she added "in which case they rest upon their tail and flail away with their powerful hind quarters." She proceeded to tell us how quickly roos can eviscerate their enemies with deep slashes to the abdomen. She was very graphic. Too graphic. Does shining a light in their faces provoke aggressive behavior? Just to make sure, I stayed behind the fence. So did everyone else.
No danger of being attacked by angry critters at Seal Bay Conservation Park in the middle of the island though. Those furry lumps resting in the sand couldn't care less about people. By the way, there aren't any seals in Seal Bay; they're sea lions and if you choose the 45-minute escorted tour, the friendly guide will tell you the difference. (Sea lions are larger and have visible ears). Or, if you prefer, you can explore the beach on your own by following a 2,500-foot boardwalk over the dunes and along the beachfront with viewing platforms along the way.
Or if wildlife is not your cup of tea, there are numerous wineries and tasting opportunities just north of Kingscote at the western end of the island. Love those South Australian wines.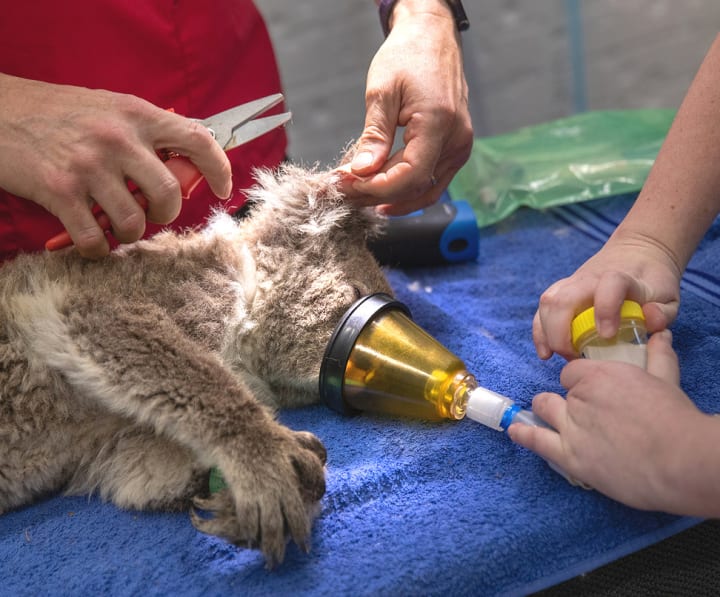 Sadly, in January 2020 just after I left, a series of bushfires engulfed Flinders, Hanson Bay and the western half of Kangaroo Island. The fires consumed 494,000 acres of trees and plants killing or displacing thousands of animals. An estimated 50,000 koalas lived on the island before the fires. Approximately 5,000 survived. That's one in ten.
Public reaction was astounding. Fifteen thousand Australians volunteered to help the South Australia SPCA set up feed and water stations. An emergency veterinary team raced in with a mobile field hospital while the Army cleared the roads of fallen trees. A GoFundMe campaign to buy food, pay vet bills and transport koalas off island raised $2.7 million.
I kept tabs. The rescue paid off. Vegetation rebounded quickly, eliminating the need for feeding stations once Kangaroo Island wildlife could forage on their own. A year later, researchers were pleased to discover many surviving koalas had joeys in their pouches.
Kangaroo Island is back to normal but there's another danger threatening the island's wildlife population - feral cats. Abandoned and left to breed by the Island's original settlers, these cats are not only attacking the smaller animals – little penguins, wallabies and echidnas - but they've introduced two diseases, toxoplasmosis and sarcospondiosis, that threaten the Island's sheep population. The authorities have responded by setting traps, promising to rid the Island of all feral cats by 2030. Kangaroo Island truly is a magnificent place and I remember it fondly. By all means, visit the island and enjoy the wildlife but leave Fluffy at home. Tourists are welcome but kitties are banned.
About the Creator
Former television news and current affairs producer now turned writer. Thanks Spell Check. Visit my web page at https://woodfall.journoportfolio.com
Reader insights
Outstanding
Excellent work. Looking forward to reading more!
Top insights
Easy to read and follow

Well-structured & engaging content

Expert insights and opinions

Arguments were carefully researched and presented

Masterful proofreading

Zero grammar & spelling mistakes
Add your insights