Next Mission - The Ouachita Trail
What inspired me to attempt to establish a Fastest Known Time on a little-known trail in Arkansas.

View from the top of Pinnacle Mountain, Little Rock Arkansas
This fall I'm going home to Arkansas. I'm going to drive there. Then my dad is going to drive me to Oklahoma and drop me off in the woods, and I'm going to walk back. But I'm going to do it as fast as I possibly can.
I'm going to attempt to establish an Fastest Known Time (FKT) for the Ouachita Trail – a little known 220-mile footpath from a state park in Oklahoma that I'd never heard of to a state park in Arkansas that holds a piece of my heart.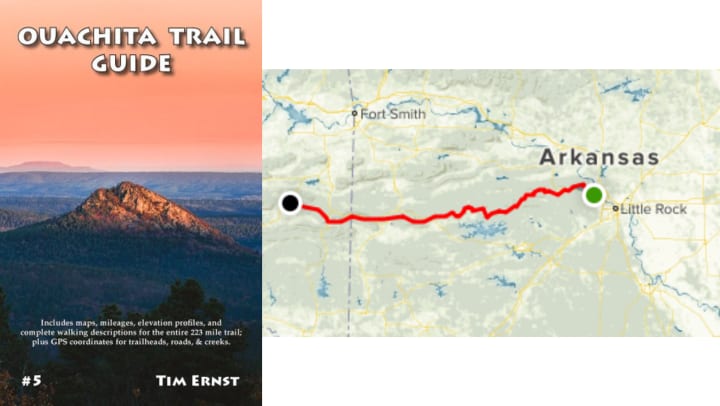 Why FKT?
For many years, like the first 30 of my life, I would have never referred to myself as an athlete. In the last couple years, I have reluctantly been whispering that word, but always with the loud qualifications that I am slow, a back of the packer, non-competitive, just doing it for myself. So why the F would I want to get involved in the FKT racket? Good question. Seriously. I keep asking myself that too. But I also feel wholly compelled without a doubt in my mind to take on this specific journey. So let me try to make it make sense to both of us at once.
As a kid, I was the slowest kid. Even as a child, a hundred yard run left me with painful stitches in my sides, gasping for air, temporarily blind and nauseatingly dizzy. I was the kid who cried when we had to run the mile. I was the kid that sat down and cried when they were It in tag because they couldn't catch anyone else. I was the kid who cried… you get the picture.
As a young adult, I was taken on hikes by well meaning friends who would turn around a quarter mile in and realize they had lost me. I'd be huffing and puffing and shuffling down the trail waaaay behind them--stitches in my sides, gasping for air, temporarily blind and nauseatingly dizzy. Still. Then they'd stand impatiently (or so it seemed to me) and wait for me to catch up, only to say, "alright let's go" and keep walking as soon as I arrived. I call this yo-yoing, and it's a great way to make me cry— to this day.
I looked at other people doing things like running and hiking and they never seemed to be struggling like I was. I knew I wasn't trying hard enough, but it seemed like my body was putting up a full armed resistance to any attempt to move faster, farther, harder.
At 23, I discovered the Appalachian Trail. Something about the idea of hiking 2,186 miles through the mountains for 6 straight months, was like a drug to me. I wanted to be the type of person who hiked like that. I thought that this immersion approach would be the breaking point for my body. That after six months of hiking, I would be able to hike with ease, like other people.
After 650 miles on the AT (not the 2000+ I was originally hoping for), I wasn't struggling any less really. And then I started running, hoping that would be the key. I ran a 5k, then a half marathon, then trained for a 50k. I learned over the course of 5 years how to swallow suffering. How to push on when everything in my body screamed STOP. But it never got any easier.
It wasn't until 2020 that I was finally diagnosed with POTS.
POTS is a form of dysautonomia (dysfunction of the autonomic nervous system) that affects heart rate, breathing, sweat production, temperature control, blood pressure: all the things the body is supposed to manage automatically. So, I struggle more than other people. It's built into my anatomy. It doesn't have anything to do with not trying hard enough.
Hiking was the beginning of a long journey that helped me overcome ideas about what my body should feel like. But I haven't let my diagnosis dictate what my body should be capable of. Many POTS patients can't hike, wouldn't even dream of running. I understand that what I'm doing truly isn't possible for some of us. My heart breaks at the unfairness of my own body, and for every person whose diagnosis is holding them back from getting out there, and for every person who can't do the things they used to love because of a sudden onset of dysautonomia, and especially for those living undiagnosed who don't yet understand why they're struggling.
But I've worked hard and suffered a lot to find a version of my body that can go for miles. It's not easy, but the cramps and dizziness and sweating and heart beating out of my chest are a small price to pay to do the things I love and to love my body despite its glaring flaws.
I'm making this attempt to push the perception of what is possible for people with dysautonomia. Because so much is possible. It is possible to find strength through suffering. It is possible to build cardio endurance and manage symptoms well enough to be an athlete.
The FKT world offers a specific opportunity for me to compete without competing. There are thousands of trails and tracks which hold no women's records in one or more categories. I will not be beating anybody's record in the self-supported category. Because I will be attempting to get a name on the board for the first time, I will be setting a very beatable record. (Unless somebody else gets out there first.... please no.)
So, I won't be competing. I'm doing it for myself.
Why the Ouachita Trail?
As a writer and a bit of a nomad, I like to spend a little time every year at my dad's—it's nice to have the freedom to spend extended time with family without having to suck up all my PTO about it. He wouldn't admit it to anyone, but he loves that I can come crash his guest room (read: my old bedroom) for a month at a time. "More than two weeks isn't a visit," he tells me every time I come home, "you're paying rent." That's his love language.
Every visit is also an opportunity to see the place I spent the first seven years of my adult life. Back then, I was too busy drinking and working and making a mess of my life to realize what a little gem Arkansas really is. In the years since I cursed the place and left for good, I've slowly come back. I've uncovered a wonderfully small and tightknit climbing community and one of the best rock-climbing destinations in the country. I've crunched the fall leaves under my feet and hunted frozen waterfalls in the quiet winter of the Ozark Mountains. I've walked in daylight down the streets I used to carouse.
After some time away, and a lot of reflection and inner work, I can stand whole in the places where I was once broken.
Going to Arkansas to hike is my way of bringing my best self, my truest self to the place I have felt most lost in the world. Hiking is what got me out of that dark place, and what helped me leave the state. And now it's bringing me back. Or maybe it's better to think of this as me… bringing hiking home.
The Ouachita Trail stops just short of summiting Pinnacle Mountain, where I learned to hate hiking when I was 17 years old, a new college student, and a reluctant Arkansan transplant from Northern California.
***For the full story about my love/hate relationship with Pinnacle Mountain, check out my story Measuring Up on the Out There Podcast.
In the past few years, my visits home are never complete without a hike of Pinnacle Mountain. It has become a pilgrimage of sorts. In some ways, my relationship with that piles of rocks is an open wound. Every time I reach the top and gaze out over Lake Maumelle and the Ouachita Mountains, is another layer of salve, another moment of healing, another chance to acknowledge how far I've come in the 15 years that have passed since the first time I stood on its summit.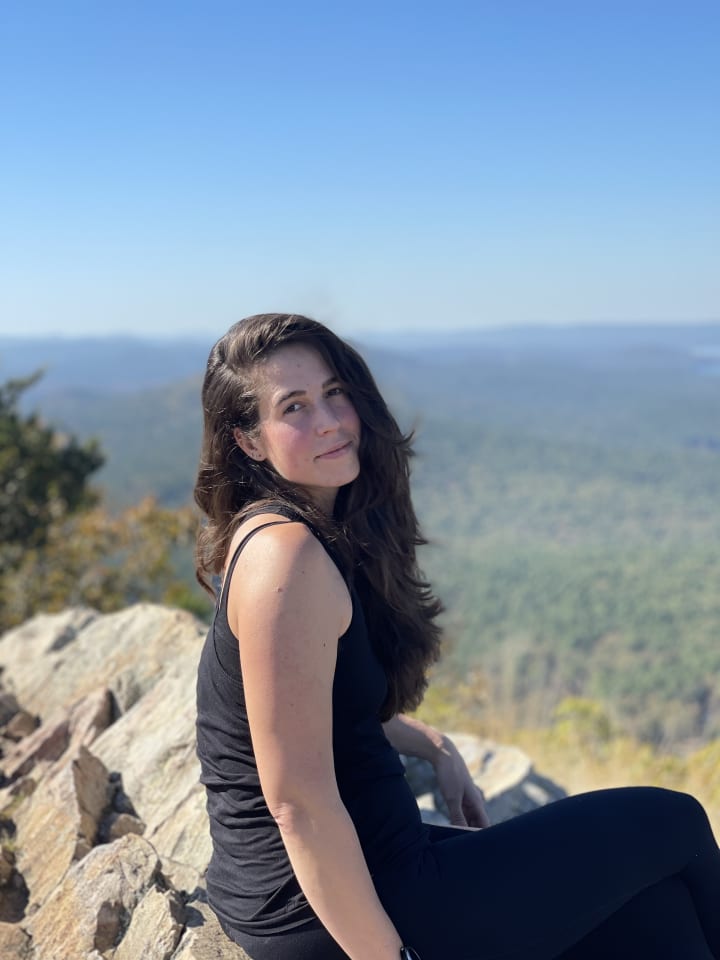 In November, I will spend 6 (or maybe 7) days walking and healing. I will be pushing myself to my absolute physical limit—walking until there is nothing left. Breaking myself to reach that mountain. To climb its rocky summit and stand where I have stood so many times before. To look where I have looked so many times before. But this time, to see the path I have traversed to get there laid out before me. To get there because I love it. Because I feel a kinship to it. Because I can't imagine a version of myself that never lived in Arkansas, or stood atop Pinnacle Mountain, or went through the crushing loss of self that I had to experience to learn what self even means.
I've been toying with the idea of trying to do something like this for a while. I have been fully committed, training and telling close friends for about 3 months now. But I've been waiting to make this announcement. Out of fear. Fear that I won't be ready. Fear that no amount of training will make this body capable of what I'm hoping to accomplish. Fear of public failure.
But here I stand, naked in front of the world. I don't want to quietly make the attempt and only humble-share if I'm successful. I want you to know. To see. If I fail, I want to fail publicly. Because I am proud to be trying. In a lot of ways, this isn't about success or failure—it's very much in the doing.
To those that came before... and after
Thank you so much to all the lady crushers who have inspired me along the way with their feats of insane athleticism. Jennifer Pharr Davis, who had recently set an Appalachian Trail FKT and spoke at the climbing gym in Little Rock, AR before my first attempted thruhike. Courtney Dauwalter, who has accomplished so many amazing things and who I still hope to run into on the trails in CO someday, and whose Colorado Trail attempt was a vulnerable and difficult example of how a public failure can be as inspirational as any success. And lastly (but mostly) to Heather Anderson, who has offered her story to the world and her support and friendship to me in this attempt.
Thank you and good luck to all the future female FKTers out there!
To those that want to be a part of the adventure
My FKT attempt is sponsored in part by SaltStick. They make electrolyte products for athletes and those with dysautonomia. I am so proud to be at the intersection of those two worlds and to have an amazing partner in SaltStick, whose team has been so supportive as I work through the challenges of training for this and other endeavors.
I am still seeking sponsorship for the attempt.
Any support you might personally want to offer can be given through venmo @ladyunicorn or paypal: [email protected] or through the secure tipping feature here on vocal.media and will be appreciated on a level I can't even begin to explain.
If you are interested in coming in person to Arkansas for the finishing party at the end of my hike (whether I hit my speed goal or not, we are partying) please reach out. I would love to have you there.
About the Creator
Author of the award-winning debut memoir, Alone in Wonderland. Christine writes about outdoor adventure, familial relationships, friendship, grief and trauma. She's passionate about hiking, backpacking, rock climbing, & storytelling.
Reader insights
Be the first to share your insights about this piece.
Add your insights