New Castle To Cairns
Going North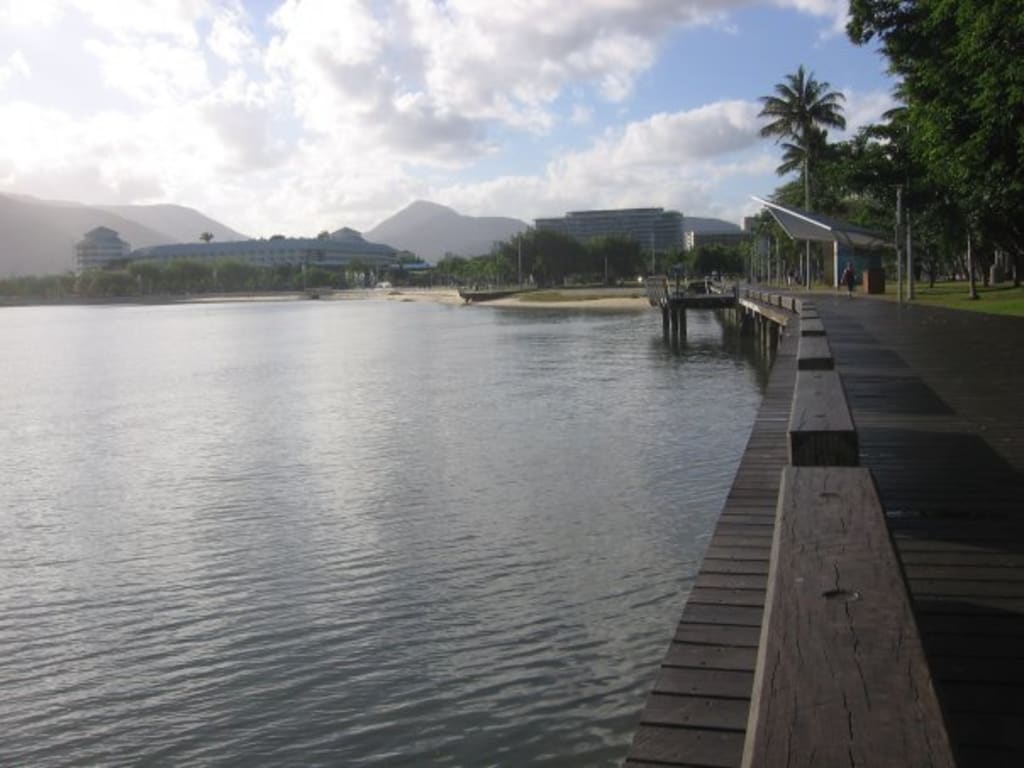 I returned from my trip south with a new sense of adventure.
So far, the spontaneity card had been working out nicely, and I was eager to try it again. While in New Castle, I had gradually come to know some of the local residents there.
There was a student who was studying space physics and some others in the art background as well. They invited me to a gathering and in it, I expressed my interest in going to Cairns, and going scuba diving. They recommended to me to see if I could volunteer on one of the dive boats and earn "air" that way.
The second day I had arrived in Australia, and one month prior to learning about the possibilities of scuba diving, John had asked me if there was anything special that I wanted to see while in Australia.
I casually mentioned that I desired to see the Great Barrier Reef. He then was quick to comment that the Great Barrier Reef was five hours north by train and in this way, I, at first glance, came to think that this trip was not possible.
After my adventure in Canowindra, and the keys I had gained by getting advice from my friends in New Castle, I started to see Cairns as not such an unrealistic destination.
John's family announced that they would be going on another vacation north. I saw it as my opportunity to go to Cairns. It worked perfectly as they could have a family vacation to themselves.
With my travel backpack and a guitar, I boarded a train south for Sydney and then boarded a plane for Cairns.
I found flying in Australia is quite convenient. It was more like taking a bus than being at a complicated airport. 24 hours later, after spending a night in Sydney, I arrived in Cairns.
I had booked a hostel in advance and took a taxi from the airport to the town center. Unfortunately, nobody, including myself and my dead phone, knew where the hostel was.
That was, until somebody did know and they took me there.
The place, as I recall, seemed to grow up from the ground. Concrete slaps jutted into the air and blinking computer screens huddled around the walls and young international travelers like me spoke in quiet voices over Skype around those screens in languages that only they could understand to back home.
It was very peaceful to listen to, as it accompanied the cooling of the day and crickets. Upon checking in, I was soon to find out that I was not the only one who had come up with the idea to try to volunteer on a dive boat in exchange for air, as some German girls were attempting the same process.
I awoke early the next morning, and together we walked out to the launch point. For the first few mornings, there was no success in finding a boat that was looking for hands on deck, but when it did occur I found myself later thinking and seeing the quote "be careful what you wish for".
On the day that I was to succeed in getting into a boat and getting to go scuba diving I was also thinking that it was time to find a hostel closer to the seashore. The hostel had been a great opener, but I wanted to be closer to the sea.
I arrived at the boat and the boat captain assigned me to the cooking quarters. I was to be the dish washer that day. There was a crew of 40 on board and it consisted of tourists and a few employees as well.
It was an adventure from the start, as it was quite windy that day and the waves rocked back and forth, making cleaning dishes quite the task. I actually find climbing techniques paid off at that time as I was able to jam my feet into cracks in the boat to gain purchase and be able to wash dishes.
Finally, we arrived at the diving location. Previously, I had been diving before, but it had been with supervision and it had also been three years previous to that day.
When I was handed a tank and a BC and given the best of luck, thoughts of uneasiness crept in. Basically, I was on my own. The next 30 minutes or so consisted of me jumping into the water with my tank and gear and really happy to have a full BC vest and then on my one attempt down my ears gave me trouble and so I resurfaced.
I exited the water, happy to be alive and looking forward to ending the adventure. On the way back, I washed more dishes and soon, Cairns was in sight. I do believe that was my last night sleeping in the hostel that I first stayed in.
The next day, I moved to a closer hostel on the beach. The scuba diving adventure had been accomplished and it was time to play music.
I checked into the new hostel, and it had a fresh breeze floating through it and it was light blue in color. It put me in the mood to play. I grabbed my guitar and went to go sit out on the boardwalk. I had been playing for a little bit when I ran into a guy from Italy with the same idea.
He introduced himself as Rafael.
"You know like the Ninja Turtle," he said and we became conspiring muso's in that instant.
He informed me that he would be going to a get together at a friend's house. At first, I was kind of sketched out, but I took the spontaneity card and went with the flip.
Upon entering, the gate was locked but he hopped over and got in, and soon we were knocking on the door to a residence four floors up in Cairns overlooking the town.
It was there that I met a Canadian duo. They were both hugely inspiring people and we connected right away. Unfortunately, I arrived at a time where the duo would soon break apart and the weaving would have them weave their own paths, but I met at the juncture and right in the sauce.
I became quite connected with the girl as she was naturally a music girl. She was one of those souls that helps artists on their way as she was one herself or the connection to one.
I was inspired when I was around her and the both of them put a magical quality to the whole Cairns experience. It was glittering and gold — like Cairns liked to be as well!
I was in the flow right then and I felt it.
Mike would later invite me to live in their place and help pay rent. It was an interesting time because of relationship issues, but I felt everything was being thrown on the floor at that moment and was being mixed with different colors.
Those experiences happen when riding the waves of uncertainty. It's when every moment is fragile. For me, it was a dwindling bank account.
It was the pull to return to the known. It was parents confirming that pull. I rode the wave longer though. I ended up recording a song in a studio there and also met some other musicians.
One evening I came across the beautifully talented Emma Louise. She was just starting out her journey then. She had a tea cup in hand and was fighting a cold when I first met her. We took turns singing songs under the Cairns leaves, but I knew she was well on the journey, when I saw her personality.
I've known that about a lot of the songwriters I've met so far. I know that they're going to branch the next level. I ended up playing with Emma a little at Mondo's on the beach in Cairns and I could feel things happen to me.
Australia has such a musical feeling. It felt so comfortable to open up a guitar case and play songs on the boardwalk. I found the community to be very inviting to music and this was a lovely thing.
I continued living with Jen and Mike and things matured. One day, I was introduced to Goose as well.
He was this huge intimidating Columbian that was so warm in personality and shared a mystic quality to his personality. He sat me down one day in a bar over some kind of drink and said this "John you know God respects all people and loves them, but John, God loves musicians and songwriters."
I can still hear those words and he had such a way of saying them as though they floated up from the earth and tickled your ear just in the right way. I ended up playing at that bar and things were starting to ripen up and decisions were starting to become imminent.
I could either go home to Colorado or stay in Cairns. I would have to travel to New Zealand and renew my visa and then return. Fate had it that I would return to the U.S and I felt that was what would be, but I wanted to continue the spontaneous role of things.
It just so happened that a Japanese Embassy was mixed in the Cairns design as well and I visited there and again the JET Program came into view and this time, I bit into the peach and it would, in a year's time, send me north and far away from Australia to work with Australian people and other internationals!
student travel
australia
humanity