Most Beautiful Waterfalls in National Parks
From the Roaring Folk Falls to Paterson Great Falls, this list of the most beautiful waterfalls in national parks will take your breath away.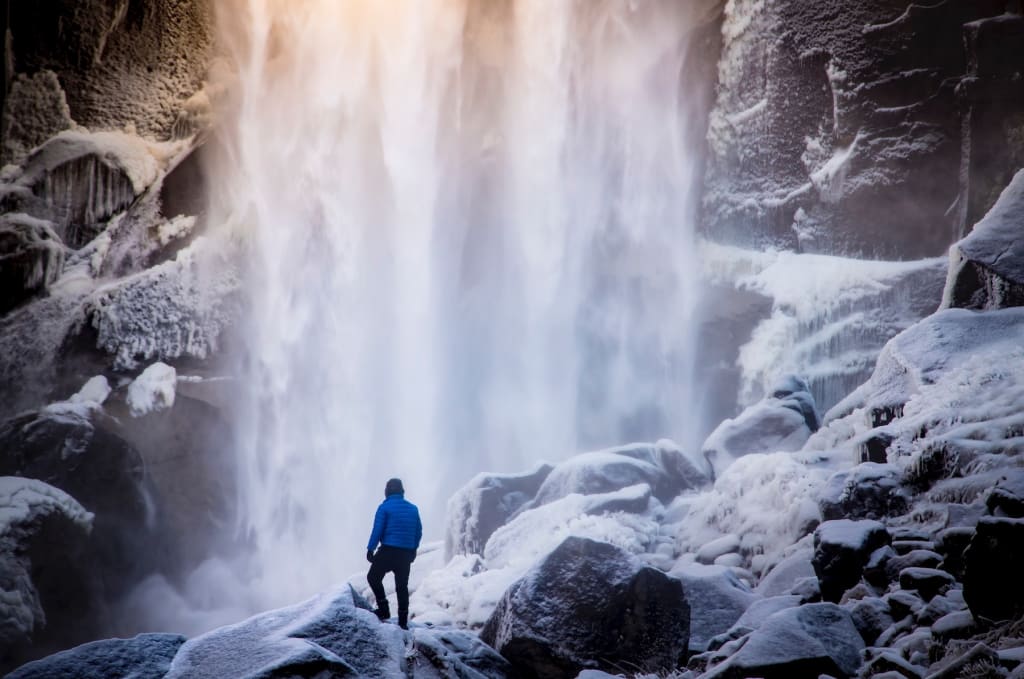 There's something about watching the lively, roaring cascade of a waterfall that just puts your mind at ease. Waterfalls are nature's graceful rendition of a fountain—and to this day, no one has proven to be a better architect than Mother Nature herself.
Most people don't realize how many waterfalls exist throughout the United States. There are plenty of waterfalls near local creeks and streams that aren't even charted on maps. However, most waterfalls aren't really that big. That's why they don't really make many headlines.
If you want to see seriously majestic waterfalls, you will need to hit up a national park or two. Not all national parks will have a great waterfall, though, so if you're really looking for an amazing sight, you might want to check out this list of the best waterfalls in national parks to visit.
Rainbow Falls — Devils Postpile National Monument, CA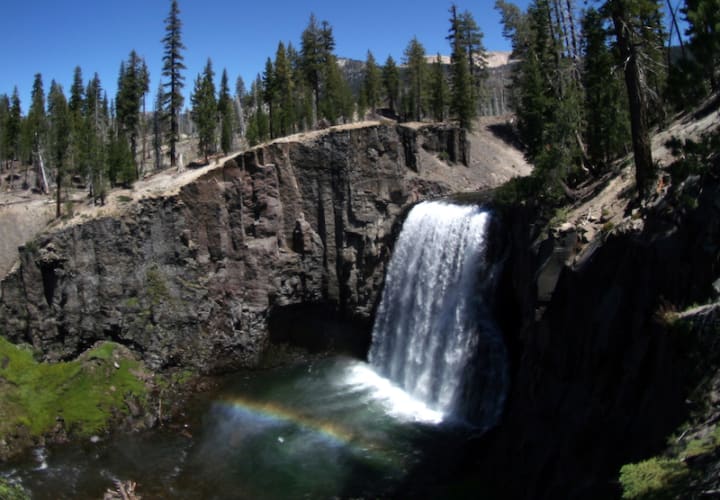 One of the biggest underdogs, as far as waterfalls in national parks go, is Rainbow Falls. This striking waterfall typically plays second fiddle to the Devil's Postpile, but it really shouldn't.
Visitors who approach this beautiful place get to see waters crashing from 101 feet up in the air, down into a serene stream below. The name Rainbow Falls isn't a misnomer, either. During the middle of the day, the sun hitting the waters creates a series of rainbows that seem to hover over the falls.
Bird Woman Falls — Glacier National Park, MT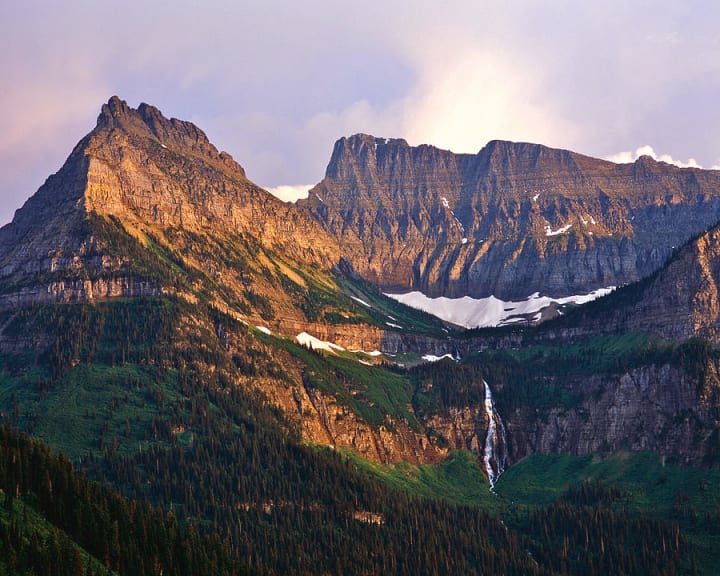 Few waterfalls in national parks tower anywhere as high as Bird Woman Falls. This massive waterfall has a 560-foot drop, but has a total height of over 900 feet. The falls, which were allegedly named after Sacagawea of Louis and Clark fame, remains one of the most beautiful parts of this national park.
To a point, looking at this waterfall will make you feel small and insignificant. It's so large, it even can be seen from roadways miles away.
Hadlock Brook Waterfall — Acadia National Park, ME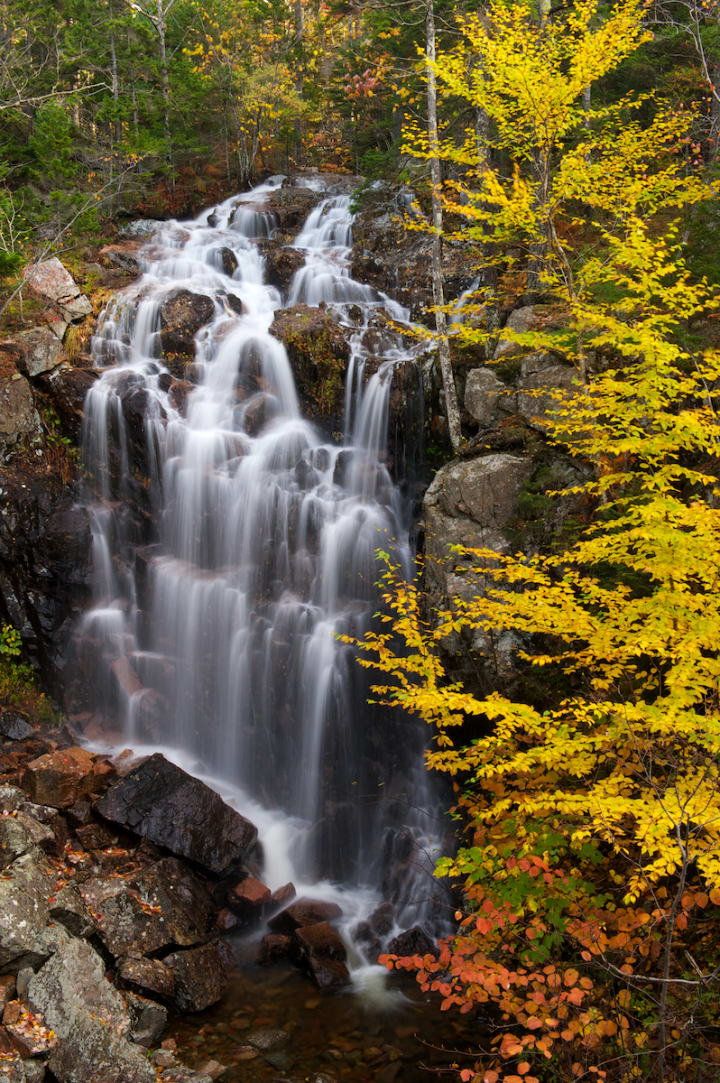 Hadlock Brook Waterfall isn't giant by any means, but it remains one of the most beautiful waterfalls in national parks regardless. Hadlock's beauty comes from the fact that it looks like it'd fit into a fantasy film, especially if you're looking at it from the stone bridge.
This serene, charming little fall only stands at 40 feet high. However, its natural beauty is undeniable and remains one of the top choices for people looking to become one of the best nature photographers on Instagram as a result.
Marymere Falls — Olympic National Park, WA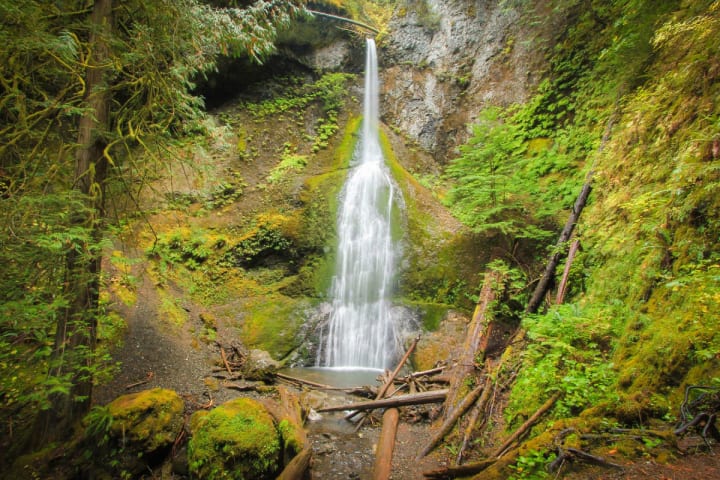 Marymere Falls is a 90 foot drop, directly down into a placid lake surrounded by verdant greenery. However, it's not the only waterfall to be featured in Olympic National Park's sprawling acreage. Olympic is also home to Bunch Creek Falls, Madison Creek Falls, and Sol Duc Falls—as well as a number of other waterfalls in the surrounding area.
It's fairly safe to say that there are a lot of things to do in national parks like Olympic, and at this particular venue, waterfall watching is one of them. It's one of the best national parks in the US for waterfall fans.
Though there's definitely a lot of competition for being one of the prettiest waterfalls in the area, the delightfully secluded Marymere Falls is regularly cited as a must-see for any hiker who wants a taste of nature.
Overall Run — Shenandoah National Park, VA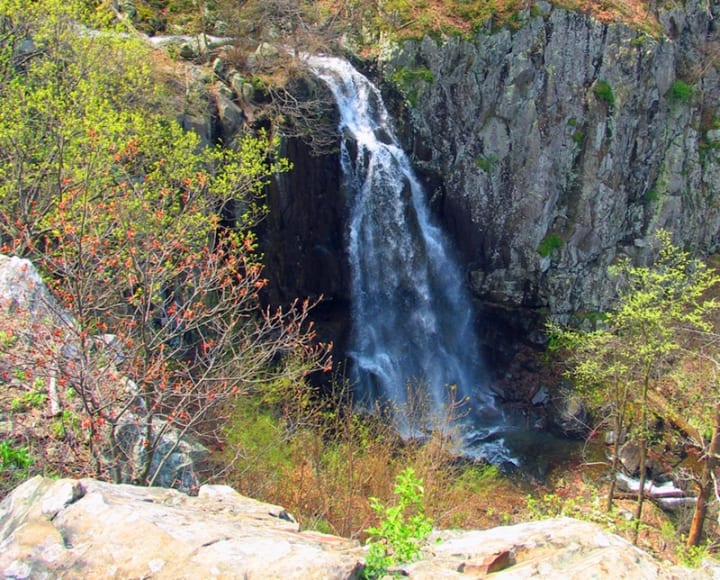 Shenandoah National Park has some of the most beautiful hiking trails in any national park, and one of the more challenging ones you might want to consider is the Overall Run Hike. This moderately challenging hike will bring you to Overall Run Falls, a waterfall that has a 93-foot drop from the cliffs above.
It's worth the hike, especially if you're a nature photographer. Many explorers in the area don't just get a glimpse of the falls, either. The wildlife in the area can be seen around every tree!
Lower Falls of the Yellowstone — Yellowstone National Park, WY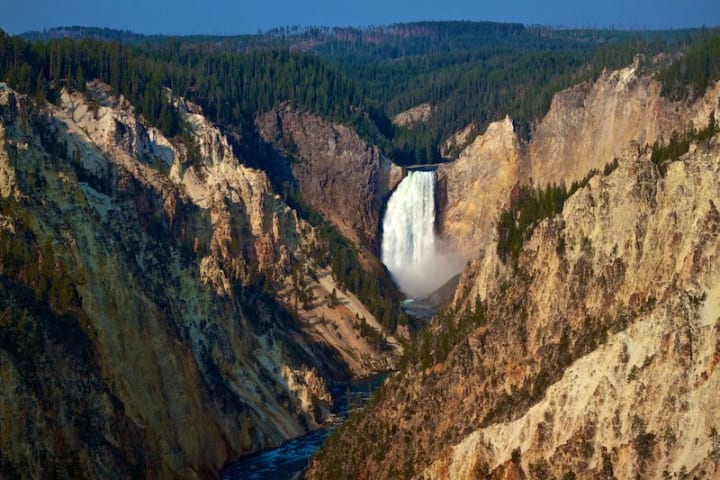 Yellowstone National Park is one of the most famous national parks in the world, and not just because of Yogi Bear, either. This is home to one of the most impressive waterfalls in national parks of its caliber.
The lower waterfalls in Yellowstone actually open up into the Grand Canyon—so you can immediately understand what makes this one of the most visually striking falls in the world. The 308-foot drop alone makes it notable, but when you realize you're literally seeing it from the opening of the Grand Canyon, it's just downright awesome.
Brooks Falls — Katmai National Park and Preserve, AK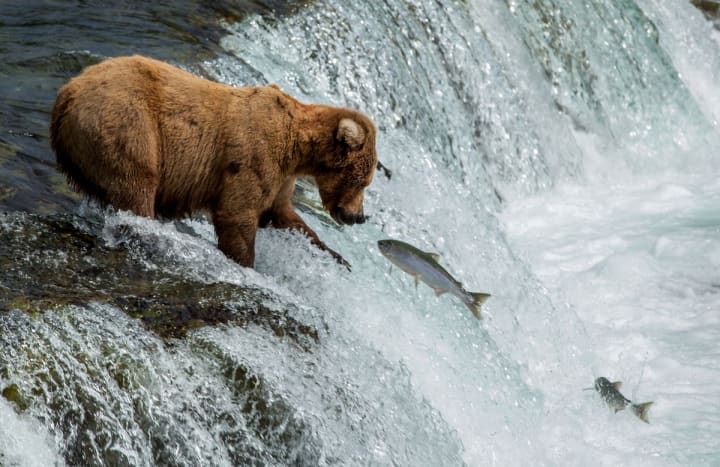 Katmai National Park and Preserve is home to some of the rarest flora and fauna in the Alaskan Wilderness, and also is home to one of the most modest waterfalls in national parks to still remain famous. Most of the year, these falls are pretty much disregarded.
However, during the summer months, Brooks Falls becomes one of the biggest hotspots for bears that want to eat some salmon. If you're a fan of waterfalls and bears alike, you'll adore Brooks Falls during the summer months.
Paterson Great Falls — Paterson Great Falls National Historical Park, NJ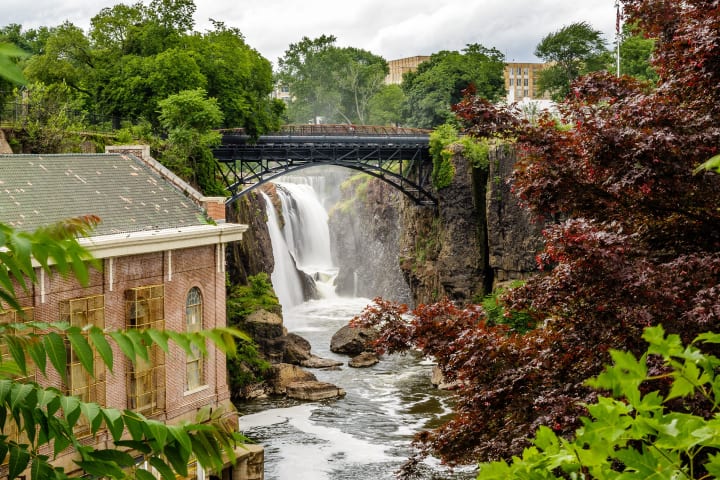 Surprised to see a waterfall in New Jersey? Don't be. Not all of the waterfalls in national parks require a trip out West or a trip to Maine. There are some pretty impressive East coast falls to consider seeing, too.
Paterson Great Falls National Historical Park is located within minutes of New York City and boasts a 77-foot waterfall that overlooks a train bridge. This rustic-urban setting is one that really can't be missed!
Waimoku Falls — Haleakalā National Park, HI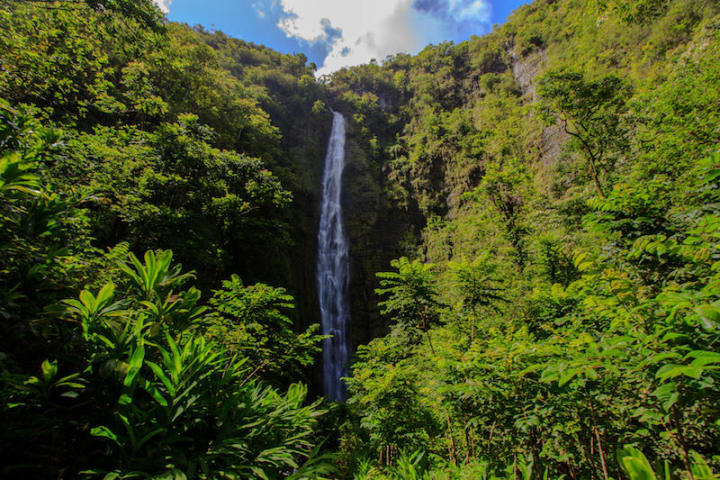 It wouldn't be a complete list without mentioning waterfalls in national parks of Hawaii. Waimoku Falls is a part of the Haleakalā National Park system, and it's part of a three-mile hiking trail designed to give you a full glimpse of Hawaii's natural beauty.
The fall itself is surrounded by lush island greenery, and is a 90-degree plunge from 400 feet in the air. This is a great place to go if you want your heart to skip a beat once you look at the falls in their entirety.
Yosemite Falls — Yosemite National Park, CA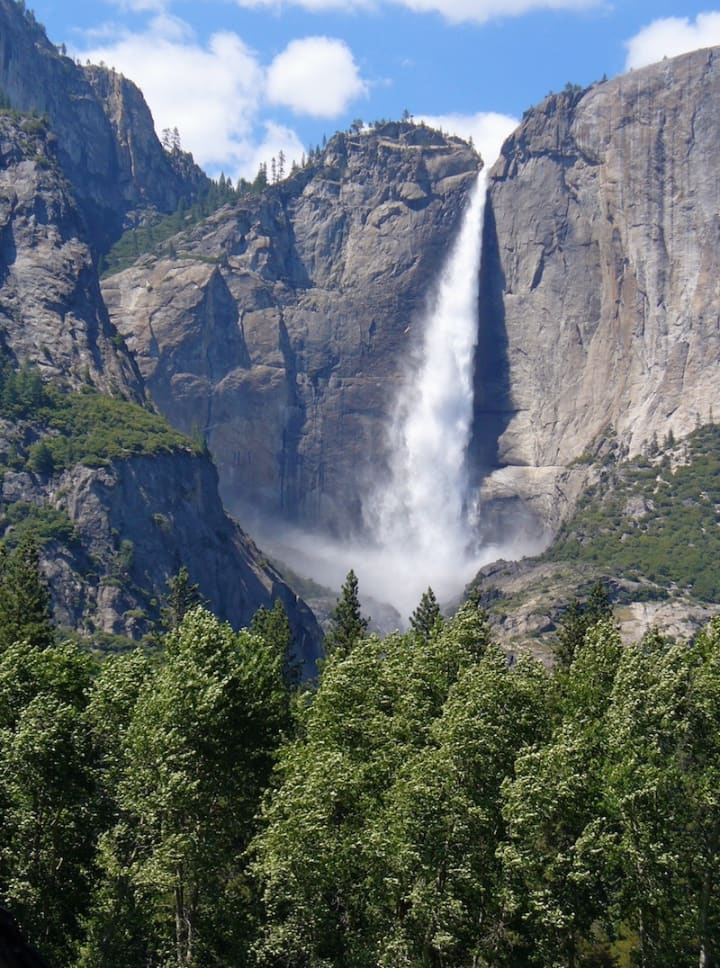 Not many waterfalls in national parks or otherwise have anywhere near as high a drop as Yosemite Falls. This fall drops a staggering 2,250 feet downwards, making it the tallest waterfall in Yosemite by a landslide.
The surrounding area is filled with mountains, greenery, and just a little bit of flat land. The overall landscape makes this one of the most spectacular waterfalls you can ever see, all while enjoying one of the best hikes of Yosemite.
nature
About the author
Iggy Paulsen is a fan of anything and everything wholesome. He loves his two dogs, hiking in the woods, traveling to Aruba, building DIY projects that better humanity, and listening to motivational speakers. He hopes to eventually become a motivational speaker himself.
Reader insights
Be the first to share your insights about this piece.
Add your insights