Mardi Gras
A Culture of Creating Happiness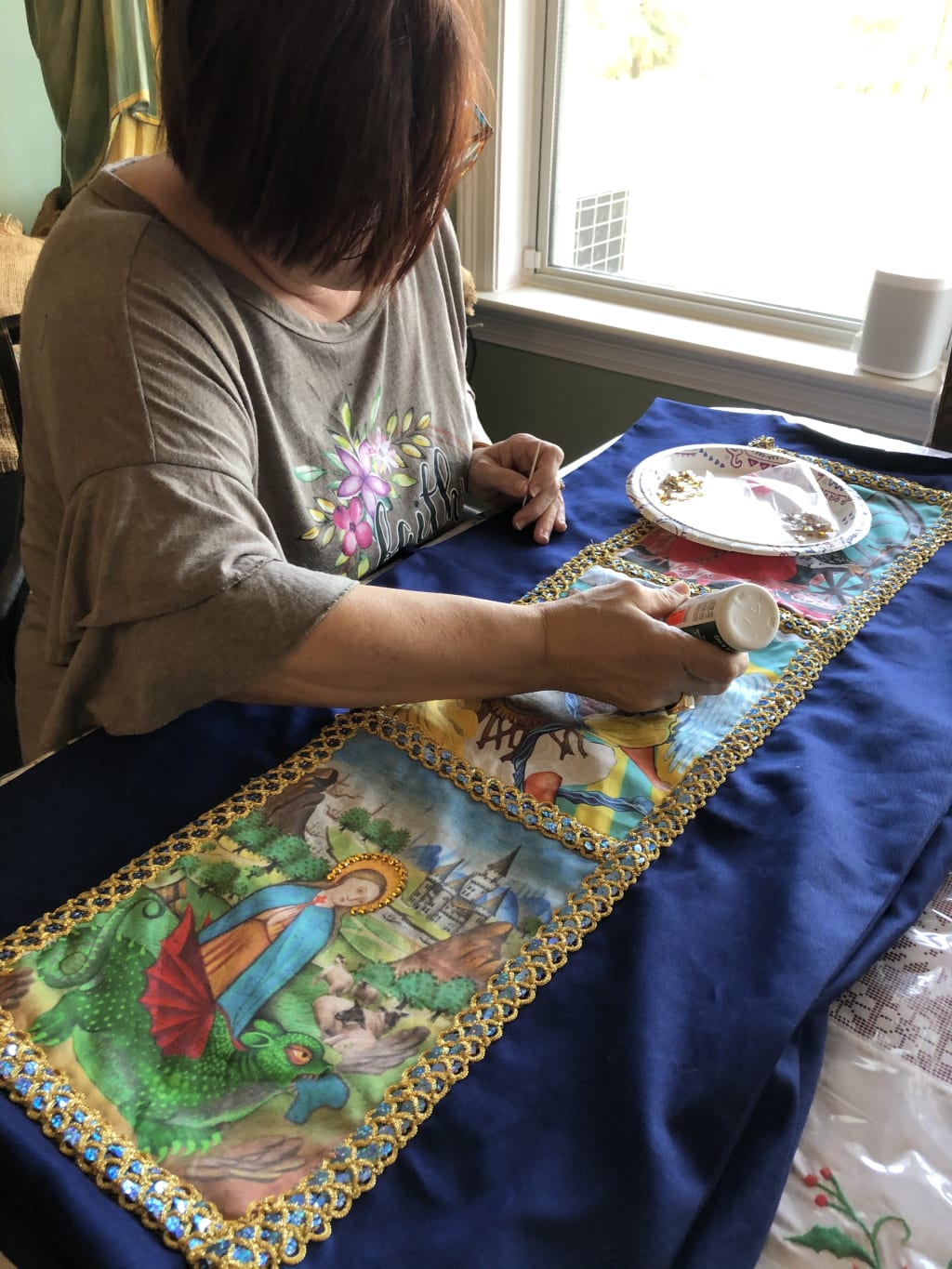 You're never too old to play dress up!
"What's going to happen if you actually get this job?" I asked my husband.
"I don't know."
Those three words hung in the air, floating with fresh possibilities.
When he got an interview, Andrew didn't have much choice. He had to let the cat out of the bag and tell me that he had applied for a teaching position 1500 miles away from Boston, where we'd spent our entire adult lives. On a lark.
The moment before I responded stretched in front of me like a rubber band while memories of the past 35 years rushed into mind like waves at high tide. Our lives were settled. The house fire that had turned our world upside down a couple of years before was finally behind us. We were back in our sprawling suburban lakefront house, and the walls were finally painted in the colors I'd always envisioned—nineteen of them.The calendar we had struggled to keep all those years shuttling our 8 kids to various schools and activities—the one that crashed the internet?—looked empty. The oldest four had long since left home, and the youngest was a college freshman in New Orleans, coincidentally the city where this job would take us.
We had so much to be grateful for and breathing room to-boot. What we didn't have was a lot to look forward to.But that's just what happens as you get older, isn't it? And there we were, the youngest child far away at school, and me working remotely before the pandemic made it the norm.
Maybe it was the fact that we didn't have to stay where we were. Nothing (with-a-capital-N) was actually holding us back. Maybe it was my desire to travel or the lifelong sense of adventure we had tried so hard to hang onto that made me wonder if being "settled" was just a power-of-positive-thinking way to say "settling" for less. But in that moment, it seemed to me that of all places Louisiana could be the beginning of something entirely new, and that if we went ahead and did this crazy thing, it could be a lot like starting our lives over—fresh. I found my feet again as the waves retreated and answered:
"If you want to do this, and you think we can, I'm game!"
******
We took what was left after the full dumpster was carted away and the rest was picked up, put into storage, sold, or given away. Downsizing puts a lot of things—the stuff you accumulate over decades—into perspective. I'm convinced that nothing sparks more joy than, well, nothing. We don't miss the things we thought we might, not even watching the lake as seasons changed. And certainly not the snow thrower.
By far the hardest thing to leave behind are all the people attached to a place, those who have been part of your life. Sure, you can keep in contact, but after you leave it isn't the same. It's hard to start meaningful friendships from scratch in a new place, when your history isn't shared with anyone around you, when nobody nearby remembers when… It's even harder when you work from home.
But there is something amazing about New Orleans, something you can't understand and will probably never hear of unless you spend more than a few days here. Mardi Gras culture. Now admit it, you think I'm talking about the drunken young things who pull up their shirts on Bourbon Street for a string of cheap plastic beads. That's the tourist version. But real Mardi Gras culture is immeasurably deeper than that, and it lives and breathes beneath the radar here all year round.
If you want to get it straight, you first need to understand that Mardi Gras is a season, not a day—though it culminates on Fat Tuesday, the last day of carnival before the penitential season of Lent. It isn't just one big parade either, but over 50 spread out across various city routes between Little Christmas (January 6) and Ash Wednesday. But a parade here isn't something you sit down and watch as it passes by; it's interactive. People come in costume and with signs. They come with wagons and propane grills, and yes, a drink or two. They buckle their young kids into safety seats attached to stepladders and line both sides of the street. People riding on lavishly decorated floats or pushing their costumed dogs in wagons through the French Quarter or walking a route you can look up on one of several available apps toss treasures to the crowds that gather. These "throws" aren't just beads, but toys, musical instruments, plastic cups, hand-decorated purses and high-heel shoes, toilet plungers, and the most coveted of all—hand-painted coconuts. There's no such thing as too-much here. People are free to be who they are and over-the-top has a place on the front porch.
And here's the thing: none of these parades have corporate or government sponsors. They are organized, executed, and paid for by social organizations called "Krewes." Krewes exist to bring joy by keeping this extraordinary culture alive. A group of people are drawn together around science fiction or political satire, a taste for the risqué or for wine or red beans. For me, it was Joan of Arc.
Picking up a pair of Fiskars at a summer Sunday afternoon throws workshop has introduced me not just to Mardi Gras culture, but to a group of new companions. Our shared interest in All Things Joan provides a place where lasting friendships can begin and grow. It doesn't hurt that the Maid of Orléans was an amazing young woman, full of spirit and and completely dedicated to fulfilling her destiny. She accomplished what no seasoned military leader before her could manage to do, and is an enduring symbol of courage and perseverance. As the liberator of "old" Orléans, our sister-city in France, Joan of Arc embodies our Southern Louisiana link to French culture and history.
All that is why the Krewe de Jeanne D'Arc marches through the French Quarter on the evening of Joan's January 6th birthday and works all year to organize the first official Mardi Gras parade of the season. With medieval and dramatic costumes, and props that include wooly sheep, a confetti canon, paper maché walls of Orléans, a giant birthday cake, and backlit stain glass windows, we tell the story of Joan's heroic life in parade and pageantry. Thousands of people come out to greet our own Maid of Honor on horseback, watch the Blessing of the Sword in front of St. Louis Cathedral, and enjoy their first piece of King Cake for the year.
Of course, none the elements we use to celebrate Joan would be possible without scissors. We need them to make our costumes, our props, and the thousands of handmade throws we give away to both friends and complete strangers who line the parade route. And I will tell you that one of the most wonderful things about being in a parade is the joy you share with a person on the sidelines as you hand them something you took the time to make.
This year, I'd like to up my game when it comes to costuming. I'm hoping to dress up as Christine de Pizan, an extraordinary medieval writer and feminist who composed the very first ode to Joan's victories while she was still alive. I'm not great on a sewing machine, but there a Krewe members who can help me. We'll meet to discuss fabric and design, pick up a pair of scissors and—as we say here—Laissez les bons temps roulez! (Let the good times roll!)
culture
About the author
Jaymie has never met an animal she didn't want to keep as a pet. Mom to 8 adult children, Jaymie loves her new hometown of New Orleans, writing, making music, and learning new things. She is an independent provider of editorial services.