Mad for Max
Feeding my passion for noise and mayhem in Silverton, Australia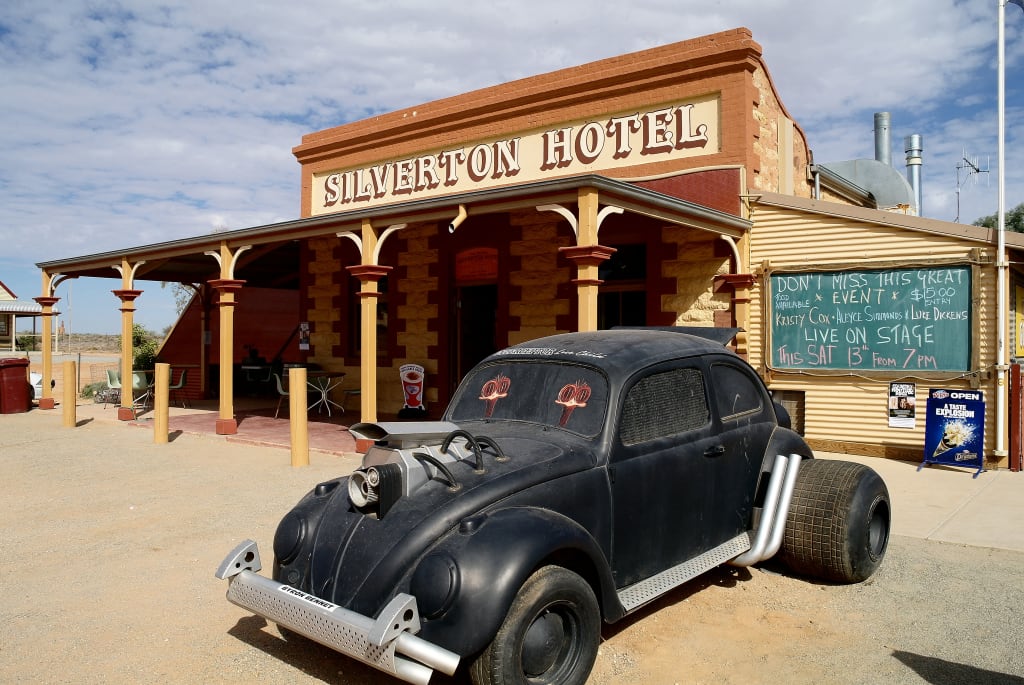 Downtown Silverton is Mad Max territory. Photo by the author.
Silverton, Australia, a lonely, outback outpost 335 miles northeast of Adelaide, isn't much to look at - a hotel and bar, three art galleries, a tea room and surprise, surprise, the world's only Mad Max Museum.
It's hot, humid and I'm surrounded by hundreds of fat, hungry flies as I make my way across the town's dusty main street. Why the hell am I here? And then I remember. I'm here on a pilgrimage because of my love for Mad Max movies.
I admit it, a Mad Max movie is just one big car chase scene as poor Max is pursued by bad guys in weird-looking vehicles spewing fire and fumes. It's a gearhead's dream. I've seen all four of them up to and including "Fury Road." So has British ex-pat Adrian Bennett.
Bennett, originally a car repair mechanic, must be Australia's biggest fan boy. He and his wife Linda emigrated to Silverton from Yorkshire in 2006 so he could collect props and memorabilia from his favorite Mad Max movie "The Road Warrior" or "Mad Max 2"as it's known in Oz. Silverton is also five miles from the Mundi Mundi Plains, where the movie was shot and many locals were hired as extras or support staff. Bennett put it all together, built himself a house and constructed a homemade shrine next door.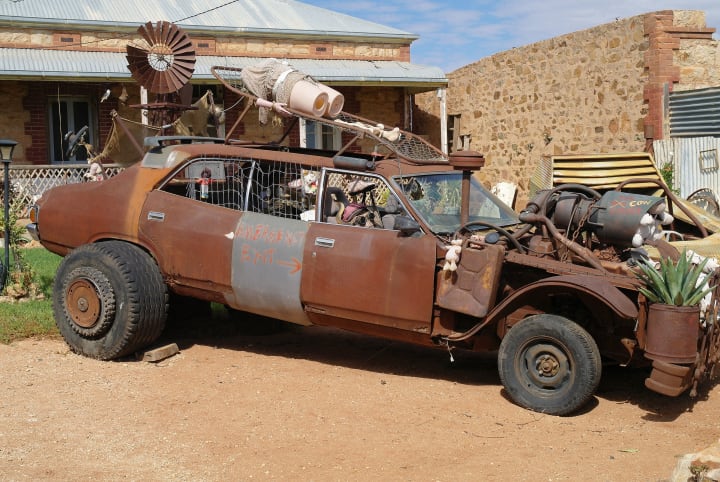 You'd think he'd be lonely out there in the outback but he says he likes the isolation. "There's no time to get bored; living here is full time," he says. "No-one is honking horns, there's no screeching tires, there's no traffic jams. I wake up every day with a big smile on my face."
A customized, rusted Chevy Nova, or what's left of it, sits in his front yard, tantalizing both fans and looky-loos with its outrageous but totally useless add-ons. Hey, I'm in. I like director George Miller's view of a dystopian world filled with absurd vehicles.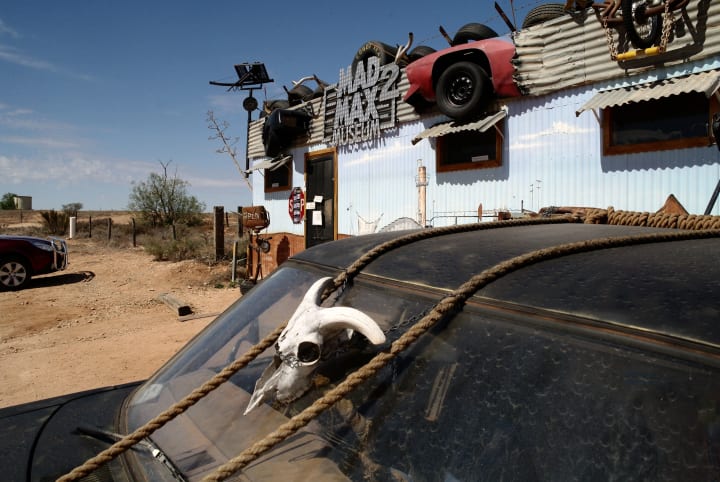 I enter the museum and am warmly welcomed by Bennett himself. He leads me to a string of glass cases filled with production photos and head shots of the supporting players. He's particularly fond of "The Road Warrior's" homicidal biker Wez , he of the crazy eyes and red mohawk, played by Aussie character actor Vernon Wells.
"He was born north of Melbourne and used to work in a quarry before he was discovered," Bennett tells me. He knows a lot about Wells and many other actors and he's not shy about talking my ear off. There's even a fashion show of sorts in the corner, a couple of mannequins are wearing furs and leathers from the movie.
I look around. There's no-one else here. Am I the only Mad Max fan in the world taking this in? I'm certainly the only one to fly 8,600 miles to this forgotten corner of Australia just to see movie memorabilia although truth be told I'm really here to see my sister in Adelaide and Silverton is a day trip away. But that's OK, I have the place to myself. I'm like a kid in a candy store.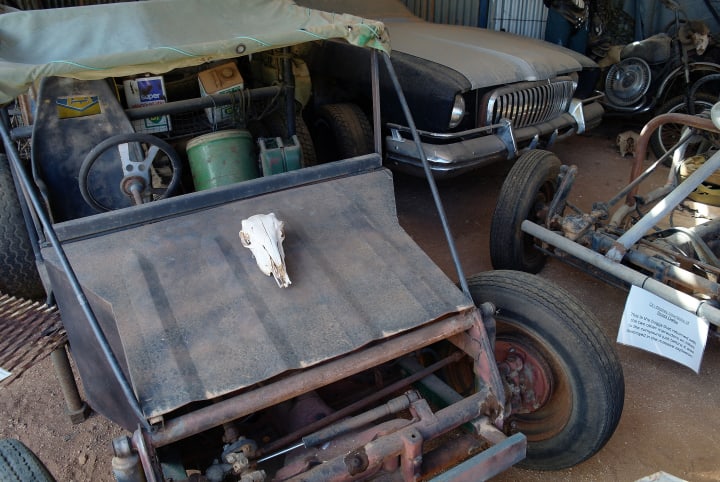 The good stuff, the souped-up cars and customized dune buggies are located in a shed behind the entranceway. The original vehicles are there, carved up with chains and skulls as well as a cleaner version of Max's Interceptor. A cardboard cut-out of Max himself, Mel Gibson, stands guard over the collection. The original Interceptor by the way, a matte black, customized 1973 Ford Falcon GT with two huge tanks of nitrous oxide in the trunk (so Max can speed away from danger) is presently sitting in an auto museum in Orlando, Florida.
"Can I drive one?" I ask, looking at a black sedan caked in sand and dust. The dirt only adds to its menace.
"Not bloody likely," comes the reply. Although intact, the collection is not legally roadworthy and besides Bennett doesn't want to mess around with his inventory.
Bennett says he missed out on gear from 2015's "Fury Road" because when director George Miller returned to the Silverton area in 2011 and started shooting, unseasonable rains turned the landscape green and pretty. It was a far cry from the dry and bleak terrain Miller wanted so he moved the shoot to Namibia. Too bad, because Silverton could have used the cash and Bennett could have added even more vehicles to his fleet. On the other hand, he's elated Miller has returned to the Silverton area for the "Fury Road" prequel "Furiosa." Shooting finished last summer in nearby Hay, Australia, 384 miles south of Silverton and Broken Hill, 25 miles to the east so there's a chance he can add even more vehicles to his collection.
I'm excited. Not just to see the cars but to talk to Adrian Bennett again. He's an entertaining one-of-a-kind guy who's consumed by his passion for weird Mad Max gear. I can relate. Maybe he'll let me drive one of the "Furiosa" vehicles. Now, about those damn flies.
About the Creator
Former television news and current affairs producer now turned writer. Thanks Spell Check. Visit my web page at https://woodfall.journoportfolio.com
Reader insights
Be the first to share your insights about this piece.
Add your insights