Learning to Appreciate Sharks
Irrational Fears Faced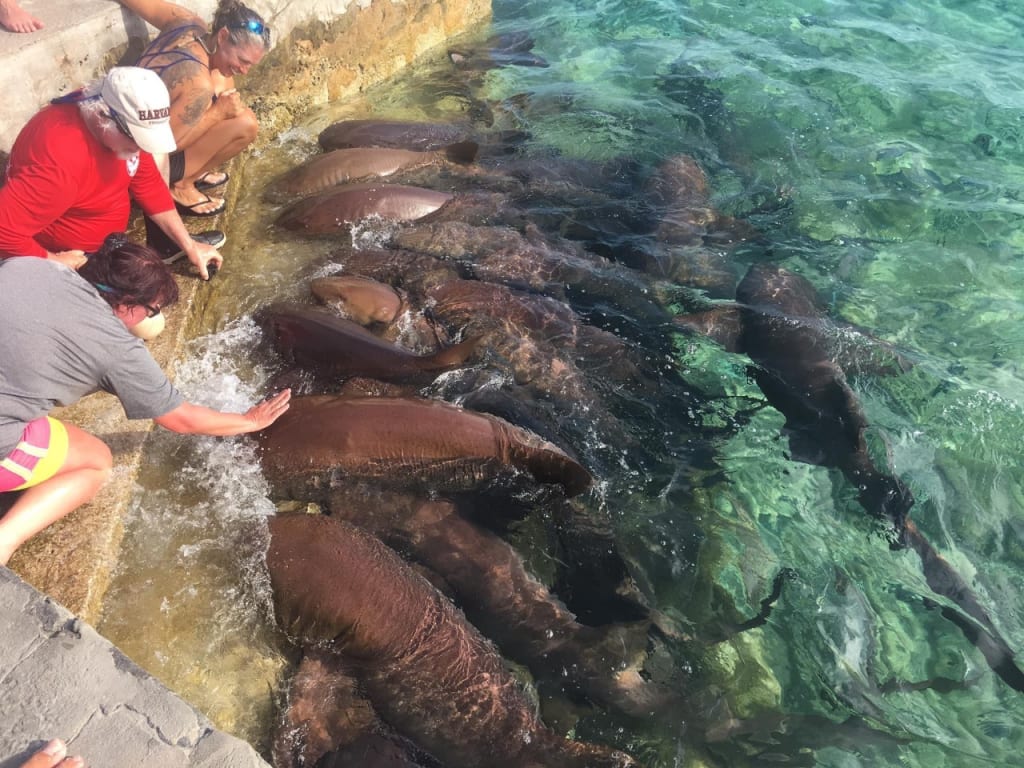 Nurse Sharks Staniel Cay, Bahamas, April 2019
I think sharks are incredible creatures, truly remarkable. That doesn't mean I'm not afraid of them. I'd like to think my fear is a healthy one, more grounded than when I was younger. I remember being asked what I was afraid of. Spontaneously I answered, sharks and tidal waves. I had dreams about them both. For a girl who lived in Central Ontario, it seemed highly unlikely I would encounter either. I laughed about my irrational fears when chatting about fears with friends. Then I moved to Miami, Florida and realized that both my childhood irrational fears had become semi-rational ones.
I say semi-rational because although I've seen quite a few sharks in the Atlantic Ocean, I've yet to be in an area prone to tidal waves. The possibilities however did increase.
My first shark encounter came while vacationing in Singer Island, West Palm Beach. Having recently moved to Miami I was just getting used to South Florida. I knew very little about sharks and despite watching the Jaws movies, felt very safe at the beach. I had no shark awareness. I hadn't a clue about the dusk and dawn thing. No idea about getting out of the water if fish were flipping.
I did however have a sudden sense that something was wrong and felt goosebumps. I ran out of the water. I looked back and small fish were flipping through the air. Seconds later two huge bull sharks slashed through the shallow water. Half of their bodies were visible. Until that moment I thought sharks were only a risk in deep water.
Now, logically the bull shark didn't want to eat me. He was after the baitfish. But bull sharks have very high testosterone and aren't the brightest in the shark family lineage. They have been known to take a chunk out of humans and have killed some.
I learned to appreciate that we share even the shallows with sharks. I researched shark behavior and how best to avoid one accidentally taking a chunk out of my leg. I continued to swim in the ocean cautiously, the rest of the time I lived in Miami.
I had to move back to Ontario, Canada. Since my children and subsequent grandchildren still lived in Florida, I became a snowbird.
I met a man with a dream of owning a sailboat and together we realized that dream. The Captain and I sailed the boat from Lake Ontario to Florida in the fall of 2015. Although we encountered a large pod of pilot whales feeding off the coast of New Jersey, we did not have any shark encounters for much of our sailing adventures.
We did see the power of sharks while on a fishing charter off the coast of West Palm Beach. It was a rocky day, but we're not seasick and rough seas often mean good fishing. I lost both of my fish to something, likely sharks. A small woman who was skilled at fishing had been fighting with a large Mahi for about half an hour. We all stopped and moved our lines out of her way so she could battle the huge fish. Just as she was finally winning and it was almost in the boat, we heard her curse as a shark leaped up and snatched it. All she was left with after her exhausting battle was the head of the Mahi.
In the spring of 2019, the Captain and I sailed to the Bahamas. We had some trouble with our anchor and decided to go to the marina at Nassau Harbour Club. We waited two weeks for our new heavy-duty Mantus anchor to arrive. It was an amazing place, and we really took advantage of the sites and sounds of Nassau. We took the bus with the locals and had a fantastic time.
I used to walk the docks and meet other boaters. It was common to see the six resident bull sharks swimming under the docks, waiting for fish to be cleaned. I learned that maybe they were more intelligent than I thought they were. They certainly understood that the fishermen and the conch cleaners on the shores meant some easy food.
We sailed on for more adventures. Since we usually anchor out and dingy into shore, I'm uber aware of things in the water. You know, I wouldn't want us to hit a floating log, or run into a gentle manatee or sea turtle. 😉 Fine! I'm always looking out for sharks.
In Warderick Wells, in Exuma Land and Sea Park, I was swimming in the shallow warm waters near the beach. I noticed a rather large "fish" swimming not too far away. It turned out to be a small lemon shark and a rather popular one who hung out there. We both minded our own business.
We moved on to Staniel Cay and my Captain was on the bow trying to set the 55 lb anchor and chain by hand. I was at the helm standing on tippy toes on the stern seat so I could see him over our cabin. I heard him yell, "Pay attention! I need you to steer to the left! What's wrong with you? Why are you distracted?"
I yelled back, "I'm afraid of falling in. We're surrounded by sharks."
"Just focus! I need you to pay attention!" He yelled back, scowling.
We managed to get the anchor set, and as is customary, I went down and got the bottle of wine to celebrate another successful passage and anchoring. We clinked glasses and chatted. He'd seen the sharks first from the bow. He hoped I wouldn't notice them and panic. We discovered they were nurse sharks. They were conditioned to know the sound of the boat and anchor moving. They knew it would dislodge some fish from their hiding places, creating a food source. These guys were very placid, and I grew comfortable with them around our boat for the weeks we were there exploring the beautiful area.
We took a lot of dingy trips through the beautiful waters, often using the dingy dock at The Staniel Cay Yacht Club. It was a great place where famous people from expensive yachts mingled nicely with the "cruisers" as we called ourselves. The staff was very attentive to everyone.
One of the highlights for tourists is to pet the nurse sharks. The sharks gather in large numbers waiting for fish to be tossed from the crews cleaning the daily catch. As much as I was getting used to them, I felt no desire to pet one. The Captain couldn't resist and waded in to pet them. He was amazed by the sandpaper texture of their skin.
Most tourists were respectful. We were both disgusted by the man who forced his crying three-year-old daughter into the water with about 20 nurse sharks so she could pet them. She calmed down and all was fine, but a hand in the wrong spot would have changed the outcome.
A fisherman I overheard chatting with the tourists was tossing bits of fish to the sharks. He said that every year several tourists get bitten accidentally while the shark is trying to get a piece of fish. The bites aren't the problem, the infection from the bite sends them to the emergency ward.
Near the end of May, we had to start the sail back to West Palm, we didn't relish spending hurricane season on the ocean. We anchored off Rose Island near Nassau. It was a calm day and we saw many people enjoying snorkeling and operating Sea Scooters. They were fascinating to watch. People zooming by our sailboat holding on to a motorized flotation device. We wished we had more time to visit and explore the waters. We knew we couldn't indulge because we needed to get back to the States, to put the boat on the hard and return to Canada for the summer.
When we arrived back in Canada in mid-June, we made sure we kept in touch with people we'd met from the area. We learned in early August that a young woman from California was attacked and killed by a bull shark in Rose Island. She'd been snorkeling in the same area we had anchored in. We thought of all the people we had seen enjoying the water when we were there. My wariness of sharks increased but not to the paranoid levels from my youth.
In the fall of 2020, we returned to our boat in Florida, fully intending to return to explore more of the Bahamas. We had to complete some work on our boat first, and as cruisers will tell you, that took longer than we expected. We were close to finishing the work in March of 2020 when the world shifted. The US/Canada border closed, and the Canadian Government STRONGLY suggested that all Canadians return. Our adventures were put on hold for a while.
It's now July 30, 2021, and our sailing adventures are still on hold. We live a short walk from the beautiful beach on Lake Huron. Even on the coldest days during the winter, I walked the miles of beach.
We bought a new dingy to explore the waterways here and it will be our tender when we return to our travels in the Atlantic Ocean. We don't see tropical fish or sea turtles while we are on our travels here, but I don't have to worry about sharks in the water. I still watch that we don't bump into old logs or beavers. The snapping turtles help remind me to keep my hands out of the water! 😉
About the Creator
Mary Haynes splits her time between a romantic old sailboat in tropical waters and a beach home in Ontario. A wanderer, by fate, she embraces wherever she roams! Mary recently completed her first children's book, "Who Ate My Peppers?"
Reader insights
Be the first to share your insights about this piece.
Add your insights