Jeju Island Korea
Hidden Treasure of Asia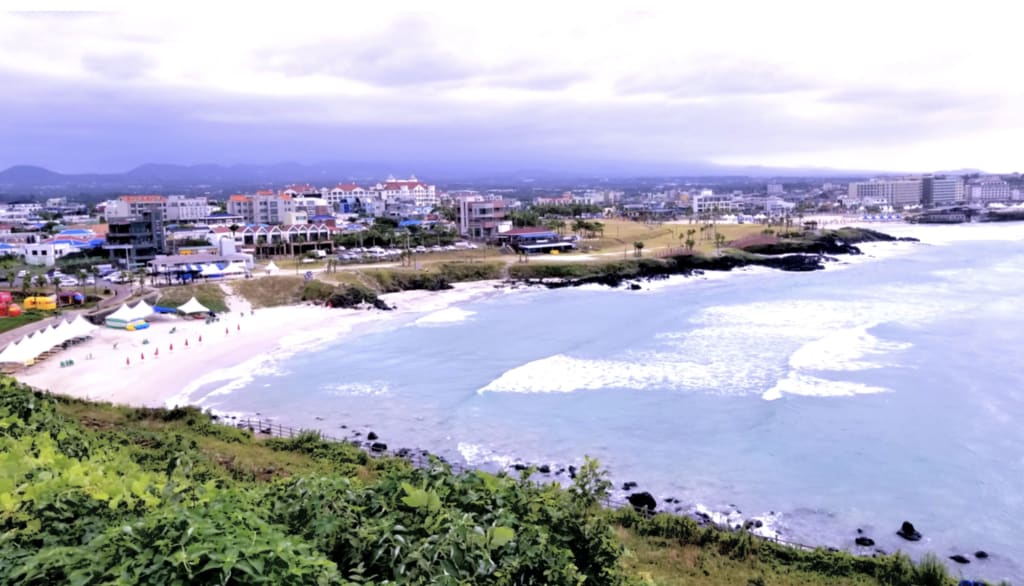 Many travelers love island getaways like Hawaii, Cancun, or Bali but not too many people (aside from Koreans) know about the Korean island getaway of Jeju Island. Located in the southern part of South Korea, Jeju Island is a world heritage site known for its volcanic island and lava tubes. It also holds Korea's highest mountain called Hallasan. The island is referred to as the Korean "Hawaii" and is the honeymoon capital of Korea.
Although only just over 600 thousand people live on Jeju Island, they get 15 million tourists a year. I decided to visit this island because of its proximity to Japan where I live. It was a cheap and short two-hour flight from Tokyo to Jeju International Airport and despite going in the peak summer season, the flight and accommodation were quite reasonable. (6- night hotel + flight was 75,000 Yen or about 800 dollars)
Before going to Jeju, my main purpose was to relax on the beach for a week and hang out with my friend who was visiting from Canada.
However, after arriving on the island, I realized there was much more than just beaches that this small interesting tropical getaway offered.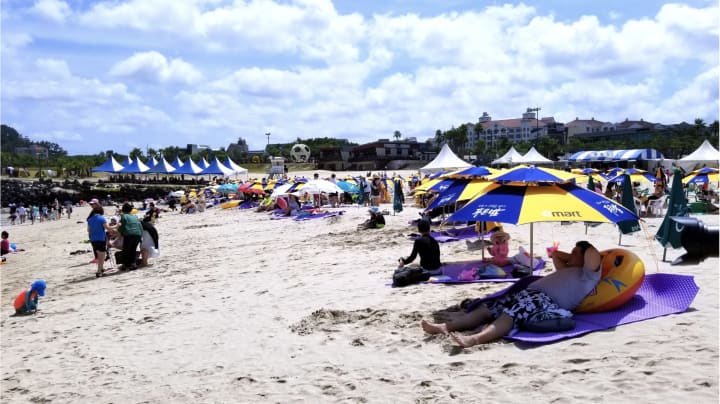 Beaches
I was situated in a hotel (Utop Ubless) which was right along Hamdeok Beach and was quite nice despite being so affordable. They had a rooftop bar area with Jacuzzi hot tubs for rent overlooking the beach. The staff spoke English and even helped arrange an all-day taxi service that saved us so much time and money getting around the island to see all the sights.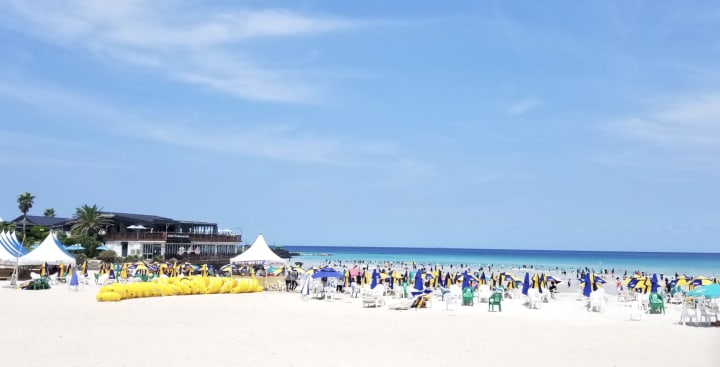 Hamdeok Beach is a nice long beach with white sand, clear water, and lots of people out and about. During the day the tide is out so there is plenty of sand and little crabs running around in the lava rock, while at night the tide is in and you can get a nice lit view from the boardwalk. People were hanging out, eating at all the different food stalls and their black pork (their specialty) restaurants. Some people were setting off fireworks and there is usually some kind of street performance. And since this is the honeymoon capital of Korea there were horse-drawn carriages in neon lights strolling through the beach-side streets.
Other beaches that surround Jeju Island are the Hyeopjae Beach which was also pretty good but was filled to the brim with people and sun umbrellas. It also didn't have as many food and drink choices around. But it had a nice summer vibe and seemed more family-friendly.
Another popular beach was Jungmun beach. Probably the fanciest beach on the island, this place had a lot of 5-star hotel resorts, shopping, dining, and an overall luxurious vibe. This was also one of the only beaches that seemed to have surfing and water sports because of the big waves.
There were many other beaches that I didn't have time to visit but to get more of a sense of what they were like check out this post I found about Jeju's beaches.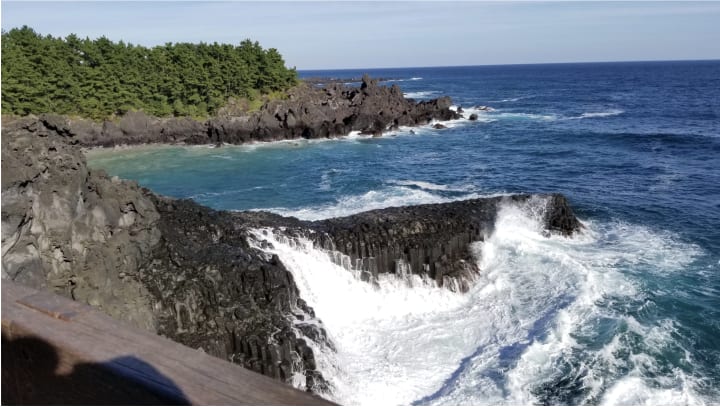 Parks & Caves
Because of the interesting land formations of the island as well as the ancient statues and sculptures made by natives of Jeju Island, we were able to see some great and unique aspects of this island's culture. The old man sculptures called Dol hareubangs, are made of volcanic rock and are said to be protector and fertility gods that natives left outside their homes in ancient times.
They vary in size from little tiny figurines to giant rock sculptures. Tourists can even buy small versions carved out of the rock at various shops or souvenir stands around the island.
Hallim Park which is a botanical garden, animal reserve, waterfall, park, and cave area has hundreds of these statues placed around the park. It is definitely a great place to see all the island has to offer and entrance is pretty cheap at only 12,000 Korean Won or about $10 US. My friend and I walked around the gardens and waterfall and could escape the heat for a bit in the caverns as well. There was a bonsai tree area, a Jeju island native home museum as well as lots of amazing photo spots.
Cliffs and waterfalls are other famous features that attract many tourists. Besides the small waterfall at Hallim Park, there is also the massive Jeonbang waterfall which is one of the top 3 waterfalls in Jeju. It requires a walk down a cliff-side staircase but the walk is worth it. And the best part is you can hop rock to rock to get right up to the waterfall as it thunders behind you. Another great spot for an Instagram photo.
We didn't visit the other waterfalls but we did visit the Jusangjeolli Cliff which was amazing. The water bursting and slamming into the black layered stones, reminded me of a Tetris board. The rocks were naturally layered and shaped over time by the rushing waters which made it even more amazing.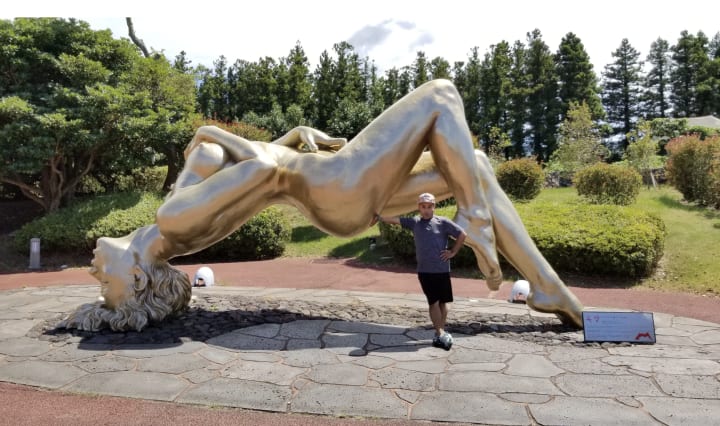 Museums
There were tons of museums which was surprising considering the size of the island. Since it was August and the weather was amazing we didn't spend too much time indoors. But for those who are interested in the art, culture, and history of Jeju Island, check out the Jeju Museum of Art and Jeju Museum of Contemporary Art, Jeju Folk Village Museum, Seogwipo Astronomical Science and Culture Center, Yakcheonsa Temple, and Jeju Fortress.
However, along with these historic and cultural sites, we also came across a lot of quirky and interesting options as well such as Eco land theme park, tea museum, teddy bear museum, coffee museum, Kimnyoung maze park, Maze land, Hello Kitty Island, Citrus museum, Dinosaur theme park, and Jumbo Village, an elephant show with live elephants.
And probably the most famous and quirkiest museum of them all was Love Land which is a sex museum with a variety of sculptures and exhibits highlighting the act of love. It was definitely a unique experience.
One of the days ended up being rainy so we headed to a Dynamic Maze, a fun-house maze playground that has you crawling, climbing, rolling, jumping, and running around a dimly lit obstacle course. It was the perfect air-conditioned dry place for some fun and exercise. The cafe and the gift shop was actually the best place to pick up some souvenirs as well.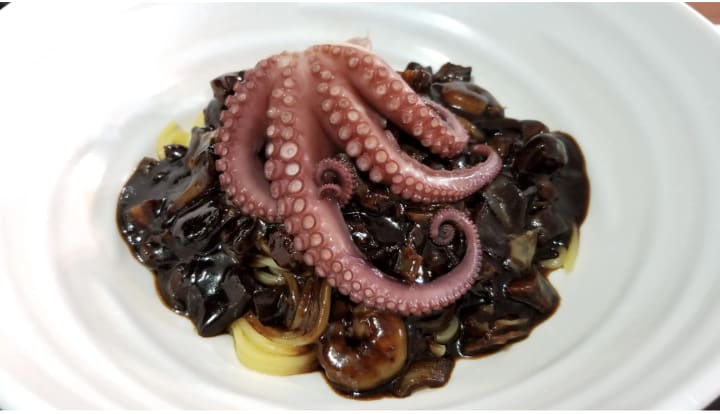 Food
The variety and quality of food on Jeju Island were great as each day we tried a different cafe or coffee shop for breakfast and a variety of restaurants for lunch and dinner. There were so many different coffee shops, cafes, and bakeries that breakfast ended up being my favorite meal of the day.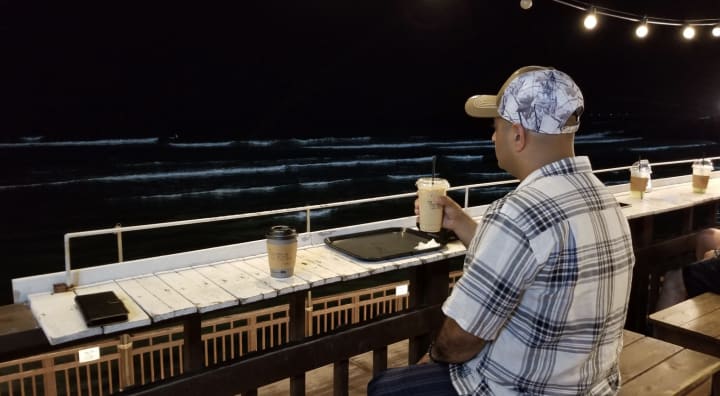 Since we were traveling around the island or beach-side, our lunch was usually a quick burger or Korean fast-food type of place but it all tasted great. For dinners, we decided to try a new type of food each night. We started with a popular chain chicken restaurant called Oppa Dak which has the spiciest chicken and topoki I have ever had.
We visited an octopus restaurant along Hamdeok Beach which has a variety of octopus dishes. There was a salmon sushi restaurant, a stone oven-baked pizza restaurant, a lot of amazing seafood restaurants along the beach with names I couldn't read or pronounce.
The island's most famous dish, black pork, had restaurants all around the city and beach areas, seated restaurants, and beach-side grills. It looked and smelled amazing but because my friend doesn't eat pork, I didn't get a chance to try it.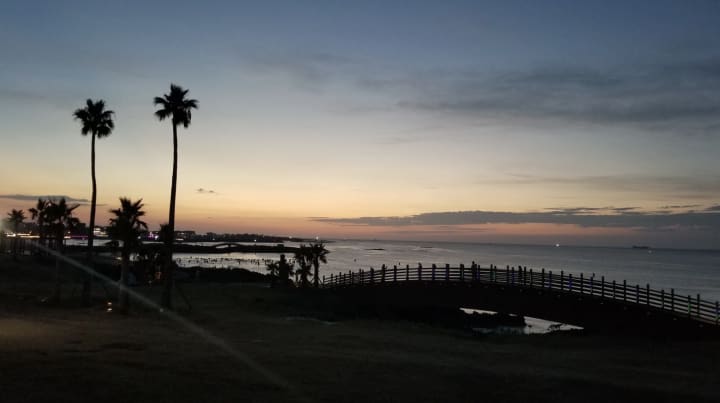 We were there for a week so we decided to do all the touristy stuff in the first three days. We were able to rent a taxi for a 6 hour period for about 150 dollars which I highly recommend. Taking taxis separately or renting a car would probably end up costing the same or even more. You could try and take the buses but depending on the route and time of day it might be a lot of time standing at bus stops.
The driver didn't speak any English so that was a bit tough but he was really friendly and using gestures and pointing at maps and pictures we were able to tell him where we wanted to go. He also recommended some places that he thought we would like. It ended up being a good decision to hire him for the day.
Since we were done with sightseeing in the first half of the trip, we spent the second half eating and drinking at cafes and restaurants, going to the beach and getting in the water, walking around, and checking out all the shops selling souvenirs and Jeju Island goods. The juice made from Jeju Island's famous citrus fruit Hallabong which is like a tangerine is also a must-try.
Overall, I felt that Jeju Island not only fulfilled our relaxation and beautiful beachside view needs but gave us interesting entertainment and amazing food options all for an affordable price. If you are looking for a clean, safe, cheap, beautiful, and unique island getaway experience, Jeju Island just might be the place for you.
asia
About the author
Reader insights
Be the first to share your insights about this piece.
Add your insights