Jake's Little Black Book
Roadmap to $20 Million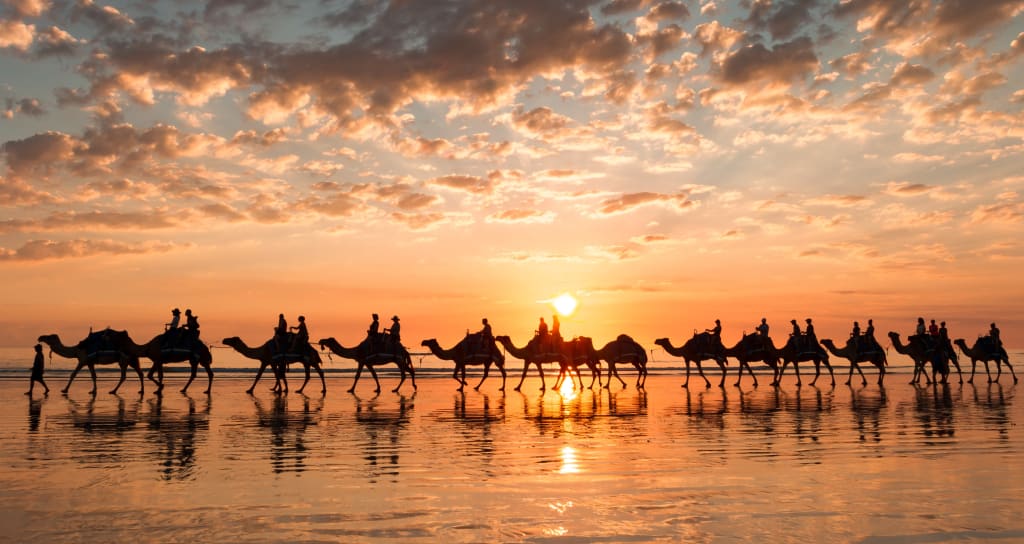 Cable Beach, Broome, Western Australia, camel ride.
Jake McKerrigan hadn't put much stock in anything his father had to say for decades. As a child, Jake had called out the senior McKerrigan for idiocy in thinking when the old man said Oral Roberts University in Oklahoma was going to be "bigger than Harvard."
Feelings for his father turned to full-on contempt as the teenage Jake toiled full-time in sweltering summers in the family business, a plumbing and air conditioning truck, and in freezing midwestern winters after school, all for E. Scrooge wages. The summer brought ditch digging, heavy lifting and mucking through the wake of sewage in countless plumbing disasters.
Jake never forgot the bitter winter when the elder McKerrigan bought himself nicely insulated overalls to endure the single-digit temperatures, leaving his son to suffer the elements in jeans and a flannel shirt. Nor did he ever forget the careless father – careless being the guiding doctrine of his father's entire life – who put a severe burn on Jake's forearm while working together welding.
Jake screamed at his father, "What are you doing!"
But the coup de grâce came when it was time for Jake to go to university. "Don't go to school out of state," his dad said. "I'll pay for your college if you stay in-state and work for me in my business. Your mother wants you here, too."
Based on the word of his father, Jake turned down a full scholarship at a prestigious out-of-state university. After working a brutal summer for his father, and completing his first semester at university, Jake asked to be reimbursed for his educational costs, at which point his father said, "No, I've changed my mind." Jake stood up from the dinner table and demanded of his father, "Stand up, asshole! I'm going to knock the shit out of you!"
His parents had never heard Jake utter a profanity in his life. Jake then left the house.
Well, what do you really know when you're 17 years old? You don't think your own father is going to lie to you, completely renege on his commitment to you, throw you out to fend for yourself.
"I'll never trust that man again, and I was foolish to have ever believed him," Jake complained bitterly to his mother. Jake proceeded to work his way through university, graduating in four years with honors. With the rancor cultivated over most of his youth brimming, it was no surprise that post-university and when the oil industry went bust, along with his job, Jake welcomed an opportunity to leave the country for work, putting 10,000 miles between himself and Jake the Elder.
A geology degree from the Colorado School of Mines had helped him land the gig in Broome, Western Australia. When Jake looked at a map, he thought, this is the ultimate end-of-the-road location!
He liked it already.
A little research yielded what Jake could expect from the lay of the land. He learned that only a million Aussies lived in an area equal to half the United States, and most of them lived in Perth, with a couple hundred thousand people scattered around the rest of Western Australia.
Further research indicated that Broome, a town with just a few thousand people, was established as a pearl diving center in the early 1900s. And prior to WWII, Japanese divers were brought in to harvest the pearls. Broome has a large Japanese cemetery for the more than 900 pearl divers who died plying their trade.
Broome seemed to be surrounded by some of Earth's most dangerous creatures. If Great Whites, saltwater crocodiles, sea snakes and blue octopus (one bite and you die in minutes) don't claim you in the water, then some of the world's most poisonous snakes and spiders would get you on land. Unlike what people might think of kangaroos, even they could be vicious.
Yes, all things in view, Western Australia was definitely the ultimate end-of-the-road location, with a 100-mile beach where lots of young Aussies lived in tents on the dole, suntanning naked. Jake thought this a perfect place to start over. His early life certainly had prepared him to deal with anything, at least for a few years.
After four days of travel, with an intermediate stop in Hong Kong, Jake landed in Broome. He thought it was pretty weird that the plane took off from Perth in the middle of the night for Broome, but he was down under. Everything was supposed to be upside down.
After a short flight, he landed in Broome on an early Sunday morning, before sun-up. Even though he was on a small jet, the runway appeared to be practically dirt, and the airport was a couple of Quonset huts. As he saw natives running around in the dark, he also heard his name. A company rep was there to greet him and take him to the Mangrove Hotel for a couple of days of recovery before the start of work.
The next morning he woke and went out. Except for a couple of wandering stray dogs, the streets of Broome were deserted, and dusty. Since it was near lunchtime, and he was starving, Jake headed down the street to one of the town's two pubs. He walked through swinging doors that could have been right out of a scene from a Wild West movie, and into a dark cavern. The people in the room reminded him of a scene out of Star Wars. Before he knew it, a local prostitute took a seat at the bar next to him, reached over and grabbed him by his cojones and began talking to him in a local dialect out of a mouth that was missing most of its teeth. Jake wasn't quite sure the correct response, but proceeded with, "Bartender, can I get a pint, and one for the lady." The Star Wars cast burst into laughter.
From there, days stretched into weeks and months in a place full of wonder and surprise. Exploring the Outback, Jake was startled at the sight of a wild camel herd. Another time, he was saved by a stray kitten who alerted him to a poisonous snake. The kitten was rewarded with rescue and named Emma, after Jake's mom. Jake grew an appreciation for green prawns, pommes frites and Emu Exports. And he picked up the lingo: "Hey, mate, have you gone an Export lately?" Jake also grew to know most of the end-of-the-roaders at the local pub. Most were involved in some kind of geology work looking for gold, oil, diamonds, opals or other minerals. Some were bush pilots; others were in the pearl business. When not in Broome, Jake was doing his geology work out at mines on the edge of the Great Sandy Desert, and he scrupulously took notes in his Little Black Book.
On one of the many forays to the Outback, Jake found an interesting igneous rock intrusion, interesting enough to merit taking some samples. The samples indicated favorable ore levels. That data also went into his Little Black Book.
One day coming in from the Outback, and going to the company office, Jake was told his father had called – something that never happened – which indicated to Jake there was an emergency. He immediately called home and was told by his father that his mother was seriously ill. If not for Jake's mother, all ties would have been severed with his father a long time ago.
His mother's illness did take Jake home, and he was there with Emma through her final days. The callousness of Jake's father towards his own wife, as she lay dying, only reconfirmed what an ass his dad was. Once his mother was buried and related matters attended to, Jake was back to Broome without even a goodbye to his father.
Once again, being 10,000 miles away from his father seemed like a very good idea.
The senior McKerrigan died not long after. With connections completely broken after his mother's death, the news came via a barrister. Jake was surprised to learn, with all the carelessness of his dad, there was anything to bequeath. Yet, there it was; $20,000 for Jake. In hindsight, Jake always believed the money must have come from his mother.
Well, why not take a chance with it, Jake thought, and put it towards a mining claim. The samples taken from the interesting formation did look favorable after all.
With the strength of his established Australian connections and his $20,000 stake, Jake managed to gain some investors and put together a deal in what turned out to be an excellent claim. Add to that the luck of timing – gold prices were starting to rise.
A Horatio Alger tale from Down Under? Maybe so, Jake thinks, as he ponders having taken his company public years earlier and ending up wealthy, U.S. $20 million and counting. Sitting on the porch of his boutique Swan River winery, Derbarl Yerrigan, a bottle of his peachy Chardonnay was ready to be poured as Jake gently strokes the now elderly Emma – his cat savior of earlier years – and looks up at the framed Little Black Book of geology notes. Notes that would probably just be mysterious scribblings to many. What a long, strange journey it had been, he thinks in wonder, along with all the wonders of the Land Down Under. But now, it would soon be time to throw some shrimp on the barbie.
humanity
California refugee back in Oklahoma and focused on wildlife-overpopulation-sustainability connections. #AnimalLivesMatter
FB @BetheChangeforAnimals
Receive stories by Maria K. Fotopoulos in

your feed