I Visited The Kremlin
Moscow, Russia, 2002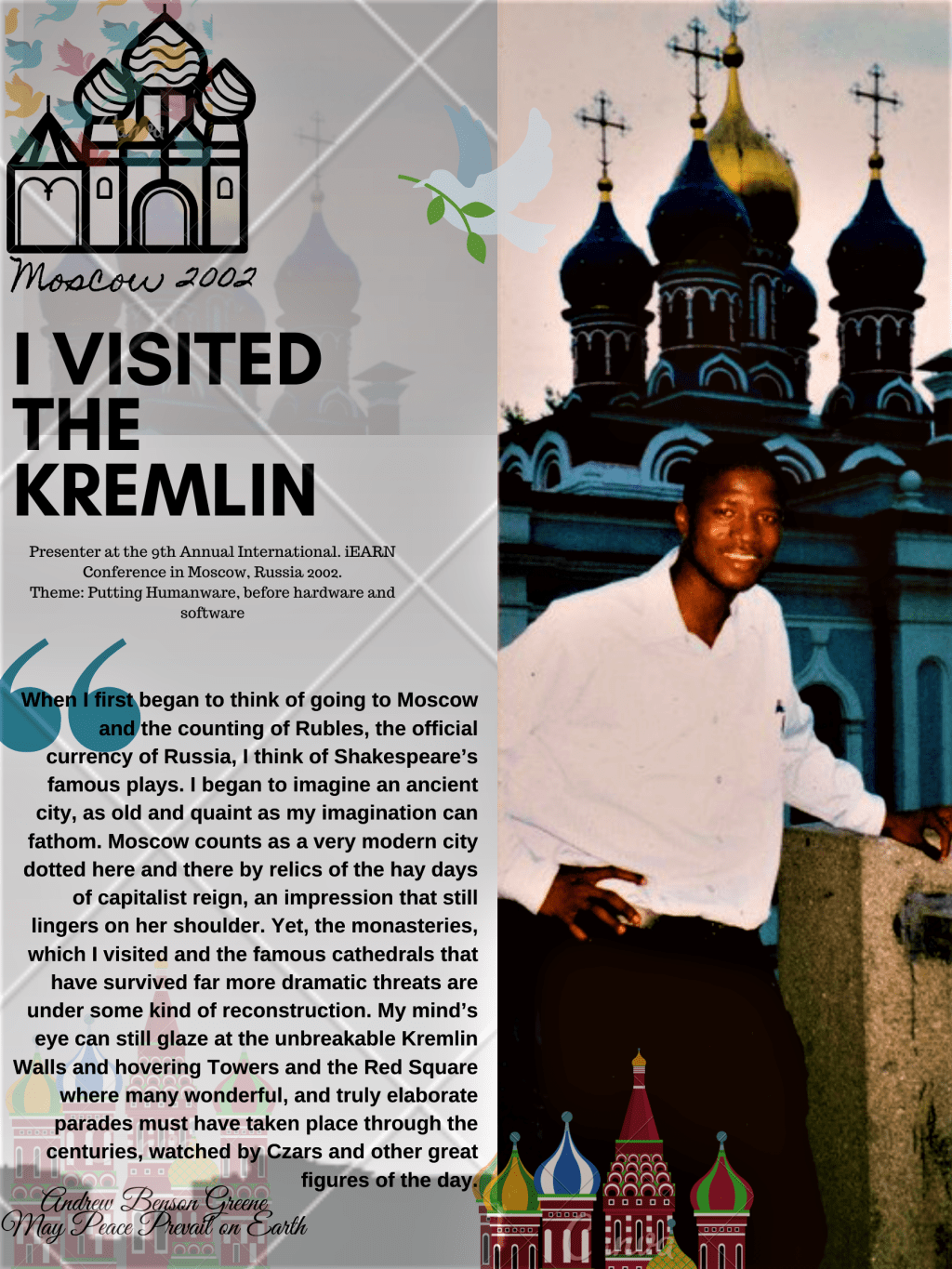 When I first began to think of going to Moscow and the counting of Rubles, the official currency of Russia, I think of Shakespeare's famous plays. I began to imagine an ancient city, as old and quaint as my imagination can fathom. Moscow counts as a very modern city dotted here and there by relics of the hay days of capitalist reign, an impression that still lingers on her shoulder. Yet, the monasteries, which I visited and the famous cathedrals that have survived far more dramatic threats are under some kind of reconstruction. My mind's eye can still glaze at the unbreakable Kremlin Walls and hovering Towers and the Red Square where many wonderful, and truly elaborate parades must have taken place through the centuries, watched by Czars and other great figures of the day.
The conference began on the 7th, and for the first time in all my iEARN conference experiences, I was able to arrive early on the 6th just a day before the conference. This made me to rest awhile, and figure out how I could cope at the Turist Hotel that has fore-warned us of her hot water shortage. Perhaps, this hot water shortage was just a euphemism for the many shortages that we were unable to feel inured to. The welcoming hot weather in summer bellies my initial perception about Moscow's all-out frosty weather. I now know that when it is hot in Moscow, it is very hot and when it is cold, it is really cold.'
After a whole year of interaction in iEARN projects, it was refreshing to realize that it was time to meet again as one big happy family and even make fresh acquaintances. My workshop 'May Peace Prevail On Earth', took place at the conference Hall of Cosmos hotel at the Neptun venue on Friday July 12th 2002 at 16:10 pm Russian Time. Although it started in time, yet it was constrained by an initial delay due to small technical problems with the internet capable computer that was indispensable for the web cast and PowerPoint presentation. Bill Belsey, my long term friend and partner in iEARN was just there in time to assist the Russian technicians surmount the problem.
Opening the workshop, I called on all participants to recite the Universal Message of 'World Peace' 'May Peace Prevail On Earth' and in their different countries. As everyone held each other's hand sky-high in unison and purpose of peace, tolerance and unity, there echo of the universal message went beyond the walls of the Neptun hall. The workshop attracted over 40 participants spanning the five continents from diverse educational stratum. There were Peter Baak of the Ministry of Education in Netherlands, Michael Temple of the SEED, USA as well as Cody Flores of Cliffton Hills Elementary School USA and Amr Elsheikh of Elementary school in Egypt.
This diversity of participants was reflected in the self-introduction that was made. In my introductory speech that ensued, I called on all participants to make a commitment and take some kind of action in their part of the world and intensify a passion for human rights, peace and justice, and turn this passion into constructive action that will improve the world in which we live.
During the PowerPoint presentation and projection, I was able to show the importance of the peace pole, reflecting on its history and the Japanese poet, writer and founder Masahisa Goi
I am indebted to the following young people across the diverse continents for the success of the workshop.
YOUTH PRESENTERS.
Amr Elsheikh – Egypt [email protected] http://amrelsheikh.freeserves.com the lad made a presentation reflecting on the importance of peace in his native country Egypt, and then called on all participants to be steadfast in attaining peace at their local level. He imagined a world where children will live without fear of violence. Melissa Bowles – Vaughn Elementary, USA [email protected] read a poem entitled 'I Am a Peace Child', sitting on a white tile, playing games not so wild. This poem shows the commitment of young people adopting peaceful options for positive change in their communities.
Cc: Chris Hockert: [email protected]
Cody Flores- Cliffton Hills Elementary, USA [email protected] inspiring speech about what 'Peace means to him' represents the anticipation and hope for a brighter future for all the children of the world, who will be able to play and learn in a just, safe and fairer world or even a more peaceful world. It is likened it to the global clamour for social justice.
Cortez Beach- Cliffton Hills Elementary, USA [email protected] believes that 'children's rights are human rights' too and so ask all nations to respect the right and dignity of children and promises to promote peace education in his elementary school and community.
Shehau De Silva – Royal College -Sri Lanka [email protected] Akila Chandrasiri: Royal College -Sri Lanka [email protected]
These two enthusiastic students from Sri Lanka enchanted the audience with peace songs sang in their local parlance whilst these songs have deepening urge for mankind to live in peace and harmony.
Cassie Anderson- Australia: Bairnsdale Secondary College
[email protected] Her inspirational recitations of two peace poems show the power of words to ignite the flame of peace in the hearts of humanity.
Sierra Leone young people of iEARN who made a difference by sending their music and poems include: Rashid Peters, (Song: di war don don na Salone), Brima Sorie Kamara, (RAP SONGS: ) Joseph Alie Bangura: (sweet sweet Salone)'. In the chorus singing were Emile Toby, Wilfred Mohamed Kuteh, Denis Turay, Jane Peters, John Collier, Cecil Cole, and Julius Mannah.
Bill Belsey of iEARN Canada reflects on the 3 year running tele-collaborative project between iEARN Sierra Leone and iEARN Canada and the ever growing human connections that technology has inspired during these years. Bill highlights the constrains that we currently face in Sierra Leone to get connectivity so that the war affected young people in Sierra Leone will continue to bear witness to the wars that plague their lives families and communities.
During the discussions and deliberations, Jo Tate a Teacher of Ararat Community College Australia, www.araratcc.vic.edu.au threw light on the positive nature of the www.childsoldiers.org in giving voices to youths affected by war. She expressed the importance of this project and the extent at which her students of Australia have contributed to and expressed solidarity with the students of iEARN Sierra Leone by responding on-line through the feedback column to the witnesses given by war-ravaged youths of iEARN Sierra Leone. Kristin Browne, like Jo Tate, has been very much supportive of my peace initiative since we first met three years ago in Beijing China. Like many participants, Kristin wanted to know how the collaboration and peace building efforts have helped in the healing process of the war affected young people of Sierra Leone. In answer to her questions, I spoke of the role of World Peace Prayer Society, Sierra Leone Chapter (WPPS-SLC), and that of Defense For Children International Sierra Leone (DCI-SL) in addressing issues of peace and trauma healing. These groups have been and are still are our major local partners and have worked hand in glove with iEARN Sierra Leone in the area of trauma healing and canceling of these war affected youths. Through the remarkable global learning network that is www.iearn.org the youths have been able to tele-collaborate with peers around the world. This is a platform where they have cleansed the trauma associated with elongated and painstaking years of violence. The children have been able to learn useful skills in the relevant field of tele-communication whilst charged with the assignment of recounting their stories in multi media art forms. This in itself has been a catalyst for social justice and positive change. The distribution of the peace poles was the pivot of the workshop. Thanks to the generous offer of 5 (Five) desktop peace poles, from Bockarie Enssah, [email protected] National Peace Representative of World Peace Prayer Society – Sierra Leone', I was able to present these peace poles to 5 representatives from the 5 continents. With the visible willingness of Chris Hockert of USA: [email protected] to kindly distribute the peace poles, the following recipients were proud to spread the message of World Peace in their different countries and continents. 1. Salimata Sene [email protected] received peace pole for the people of Africa. Peter Hogenbirk [email protected] of iEARN Netherlands received Peace Poles for the people of Europe, Daria Dudova got the peace pole for the people of Asia, and Christine Hockert had the honour to receive peace poles for the people of USA. May Peace Prevail On Earth, May Peace Be in these 5 Continents of the world
Warm regards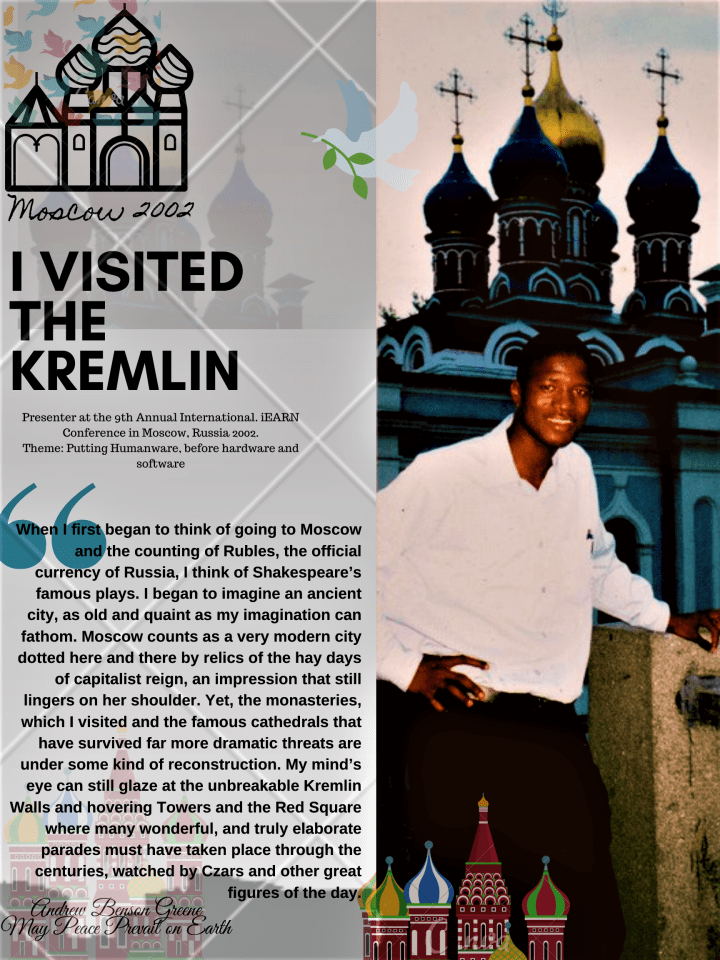 Moscow, Russia - 2002 9th Annual iEARN International Conference, July 8-13 In July of 2002, during the 9th Annual iEARN Conference that took place in Moscow, Andrew pursued his peace, human rights and conflict resolution drive that have been the centre of concern amongst his Sierra Leone colleagues. His ideas on these thorny global issues were felt by all participants in the walls of the prestigious Cosmos hotel where the conference took place and literally around the walls of the Kremlin. As well as hosting his own workshop 'May Peace Prevail On Earth' Andrew was able to share his thoughts in several other iEARN workshops including this one by Yoshie Naya, entitled: 'Hello From Japan'. The interactions involved in these workshop, shows how apt the overall theme of the conference was: "Humanity In The Internet Age, Putting 'Humanware' before Hardware and Software."
More on the event here: Andrew in Moscow