Huge Fishing Day At Mirror Lake
The Yellow Perch Were As Hungry As Ever Last Weekend. Here's the Fishing Report
I'm so glad spring is finally here. For a long time in northern New Hampshire, winter clung on like a fully-embedded tick. Now, it seems the weather has broken for the better. Buds are on the bushes and trees and the threat of snow is thankfully behind us. The better weather brought about the opportunity for doing some fishing, so my brother in-law took out the john boat and we made our way to Mirror Lake to do some fishing.
A Fast Start That Quickly Stalled
Things got off to a quick start. My Brother In-Law had landed a good-sized perch not five minutes into the entire adventure. Excitement was in the air, however, the excitement was soon met with a dry spell that lasted for some time.
The entire time, we really had out hearts set on some of the beautiful rainbow and brook trout found at Mirror Lake. So, when they started jumping all around us, we stopped and tried to reel some in. After being teased by the trout long enough, we resumed trolling around the lake.
Striking Gold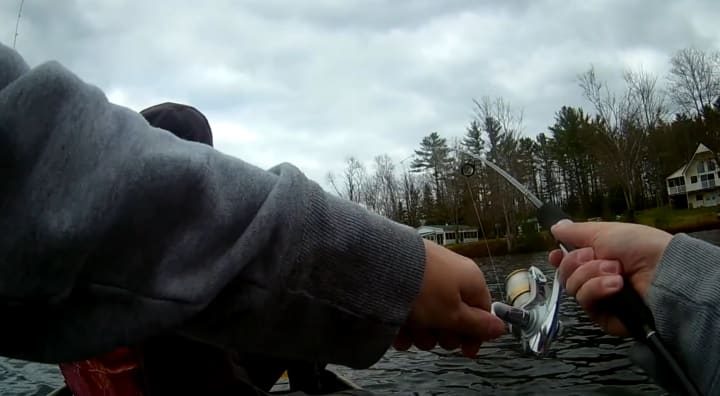 It was our second loop around Mirror Lake that we started to hit our stride. We even landed three more perch in just under 15 minutes. Things were finally looking up!
The perch seemed to be located on one long stretch of the lake, while fish activity was pretty much non-existent throughout the rest. Perhaps we were just not using the best lures for that half, as other boats were catching fish. Each pass through what we deemed "Perch Alley" had us catching more and more perch.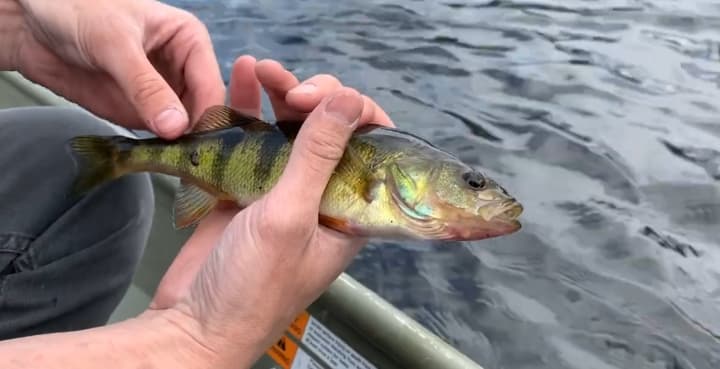 Our success continued throughout the afternoon. However, we were still after those elusive trout. We decided to switch things up and do some bass fishing. There was a beautiful bass hangout just beyond "Perch Alley," so we dropped the anchor and began rigging up our rods for bass. I've never had much success with bass fishing, or bass worms. In fact, the only bass I've ever caught was a small rock bass and a baby smallmouth worthy of a few Reddit karma points on r/microfishing. Because of this, I had stuck with my crankbait, but used a floating Bomber X4 crank. It wasn't catching any perch, but I figured I might have luck landing a decent-sized bass with it. Lo and behold I had a fish at the end of my line after just one or two casts and some very lazy retrieval technique. Could this be my first big bass? Will my 5 foot, ultralight rod hold up to the test? What about the 4 pound line? Well, no worries. It was just another perch!
One More Catch
The day was getting late. Bass fishing had turned out to be a fruitless effort, and we made our way back to the boat ramp. Just then, however, the trout started to act up all around us, and we decided to give it another go. I tied on a new spoon I had purchased for the season, a pristine and shiny rainbow trout flavored buoyant spoon. After just a few casts I had another fish on the line. This time, it was a nice rainbow trout that had aggressively chomped into all three hook barbs of the treble. I carefully removed the hook and let it go to eat some more mosquitoes.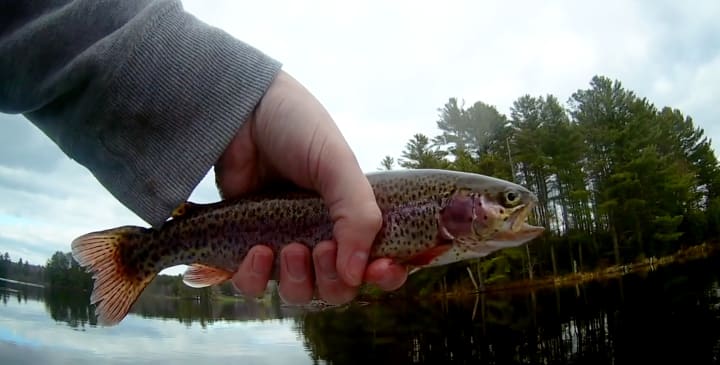 All said and done it was hard to keep track of all the catches, but it was just under 10. Pretty impressive for a few hours of fishing on Mirror Lake. If you're interested in getting your hands on the lures we used, I have links below. You can also check out my YouTube channel for more fun adventures.
• Thomas Bouyant Rainbow Trout Spoon 1/4 oz. (Caught Rainbow Trout)
• Rapalla Rainbow Trout Crankbait (Caught 4 Perch)
• Bomber Crankbait (Caught 1 Perch)
Tight lines everyone. Keep an eye out for more exciting fishing, cooking, and outdoor adventures.