How to get to Pattaya from Bangkok
Know your options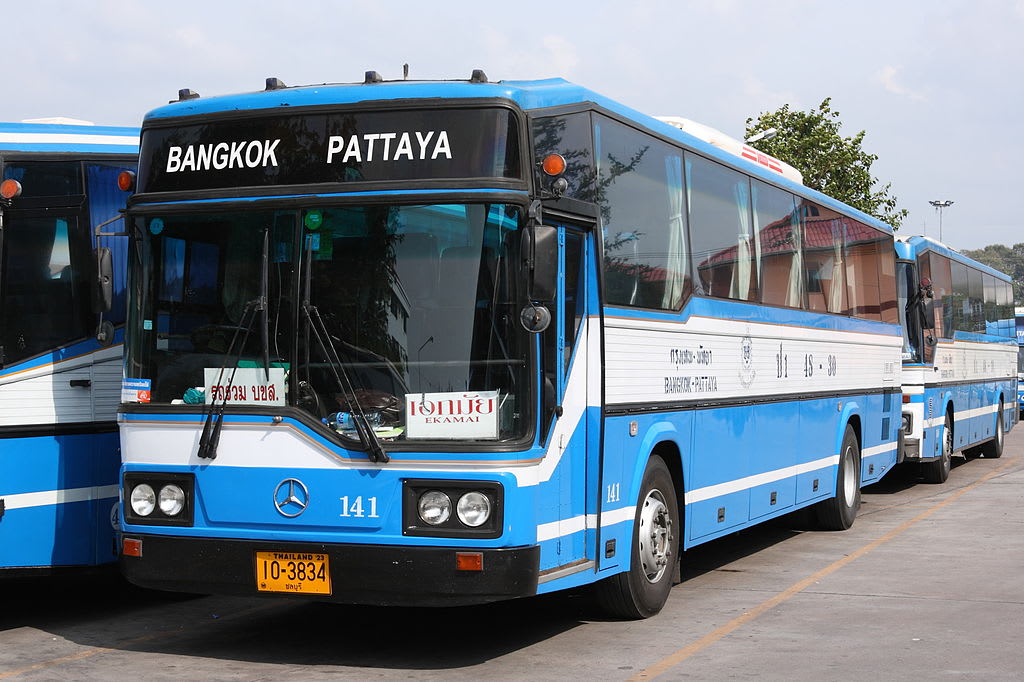 Ilya Plekhanov, Mercedes-Benz intercity bus in Pattaya, CC BY-SA 3.0
Going from the hustle, bustle and cultural allure of Bangkok to the sprawling beaches and scintillating nightlife which best describes the city of Pattaya can take quite some getting used to. In fact, if you have included some time to be spent in Pattaya where commuting from Thailand's capital will be required, then you will need to come up with a plan, budget dependent of course. Showcased below are the ways by which travellers can make such a journey a reality and importantly, a convenient and memorable one.
Consider the location you will be entering
Pattaya is found southeast of Bangkok and perched on the eastern Gulf Coast which in turn, witnesses a staggering 8 million tourists annually owing to its numerous leisure facilities and engaging beach life vibe. Further, the distance covering both cities stands at 147 km which will tell vacationers like yourself that you may have to allocate a separate amount to facilitate such an experience. Although, the nature of such an experience will depend on how much you are willing to pocket out.
Travel by airport bus
Having disembarked at Bangkok's Suvarnabhumi Airport, the next on your list of priorities will be to catch the next available bus that will take you to Pattaya. For a fee of 106 baht, you will get to ride in comfort onboard an airport bus that will reach North Pattaya Road Bus Station within 90 minutes. Given that these buses depart for Pattaya every 2 hours, one would need to plan one's travels well in order to maximize such travel opportunities. Further, if you are scheduled to be based at a resort Pattaya Thailand has to offer in the likes of Avani Pattaya Resort which is 119 km from the Airport, then hopping on to the airport bus will be a great way to kick start your adventures.
Bus travel from Bangkok city center
Arguably, travelling between Bangkok and Pattaya by way of a bus is the most convenient of ways as even if you are in Bangkok city center, reaching Pattaya would be a thing of the past. However, you would need to know where to go first. First up is the Eastern Bus Terminal on Sukhumvit Road which is located in close proximity to Ekkamai BTS Station. Buses operate from 5.20 am to 11.20 am at this Terminal and will require each commuter to pay a sum of 117 baht for an air-conditioned bus ride that can last for anywhere between 2 – 2 and a half hours. On a similar note and for a similar price, travellers reaching the Northern and Southern Bus Terminals will also have access to this convenient mode of transport that will soon have them enjoying the wonder and magic of Pattaya.
Private car
For those travellers who seek an extra layer or two of privacy and luxury, then opting for a private car will come across as the perfect tonic. The level of flexibility associated with private car travel is unparalleled based on the fact that one may choose the departure followed by drop-off points (if any) coupled with the time of departure to suit one's own fancy and mood. Discounted rates are a norm with this mode of travel but do keep in mind that this facility will be the most expensive when it comes to the subject matter at hand. Therefore, expect to pay anything within the range of 1,500 to 2,000 baht which is inclusive of expressway charges.
Mini-van
Mini-vans feature as an affordable means of commuting to Pattaya from Bangkok as the cost will not exceed 400 baht. Also, travellers can choose from the private or shared ride option, and in the case of a larger travel group, then the former will appear more feasible coupled with the level of privacy that comes with it. The mini-van option also affords the ease of setting the pickup, drop-off as well as departure time.
Reader insights
Be the first to share your insights about this piece.
Add your insights