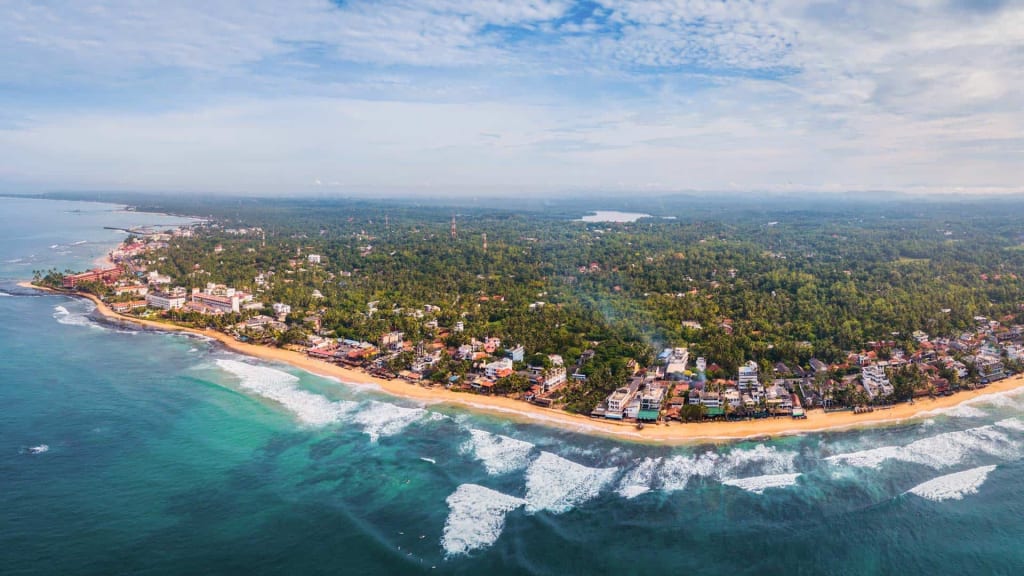 Hikkaduwa is located about 100km south of the Sri Lankan capital, Colombo. The area is well known for its coral sanctuary, the proximity of wonderful scuba diving sites to explore and having a top surfing beach. With its unique beach culture and vibe, Hikkaduwa has long been one of the more popular beach resorts in Sri Lanka. In the center of Hikkaduwa, a protected lagoon creates a beautiful and safe snorkeling area. Further south, where the currents are stronger, surfing is the dominant water activity. The impressive coral reef runs just offshore and is populated by exotic fish and sea turtles that occasionally come ashore to lay their eggs.
Hikkaduwa was only a little fishing community about 30 to 40 years ago. However, it has evolved into one of Sri Lanka's top tourist destinations since the early 1980s. Hikkaduwa is well-known among tourists for its natural wonders, including its broad, spotless beaches, coral gardens, ocean with pure water, and scorching sun. Along with a vibrant nightlife, Hikkaduwa draws visitors who want to participate in water activities including scuba diving, snorkeling, and surfing. The popularity of wind and kite surfing is also rising.
Hikkaduwa, which is central to many other excellent tourist spots in Sri Lanka and is accessible by rail and bus, is 100 kilometers from Bandaranaike International Airport. From October through April is Hikkaduwa's busiest travel season. Surfers from Australia, the UK, Japan, Italy, Israel, the United States of America, and many other countries visit Sri Lanka's primary surfing location, Hikkaduwa, every year. The Hikkaduwa region has 3 to 4 surf spots with warm, clean water. Reef breaks make up most of the surf spots. Each location has a flat reef and a deep bottom. The wave height varies during the season from 2 to 7 feet. You may surf the "A" frame-shaped waves at the main point, often known as the "major reef," in either way.
How to get Hikkaduwa
Colombo to Hikkaduwa via train
I took the train from Colombo to Hikkaduwa. It was a rather enjoyable excursion that took around 4 hours (the information online gives very differing estimations as to the journey time for this route so leave more time than you think you need). However, it was the busiest of all the trains I travelled in Sri Lanka, so if you can, consider upgrading to first class and making reservations in advance to guarantee a seat. If you can afford to drive, this could be the trip to take because it's not one of the train excursions with the best sights. If you make a reservation at the station, the train ranges in price from 80 cents to a few dollars, depending on the class you pick.
Colombo to Hikkaduwa via bus
Since traveling a bus throughout Sri Lanka is much more difficult than riding a train, I strongly suggest using a train instead since it travels this route. Purchasing tickets for second or third class on the train will also save you money.
Colombo to Hikkaduwa via car
It will be less expensive and simpler to share a car if there are a couple of you traveling for the majority of your trips around Sri Lanka. From Colombo to Hikkaduwa, a car with a driver will run you approximately $50 and reduce the travel duration to 2 to 3 hours.
Things to do at Hikkaduwa Beach
Hikkaduwa is famous for serving delicious seafood curries, relaxing massages, Buddhist temples, and watersports such as surfing, snorkeling, and diving.
Narigama Beach: Watch the Sunset
The most frequented beach in Hikkaduwa and the one with the most number of visitors is Narigama Beach. The Narigama beach, which spans nearly 4 kilometers, is ideal for surfing from April to October. Wintertime brings calmer marine conditions. The beach seems like a scene from a movie or a photograph because of the stunning colors the setting sun poured into the sky. As a result, seeing the sun set behind the Narigama Beach's seas is a visual feast.
Coral Reef Gardens: Explore the underwater world
Before the delicate balance of nature is broken by climate change, it is absolutely worthwhile to explore the vibrant coral reefs. A variety of aquatic fauna may be found in Sri Lanka's beautiful coral reefs. They keep a range of fish. Sea turtles are yet another top draw in addition to coral reefs. These turtles could be fed by hand! The turtles frequently bury their eggs in the Hikkaduwa beach's sand, and if you're lucky, you could even get to see the hatchlings make their way into the water.
Splash Around at the Laguna
The Laguna is a small lagoon surrounded on both sides by coral reefs. This section of the beach has no waves because the coral reefs here break the waves. So, if you or the kids who are with you want to go swimming, this is the place to do it. Families swarm to this beach to unwind and cool off from the heat by splashing around in the sea. To get around the calm seas, you might even reserve a catamaran. Exotic fish can be present along the shallow coral region in the early morning.
Water sports: Let's have some fun
Water sports including snorkeling, swimming, surfing, scuba diving, bodysurfing, and boating are appropriate for the Hikkaduwa beach. You may reserve a seat on a boat with a see-through bottom so you can get up close to schools of fish and other fascinating aquatic life. Enroll in a scuba diving or snorkeling course at one of the PADI-certified dive shops if you want to get closer to them in the crystal-clear seas. The travels will be meticulously planned and monitored to ensure that they have no negative effects on the environment.
Sunken ships of Hikkaduwa: Witness the shipwrecks
Hikkaduwa can also satiate your desire for an adrenaline rush if that is what you're after! You can visit four distinct shipwrecks around the shore in addition to the many fish and sea turtle species that live there. Who knows what secret treasure you may discover if you dive beneath the surface.
𝗚𝗼𝗼𝗴𝗹𝗲 𝗠𝗮𝗽:
https://goo.gl/maps/5F5twPzVQHizAM3e8
#HikkaduwaBeachSriLanka #FamousBeachesinSriLanka #Hikkaduwa #ScubaDiving #Snorkeling # Surfing #WaterActivities #Hikka #CoralReefGardens #Fishing #WhalesWatching #Diving #Viewpoint #travel #travelsrilanka #travelphotography #traveladdict #travelingram #travelawesome #Zeloan #srilanka #srilankatravel #srilankatrip #srilankatourism #srilankadaily #srilanka🇱🇰 #ceylon #paradiseisland #destination #nature #naturelover #naturephotography #Beaches #instagram # VisitSriLanka #BeautifulplacesSriLanka #PlacestoVisitSriLanka #Travelisland #Spicefood #southcoast #IndianOcean #picoftheday #livelaughlove #GoHomeRanil2022
About the Creator
I'm a Traveller, Blogger, and Content Creator. Visit Sri Lanka, and you can see the most beautiful places in the world and the remarkable hospitality here
Reader insights
Be the first to share your insights about this piece.
Add your insights