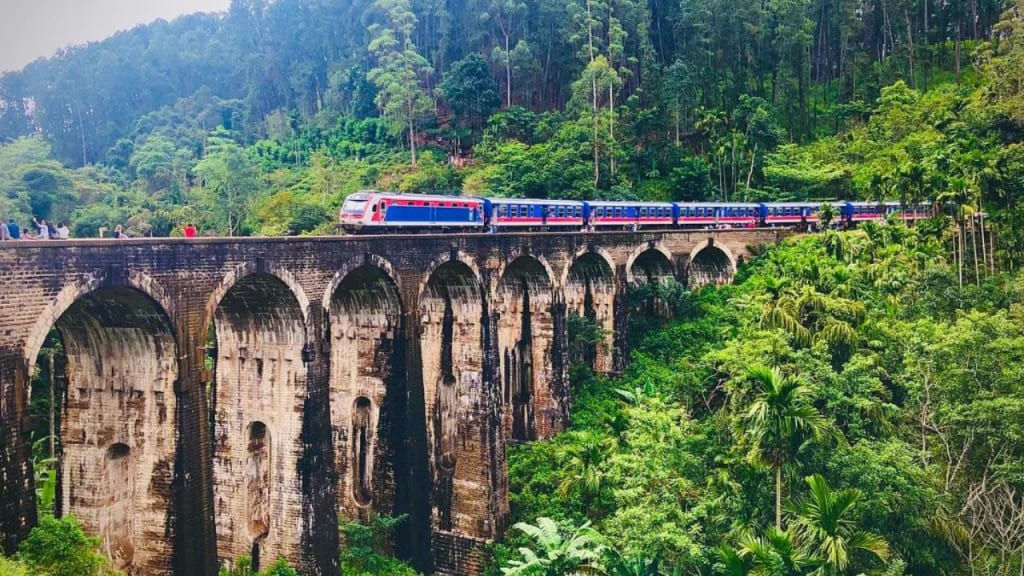 A brand-new, opulent train service called the Ella Odyssey travels daily between Kandy and Ella. Launched on March 5, 2022, this is a relatively recent addition to the Sri Lankan railway network. On its journey to Demodara station, Ella Odyssey makes a number of breathtaking pit stops. In particular, this unique train makes stops at nine well-liked tourist destinations in addition to major rail hubs. At these views, passengers are free to disembark and take pictures of the surrounding scenery.
One of the most beautiful train trips in the world is that between Kandy and Ella. This 7-hour trip is unquestionably a must-do activity in Sri Lanka. The spectacular scenery and mountain vistas along the railway route are unmatched. The thrilling trip continues over bridges and under tunnels with breathtaking views of mist-covered mountains, magnificent waterfalls, and lush green slopes covered with tea plantations. It will be beautiful outside your window throughout!
Typically, the picturesque train ride between Kandy and Ella began at Colombo Fort station. However, making a reservation for this train was rather challenging because they sell out very quickly. On the other hand, the brand-new Ella Odyssey has improved the comfort and convenience of the scenic train journey. Now that tickets can be reserved more easily, you can easily get seats for the picturesque train journey.
Kandy to Ella main train stops
Even though it is referred to as the Kandy-Ella train, Demodara station is the final stop. Because of this, you shouldn't exit at Ella station. Other than railway stations, the Ella Odyssey makes other picturesque stops between Kandy and Demodara. It will pause for 2 to 10 minutes at each place to photograph the beautiful surroundings. The top sights along the railway route from Kandy to Demodara are listed below.
1. Horsetail waterfall
One of the secret waterfalls in the hill area is this horsetail waterfall. It is situated between the stations of Inguru Oya and Galaboda. The train will halt there for two minutes since it can be seen from the rail line. You may get some beautiful images of the autumn.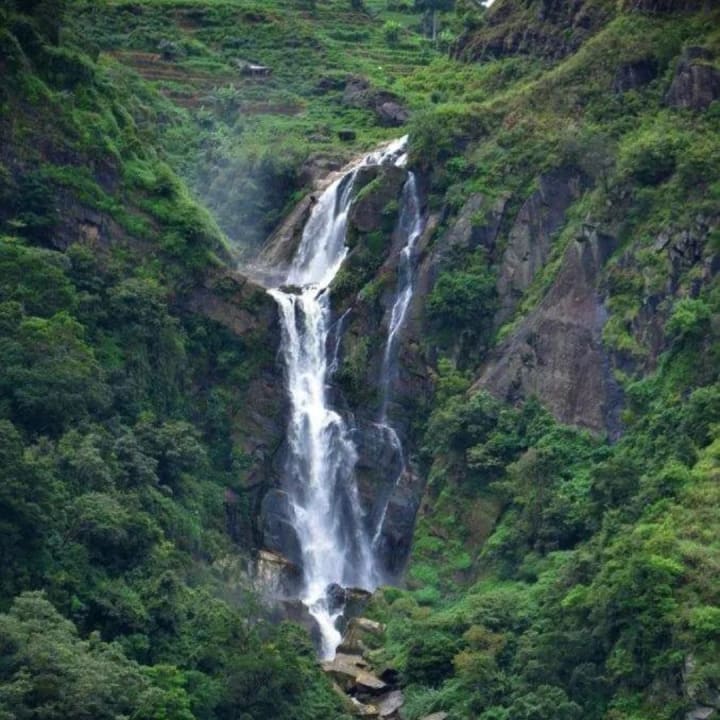 2. Adam's Peak viewpoint
Adam's Peak, also known as Sri Pada, is a revered peak in Sri Lanka. The nearest train station to get there is Hatton. All Sri Lankan communities frequent this place of pilgrimage. Around 1 million people use Hatton station to get to Adam's Peak during the pilgrimage season.
Adam's Peak is also one of Sri Lanka's most gorgeous hiking paths, making it the ideal place to witness the magnificent dawn. During the train trip, you may catch a sight of Adam's Peak Mountain, which rises to a height of 2243 meters. Between the Rozella and Hatton stations, there is an excellent vantage point towards Adam's Peak. From this vantage point, you can see Adam's Peak's splendor.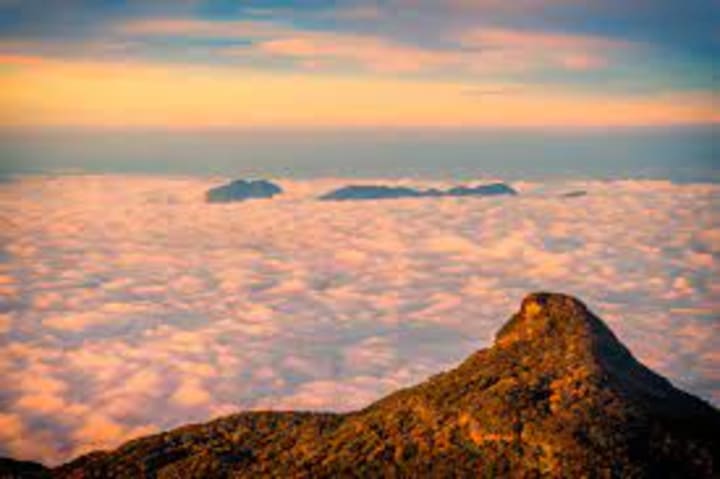 3. St. Clairs waterfall view
This beautiful waterfall, which is located between Kotagala and Talawakele, is known as the "Little Niagara of Sri Lanka." This fall features two cascading cascades. The tiny one is just 50 m high, while the huge one is 80 m high and 50 m broad. It flows through a tea estate after tumbling down rocky rocks into a large pool.
The major railway line passes near by St. Clair Fall, which is easily seen from the train. There will be a two-minute train halt to allow passengers to take pictures. With a massive water flow, this waterfall is especially stunning during the wet season.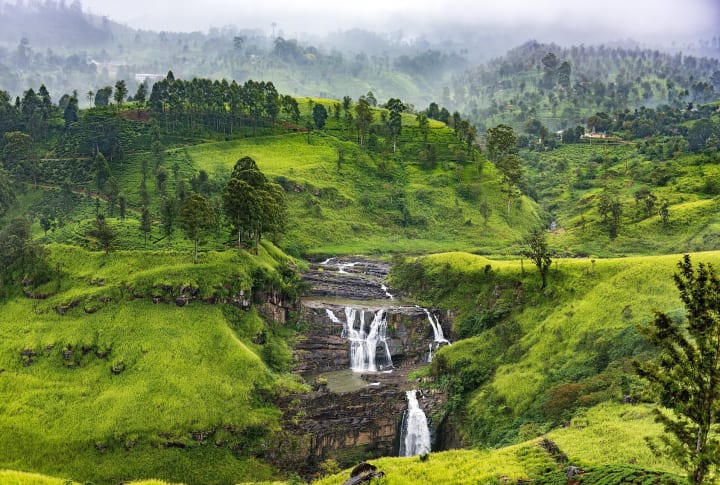 4. Elgin Falls view
You'll come across another lovely waterfall after crossing the Nanu Oya railway station. Elgin Falls, which is 25 meters tall, is situated on the Elgin tea estate between Nanu Oya and Ambewela. Elgin, a significant town in Moray, Scotland, inspired the name of Elgin Falls. The fall is located at a height of around 1,500 meters. The Ella Odyssey train will stop there for two minutes, allowing you to get some fall-themed photos.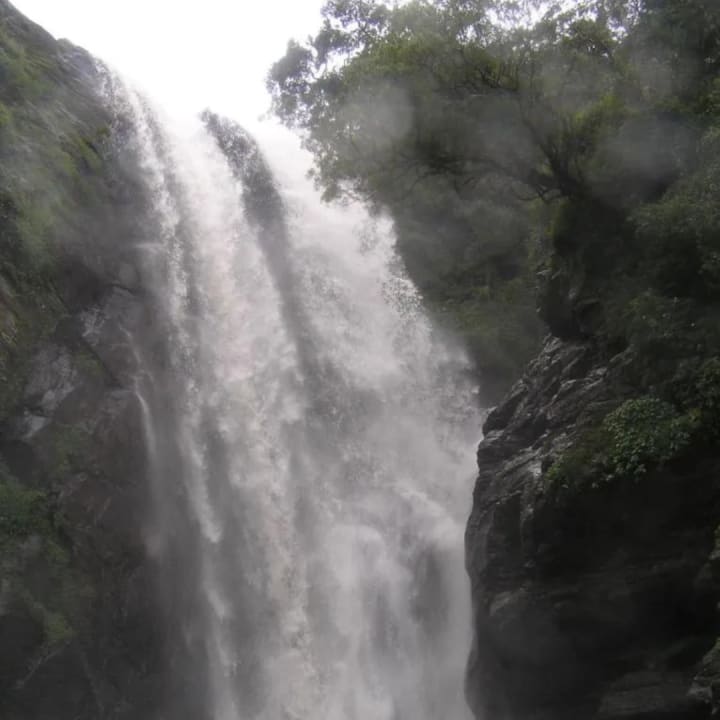 5. Summit Level
Pattipola, which is 1,891 meters above sea level, is the highest railway station in Sri Lanka. Here, you'll come across one of the most unusual locales. The Summit Level is situated between the stations at Pattipola and Ohiya.
To be clear, Summit Level refers to the highest point on Sri Lanka's railway rails. The summit is 1898.1 meters above mean sea level. The train starts to drop in order to reach the country's lowlands because it is the highest point along the route.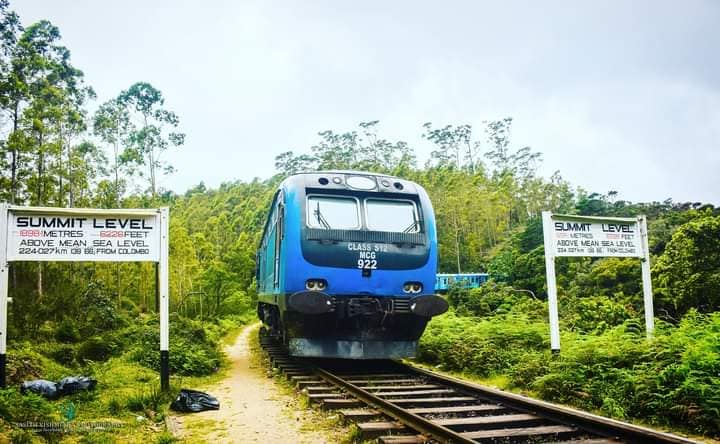 6. Tunnel No 18
The train continues via tunnel No. 18, which is located after reaching the summit level and is about 3 kilometres from the Pattipola train station. The Pattipola Railway Tunnel, also known as the Summit Tunnel, is Sri Lanka's tallest railway tunnel. Its height above mean sea level is 1897.5 meters. Additionally, at 321.95 meters long, this tunnel ranks third in length. Due to its tiny end, it is also the darkest tunnel in the whole nation.
This unique location in Sri Lanka lies on the border between the rainy and dry zones. The district lines of Badulla and Nuwara Eliya are divided by the tunnel. The 18th tunnel has a unique property in that both sides are very different. The weather is foggy and wet on one side of the tunnel, while it is totally bright and dry on the other. In Sri Lanka, in Tunnel 18, you may experience this surreal event.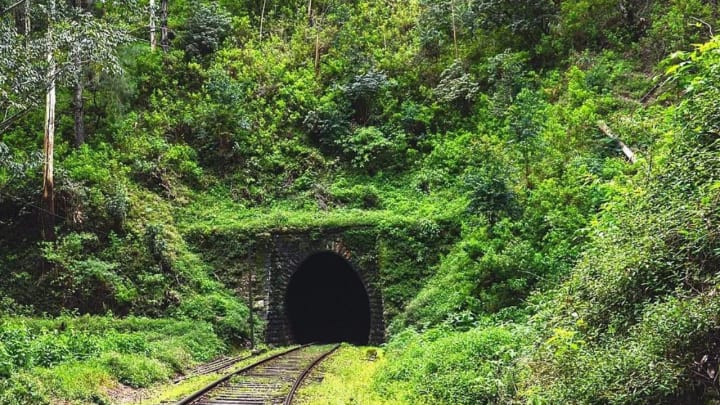 7. Windbreak – Sulan Kapolla
Idalgashinna Railway Station is regarded as Sri Lanka's most attractive train station. This little station was built in the colonial era, back in 1893. The slope clad in pine forests that towers behind Idalgashinna Station makes it appear even more little. For the station, there is just one platform.
Between the stations of Idalgashinna and Haputale, there is a Windbreak. The train will stop there for a three-minute scenic break. This region is often always shrouded in a dense mist. Watching the mist come in and coat everything in white, though, is a magnificent sight.
The views of this region are pretty breathtaking with exquisite visual splendor on a clear day. Only a few scatted structures may be seen among the vast green slopes. This is undoubtedly one of the most stunning regions in the hill country, where you can enjoy some breath-taking views of the hills covered in forest.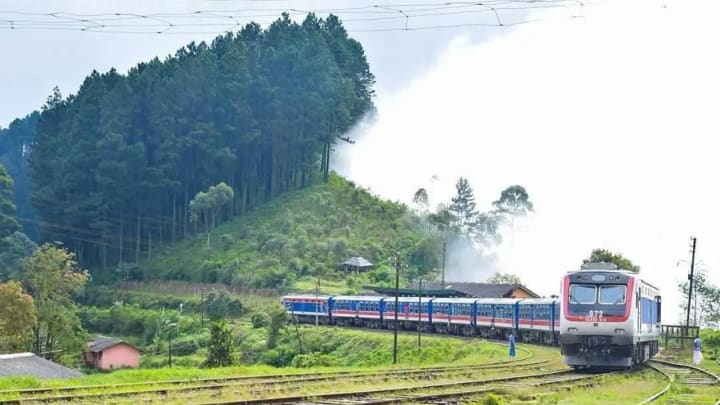 8. Kithal Ella Falls view
Between Heel Oya and Ella, roughly 100 meters from Kithal Ella train station, is where you'll find Kithal Ella Falls. The 23-meter-tall Kithal Ella waterfall is a sight to see. The waterfall shines like a queen in the wet season. It creates a beautiful image as it falls down in a lovely cadence. One of the largest waterfalls, Kithal Ella Falls, is breathtakingly gorgeous during the monsoon.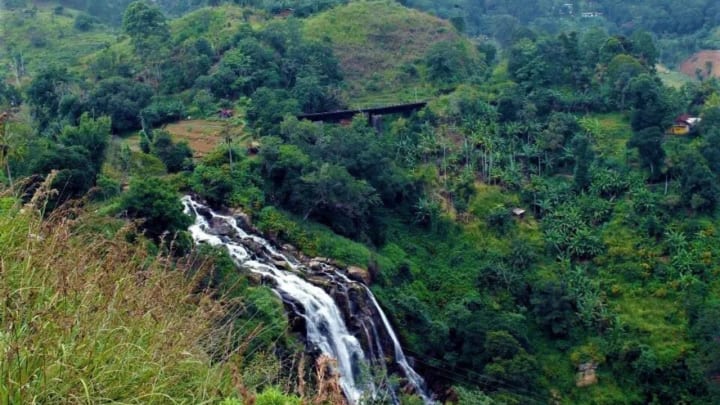 9. Nine Arch Bridge
One of Sri Lanka's most popular picturesque locations is the Nine Arch Bridge, which is situated between Ella and Demodara. This lovely bridge was constructed without the use of steel reinforcement during the British Colonial era using cement and stone bricks. It was built more than a century ago and is considered one of Sri Lanka's first technical marvels.
The beautiful sight of a train passing the bridge is quite popular among tourists at this location. An iconic image of Sri Lanka is the train passing Nine Arch Bridge in picturesque fashion. For ten minutes, the Ella Odyssey will stop there to get some amazing photos of this stunning location.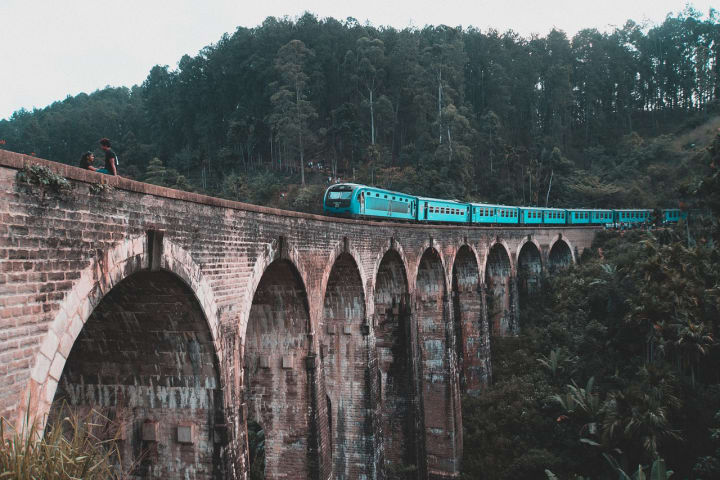 10. Demodara station
You will come across another noteworthy location known as the "Demodara Loop" after crossing Nine Arch Bridge. This is a spiral rail line that can turn 360 degrees. The train line exits the tunnel that is right underneath Demodara railway station after completing the circle and traveling around it. In Sri Lanka, there is just one spiral railway line.
At 2.20 p.m., the train will arrive at Demodara station, its penultimate stop. The train will leave for Kandy at 3.40 p.m. if you are returning that day, and you will arrive at the Kandy station by 9.35 p.m.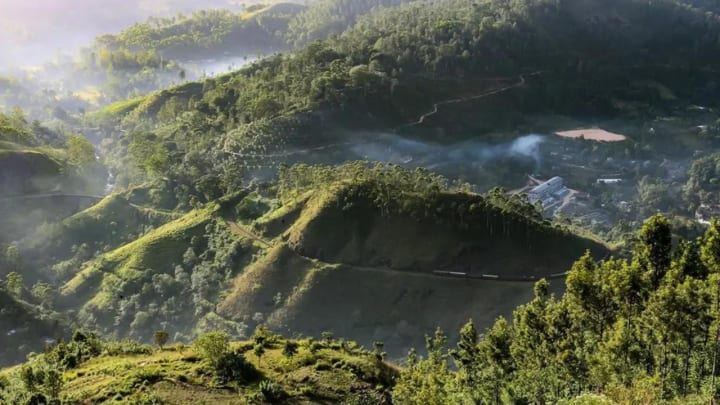 Ella Odyssey Train will stop at below locations
Kandy- 07:00
Peradeniya Railway Station - 07:10 (5 minutes)
Geli Oya Railway Station - 07:22 (6 minutes)
Nawalapitiya Railway Station - 08:02 (3 minutes)
Horsetail Waterfall view point - (2 minutes)
Sri Pada (Adam's Peak) view point - (2 minutes)
Hatton Railway Station -09:14 (2 minutes)
St Clair Waterfall view point - (2 minutes)
Great Western Railway Station -10:07 (3 minutes)
Nanuoya Railway Station -10:26 (4 minutes)
Elgin Falls view point - (2 minutes)
Pattipola Railway Station -11:10 (13 minutes)
Summit Level - (2 minutes)
No 18 Tunnel - (3 minutes)
Ohiya Railway Station - 11:40 (3 minutes)
Idalgashinna Railway Station -12:02 (30 minutes)
Sulan Kapolla View - (3 minutes)
Haputale Railway Station - 12:52 (3 minutes)
Kithal Ella Waterfall view point - (3 minutes)
Ella Railway Station -13:50 (5 minutes)
Nine Arches Bridge - (10 minutes)
Demodara Railway Station -14:20
For the first time in Sri Lanka, a luxury train called Ella Odyssey includes first- and second-class accommodations as well as a dining car. This train, which will be run by Sri Lanka Railway Department, will contain around 144 second-class seats and over 176 air-conditioned first-class seats.
In conclusion, we have provided you with all the information you want on the picturesque train trip from Kandy to Ella, known as the Ella Odyssey. Without a doubt, this is a fantastic experience and something you just must do when in Sri Lanka. You'll think the train voyage from Kandy to Ella is a once-in-a-lifetime adventure that offers a magnificent experience.
Above all, make sure to carefully appreciate your train ride. Most significantly, you should refrain from hanging from train doors and snapping pictures while the train is in motion in Sri Lanka. Recently, several accidents involving railway falls have been documented. Therefore, please consider your safety and avoid putting your life in danger to get a good Instagram shot.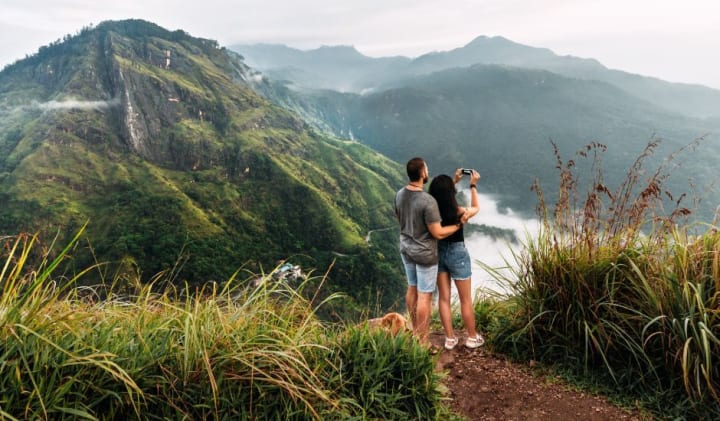 Ticket Booking:
Book online: https://seatreservation.railway.gov.lk/mtktwebslr/
Watch Video:
About the Creator
I'm a Traveller, Blogger, and Content Creator. Visit Sri Lanka, and you can see the most beautiful places in the world and the remarkable hospitality here
Reader insights
Be the first to share your insights about this piece.
Add your insights