Heiwajima
Hot Spring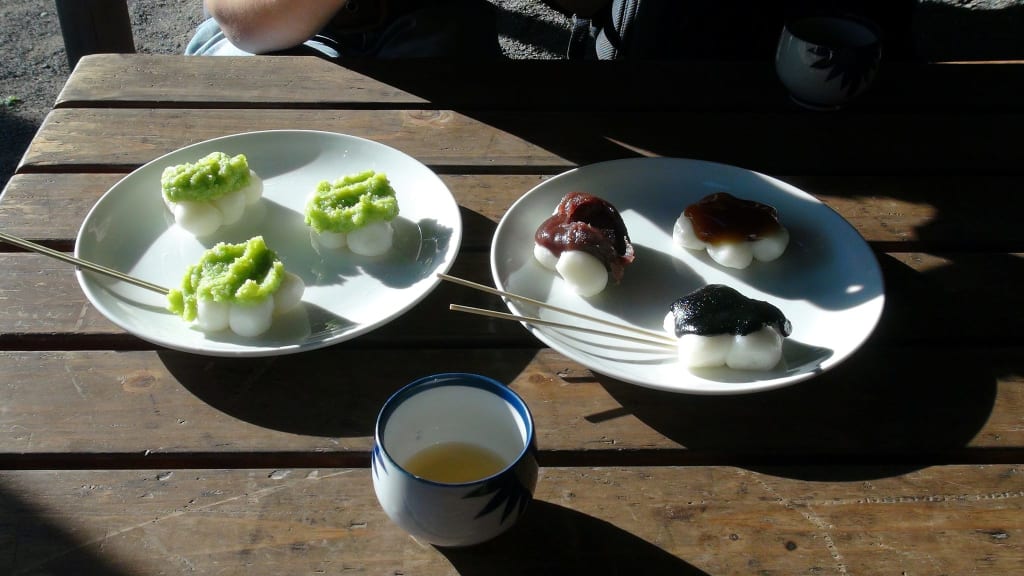 Onsen Food
It's 10 PM on a Wednesday night and I'm again walking the streets of Tokyo. A steady rain pours down on the road and the drops are light and more like a spray than a rain. As usual, I have my guitar in one hand and a pack on my back. It seems too much, but I feel like I'm missing something when I leave the house without the guitar and so it's there like an extension of myself. The train that was supposed to come never came and so I struck off on the road and now my feet feel the pavement and slowly I'm starting to regret the decision. Overhead a train passes over me, its pale yellow lights putting yellow sparkles onto a road, the pavement drenched in the spray that has been slowly accumulating. Even the streets somehow seem soaked to the bone. Then as if the passing train signals a transition in time, almost as though there was a check point to be passed, I see the sign for Heiwajima Train Station glow overhead. I had been looking for a hot spring in Tokyo City for some time and a place to stay that was cheap. There are the international hostels of Tokyo, which house the foreign night owl, but I wanted to find something more local and preferably something with hot water. When I had conducted the search online Heiwajima Onsen had popped up and so here I was answering the call at 10 PM at night. The station "Heiwajima" translates to "Peace Island" in English. I had walked across the sea of buildings and had arrived!
If you're ever wondering what to do when visiting Japan, I do feel that you could spend a lifetime Onsen hopping or "hot spring" hopping around the land. I think it would be a very good use of time and you would not be able to visit all of them. Each spring has its own story and own feel and tradition. It's a great and easy way to peer into Japanese culture and support a tradition that the Japanese people are very proud of. That being said there is an etiquette to follow that is vital to the experience that if done properly will warrant quiet smiles of approval from Japanese locals that will then remark respectful words such as "You're Japanese!" or something similar. Here are some good things to follow when visiting these precious wonders in Japan.
When you first arrive there will be a place to take off your outdoor shoes. There then will be special "Onsen Slippers" to change into. There will be a place for your shoes almost always or you'll see where others have placed them.
Upon checking into Hewiajima Onsen you will receive special robes and clothes for the Onsen experience. When I brought my guitar, the staff was able to store it behind the front desk for me. The price was about 29 dollars per/night when I was there seven years ago. I don't know what the price is now, but it included 24-hour access to all the facilities. The hot spring closed down at 4:30 AM in the morning for cleaning and reopened at 5:30 AM.
The men bathe separate from the women and it is vital to wash before entering the pools. Upon exiting the changing room there are washing stations. At this point, everyone around has just a towel to cover themselves. You then proceed to the washing station that has a little seat and wash completely. There can be 50 others around you, each with their own station. Sometimes you're there by yourself as well listening to the slow murmur of the pools nearby. It's then customary to wash down your specific washing station and then you can proceed to the hot pools.
When entering the pools it is customary to lift the towel that you have been using to cover yourself and to place it on your head. It is not okay for that towel to touch the water in the pools. It is okay to set the towel off to the side.
In most of the springs, there are other amenities such a steam rooms, cold plunges and saunas. I almost always used the cold plunge and showered again upon exiting the pools.
After dipping in the springs it is then customary to change into the robes that were provided for you. You are now considered clean and then you are permitted to walk around the area. There is a restaurant that serves different kinds of Japanese cuisine and there is also a sleeping area where each person has a Lazy Boy chair that they are permitted to use. It is quite a common practice to take multiple dips in the springs over the course of your stay.
Upon exiting, the robes are returned to the front desk and the staff gives you the go ahead to leave the building. It is then that the experience is finished and you exit into the fresh Tokyo morning air. Tokyo in the morning is almost always pristine.
I notice now in the above picture that our utensils are on the plate. Please lay them off to the side and do not do what we did. When chopsticks are left inside the bowel this is a practice that is only permitted during funeral processions in Japan.