Gwangju, South Korea: Life in the Middle Lane
First Place in Locals Only Challenge
Three different itineraries to experience the city, each more local than the last.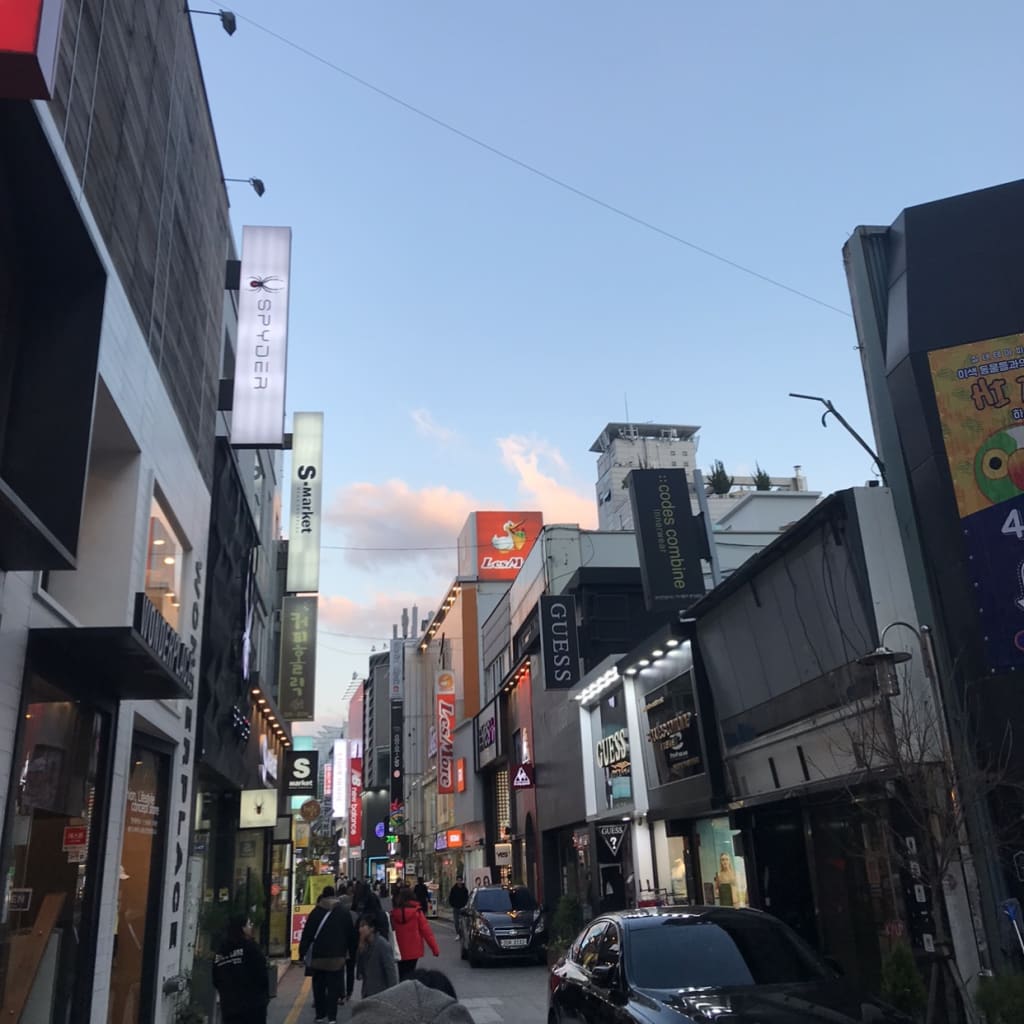 Shopping in downtown Gwangju. By Molly McKee.
With a population of 1.5 million, Gwangju is the 6th most-populated city in South Korea -- greatly shadowed by Seoul, with 10 million. The southern city isn't a popular tourist location, and as a result, you won't see many foreigners during your stay. No matter what you do in Gwangju, whether it be touring the World Cup Stadium or exploring the art district, you'll feel like a local.
Itinerary #1: Known-Fors and Must-Sees
To get a full taste of Gwangju, there are some things you have to do, even if they are included on travel sites and in tour books.
Asia Cultural Center
The center itself is home to museums, exhibitions, and performance spaces, and is especially a hot spot for kids, with playgrounds and exploration areas to keep them occupied for hours.
5.18 Memorial Park
The memorial park honors those who lost their lives in the Gwangju Democratic Uprising. There is a small underground museum that you can visit, free of charge. If you're interested in learning more about the uprising, the ACC has a museum dedicated to the movement. Just a warning, though: some of the exhibits are very emotionally heavy.
World Cup Stadium
A must-see for soccer fans, the stadium held matches during the 2002 FIFA World Cup and is the home of the Gwangju FC. The stadium also was the host of the SBS Super Concert in 2019, a lively K-pop concert put on by BTS, Twice, TXT, and more.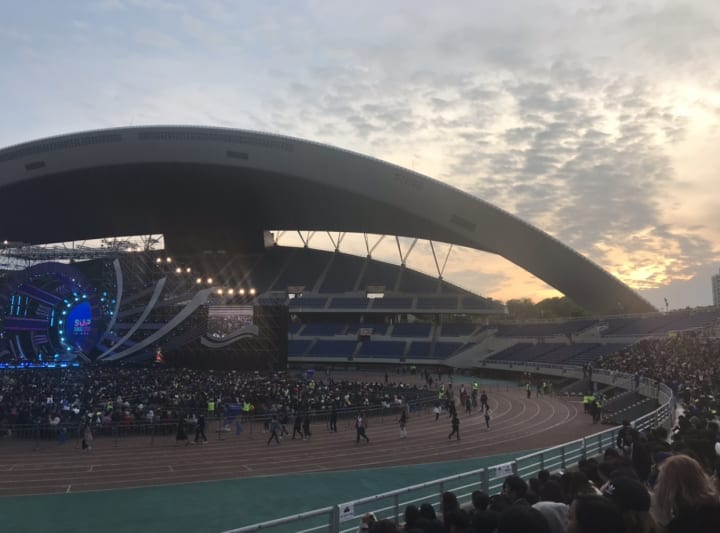 1913 Songjeong Market
Gwangju is especially known for its cuisine, and there's no better place to have a traditional meal than at the Songjeong Market. Near the KTX station, the market has boutiques, cafes, and a wide range of seafood specialties to choose from.
Hanulmadang
Swing back to the ACC to bring your day to a close. Hanulmadang, located near the main ACC promenade, is a large grassy space with an iconic art installation of hanging umbrellas. Perfect for pictures and made for picnics, this space is best enjoyed in the evening with Korean fried chicken and beer, with street performers and the Gwangju skyline adding to the serene ambiance.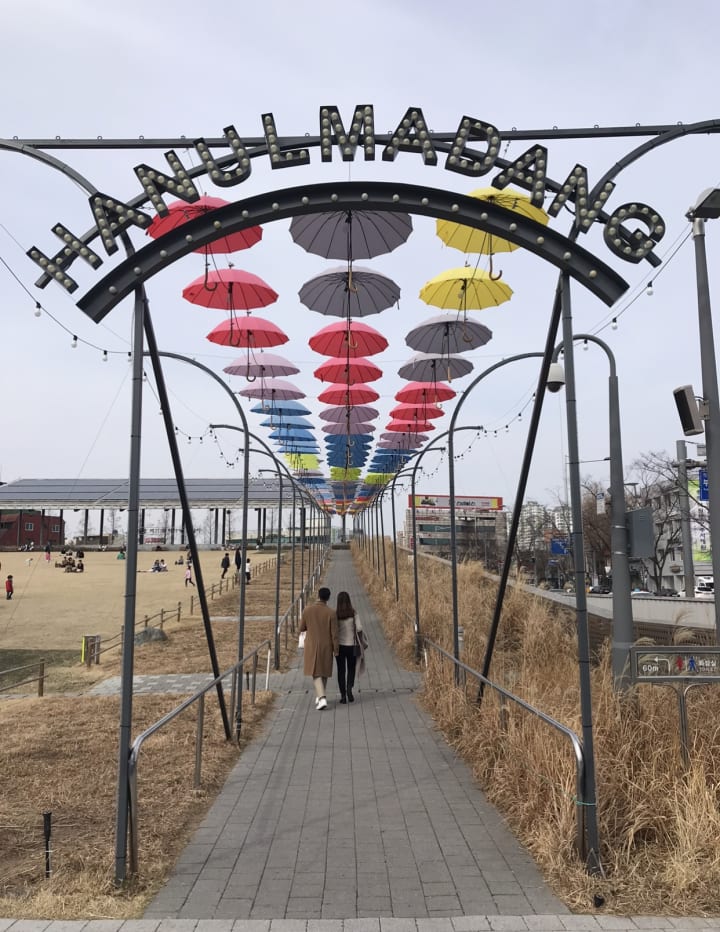 Itinerary #2: Tourist Cold Spots
Virtually no tourists add these places on their bucket lists -- all the more reason for you to check them out!
Junghoe Park and Family Land
Junghoe Park is an old, tiny, and remarkably still operating amusement park, and Family Land is the neighboring zoo. During the spring, the backdrop of cherry blossoms provide a striking view perfect for pictures. The rides are a blast, too, partly due to the thrill of not knowing if it could be your last...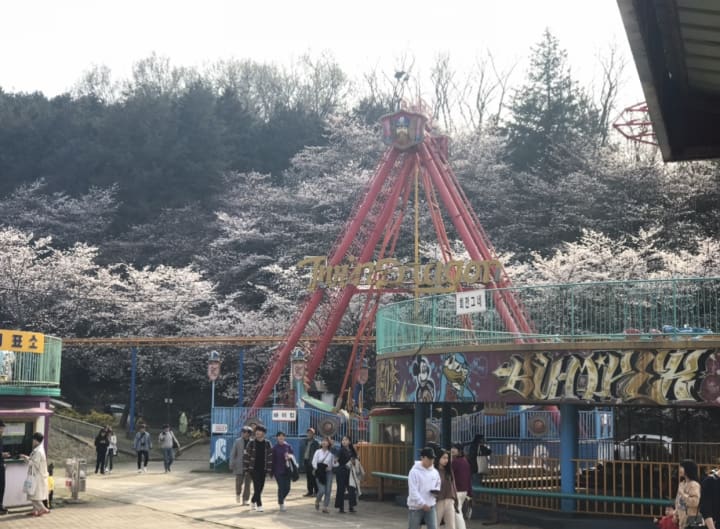 Lookout Point @ Chosun University
Chosun University is one of the oldest private universities in South Korea, and its view is one of the prettiest in Gwangju. The lookout point is at Main Building 2, the iconic white building with triangular roofs serving as the main feature of the campus. Walk to the very end of the building and you'll see a sight like no other. There are also strings of locks for couples.
Though the view is gorgeous at any time, I recommend going during the day to get a full view of the city.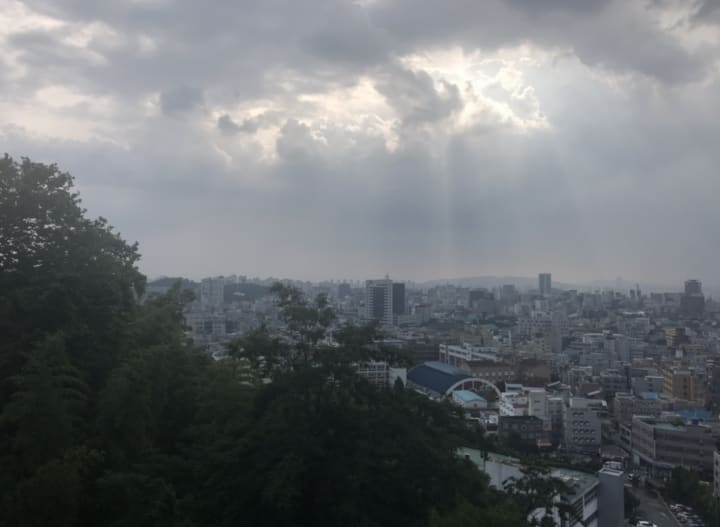 Penguin Village
The Penguin Village is one of Gwangju's quirkiest features, showcasing ancient knick-knacks and junk art. It feels like a real look into the past; every item you find no doubt will have an interesting story to tell.
The neighborhood in which the Penguin Village resides, Yangnim-dong, is also home to cafes and restaurants with beautiful architecture. You will find a walking path directed with signs, best to enjoy in the early evening. The entire area is one of Gwangju's jewels and a personal favorite!
Art Street
A variety of art is on display both on the street and in the surrounding shops. Be sure to go at night -- a jazz band sometimes plays, adding to the lively ambiance!
Itinerary #3: A Day in the Student Life
I studied at Chonnam National University during my time in Gwangju and came to know the area nearly as well as my own home in the US. To me, nothing felt more local than going out for drinks with other students. Here's my final itinerary to experience life in Gwangju as the students do.
Coffee, Coffee, and More Coffee...
Korea is known for its cafes, and some of my favorite are, of course, in Gwangju!
Alibaba, right by the dormitory buildings, serves the best coffee I've ever tasted. The cheapest, too! The tiny cafe is known for its donuts, as well, and is ran by incredibly kind employees. During my time as an exchange student, I saw one of the employees so often that she gave me a free donut whenever I visited. I hold that place dear in my heart.
BTC, or Roasting Factory, is my all-time favorite in Gwangju. The two-level cafe serves slightly more expensive specialty drinks that are well worth the price. Located just down the block from Alibaba, this was one of my favorite places to study during my time in Gwangju.
And lastly, Beans to Coffee -- also referred to as BTC -- right next to campus not only has a gorgeous interior, but a gorgeous view, too. Especially during the rain: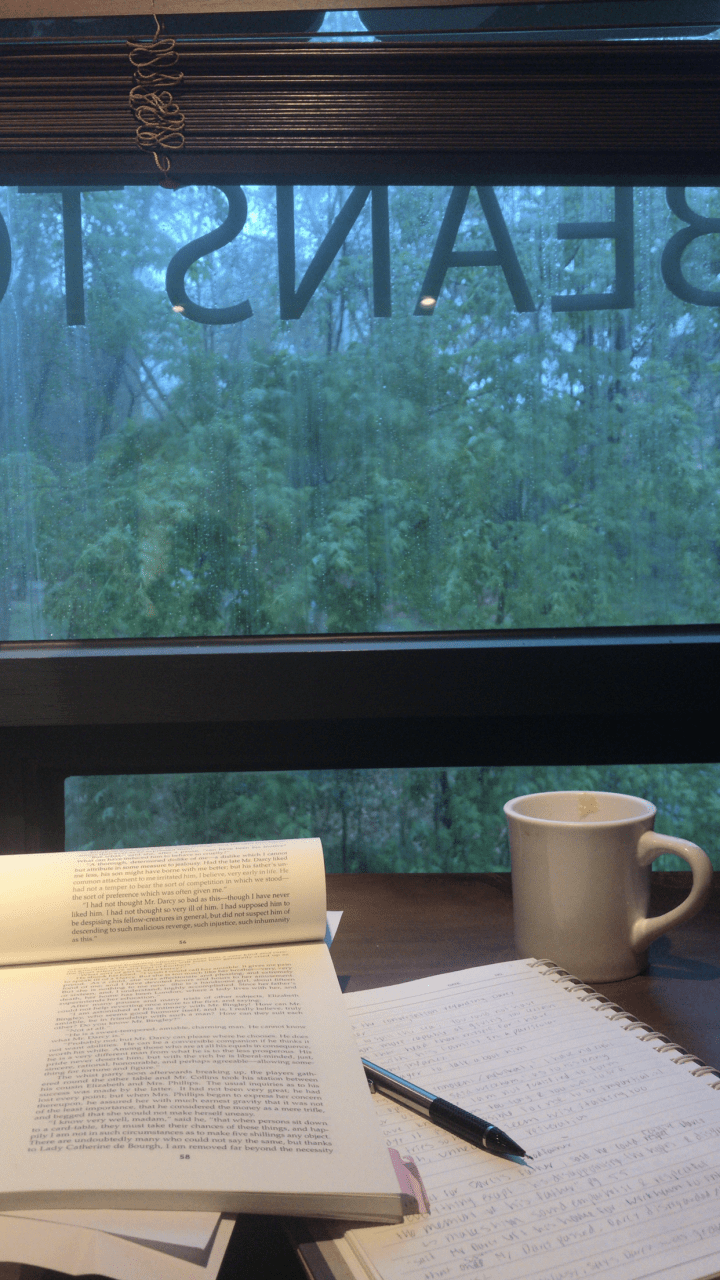 Picnic at the CNU Track
One of my favorite places in Gwangju is the track at CNU. Surrounding the track -- which surrounds a soccer field and basketball court -- is a large ring of grass perfect for lounging in the shade of trees or soaking up the sun. Locals often gather at the track for pick-up games of soccer and basketball, walk around the track while engaged in conversation, and relax on picnic mats to enjoy nice weather. The afternoon ambiance is perfect for a between-class nap!
Waffles in Humoon
In Humoon, or the university's Back Gate, you will find a variety of shops, restaurants, and cafes to visit, including some of the best waffles I've ever had at W&B Market. Served like a sandwich with your choosing of toppings -- ice cream, whip cream, apple butter, strawberries, you name it -- the dessert waffles were by far my favorite treat.
W&B Market is quite tiny and frequently busy, so I recommend eating your waffles in the nearby park: when you exit the waffle shop, take a left, then a right, then keep walking 'til you see it on your right.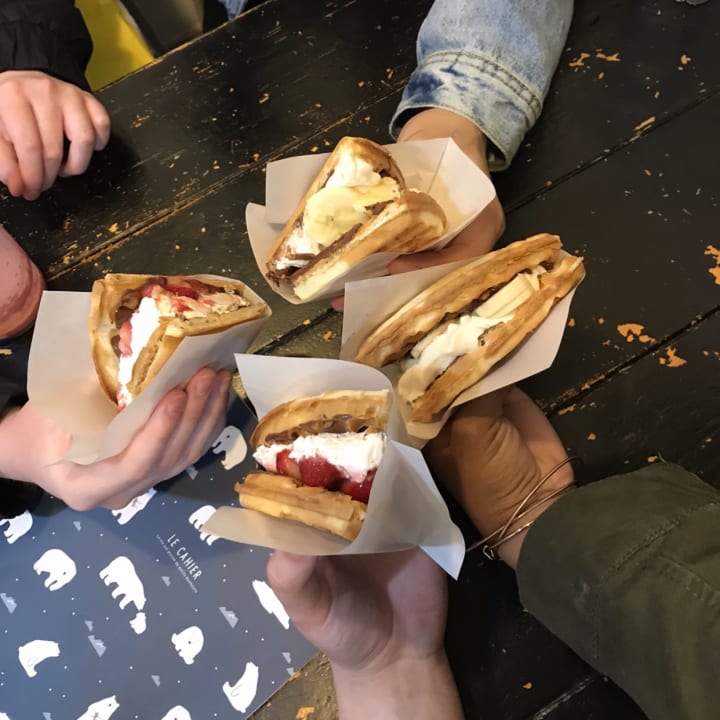 Nightlife
A short taxi or bus ride back to the ACC will put you right next to the low-key center for nightlife. Referred to as downtown -- a place also known for its shopping hot spots -- you will find a popular bar chain for foreigners, called Thursday Party. Almost right across the street is Radio Killer, a hip hop club with incredibly friendly employees that double as ultra-talented dancers.
If you prefer more bustling nightlife, Sangmu is the place for you -- specifically Libertine, the best club in Gwangju. The multi-level club has spaces for EDM and hip hop lovers, respectively, and is known to have been frequented by famous Korean rappers, like Gray.
Noraebang, the Korean word for karaoke, is a staple for a night out in Gwangju. After drinking, take your friends to a noraebang room -- big enough for a large party and provided with food and drink service -- or coin noraebang -- a rather tiny room where you pay song-by-song. Follow this with Hangover Soup or street food and you have the ingredients for a great night out!
Gwangju is very close to my heart, and if you ever decide to visit the South Korean city, I hope you enjoy it just as much as I enjoyed living there!