For the Love of Adventure
A collection of some of my favorite adventure videos on the popular short video platform of TikTok.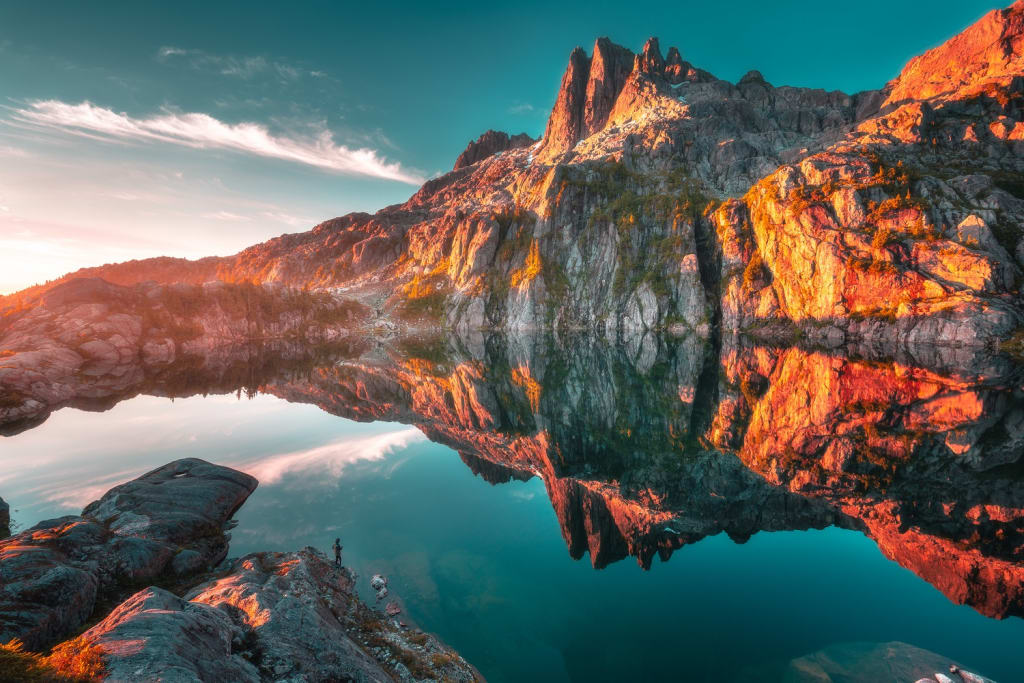 "A Land Lost In Time" - © Zach Doehler
TikTok has taken the internet by storm in the past couple years with its addictive layout, usability, and user-based content. It started out as Musical.ly, a place where users could upload videos of them lip-syncing or 'dancing' to songs. And later it evolved into TikTok, which still has much of that Musical.ly content but also many new forms of content and communities that are entirely different.
Personally, I could do without the 'Musical.ly-inspired' content. I know that it's popular on the platform and that without it, TikTok would have never come about. But it's safe to say I have tried my best to curate my For You page so that I don't have to see any of that content show up... It's not that I have anything against dancing or lip-syncing. I would just much rather enjoy more content from communities on TikTok that I would like to engage with. Such as adventure TikTok!
In my mind, there isn't much in this life that is more beautiful than a stunning landscape. And what better way to get a good idea of what that landscape is really like through digital media; than to watch a video of it? And with TikTok's massive song library, you can really capture the feeling and atmosphere of a place by adding a song to the video that blends well with the landscape you are enjoying.
It would be impossible for me to narrow it down to just one adventure-style TikTok that I have seen. So I will be sharing 3 different clips from 3 separate creators on TikTok. All of a different scene and with a different overall vibe to them. Some received more views than the others. But I still think all 3 of these videos deserve way more attention. If you want to know more about these creatives, you can tap their names and it will take you to their IG profiles where you can see some of their work.
The first clip comes from Nathaniel Wise. A brilliant photographer and a courageous adventurer. I have been following Nathaniel's work on Instagram ever since he had just shy of 2k followers. Now he has over 152k on Instagram and that number continues to grow every day. His work on IG is amazing, and he's managed to bring that same level of quality and feeling over into his TikTok videos as well. I really like this video of his in particular because it's not only a stunning montage of different clips from his adventures, but it also tells a little bit about his story of being on the road for the past 2 years. It's not always easy living out of your vehicle, I know from experience of doing it for a mere 10 days this past Winter on a solo trip that I did in the States. It was a struggle at times and you tend to take for granted all of the comforts that you enjoy at home. But Nathaniel makes it work. And he has some epic adventures along the way. Which fortunately for us, he always shares with his audience.
The second clip comes from yet another amazing photographer and incredible explorer; Christian Schaffer. Unlike with Nathaniel, I didn't discover Christian's work until quite a bit later. Which is really quite a shame because her images and her videos are nothing short of magical. The feeling, atmosphere, colors, and imagination that she manages to capture is quite stunning. I also discovered Christian's work first on Instagram and then later found her videos on TikTok. Just like Nathaniel, she too manages to bring that same level of quality from her Instagram over into her TikTok. It was very difficult deciding on which video of hers I wanted to share on here. But I decided to go for this one because I love the music, the motion, and those stunning pastels. Just watching it makes you wish you were on the coast enjoying the sunset right now...
Finally, quite possibly the most incredible sunrise I have ever seen shot on video; captured by Chance Jackson in Montana. I hadn't come across Chance's work until I stumbled across this viral video on TikTok. He too has some beautiful work on Instagram and some very calming clips on TikTok, this video is clear proof of that. I mean c'mon, the contrast, the colors, the music; wow! I so wish I will have the chance to experience such a sunrise/sunset one day because this would have been just unreal in-person. Though this clip certainly went viral with over 1.5m+ likes, I still think it deserves more. This is the true pinnacle of adventure TikTok right here. I'm so glad that Chance was able to experience this spectacular scene and capture it for the rest of us to enjoy on our devices.
Adventure TikTok, is vastly underrated in my personal opinion. I understand the hype around comedy TikTok, animal TikTok, maaaybe even lip-syncing TikTok if that's your sorta thing; but can we give a little more hype to the adventure stuff? Not only do these clips motivate us to want to go outside and explore this world ourselves, but I think these clips can help us increase our respect and gratitude for this beautiful world that we live on. We are very blessed to call this planet our home. And we should do what we can to take care of it. I think sharing the beauty of Earth along the way can help. And it can most certainly increase our love for adventure.
Thanks for reading!
Instagram: @calibreus
Website: calibreus.co
Courses & Tutorials: store.calibreus.ca