Faraway and Close-up
A short memoir in France.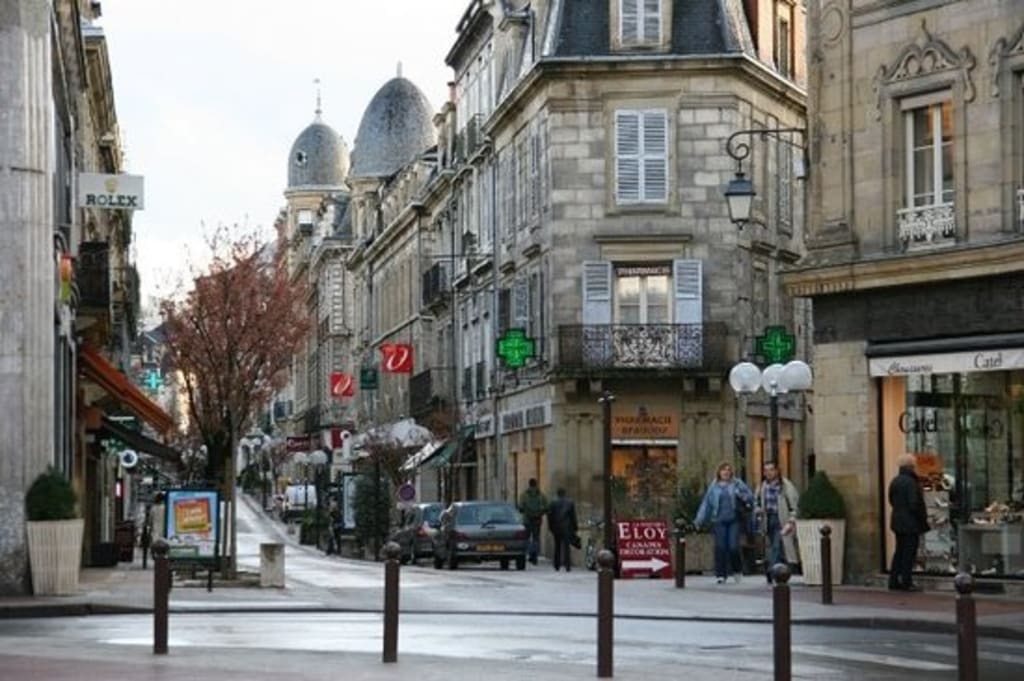 I turn seventeen on September 11, 2001 and ride to school with my good friend in her blue and white truck while listening to U2's All That You Can't Leave Behind. I walk to my computer class where the television is on and tuned to the news. The surreality of the day begins with a cloud of crashes, each of them more horrific to watch than the next, buildings falling before my eyes. Later that day, we attend dinner for my birthday at an upscale restaurant, completely somber in our celebration. No one can articulate the feeling within my family. Within my country. Missing my culture's aftermath and the tectonic shift that results, I leave for my junior year in late September, barely able to find a map that shows the city I will soon inhabit. I am an exchange student in France as an escape from my family, an intention I announce at age twelve and somehow manifest.
A small group of us arrive in Brussels after our Swiss Air flight from JFK in late September. When we arrive at the airport to an airline strike. A few in our group take charge, converting our plane tickets to train tickets to Paris. This is in an age without cellphones and someone calls their parents; other than this, we are on our own. Once in Paris, we try to meet our agency representatives when there is a bomb threat, and so we are forced to sit with our luggage for two hours. Among the white marble columns at Charles de Gaulle Airport, I discover just how many people in our group smoke.
At my first school in Brive-la-Gaillarde—in the center of southern French cow country—I have a physics-chemistry professor who openly mocks me in class, my friends tell me. L'Americaine. The American girl.
On my first day at Lycée d'Arsonval, my new French classmates ask, "tu parles français?"
"Do you speak French?"
I manage to utter, "Un peu." A little. In fact, I spoke no French at all. I had studied it for two years and this is a much different kind of practical exam. My chemistry professor picks up on my weakness right away, like a bloodhound sniffing out a truffle underneath the ground. Most days I return to Lycée d'Arsonval after my two hour lunch breaks for more coursework, my favorite being biology-geology, which they combine into one course; they similarly combine physics and chemistry.
The town is lovely, with an open downtown square in the middle of Brive. We live ten minutes out of town in Jugeals-Nazareth which has just a collection of houses--barely comprising a village. Our elderly neighbor brings us apples and cheese she has made. At one point, we have so many apples that we eat them every day. I do not eat apples for years afterwards, never having the same taste for them again. We gather at their stone home to roast chestnuts in the fire, which are both a delicacy and a traditional food to be shared around the hearth.
Constantly eating outside of meal times, I stop each day for a Croque Monsieur, a broiled ham and cheese sandwich. The blonde woman at the stand is so kind with me and my limited French while she grills my sandwich. It becomes a ritual to see her each day. My current host mother is a physician and I accompany her to routine house calls, which are typical in France. She puts ketchup on my pizza for my lunch--which I scrape off--in the spare room at her office. For breakfast, she buys me Sunny-D, believing this is what Americans drink. I listen to French radio. I watch an hour's worth of Bewitched episodes dubbed into French. I see French commercials, which do not advertise medications and which have breaks that are much shorter.
My host mother organizes Thanksgiving, surprising me with an expensive and difficult to find turkey. She lets me cook but reproaches me for boiling the gizzards she had planned to prepare, telling me that I ruined them. But she is kind to me despite my lack of ability to fold myself into their household. I buy a giant strawberry creme cake, lined with spiral pearl frosting and which we can barely manage to eat. This cake costs me forty dollars and is my favorite thing that I ever buy. I spend other days browsing bookshops and buying pens, fascinated by all aspects of French stationary. I buy Young Adult books to devour. At home, I watch episodes of Friends in English with French subtitles and I learn which words correspond to which meanings.
I meet my friend Julie in our class, which moves together from subject to subject. She is like the other teenagers but very open about her boyfriends and having sex. With charisma, she instructs me in ordering a mini-caraïbe virgin drink with grenadine at the local brasserie--a shirley temple. She has long dark auburn hair highlighted with strawberry blond streaks, though she eventually cuts it short, lining her jaw. Always smiling, she tells me who she is sleeping with and why she likes who she likes. She introduces me to proper teenage sexuality in this way and I try to follow her lead.
One morning our professor does not show up and after fifteen minutes we are allowed to duck out. We find ourselves at a cafe, and I order espresso with the other girls. There is always sugar and sometimes a chocolate on the side. The boys order beer and start drinking for the day. We end up in the class salon, a gathering place just for students. We smoke cigarettes. We make jokes. My classmates treat me as a typical classmate and I am grateful. We go out for a class dinner at an Italian restaurant. I learn to order wine and to mindfully enjoy the moment. French teenagers are allowed to party outside of school commitments until 4am. One night at a house party, parents drop them off from the basement of our classmate's home, the bar replete with booze. Everyone dances without a care. I take photos which are streaks of green and red light, bent and beaming streaks fade into darkness. Parents diligently pick us up just before the blue hours. I am to walk to my host mother's office to sleep as there is also a cot. At the party, I smoke half of Julie's Lucky Strikes. Having experimented with this as a child, a friend and I smoked behind her house, having taken her mother's cigarettes--rarely and in stolen moments. Back home, I keep a pack of cigarettes in my chest for years, awaiting the day that I can try them again. I feel bad for stealing her cigarettes and so I buy her a demi-paquette--a half pack of cigarettes. Thanking me, she tells me all is forgiven.
My organization sponsors home visits and outings. It seems like each weekend I am sharing a meal in another French home, each of them completely different, yet with meal habits tying them together as a culture. Some houses are tiny on the outside, like the house of many rooms which are found by different stairways, each level changing when you enter the new room. We eat crêpes, which I learn are both for breakfast and dinner. At every meal I have in France, someone thanks Maman--Mom, for the special treat. Politesse is very important and I learn to acquire a bit of manners.
I travel to French cow country outside of Meymac on the Millevaches Plateau where I stay in a tiny village with fewer than thirty inhabitants. A girl named Aurélie welcomes me into their home for the weekend and then we are to travel to the Alps. I eat homemade dried sausage at a neighbor's house with an older man who is so pleased to meet an American. For a celebration, the family helps me buy ingredients to make tacos. I cook a surprisingly authentic meal which I can long taste in my memories. We sit at a mahogany picnic style table afterwards and starting to stand, I start to respond in relatively fluent French. The group remarks the moment when I slide into fluency, my accent mimicking their own. Later on in Brive, I learn to pronounce the letter 'R' in my bedroom by reading a grammar technique while also trying to say the word roi. King.
We travel to the Alps for a retreat by way of Auvergne, where ancient volcanoes--puys--is the nomenclature of the départment--the county--Puy de Dôme. Volcano Dome. We travel through the ages before until reaching the train station, taking us to a land of snow capped peaks higher than I can see. I am introduced for the first time to hippies, but I am shy and feel isolated. In my bible, I read Matthew, Mark, Luke and John. I take solitary walks on the mountainous hills. We return to Meymac to spend one more night in their home, which stands by way of wood and stone. I return to my host family to make my goodbyes.
After three months and having left this temporary host family, I take a train to Paris' Gare de Lyon--Lyon Station, in late December. I am living with a truly strange host family in Cesson, roughly forty kilometers southwest of Paris. My room is covered in orange and dark wood, the wallpaper having some type of foam layer underneath with dented orange dots on the surface. There is a doll from the movie Gremlins in plain sight.
I look at my grandmother's "brag book," which I still keep. I see my aunt in the hospital with the older siblings. I see my uncle cradling my cousin. Me in my baby blanket holding a teddy bear. I see my younger sibling in their baby blanket, my mother recovering with her after the birth. I see their smile. My father holds them in his arms, smiling. Before my year abroad and knowing of her declining health, I spend three weeks with my grandmother at her assisted living apartment in Florida. She has diabetes and dies in her mid-seventies from its complications. In early January, I receive the call from my father. We are eating a Niçois lemon couscous dish with whole shrimp, which I discover have eyes. I take the call during the meal and he abruptly gives me this news, that my "grandmother has died," before we quickly hang up. I announce to my host family, "ma grande mère est en-dessous." My grandmother is down below. "Je veux dire en-haut," correcting myself. She is up above. They have no reaction to the news of her death, carrying on with their meal. I sit back down and do the same.
Because they are French, they are also mysterious and I do not at first see the level of dysfunction in their family. Their son regularly asks me to lie for him, sneaking out in the night to party with his friends. He does try to include me a little bit, bringing me to meet at a friend's house or he talks to me on the bus with his friends. He spends most of his time on the computer. When I get my chance, I check emails and listen to French music. I smoke, trying my best to conceal this except from their son, who also smokes. Their one rule for my stay is that I am not to smoke. My host father asks me one day when I return in my fleece jacket, "Jennifer, tu fumais?" Jennifer, were you smoking? "Non," I reply. No, I lie.
Later they tell me I was drunk on New Year's Eve--le reveillon--but do not reveal this to me until later. I was warned prior to going to France that I should be careful with alcohol. I had believed I ate bad oysters and therefore needed to throw up. The host mother tells me that I am insupportable--intolerable. They have informed the agency that I am stuck in my American world, not participating in their household, which is baseless and yet believable. I meet a representative for an informal meeting. She declares that I speak excellent French and agrees that there is some transition that needs to be made. I am happy to leave this house at any cost and though I am considered to be sent home, I do not realize this. Later, a representative tells me that they are no longer allowed to host in the future.
My new host mother believes I am a babysitter, not a family member—she has the habit of having au pairs. I have not babysat in years. But they have an extra room with its own shower which I turn into a private cave. The children are needy, but they are very instructive in French and always correct me sans judgement with my grammar. They tattle on me when I eat a piece of ham outside of meal time. But their friends like me and at a meal their neighbor and friend declares that my personality is coquette--flirtatious but also witty. This means that I am also a crested Central American hummingbird possessing a reddish crest, plush with green plumage with elongated feathers on my cheeks.
My friends have real studying to do. My train pass is free for French students on half days--Wednesdays and Saturdays as well as on weekends. I finish my homework in a rush on Sunday evenings after taking the green suburban D-line back to their house. I smoke a cigarette on the way back. My experience is a relief because no one expects anything from me beyond a passable effort. So I wander. During my walks in Paris, I visit the underground mall in the center of town. When I return nearly two decades later, I can still find my way around. I visit the electronics store, FNAC, and discover the CDs of Jean-Jacques Goldman, listening to progressive French rock of the eighties. I read books and discover Harry Potter in the British versions, consuming the volumes on the train rides home in their natural language.
The other smoker in class, Nicolas, and I get to have a smoke while we demonstrate the different types of waves that make up les tremblements de terre—earthquakes. We blow smoke toward the laser beams, revealing the waves processing at varying speeds across different earthen materials. In another class, he gets a 1 out of 20, which is a truly terrible grade; Nicolas is not a serious student. French teenagers get to smoke and drink and have sex, but the trade-off is they must act like adults; the tests they take after their junior and senior high school years rigidly determine the course of their careers.
Even while failing rigorous and incomprehensible mathematics in French, I take tests and receive above-average grades in geology-biology. The issue is not my language skills, as my math professor in France later discovers. My fluency in French impresses my other professors, who actually hear me speak to answer questions in class. In geology-biology, I receive a 12/20, which is something more like a B+. The French grading system is extremely curved. The higher the grade out of 20, the more perfect the grade, but this is not a decimal grading system. I see a bell curve with the very bad performance and very good performance being the outliers. This is part of the issue in translating anything using a 1:1 model—a final grade like this is a cause for celebration, my friend Cécile assures.
My report cards reveal—
Etudiante sérieuse.
Serious pupil.
Le programme mathématique français ne semble pas adapté aux connaissances de Jennifer.
The French mathematics program does not seem adapted to Jennifer's knowledge.
Bon retour au pays!
Safe travels back to your country!
Ultimately my school southeast of Paris, Lycée George Sand, welcomes me as something of a mysterious artifact. I pay close attention in class, writing interminable notes from the oral presentation—an enduring French tradition—and they let me play being French. I discover the joys of rock-climbing for gym class in a world where no one is concerned about liability. My linguistic fluency increases. Apparently, the well-structured and purely logical brains of my engineer parents have skipped a generation after all.