Everest Base Camp Trek in April
Everest Base Camp Trek in April Temperature, Highlights, and Tips
Acclimatization Hike from Dingboche
Land of Himalayas and valley of wonders. Nepal has always offered the most adventurous walks on the planet. The glaciers are sometimes invisible, the holy lakes the isolated trails, and the unique culture on the earth exists here.t. It's people's first wish to walk base camp, isn't it so?
Everest Base Camp trek in April is considered the best time during the Spring season in Ne. EBC trek starts with the most thrilling flight to Lukla airport. This states a clear overview that one's trek remains thrilling from beginning to end. Along the trail, you'll enjoy mesmerizing views of some of the most enchanting mountains in the Everest region.
The isolated trails are always waiting for your footprints. This trek has the most distinct features from the rest. Located in the Khumbu region, it includes many spiritual places. As you ascend forward, we come across Sagarmatha National park, UNESCO listed park. Park is a house of some rare wildlife species such as Thar, snow leopard, and Himalayan black bear.
As the trails ascend forward, you'll come across the Dudh Koshi river, and airy suspension bridges. Generally, the Everest base camp trek in April supports your trek in many ways. You can find more tea houses open and facilitated. Since April is one of the main sessions for the trek, it becomes less challenging.
Since April is the beginning of the spring, the weather remains warm and moderate.
The weather doesn't remain extreme, either way, it makes the trek easy and fun. Trekking in other months of the summer and winter season may not support the unobstructed views as April does. Since April lies before the monsoon, the chance of pre-monsoon rain would be avoided.
Since it is the beginning of spring, you can see the amazing flora and fauna along the trail.
Weather Conditions in April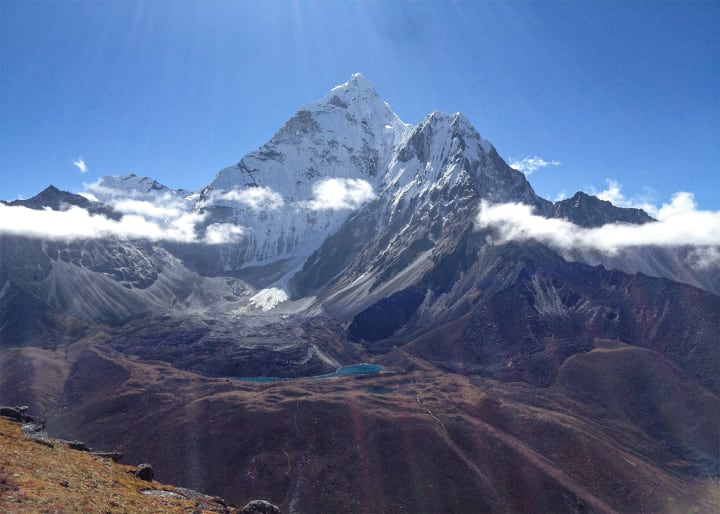 It is clear visibility and a nice temperature to trek to Everest base camp in April. One of the most beautiful months in April to trek Everest base camp. The weather starts to turn warm naturally. Excellent time to witness early spring and bright landscapes. The weather gets more comfortable in the Everest Base Camp area with a max of 15°C and min -10°C.
You can find very weather descent during this month. Usually, in April, it is sunny and dry with magnificent sunshine. Average temperatures during April in Namche Bazaar will be 34°F (1°C) to 53°F (12°C).
More often, the temperature gets colder as you ascend upward. Trekking in the Everest region without a doubt weather conditions plays a significant role. The max daytime temperature of the Everest region is 13°C till night. Another significant factor that affects our trek is wind speed. But don't you need to worry about it.
wind speed remains very reasonable with 14 km/pr/hr
Tips for Better Trek in April
Prepare for altitude sickness
Since we are trekking above 5000mt, one should be very aware of Altitude sickness. No matter how healthy you are in your home here, Altitude sickness can hit you hard.
Since it's high altitude, it's more necessary to remain hydrated. Drinking water would be the most important.
Physical preparation
Trekking is not always an easy game. Especially to the base camp of the world's highest mountain. So, we suggest you get both physically and mentally prepared to trek to Everest base camp in April. We have never trekked before, and then it remains more vital than you get. Ready back. Trails may be challenging if you have not anticipated them.
So, it's better before heading on the EBC trek, and you can practice a few hours of hiking each weekend. It may help you to build your strength gradually. Besides this, you need to remember one thing; the tea houses are fundamental. So, you need to be mentally prepared. A hot shower, attached bathroom, and even comfortable mattresses may not be available over there.
Don't rush
Since this is your trek, you're on vacation, not a competition. You should never forget this one thing. Ebc trails are not always familiar. You must make your walk very easy. In April, the days are long, so you've more time to Everest base camp trek in April and soak up the magnificent surroundings that will help your body acclimatization.
Hire porter
You may walk other minor trails with your bags, but trekking here can be very different. Trekking with your bags by yourself can be very strenuous. If you're not aware, you may get a serious back injury. To avoid this, you need to hire a porter. sometimes. Just this one mistake can ruin your entire trek.
Keep Your Body Hydrated
Once you get to higher altitudes, it's very natural your body requires proper health. It's imperative to keep yourself hydrated always preventing you from getting dehydrated.
Crowds & Costs
April is a hectic month for these magnificent trails; Accommodation gets very busy during April. So pre-management must be very much needed. On the other month, you can even make your trek in your manner, but April requires better knowledge about the crowd and costs. We suggest you pre-book with your guides. Since Ebc remains crowded, the flight tickets to Lukla get very busy.
We suggest you trek with better guides who can manage you in an emergency. For the alternative options, you can consult your manual, generally, these trails remain less traffic
Everest Base Camp Trek in April - Difficulties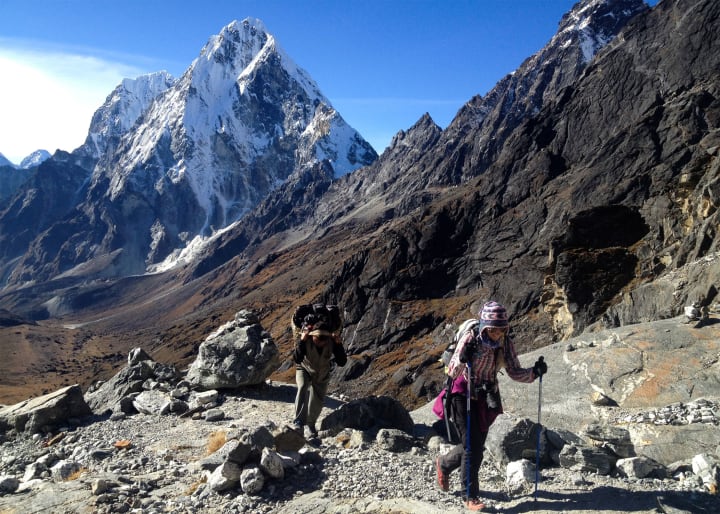 There will be no such difficulties if you're planning to trek Everest base camp in April. In the same manner, we also cannot term it a regular month of the trek. Trails remain very crowded in April. The average walk would be 7 to 8 hours per day.
Mainly You may not require any technical skills, but having previous trek experience helps a lot.
There is a slim chance of snowfall in April. Wind speed during April remains standard in the Everest Base Camp region, so you need not worry.
I am playing spoilsport anywhere.
Everest Base Camp Trek in April is arduous in difficulty.
April Everest Base Camp Trekking Gear
Since April does not support any extreme weather, it is very important to carry sensible gear and clothing
Clothing
• Short-Sleeve Hiking Shirt
• Fleece Jacket
• Down Jacket
• Lightweight Wind Jacket
• Lightweight Hiking Pants
• Thermal Tops
• Thermal Bottoms
• Underwear
• Sports Bra
• Waterproof Shell Jacket and Trousers
• gloves
Footwear
• Hiking Boots
• Camp Sandals
• Warm Thermal Socks
• Gaiters
Bags and Backpacks
• Duffel Bags
• Sleeping Bags
• Daypack
• Rucksack
Sleeping Gear
• Sleeping Bag
• Pillow Case
• Sleeping Bag Liner
• Ear Plugs
• Eye Mask
Medication and Toiletries
• Water Purification Tablets
• Diamox Pills
• Common Medications
• First Aid Kit
• Sunscreen
• Baby Wipes
• Toothpaste and Toothbrush
• Hand Sanitizer
• Feminine Hygiene Products
Why Everest Base Camp in April?
• Flowers blossoms
• Clean weather
• More sunny hours
• Less crowded than in autumn.
• More secure
• Irresistible Trekking Route
• Witness cultural diversity
Other classic routes for April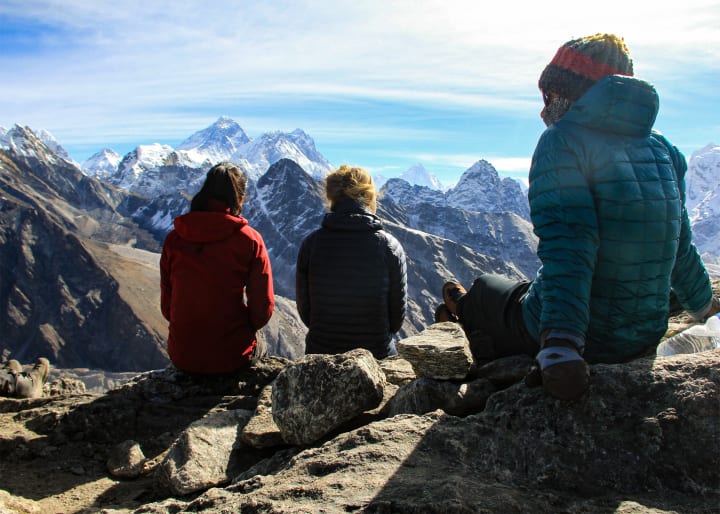 Everest High Pass treks
Cho La Pass, as well as Kongma La pass, are the two most beautiful passes that enrich your trekking experience in the Everest region. Located at an altitude of more than 5000 meters.
You can either go for the Everest Base Camp High Passes trek, which lasts for around 18 days, or you can choose Everest Base Camp High passes and Island peak trek. You will reach the Island Peak Base Camp and climb the Peak during the island trek.
Jiri to Everest Trek
Jiri to Everest trek is one of the most extended treks. This trek helps you acclimate your body to a high altitude as compared to others.
The Scenic Dolakha district would be the starting point of this trek. It is located at an altitude lower than Lukla Airport. Lukla is situated at an altitude of 2900 meters in the same way Jiri lies 2000 meters above sea level.
Everest Base Camp and Gokyo Lakes Trek
The Everest Base Camp and Gokyo Lakes Trek is a merger trek between the Everest Base Camp and Gokyo Lakes Trek. This two weeks trekking package is an adventure mountain trip to Everest, which can be a bucket list for you in April.
Cho La Pass connects to these routes. You can do it clockwise route or counter-clockwise, but I suggest doing the counter-clockwise because this route is easier and less adventurous.
Helicopter Return EBC Trek
If you do not have enough time in April to complete the regular itinerary of the Everest base camp or do not want to trek back the same way, which you visited earlier on the way up to the base camp, you can choose the helicopter return EBC trek.
It is a 9-day trek, which follows the same itinerary of classic base camp trekking up to the base camp and Kala Patthar. After visiting these places, you fly direct to Kathmandu on a helicopter from Gorakshep. This package provides you with a great experience of adventure trekking and scenic helicopter ride in the mountain.
Explore Everest in Luxurious Way in April
A luxurious way to explore Everest Himalayas in a few hours in April is the helicopter tour to the Everest base camp. If you do not have enough time to complete the EBC trekking itinerary or are not interested to walk in the high mountain altitudes, it can be one of the best options for you.
This scenic helicopter tour lands at several vantage points, from where you can observe beautiful mountain views of the Everest Himalayas. It is a group joining flight tour, but any individual can book the tour and the company arranges the group. If you have your own group of four or five people, you can also charter the flight.
The main attraction of the trek in April
• Scenic flight to Lukla. Lukla Airport is one of the most dangerous airports in the world.
• Tengboche Monastery is a monastery that has close ties with Tibetan Buddhism and remains full of people in April. So the chance to know more about people and culture is high.
• Khumjung, the region which has schools of the Edmund Hillary Foundation, is lovely to visit the schools reopening this month. This way, you'll get to interact with students and children alike and learn about Nepalese people more.
• As you ascend high, you come across passes such as the Kongma La pass, Renjo La pass, and Cho La passes with ease.
Amazing Festivals in April that You Can Observe While You are in Kathmandu
Bisket Jatra
Bisket Jatra's most celebrated Jatra in Bhaktapur. Bisket Jatra celebration happens for two days. The end day of a year and the first day of the new year calendar.
It is an ancient celebration. Deities of Bhaktapur God Bhairav and goddess Bhadrakali. During this festival, one can also witness a unique program of Tongue Piercing
One can experience a great variety of food, drinks, and traditional music. People can have a great time and a lifetime memory. One can enjoy the Bisket Jatra festival on your Everest Base Camp Trek in April.
Nepali New Year
Nepali New Year is the official new year of the country Nepal. Nepalese people celebrate this festival with full happiness and enjoyment. New year festivals lie in mid-April of the English calendar. It is also one of the most celebrated Nepalese festivals.
Since Nepal is a diverse culture, we have nine New years. So, if you're planning your Everest Base Camp trek in April, you can also share the joy of the Nepali new year.
Chaite Dashain
The Festival is celebrated in the month of Chaitra in Nepal. Chaite Dashain festival has much significance as Bada Dashain. Popularly known as Sano Dashain(Dashain is the most important Hindu festival) in many places around Nepal.
Chaite Dashain festival also symbolizes victory. This festival is celebrated for two days, in the Chaitra Shukla Ashtami and Navami Tithi.
Ghode Jatra
The capital city celebrates a festival of horse riding. Horse parades Happen in Tudikhel along with competitions and celebrations. Its artistic side is more interesting. Ghode Jatra is marked by armies of capital in a much more fun way. If you're trekking in April, you can also witness this grand celebration.
Final words
April, being one of the most trekked sessions in Nepal, has so many things to offer. The weather and climate during this time are best. The days are warmer and more prolonged than in winter. You need not rush for your trekking. We advise you to start your trekking early because it can be a little windy during midday. There would not be any need for the rush in a trek you can walk 7 hours a day.
Clear blue skies and gorgeous, magnificent mountains can take your breath away. You will get the best experience of your life trekking in April.
One can also witness the picture-perfect mountain vistas during these sessions. If one is lucky enough, an encounter with some exotic wildlife would be quite natural.
April marks the regular trekking season. Many trekkers trek during this time. So, we suggest you have a pre-booking.
Reader insights
Be the first to share your insights about this piece.
Add your insights