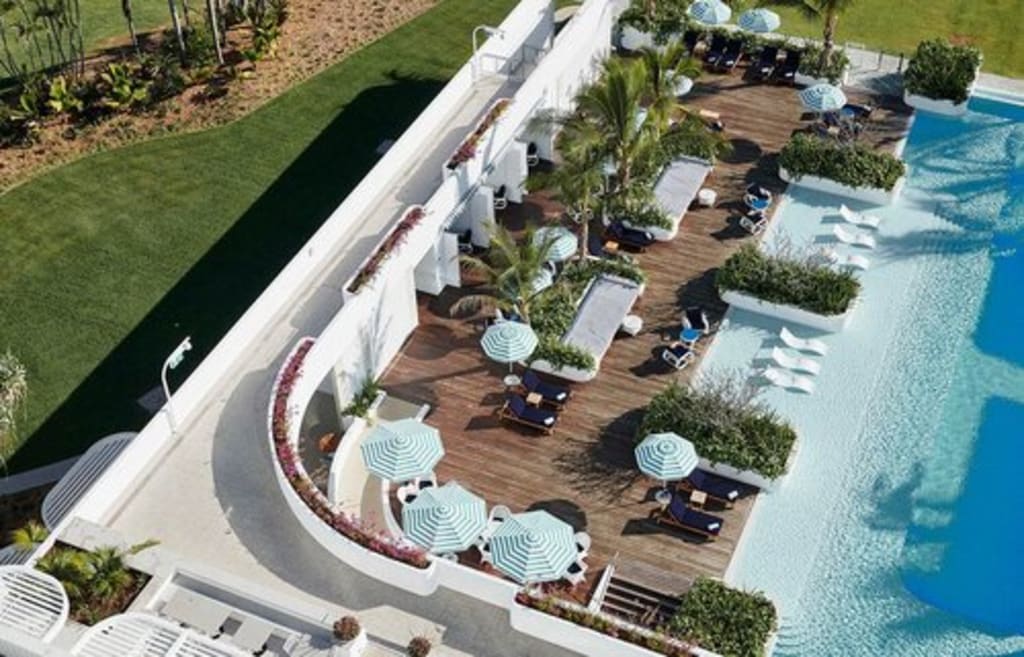 The Ville - Townsville.
I'm feeling hopeful and perhaps a little optimistic. The dreams of travel are starting to simmer and as the weather starts to warm up, my dreams are hopefully starting to not appear as some kind of foreign hobby from the past.
While the thought of traveling abroad is just a ludicrous, I'm shining the torch on regional travel. Added bonus: the flights don't involve a sweaty 24 hour trip and five hour layover.
Orpheus Island - QLD
Ok, I really need to go here. It appears strikingly similar to Hayman Island accessible by helicopter, but provides that extra sprinkle of privacy. The Island Lodge hosts various (spacious!) rooms that allow beachfront access for an afternoon in a hammock awaiting happy hour. Lush.
Naturally, it has the usual activities of kayaking or paddle boarding, however I would absolutely dive at the chance to take the boat tour to Hinchinbrook Island to go crocodile spotting in the waterways. Of course this would be followed by a sunset degustation dinner on the candlelit jetty back at the resort. The unlimited beer and wine whilst overlooking the Great Barrier Reef does not hurt my soul either.
Mitchelton Hotel at Mitchelton Winery
The Mitchelton Hotel situated at the winery has recently been refurbished, hosting 58 rooms overlooking the vineyard from its towers. After a visit to the cellar and art gallery, a splash in the infinite pool (similar to that of Jackalope) is essential before the vino party continues into the evening. The impeccable interiors are immensely appealing with various shades of charcoal and grey, cementing a chic and timeless look. This also helps when you're a bit of a cave dweller like myself.
Mitchelton Hotel is located in Nagambie, roughly just under a two hour drive from Melbourne.
Emirates One & Only in Blue Mountains at Wolgan Valley
The One & Only resort in the Blue Mountains is pure elegance and simplicity, encapsulating true Australia on its 2, 800 hectare property. Sign me up. If you're after a complete experience, this is it. Each room boasts its own private pool overlooking the hills, with its one-three bedroom villas modelled heavily on exquisitely cosy accommodation you would find at the top ski resorts in Colorado.
If you're still recovering from the French toast at breakfast, the dining options can vary from a personalised Champagne picnic under the stars, outdoor degustation or a liquid lunch in the Valley Bar & Terrace. Either way, this is a winter wonderland.
Longitude 131 - Northern Territory
As of late, I've had a bit of a craving for the Outback, and I am simply dying to satisfy the need to visit. But obviously I am not willing to have lizards scuttling into my tent, so this stunning luxurious resort will simply have to do.
Nestled amongst the desert and overlooking Uluru, Longitude 131 offers accommodation in a luxury tent or the Dune Pavilion, featuring all glass views as you wake. Its exclusivity allows for an incredible experience with an onsite Spa, sunset drinks on the hotel's popup bar and various cultural tours. Oh, and did I mention you indulge in fine dining under the stars followed by a night cap at the Dune House Bar that hosts exclusive cocktails tailored to the lodges?
The Ville - Townsville
The casino in Townsville has had an overhaul, has redesigning its resort to resemble a Hawaii-meets-Miami-esque vacation. Featuring plenty of neon, poolside stripes and view over the marina, it is the perfect pitstop if you're en route to Magnetic Island.
Although the rooms still appear to be slightly casino-like, the Pelorus Suite would be my pick for its spacious lounge room, large balcony and spa bath with ocean views. But let's be real. You'll hardly be in the room when there is Chambord Rose Sangria waiting for you on your privately booked pool cabana.
Blackbird - Byron Bay Hinterland
For those into the "camping but not really" vibe, Blackbird Pavilion is an absolute stunner with rustic exteriors and contemporary furnishings (that crisp white feel), situated in the Byron Hinterland. A blessing in the bush to escape the backpackers whilst maintaining that glamping feel.
It includes the "in thing" being an infinite magnesium pool, with the separate pavilions available for an intimate trip away, or to round up a few rooms for a group getaway. For the creatives, Blackbird also provides a backdrop for photoshoots and facilities for musicians that have been busy songwriting in lockdown. The poolside sunsets provide a California meets Utah vibe, facilitating the perfect spot to recharge.
Smiths Beach Resort - Margaret River
Smiths Beach Resort is nestled among the wineries of Margaret River, thus allowing it to be the perfect option to cool down after a day sipping on fine wines and culinary treats. The resort boasts 1 bedroom to 4 bedroom rooms for groups, and is situated near Yallingup. Even better, it offers transfers to the wineries which removes the stress of deciding who is driving. Hot tip: save this for the months after summer, rumour has it that the flies are out of control!
Kevalier Park - Berry NSW / The Cape Culburra Beach NSW
For an essential trip away with friends to catch up on the months lost in iso, The Cape holiday home escape on Culburra Beach in NSW would be epic for those nights by the sea losing track of how many vodka lime sodas you've sipped on. The home is tres Hamptons-esque, which is perfect considering we won't be allowed to travel to America until 2043.
If the mountainous countryside is more your gang's scene, Kevalier Park in Berry NSW hosts 6 bedrooms with a stunning indoor pool. The 4pm checkout on Sunday's don't hurt either, when you're scrambling around trying to source the shoes you threw off the evening prior.
Orchards at Spring Vale Farm - Victoria
Finally, for an English escape, a special mention is given to Orchards at Spring Vale Farm near Ballarat for an exquisite country escape with five bedrooms and an expansive backyard. Oh, and it has a tennis court, gym and pool table to sweat out the farm's own cider.
Overall, these destinations have got me salivating for the summer ahead. I think I have finally come to terms with the (potential!) fact that Italy or Arizona will not be on the radar any time soon, so I'm feeling less emotional after discovering the above. Time to get the dust off the roadmap and get to it.
About the Creator
Hi there!
I am a former criminal lawyer and whilst still working in law, am pursuing my passion to write on the side.
All about: crime, history, culture, travel and fashion.
Thanks for stopping by! Ciao ciao
Reader insights
Be the first to share your insights about this piece.
Add your insights