EMPOWER SALONE
SkateBoarding in Sierra Leone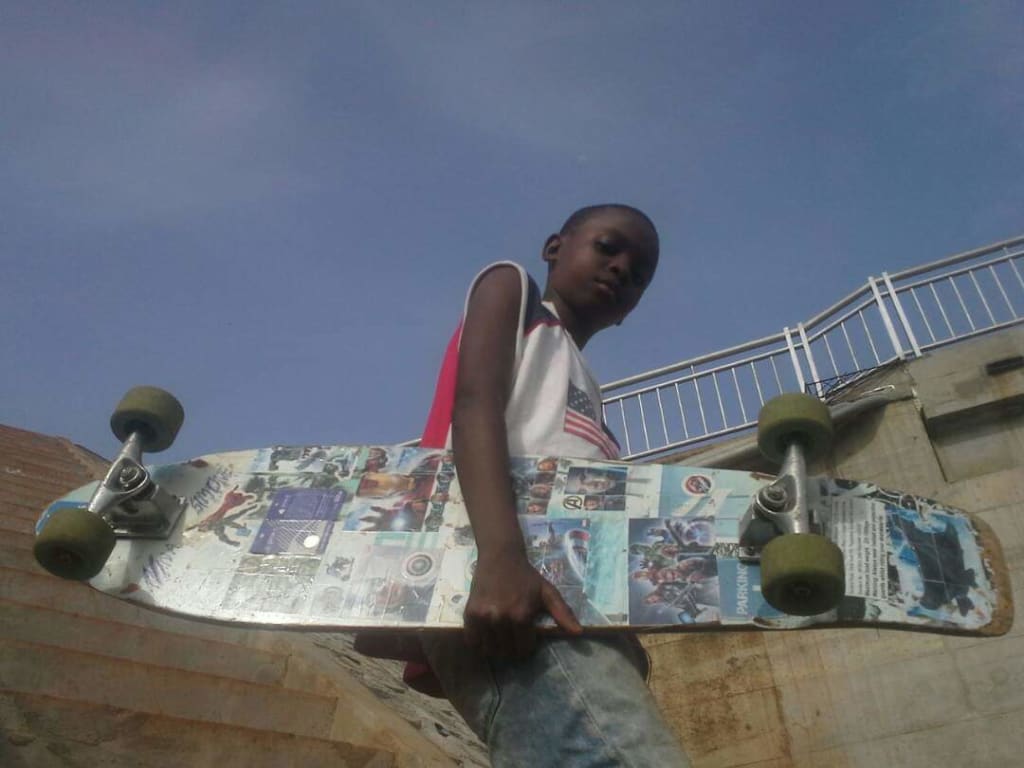 LOCATION
Sierra Leone, West Africa Sierra Leone , officially the Republic of Sierra Leone, informally known as "Salone", is a country located on the southwest coast of Africa. It is bordered by Liberia to the southeast and Guinea to the northeast. Sierra Leone like other African nations, has beautiful tropical climate with a diverse environment ranging from savanna to rainforests.
PEOPLE
Sierra Leone had a long history of its youthful population since independence. The country was in a devastating civil war which subjected youth in Sierra Leone to different forms of trauma - youth were both the perpetrators and victims of the extreme violence that tore apart the country. Youth in Africa constituted 19% of the global youth population in 2015, numbering 226 million. The United Nations defines youth as people aged 15 to 24 years. By 2030, it is predicted that the number of youths in Africa will have increased by 42%. Africa's population as a whole is very young, with 60% of the entire continent aged below 25, making it the youngest continent in the world, in relation to its population makeup. In Sierra Leone, the median age total: 19.1 years. The country's comparison to the world: 201st , with male: 18.4 years , and female: 19.7 years (2018 est.) . Many believe that demographic dividend could mean for African nations like Sierra Leone, that with effective governance, the economy could significantly benefit and develop, while others have argued that a large, poorly-managed youth population may lead to greater instability and civil conflict. Sierra Leone's unemployment for youth ages 15-24 is a total 9.4% ., with male: 14.8% and female: 6.1% (2014 est.)
WHAT SPORTS & SKATEBOARDING CAN DO
Skateboarding is an action sport involving the use of a skateboard to ride and performing tricks. It is a recreational activity, an art form, an form of entertainment, an industry job, and cool method of transportation. Skateboarding has shaped and influenced many and created iconic skateboarders throughout the years. Since the first commercial skateboard appearing in 1959, people around the world take old roller-skate wheels and attached them to a board, especially after the 20th century. In the early 1960s, skateboard popularity of surfing by promoting skateboarding, known as "sidewalk surfing," became an alternative . Revived in the mid-1970s , the SKATEBOARDING craze spread worldwide, and skateboard magazines helped promote both the sport and young innovative riders. After the first skatepark made in 1976 in the USA, and many other continents throughout North & South America, Europe, and Asia, provided places to skate. Whether skating in empty pools, business districts, or walkways, the creation of skate parks played a major role in developing the sport to worldwide & widespread popularity.
Since the 70's when skateboarding took off in USA, and Africa has wanted to be a part of the Skateboarding culture. Because skateboarding has evolved in many ways, young African skaters have found place & sport where when a skaterboarder meets another skateboarder, they automatically share the fondness of the sport, their African culture and history .
This Shouldn''t Exclude , Sierra Leone.
WHY PROMOTE SKATEBOARDING IN SIERRA LEONE
Youth in the country, whether novice or familiar to the sport, can go to a local park or spot, and make a new friends instantly. Take advantange of lessions, and skateboarding sessions with the same person without even learning their name. Skateboarding has a language of its own. It also EMPOWERS youth to identify one another by their styles and tricks , and communicate through sports education, and inspiring one another to learn new tricks.
Skateboarding, can be used as a form of recreation and sport, which is popular among youths. Skateboarding as a professional sport also boasts a range of health competitions and community events for all to enjoy. Skateboarding in Sierra Leone, West Africa will develop a youth subculture that will emphasizes on their creativity and individuality. Skateboarding is the new alternative to mainstream team sports, which youth can TAKE THEIR POWER BACK and focus on a sport that is less likely to be formally organized and largely controlled by adults.
In Sierra Leone, the sport of skateboarding is related to the existing surfing community, street culture, street art, where many Sierra Leone skaters just skate on streets, roads, and parking lots.
JOIN US in supporting Sierra Leone Skateboarding! This initiative was created to develop the sport of Skateboarding in the country by empowering youth through creating engagement and giving hope.
Thank you to all those that have support us and help launch this initiative, Co-Founder Greg Washington, Coaches, Families of Allentown, Freetown, Goderich, Bureh and the Skate Companies who donated supplies, boards, and merchandise.
-Zainabu Sesay Harrell
Sierra Leone Skateboarding, est. 2017
follow us on Facebook https://www.facebook.com/SaloneSkateboarding
TO SUPPORT SLS email [email protected] or call 347-729-9648/202-375-9844