Disney Made Simple Part 2
Welcome to Disney's Animal Kingdom.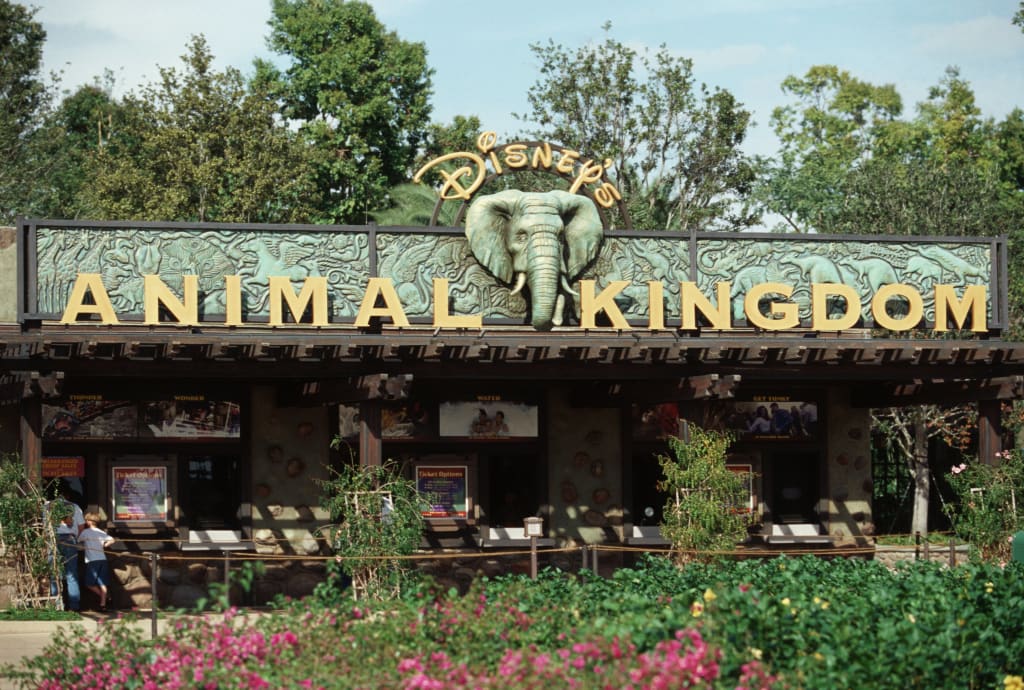 Welcome back to the next post where we start to delve into the parks a bit deeper. Our first stop is my favorite, Disney's Animal Kingdom. I am going here first as this has made a huge new addition to the park with not only a really cool area to see in the day and night with Avatar's themed Pandora, but also the two new rides that go along with it. This park is my favorite for several reasons. It is very easy to get into from the parking lot where you may not even need to get on the Tram. So, that means it's even easier to leave. It is the only park that has shade everywhere. But, it has animals. Lots and lots of animals. So, let's start our first day of planning for AK.
How should I start?
Okay, this is one of two parks that does not have a tier system for its fast passes, so you can make them for all of the top rides in advance. The new rides, Na'vi River Journey and Avatar Flight of Passage, are going to be an average wait of two hours per ride so if you can get a FP for either, do it. Especially the Na'vi River Journey, as this ride is way too short for a "dark" ride, or indoor ride, and other than the amazing animatronic at the end, you will feel super let down. With that said, I would get a FP for Kali River Rapids for the mid afternoon when it is the most hot and you want to cool off, between 2:00 PM and 5:00 PM. I would also get an FP for the Kilimanjaro Safari Tour as that line can get long fast and really not much to do or see when you wait. The only other ride that you would really need to get a FP for is Expedition Everest, but its not necessary as I will get into later.
DO NOT waste a FP on any of the shows. The way they have the seating capacity and the frequency, you will not only get to see it, but also have a great seat. This would also include their new night show, River of Lights. You can show up to either performance, two nightly, about 20 minutes prior and you will have a great seat. The outside open arena is huge and can be seen from the main walk ways that circle the park.
River of Lights Parade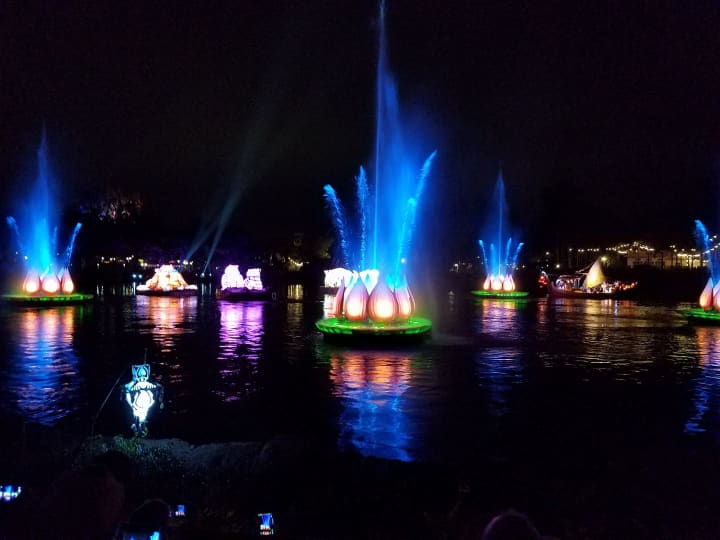 You can get a reservation for one of the three table-side restaurants, but that usually will mess with your timing to see the shows and the rides. Unless you really have to have it, I would suggest Tiffins. Other than that, the grab-and-go places have an amazing variety for a lot less and you can usually just run in and out. More on that later.
There is literally a ton of stuff to do at this park. So the more you keep your time flexible, the more you will get out of this park. If you are staying at a Disney property, you will have 60 days to set your Fast Passes and get the extra Magic Time added to your day so you should be able to see everything. If you are like the average Joe like me, you need to be there when the park opens. Check as the times change on time of year and the day of the week, but get there at rope drop.
What should I wear?
Just like the first post, I can not say enough, comfortable shoes and wool running socks. You have to walk a lot to see the park, more than the other three. Cargo Shorts, light colored shirt, cap, shades, and smart phone. Someone in your group should have a back pack for ponchos, extra socks, and maybe a snack or something. I bring a specific water bottle with me to refill as I refuse to spend $4-$5 on a bottle of water that I can get a case for at the same price.
Spray Water Bottle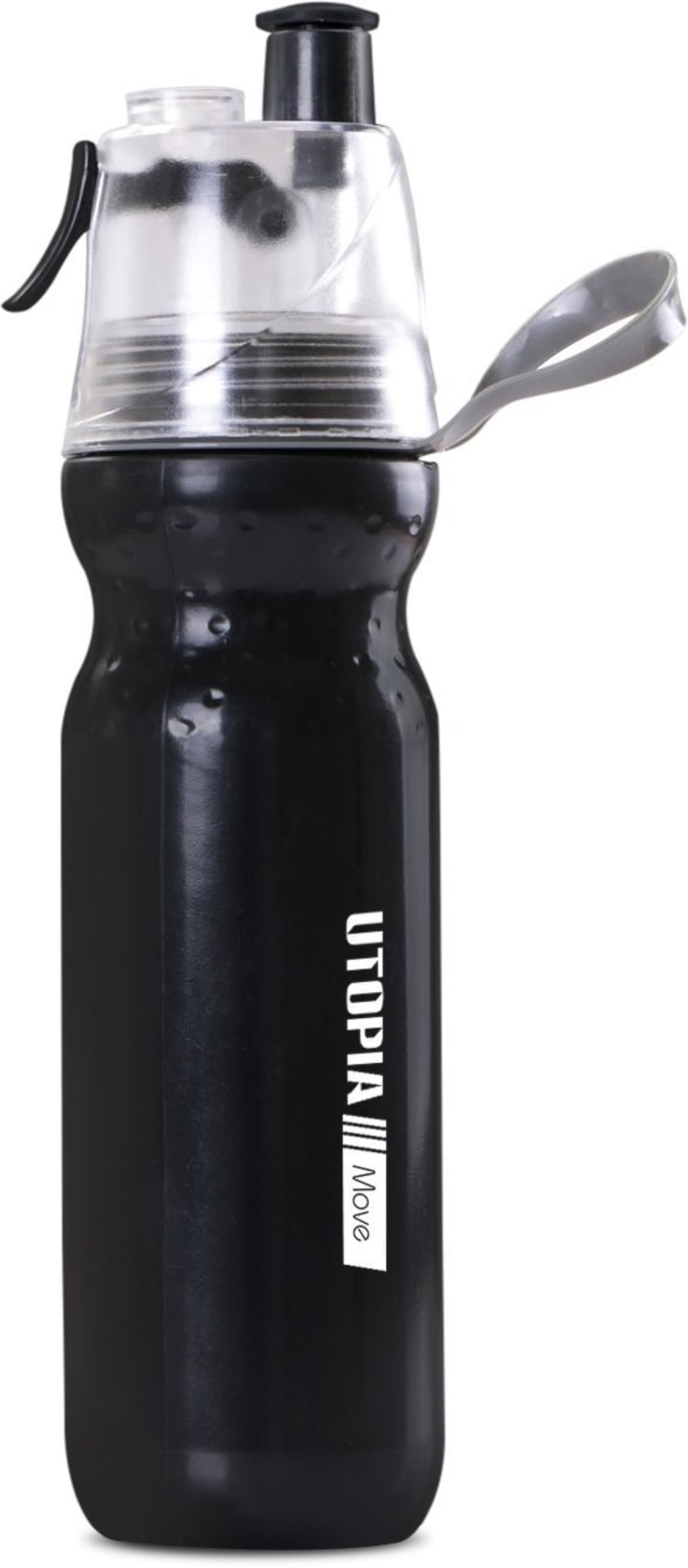 I bring this bottle with me every time I hit the park. You can get ice anywhere as well as filtered water at all of their soda fountains. Remember, most bottled water is bottled filtered water from the tap so save yourself the cost in water what could be a great t-shirt, hat, or mug.
I suggest a soccer shirt and running shorts. The shirts are great as they keep you cool and wick away sweat easy. The running shorts are amazing as you can get several kinds with the compression short built in to give you extra support for the day as well as keep you from chafing, and isn't that the point. I wear Brooks Running Shoes, Black Smartwool Socks, Arsenal/Barca/Boca/Orlando FC Jersey and one of many Disney Hats. I can go for days and I am cozy all day. I will bring a change of shirt if it is going to be super hot out as you will feel gross at night with park funk and sweat on you since the early morning. You can rent a locker for $5-$12, depending on size, if you start to feel a little drained and not want to carry anything with you towards the end of the day. Great place to put souvenirs, unless you get those delivered to front of the park for pick up at the end of the night.
I think we are set with how to get started and set for your day. Other than getting a really big breakfast with lots of carbs, you should be fine. Drink plenty of water throughout the day, and stay cool. Put on your smiley face, find your travel buddy, and make sure your phone is charged for a great day out.
What is there to do?
This park now has three major rides, five mid-tier rides, three walking safari tours, four shows, and a petting zoo. Throw in a train ride, midway games center, kids climbing area, and an amazing projection show; you have something for everyone. There is also live music playing in every sub-division, and character meet and greets. Your camera memory chip will be full by the end of the day. Let's start with the big stuff first:
Animal Kingdom is broken up in to Discovery Island (The Main Hub), Dinoland USA, Africa, Asia, Rafiki's Planet Watch, and the Oasis. Each area is themed with the proper atmosphere in the architecture, animals, and music. There are three big rides here: Expedition Everest, Kilimanjaro Falls, and the new Avatar Flight of Passage. You need to go on all of these. Everest is a great roller coaster with some good speed and turns. There is a point in the ride that it goes in reverse at full speed; this is not for the faint of heart. I have rarely seen a wait for this ride of more than an hour. The queue has some really cool antique climbing gear and a yeti photo to look at while you wait and make for some great photo opts. Everest does have a "single rider" line so if you don't care sitting next to a stranger, and not particular about where you ride on the train, this is for you and your group. This line may take a whopping 15 minutes until you get on so it is really not that important to get a FP (Fast Pass) for this ride. The photo op on this ride is when you leave the cave immediately after going backwards as seen below.
Expedition Everest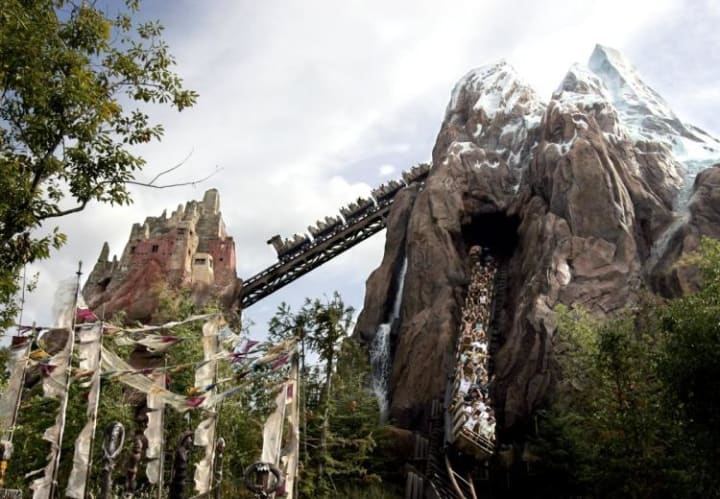 Kali River Rapids is a ride you need to get a FP for as it can get close to a two hour wait if it is really hot and there is nothing to do in that line but wait and sweat. You will get varying degrees of wet but it is a gamble. Your odds are better getting most wet if you are on the right side of the raft closer to the middle. I don't know why but that has been my soak zone. If you sit on the left side of the raft when you board, odds are in your favor to stay mostly dry. Just keep in mind that this is not exact but from my experience having gone on this ride at least 50 times. Be careful of hats and cell phones on this ride as it is a bumpy ride and I have seen caps, sunglasses, and phones go overboard when the monsoon of water hits at the bottom of the drop on the main part of the ride. This can be an amazing cool off for you if that is your goal. If you don't get wet and you need to cool off, there is bathroom/locker station located close to the entrance of the ride. You will find a fountain of water in a recess that you can easily stick your head in, fill your cap with, whatever, to cool off instead. The water fountain there also has the coldest water to fill your water bottle if you are running low.
Kali Rive Rapids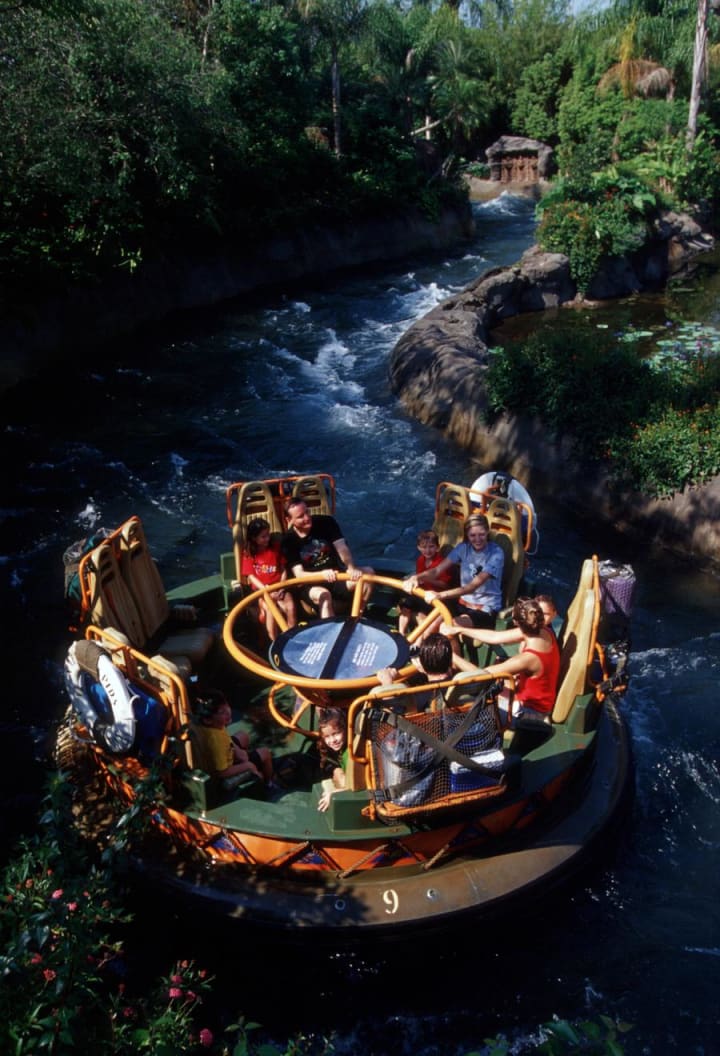 Something must have happened where they removed the dry storage from the middle of the rafts. So when you go on this ride, take care of things you want to stay dry, like your phone. You can pack a Ziploc bag for your tech to keep in dry. It's good to have one with you in case of rain, as well.
The newest ride is the Avatar Flight of Passage. This is a new type of ride invented just for this park. The average wait time for this ride is two and a half hours. If you get a FP for this ride, good for you, but your wait time will be one hour from the FP entry point. Yeah, it takes a while to get on this ride. I would suggest going to this first thing in the morning or later at night as you will not get kicked off the ride until you go if you are already in line. You MUST go on this ride. This is a virtual reality ride that where the prep for your ride is part of the fun as you get scanned before you go on the ride so you can see yourself in Avatar form. Then you go in a room with these stationary motorcycle seats. You mount up and it straps you in. You put on your special glasses and face this wall that is about two feet, if that, in front of your face. The lights go out, and you are transported into the world of Pandora. If you saw the movie in its original 3-D format in the theaters, it is like going into that. The cycle you are on breathes, so it feels like you are actually riding one of the Banshees. The ride is not short either, so it is totally worth the wait. You shift, slide, dive, soar, and get sprayed with water shooting a curl. Just amazing.
Avatar Flight of Passage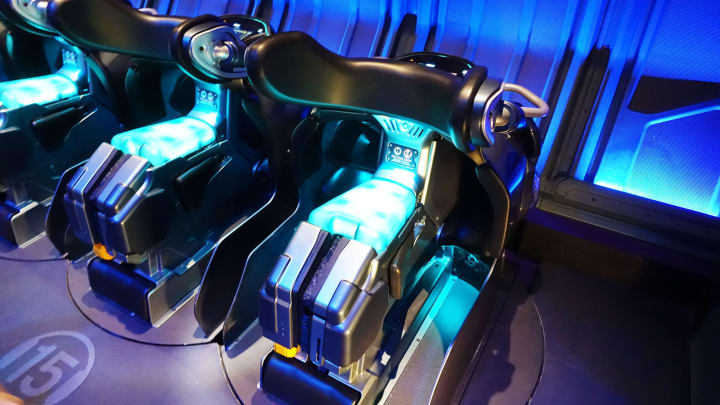 You the exit the ride through the gift shop for this area. There are some really cool items here and t-shirts. The coolest thing here, if you have the money, is for under $100, you can get a 12" Avatar figure with your likeness scanned and created for you. There are even different outfits to put on it if you want to dress up your own toon. This is a must do ride that can not be missed.
Now on to the mid-tier rides. There are four continents to visit: Asia, Africa, Dinoland, and Pandora and all but Asia has a mid tier ride. Let's start back in Pandora. The Na'vi River Journey has a 90 minute or more wait on the norm. It is sit down boat ride similar to Pirates of the Caribbean where it goes slow, on the water, it's dark, and you look at what is around you. They did a great job on the décor and the little story that goes along with the ride. The animatronic at the end will kill the aforementioned Pirates, and demand a retool. It is beautiful and creepy at the same time at how lifelike it is. The only knock is how short the ride is. I was expecting a bit more, but the rest of the area more than made up for it.
In Africa, you have the Kilimanjaro Safari. This is another must do. It's best to go on this ride around 4:00 in the afternoon, feeding time, so you get to see a lot of them. If you can go in the evening, like 8:00ish, you will have a better chance to see the lions and maybe the male lion roar which is intense to hear in real life. Otherwise, your chances on seeing animals depends on the weather, and their natural proclivity to what time of day it is.
On to Dinoland. There are three mid-tier rides here. The first is for the young ones in the TriceraTop Spin. Think the Dumbo ride at Magic Kingdom where you get in big Triceratop that seats four and then goes up and down in a circle for about a minute. The next is the Primeval Whirl. This is the most fun of the three and usually has about a 30 minute wait. It seats up to four people in a car where you go on a mini-coaster spin and drop like something you would find at a carnival. The whole Dinoland is set up like a midway with whack-a-mole type games as well. The final ride here, is Dinosaur. I don't particularly like this ride because it is so bumpy; it does this on purpose to mimic a jeep driving over terrain. The jerkiness of the ride takes away too much of your attention from the ride itself and the dinosaurs that come at you. It can be fun, but be prepared.
These are all of the rides that you can monitor from your Disney App for times. The park is pretty easy to navigate so you can get from point A to B without issue; another bonus to this park. Again, get your Fast Passes first and fill in the rides in between. Timing is important. Flights of Passage in the morning or night, Kali River in the mid-afternoon, and Safari Tour in early evening. Everything else you can fill in around those times, and you should get them all in easily.
Asia is home to the aforementioned Kilimanjaro Falls and Expedition Everest. It also has a walking safari that houses beautiful tigers and dangerous Komodo Dragons. If you are in the mood for a more adult beverage of beer, wine, or spirits, there is a bar next to Everest.
What about shows?
The best live shows for the whole family are in Animal Kingdom. The stand out is the Lion King where there is audience participation, amazing costumes, and some dance numbers with fire tossers. There is not a bad seat in the house so there is no rush to get there early for seating. The other amazing show, is Finding Nemo. Again, do not get there early as the best seats are in the back as the show goes into the audience and you will miss a lot if you sit too close. The songs, the actors in their costumes, and the way it is told will make you want to sit through the movie for the umpteenth time again. Best of all, both are inside with air conditioning, so they both make a great afternoon break from the Florida sun.
Where To Eat

Okay, easily one of the most important items on this list. There are quick purchase areas in all of the sub-divisions that follow the theme of where you are. The busiest will be in Dinoland, as it offers chicken nuggets and burgers. The other busy area is Pizzafari, on Discovery Island, for obvious reasons.
There are some table service restaurants as well. The Rain Forest Cafe can be reached from outside of the park as well from inside so you don't have to leave the park. Yak & Yeti is a great place if you are in the mood for Asian cuisine. Keep in mind that it is close to authentic, so when it says spicy, it's spicy.
The Tusker House is an African buffet, and character meet and greet. The food is African, so please check the menu to see if that would be something the whole family would like, especially the kids. The characters will be in their Safari themed outfit and this is the only place to get this photo op. Every table is given the opportunity for photos, so you can rest assured you will get what you paid for.
Tiffins Restaurant is the upscale dining choice in the park and you will get an amazing experience with it as well. It has several flavors that the park designers and chefs found while exploring the world for the park. It is one of the best restaurants in all of the four themed parks and Downtown Disney. If you want "something different" without getting something too unfamiliar, this is the place. You can get a reservation in advance, dine, and then stay for the night life the Animal Kingdom now offers.
Finally, there is the Satu'li Canteen. This is a great new place in Pandora that is casual dining but needed to be mentioned as this is where you can get fresh, healthy minded food, and the most amazing desserts. Also a great place to people watch as well.
Let's wrap it up!
I have said many times, Animal Kingdom is the best park for the whole family, as it has a little bit of everything that people of all ages can enjoy. It is the best park to stay cool in during the summer, the attention to detail in all the architecture from the Tree of Life, to animal prints carved into the concrete walkways; it is a park for all of the senses. You can stop and dance in a show in Africa. Watch an amazing sitar band in Asia, while drinking fresh brewed flavored iced or hot tea. Go to a petting zoo, and brush a lamb. Get that picture with Doug and Russell; you can even earn scouting badges from around the park. Since this park is still considered a half-day park, you can have a better chance of catching a lot of rides after 5:00 PM when people start to leave in mass for Magic Kingdom and their Fireworks show. Needless to say, you will have a great time here and be prepared to spend extra on merchandise here as so much of it could be worn outside of the parks as well as used at home. An amazing place that you will never forget, especially for the animal lover.