Cascades Boutique Resort
A Hidden Gem in Rawai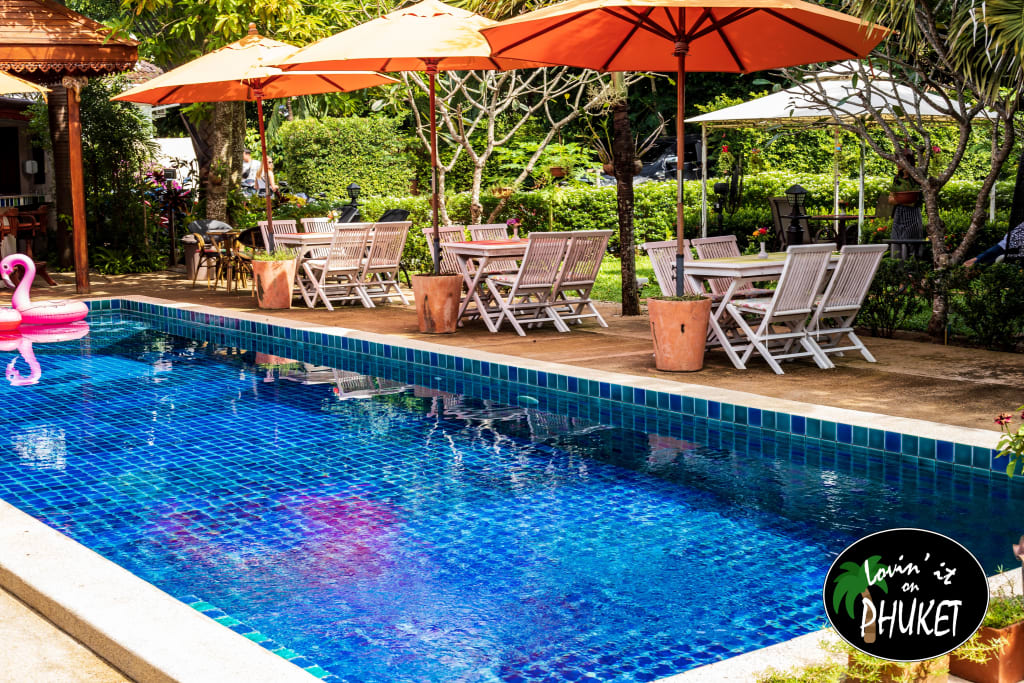 Price Range: Moderate
Experience: Resort, Quiet
Travel Type: Couples, Family, Solo, Business
The last time I stayed in Rawai I found a gem of a place to stay called the Cascades Boutique Resort. The property is nestled away off the main road but still within a ten minute walk up to the beach. They have a pool, restaurant, spacious rooms and offer motorbike rentals. The manager is a great guy, very friendly and speaks English, French and some Thai. I don't think there is anywhere else I would rather stay if I was vacationing in Phuket and looking for a quiet time.
Cascades Boutique Resort is located in Southern Phuket in Rawai. As I mentioned it is just a short walk out to the ocean but located off the main roads so you feel like you are in the country side when you are relaxing in your room or if you go for a morning stroll. One of the nicest things I found about staying there was I had no problem catching up on some much needed rest after spending time in Bangkok and Patong reviewing the nightlife and catching up with some friends. I also had no problem getting some work done and had easy access to the Rawai Landing Pier and Promthep Cape. Rawai Landing Pier was especially important to me because I had a new camera and wanted to go test it out on taking some sunrise photos.
There is an abundance of restaurants in the area including the Rimlay and Baguette Magique and the resort itself offers a variety of foods from morning to night if you prefer to stay in.
If you need to book a tour or a taxi the staff is more than helpful. Just ask at the office or send them an email. I actually appreciated sending them emails the most because I kept really odd hours needing to be up really early in the morning for photographs and talking to my daughter back in Canada at 4 am on video chat.
All of the rooms at Cascades Boutique Resort are on ground level so there are no stairs to climb and there is no need for a lift. You simply walk in and walk up to your room. The rooms are very clean and quite spacious with a fridge, sink and high performance air conditioners that keep the room at a comfortable temperature no matter how cold you like it.
The rooms at Cascades Boutique Resort are equipped with cable TV and WIFI so if you feel the need to stay in and watch a movie because you need to relax or it happens to rain, there is no problem. I bring a Chrome Cast with me on my travels and had no problem streaming Netflix whenever I was developing some photos and wanted to binge watch a show.
The rooms also have a wardrobe, dresser and a table with chairs so you can sit in comfort and enjoy a coffee in the morning or work on your laptop for a few hours in peace.
The showers have a great hot water heater and the resort provides soap and shampoo if you require it. After a long morning out on Promthep I found it was great to have water hot enough to melt away all the sticky film I acquired sweating and riding around.
The grounds at Cascades Boutique Resort are quiet. Outside each room is a wooden table and chair combo where you can smoke or sit and enjoy a beer in privacy. I actually experienced some interesting wildlife while I was sitting there a few mornings.
The pool at Cascades Boutique Resort is quite large and very clean. It is surrounded by lounge chairs and has a bar at the end of it with ample seating for a small group if you want to enjoy a game on the TV or catch up with some friends over a beer.
Not too far away from the pool, Cascades Boutique Resort has a seating area with canopies so you can sit and enjoy a meal outdoors even in mid day when the sun is beating down.
There are a few pathways leading to the rooms around the pool and dining areas with lovely tropical vegetation and flora and a small water feature up by the restaurant area with a pond that is home to some fish as well as a watering hole for frogs, lizards and other small animals native to the area. The grounds at Cascades Boutique Resort are kept immaculate. Even when there has been rain and wind the night before it is rare you will see any debris on the pathways or areas around the pool. They do a very good job on maintaining the grounds.
Cascades Boutique Resort offers motorbike rentals like many hotels. They do not take your passport if you are a guest, so again this is a huge plus as the Thai police are getting more and more strict about tourists carrying their passports on them at all times. They do charge a little more than the shops in the area but you get what you pay for. The bikes are in great condition and well maintained. This is really important when you are out driving around hills and winding roads and varying speeds with stray dogs running around and drunken tourists crossing the streets. I took the video above using a motorbike I rented from Cascades Boutique Resort and as you can see it is mechanically sound for the conditions I was driving in.
I recommend Cascades Boutique Resort for anyone that has a moderate budget and is looking for some peace and quiet when they are in their room. Cascades Boutique Resort is somewhere I would stay on a work trip, with my family or even on a solo vacation where I just wanted to enjoy the peace and quiet in Thailand but still wanted access to the beaches and nightlife on Phuket every once in a while. I would not recommend it to anyone who is looking to party every night, party in their room or bring bar girls back daily and cause disturbances.
For great more videos and images check out the Lovin' it on Phuket YouTube Channel, Facebook Page and Instagram Account. If you are a blog writer you can find images available on Adobe Stock, Getty iStock and Shutterstock by following these links.
Adobe Stock      
  Shutterstock     
Happy travelling to Phuket and beyond! There are more interesting articles to come. Thanks for reading and showing your support.