Cancun on a Budget
More Fun, Less Money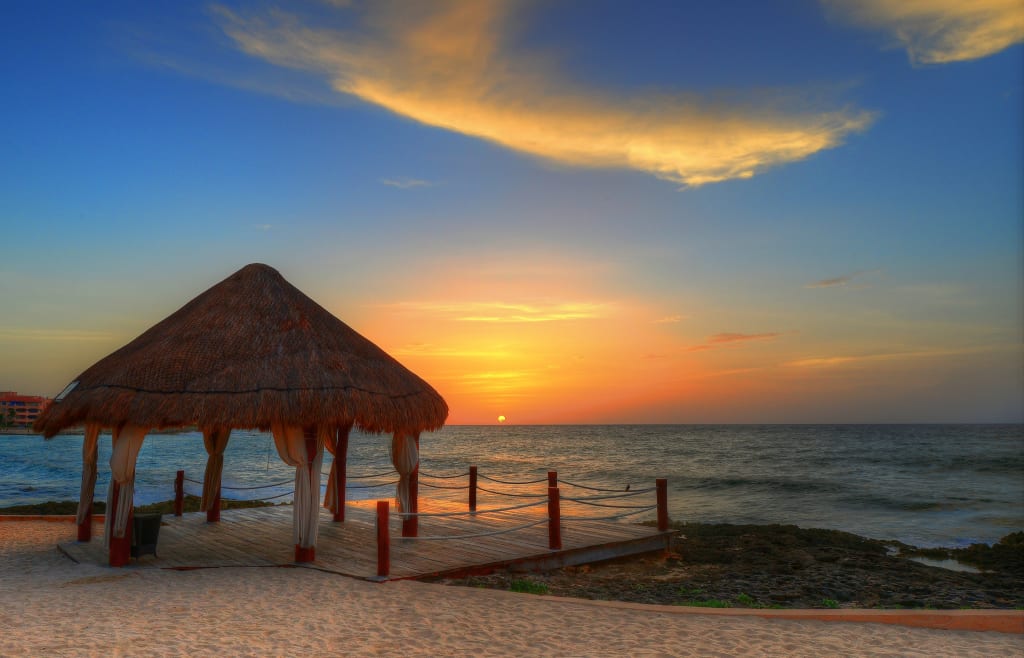 Cancun, Mexico seems like the perfect dream vacation destination with crystal blue water and palm trees swaying in the warm, balmy breeze. Mexico has a rich and beautiful culture and delicious cuisine and Cancun, part of Mexico known as the Mayan Riveria, is the ideal destination in which to bask in all that Mexico has to offer. A dream vacation destination like Cancun however, can also come with a giant price tag. Your dream vacation can be more affordable than you imagine.
When to Travel
The best way to save on a trip to Cancun is to schedule your trip at the lowest tourist season, April–June. You can get the best deals on airfare and hotels and still have decent weather. The cheapest time to go is actually August-November. However, you are taking a chance of having your trip rained out during hurricane season.
Where to Stay in Cancun
Planning a budget vacation to any destination can be tricky but, when you are planning a vacation to a country such as Mexico extra precaution must be taken. Although the term third world country is somewhat outdated, Mexico is a developing nation whose population is on average very poor. The crime rate in Mexico is also very high, so vigilance is a must. For the most part, the resort areas of Cancun tend to be very safe. However, visitors are advised not to wander out of the resort area.
All-Inclusive vs. A La Carte
Hotel packages in Cancun can come as either all-inclusive packages or travelers can purchase their hotel a la carte rather than purchase a packaged deal. Both options have pros and cons and really depend on how much time you are willing to invest in your trip planning.
All-Inclusive
Many people tend to select an all-inclusive resort when traveling to a foreign country such as Mexico, especially if they have never been there before. All-inclusive is exactly as it sounds. Everything is included in the purchase price. All-inclusive resorts usually include not only your hotel room but all your food and drinks. They sometimes also include other on-site activities. This will vary by package.
The positive side of opting for an all-inclusive resort package is that it takes all the guess work of the equation. You are completely taken care of for the extent of your stay. You aren't responsible for hunting down a place to eat and your expenditures are figured out before you even step on the plane, short of your souvenir purchases, extra excursions, and tips. You will not be shocked by a giant bill at the end of your stay. Many people feel safer taking the thinking out of their vacation and just relaxing.
While you can find decent deals with all-inclusive packages, this can be the more expensive option due to its convenience. You often end up paying for things that you don't need or meals that you won't eat. Also, all-inclusive doesn't always mean "all-inclusive." Often times any extras such as aquatic activities other than the pool (snorkeling, scuba diving), motorized sports (jet skis, ATV's), and golf are not part of the package deal and will cost extra.
A La Carte
When you pick a hotel without all of the add-ons you not only can get a great deal, but you can put together a budget vacation where you can really get a bang for your buck. This type of vacation definitely requires a lot more planning and research, but the end result is more than worth the time put in. Rather than the typical cookie cutter Cancun vacation, you get the individualized perfect vacation of your dreams and not break the bank doing it.
One way to save a lot of money is picking a hotel that is not located on the beach. Most of the resorts in Cancun are beachfront and can be very expensive. If you are willing to give up this one luxury, you can save a lot of money. Cancun has a lot of public beaches to choose from, so you are not for not going to the beach altogether, just the hefty price tag the hotel puts on it. Many of these hotels offer shuttles to the beach and some have their own beach "section."
Finding a cheap but decent hotel is a matter of knowing where to look. Websites such as Trip Advisor or Booking.com are extremely helpful in selecting a hotel in Cancun. These sites allow you to not only get prices for the hotel but have each hotel ranked and has detailed reviews by people who have stayed there before. It also gives you an opportunity to look at the amenities that specific hotels have and view pictures of the rooms as well as the property. It also has guest photos of everything from the rooms to the food and towel sculptures left by housekeeping.
Where to Eat in Cancun
Most people will agree that eating is one of the best parts of a vacation. Especially if it means sampling the local cuisine. When traveling in Mexico, it is almost a requirement to eat good, authentic Mexican food. There are several restaurants that are great on the palate and safe on the wallet. The best plan is to avoid the big, fancy restaurants and find the smaller restaurants that cater to the locals.
Mexican Food
Cancun has many small, "hole in the wall" restaurants that sell delicious Mexican food for extremely reasonable prices. Even better, some of these tiny restaurants have creative themes.
Pik Nik
Tulipanes Mzn 2 Lote 3, Sup. Mzn 22
Phone: +52 998 147 7049
This restaurant has genuine Mexican food at great prices. Also has vegetarian and vegan menu items.
El Rincon de Antojos
Av. Nichupte | Calle Luciérnaga, SM 51 MZ36 LT 4 frente al
Phone: +52 998 848 0515
Mexican food that won't hurt your wallet. This restaurant has great reviews and is considered a must visit. It is considered something of a hidden gem as it is somewhat off the beaten path.
Tacun
Boulevard Kukulcan Km 11
Phone: +52 998 593 3638
Located in what is known as "the Hotel Zone." This restaurant serves delicious authentic Mexican, as well as offering vegetarian and vegan options.
Caminero Tacos Cancun
Blvd. Kukulkan Km 9.5 Hotel Zone En El Callejon de Los Milagros
Phone: +52 998 883 0562
Also located in the hotel zone. This restaurant not only claims to have the best tacos in town, but they are the best for your money. Also has vegetarian options.
Other Food Choices
If you have had your fill of Mexican food and are looking for something a little different or are a little homesick for a good burger, there are other great food choices available. There are lots of alternatives for the less adventurous palate that are cheap and delicious.
The Surfin' Burrito
Kukulcan Blvd. Km 9.5
While serving traditional Mexican food, it also has American food for those not up to eating Mexican food. The prices are great, as is the food. Best part…it's open 24 hours, for whenever your food craving hits you.
El Fish Fritanga
Blvd. Kukulkan KM.12.6 Hotel Zone
Phone: +52 998 840 6216
This is a local favorite and rumored to have the best seafood dishes in all of Cancun. The ambiance is also something that makes this restaurant popular.
Ty-Coz
Avenida Tulum, Sm 2
If you are looking for something simple and familiar such as sandwiches, this is the place to visit. Easy on the budget and just the right amount of food to keep you going.
Padrino's Pizza Express
mza 45, lote 01, Local 11b Km 8, Zona Hotelera
Phone: +52 8831293
Who doesn't love pizza? When you have had your fill of Mexican food, here is a great alternative and a beloved favorite that everyone can agree on. This small restaurant has brick oven pizzas that are easy on your vacation budget.
Mr. Lasagna
Supmza 503 Calle Luciernaga
Phone: +52 998 252 3692
Italian food is some people's favorite comfort food. This restaurant serves classic Italian food as well as pizza. Not only is it very inexpensive, but it has great food in a comfortable setting.
El Callejon
SM 28 M 1 Plaza Bonita
Phone: +52 998 368 6513
This little restaurant serves American and Canadian faire, as well as Mexican. This placed is also supposed to have the best margaritas in all of Cancun.
What to Visit in Cancun
Mayan Ruins
For many people the opportunity to see the Mayan ruins in Cancun is a rare treat. The most budget friendly are the ruins that are located right in the heart of Cancun, El Rey Ruins and El Meco Ruins, Just north of Cancun, in Punta Sam. This is an alternative to Chichen Itza and Tulum. Although these ruins are not in as well-preserved condition, they are still impressive. Also, the price tag to visit is significantly lower.
Swimming and Snorkeling
Cancun has tons of public beaches. These crystal blue waters of this tropical destination are warm and perfect for swimming and snorkeling. If your hotel does not supply snorkel gear it can be rented for a small fee at many local dive shops.
Museo Maya de Cancun (Mayan Museum of Cancun)

This local museum is very affordable place to spend some time if you are looking for a way to get out of the sun. The museum is home to many Mayan artifacts as well as a small archeological site of a small step pyramid on the grounds.
The Interactive Aquarium Cancun
A lovely aquarium that has over 1195 species, including a multitude of fish, sea lions, dolphins, sting rays, and Mexican crocodiles. This aquarium also has a state-of-the-art touch tank. The aquarium charges a nominal entrance fee which includes an evening dolphin show. There are other animal encounters that visitors can pay an additional fee for.
Enjoy live music at the Parque De Las Palapas.
On weeknights and weekends, free live music is played in this town square. Enjoy snacks from small street vendors while relaxing in this picturesque park.
Shopping at Mercado 28
This is a big market in downtown Cancun, selling all sorts of traditional Mexican souvenirs. This area has lots of local merchants selling food. You will need to bring cash as the merchants do not take credit cards.
Other Money Saving Tips
American dollars are always welcome in Mexico; however, you are not going to get the most bang for your buck by using American money. Although you can exchange your money at your hotel, you will not get the best rate. The same goes for making withdraws from the ATM. Try to find small money exchange offices to get the best rate for your money.
budget travel

Kimberley Crawford
KIMBERLY CRAWFORD is a writer who lives in Upstate New York with her family. Her work focuses on travel, music, and relationships. She writers for Family Traveller, GIGSoupMusic, The Family Backpack, Lessons Learned in Life and Your Tango.
See all posts by Kimberley Crawford →