Campsite #6: Wakkanai, Forest Hill Camping in the North
14/08/2018-16/08/2018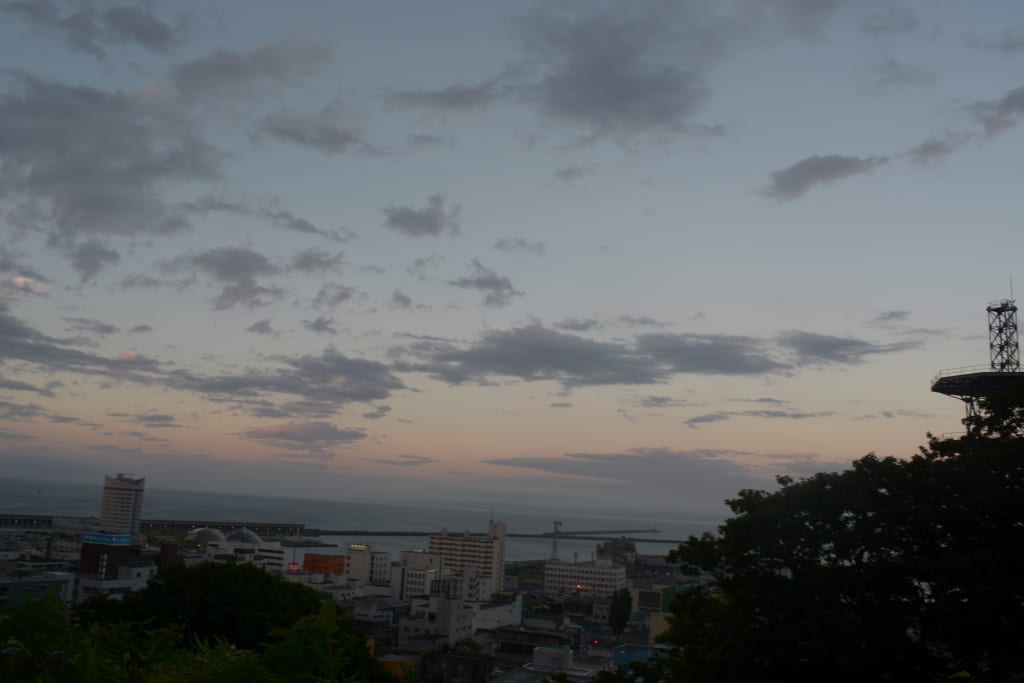 Of all the campsites I went to, this one was probably my favourite.
Before leaving Asahikawa, I searched Google Maps for campgrounds in Wakkanai, Hokkaido's northernmost city, and "Wakkanai Forest Park Camping Ground" popped up. Judging by its name and location, it was probably a city park or "kouen" of the kind common in cities and towns in Japan.
Now, I ended up freedom camping in these parks many times over the course of my trip, but this was usually a last resort after failing to find any nearby official campgrounds. Camping in "kouen" wasn't common practice, so I was surprised to find multiple reviews for this "kouen," which apparently contained a proper campground within its grounds.
Still, my expectations were of the typical "kouen" layout: a large flat piece of land containing a playground, toilets, and possibly a baseball pitching run somewhere within its vicinity.
I couldn't have been more wrong.
Picture this: You're setting out for the "kouen" with these expectations; just another regular city park. You're being that lazy tech user, sitting back casually in your vehicle, letting Google Maps do all the navigation for you. Then all of a sudden, you find yourself heading straight for a giant ass set of forested hills running along the edge of the city like a backbone. Before you know it, you're winding your way up its twisty turny roads with absolutely no idea where the f*** you're going, this internal monologue ringing through your mind like, "Okay, Google Maps, what kind of a sick joke is this?"
You lurch around a corner and the nose of your car emerges from tree-enclosed surrounds to an open viewpoint. "Whoaaaa" abruptly cuts through your string of insults to Google Maps as the city below, and beyond it views of Russia across the Soya Strait, stun you out of the blue.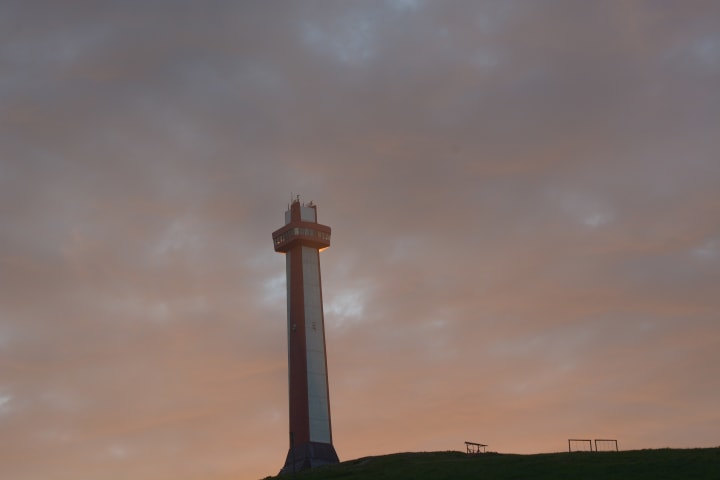 You barely have time to process the wondrous sight as, on autopilot, you steer around to follow the road. But that's okay, because from this point onwards, the road is full of these lucky little holes in the tree cover, giving way to splendid beauty below.
On your right, the trees thin, replaced by stretches of tall green grass and in the distance, a lighthouse. But squinting through the evening light, you notice there's something more to these fields than meets the eye.
A brown blur, tiny in the distance, darts across your field of vision. Then more brown shapes flick into action following the first, and as you're approaching, you realise they are no other than the Hokkaido variant of sika or "shika," Japanese deer.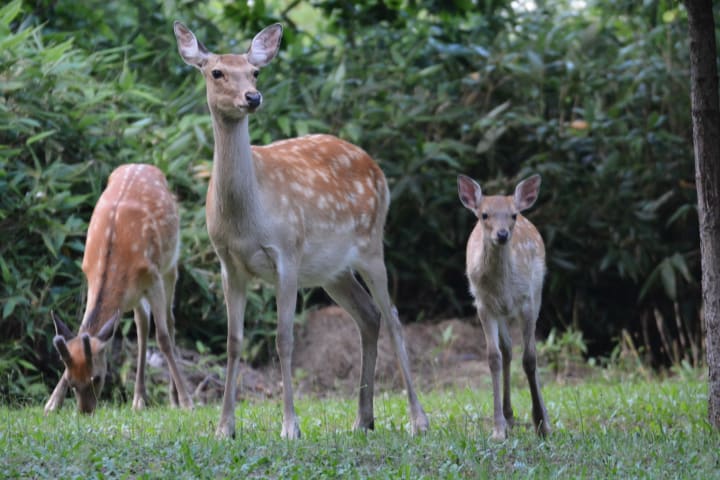 You've momentarily forgotten the campground you were trying to find, far too engrossed in your surroundings. How is it that something like this can exist right on the cheek of a city?
But despite your previous doubt of Google Maps, this road doesn't go on forever. You finally reach a short straight section in the road, and after one last bend, you're flabbergasted to find before you a collection of motorbikes, campervans, and cars packed into a small parking area. Just beyond it, tents galore.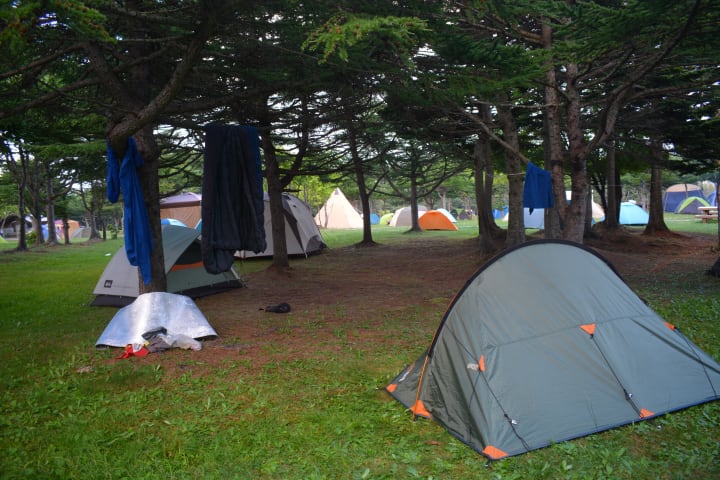 Whoever would've thought there'd be so many people camping up in these random hills just next to the city? I was in love with this place immediately.
What was more, the deer appeared to be regulars around the periphery of the campground. And best of all, the campground was FREE! :D
Of course, facilities were fairly basic. Toilets, barbecue area, and places to dump rubbish where wild animals wouldn't get at it. There weren't any showers, and I soon found out this was a rare occurrence in Japanese campgrounds. Of course, lots of campgrounds in New Zealand don't have them either, but some have cold showers and if you pay for a fancy campground, they have hot ones as well. This would have been handy in my situation, but thankfully Japan is full to the brim with onsen (hot springs), so I just had to downgrade 800 yen to use the one in Wakkanai city (about a 20 minute walk from the campground, 10-15 from the city centre) before heading back up into the hills for the evening. Which wasn't too much when you consider I didn't have a camping fee.
The only thing I could potentially complain about with this campground was that, being in the hills, a lot of the ground was a little on the slanted side, so I did find myself slipping a bit as I lay down inside my tent. There were also heaps of trees scattered throughout the site, so if you weren't overly picky with where you pitched your tent, you might find yourself sleeping on top of some knobbly roots.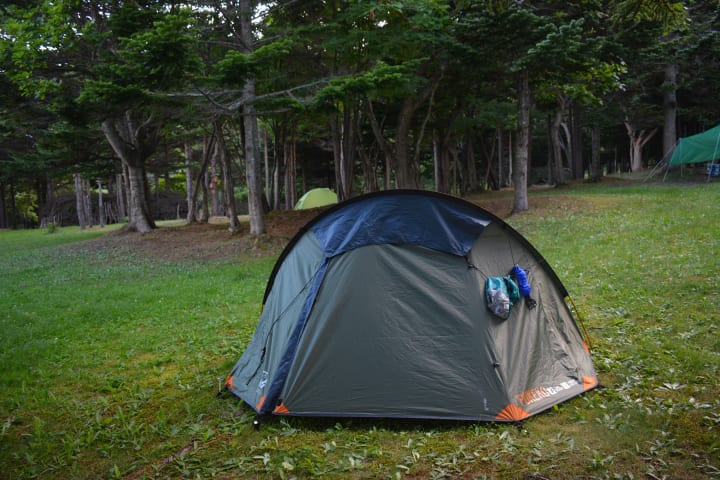 Although it didn't rain while I was here, a lot of my stuff was wet from camping in Asahikawa. Sadly, that included my little pal Sleevee (see below), so I gave her and all the rest of my stuff a good dry out, using my pegs to pin them to my tent strings and hanging things in the trees nearby. Wakkanai is well known for strong winds, and although these weren't very noticeable in August, it was enough to get my things all dry.
Follow at the links below to stay tuned for the next Camp Japan entries!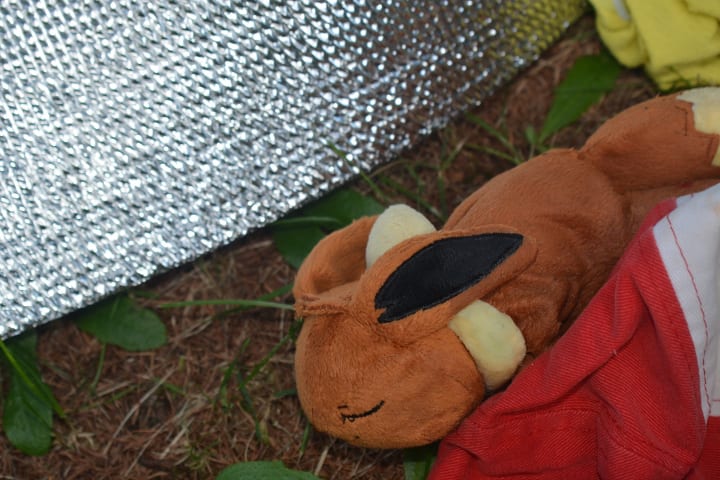 If you liked what you read, please share the article or donate under my profile! I don't get paid much so every view helps.
About the Creator
Read my articles or tip to support!
Blogger, Writer ✍️・Wildlife photographer, Bear Conservationist 💚・Adamant traveler ✈️・ Hiking, Camping・Getting amongst this crazy world 🌍elisooker.wordpress.com
Reader insights
Be the first to share your insights about this piece.
Add your insights