Campsite #4, Asahikawa: Michi-no-eki, Camping in a Typhoon, and Why Camping Beats Hostels
11/08/2018–13/08/2018: Campsite #4 of Camp Japan, Asahikawa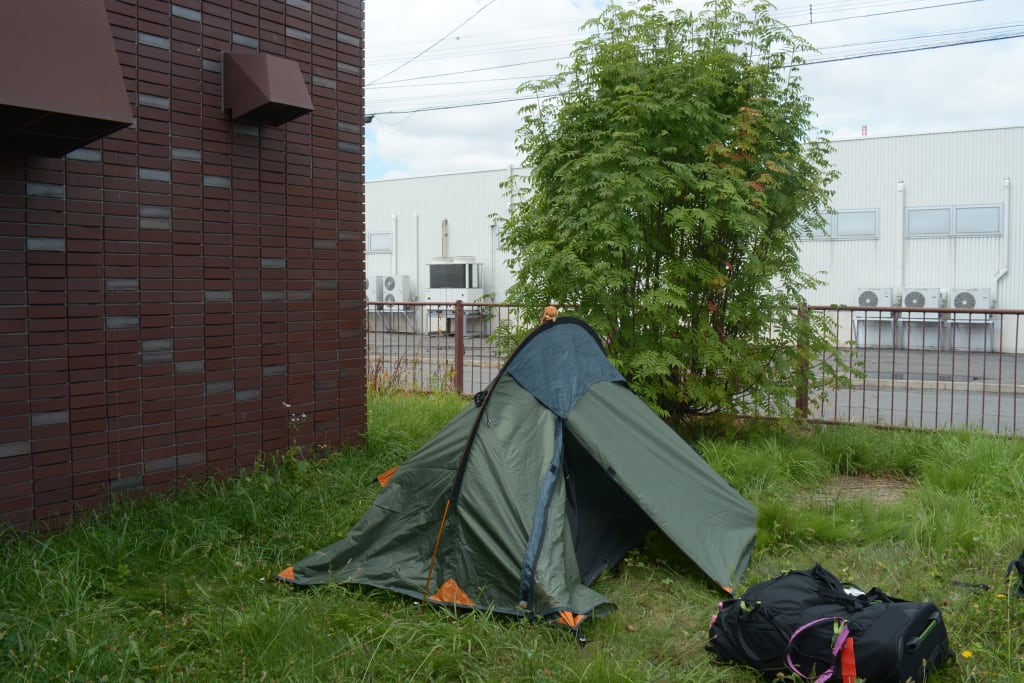 Round the back of Michi no eki Asahikawa. Spot Sleevee in her usual fave spot on top of Pukeko tent!
If you're wondering why the campsite dates for Asahikawa start a couple days later than my last campsite ended, here's why:
Being on the road and all, I wasn't exactly keeping in touch with the news. Not that traveling is a good excuse for ignoring current affairs, but it does tend to slip your mind when you're focusing on the moment you're in, how to get from A to B, etc.
Usually, though, travelers will at least keep up with the weather. Not me. Well, at least, not until this point. I'd had mostly good weather so far and since it was summer I didn't think I needed to worry about it.
Well, I was wrong—but then again I was also kind of right... let me explain.
I was hitchhiking my way out of Noboribetsu Onsen, chatting to the driver in Japanese about iro iro na koto (Japanese for "various things"). As usual, the subject of my accommodation springs up somewhere along the way and, as I'm slowly becoming accustomed to, I receive a shocked but somewhat impressed reaction upon explaining my camping situation.
The driver then proceeds to bring up a somewhat interesting fact: there's going to be a typhoon hitting tomorrow. Surely it would be impossible to stay in a tent, he says.
So, although I don't really want to, I decide that I, the foreigner from a country that knows no typhoons, should probably bow my head and accept the advice of a local.
So I quickly looked online and booked the only available and affordable hostel, "Yado Retro House Ginza Asahikawa," for one night.
It definitely wasn't unsuited to the name "retro," being a fairly basic place in an older building. But the beds were comfortable enough and it was dry, and that was all I figured I needed. Plus the man who ran it was extremely nice and helpful and could speak English, though I used mostly Japanese with him.
Well, it rained, but it wasn't hard rain like we could get in New Zealand, and there wasn't all that much wind...
This made me suspect that the worst was still to come, so I actually ended up asking for a second night's stay.
The rain got heavier, but still there was next to no wind. I went ahead to ask for a third night's stay, only to find out the hostel was fully booked that night. I did a quick check online to see if any other hostels had become available, but alas, only the pricier hotels were available, and I wasn't really down for that. So I figured I'd just have to suck it up and face this supposed storm.
There weren't any campgrounds in Asahikawa, so I went for the next best option: a Michi-no-eki.
Before starting my trip to Hokkaido I'd done a fair bit of research online, considering different travel options I could take. Among these, I'd considered a rental campervan before realising it was far above my current budget for one person. Nevertheless, I'd gained some handy tips for traveling Hokkaido while looking this stuff up, one of these being about Michi-no-eki in Japan.
"Michi-no-eki" translates to "Roadside Station." There are many of these dotted around Japan's toll-free roads, usually close-ish to or within a small town of some sort. They provide everything a campervan traveler could ask for: free parking, toilets, a restaurant, souvenir shop, tourist information and in some cases, they even provide a free onsen. Many travelers use these Michi-no-eki and/or stay in the parking lot overnight, whether they be driving campervans, cars, trucks or motorcycles.
Michi-no-eki aren't necessarily ideal for those on foot as they are sometimes located in places that take a long time to walk to. However, every other aspect of them was extremely convenient to me, so I decided I would use them for camping where I could.
Now, Asahikawa is one of the few places where there is a Michi-no-eki right smack bang in the middle of the city. After checking out of the hostel, I tentatively caught a taxi to transport my rather-too-heavy-for-this-trip bag with all my camping goods to the Michi-no-eki. It was only about fifteen minutes though so it didn't break the bank, and it definitely beat dragging my gear through the slopping rain.
As it turned out, camping in a typhoon in Hokkaido isn't as impossible as some say. Sure, it rained, but my tent was waterproof, and I actually felt very comfortable snuggled up in my Pukeko tent. As for wind, again there wasn't much. I later found out from multiple other locals that typhoons don't really hit Hokkaido very hard—they experience rain for a few days and that's usually it.I'd kind of suspected that the man's warning was over-the-top. Camping in even the slightest amount of rain seemed to be unthinkable to him and many others I spoke to. Well, no one likes camping in terrible weather, but isn't a bit of wetness generally considered manageable?According to many reactions I've gotten here, not really. Then again, I've also witnessed some Japanese campers out in the rain with me at the campgrounds. I think it just depends who you talk to. But I knew now that I should take advice from anyone that didn't camp regularly in Japan with a grain of salt! Otherwise I would be cashing out for hotels every time it rained a little, and that definitely wasn't the point of trying to do a "Camp Japan" trip.
All in all, though, I learnt something new about myself, and that's that I don't just camp because I want to save money or even because I want to be outdoors. More than that, I actually prefer sleeping in my tent to sleeping in a hostel.
I mean sure, the beds in the hostel were softer, I was a tad drier, and they had showers and WiFi, but, honestly, my tent is pretty waterproof, and I only get a little wet going in and out of the entrance. Inside it actually gets pretty warm, as it's well windproof and seems to trap my body heat.
Best of all, though, I don't have to struggle to fall asleep to the sounds of a stranger snoring in the next bunk, I don't have to feel that self-consciousness one unavoidably gets when sharing a room, and I don't have to worry about being polite, i.e. not making noise getting up to go to the toilet, keeping my light on till late if I'm reading, or lowkey fighting with the other dorm guests over what temperature to set the aircon to.
I don't have a set check-in or check-out time; I can stop and stay as I like; and unlike hotel or hostel rooms, my tent never changes—it's surprisingly comforting to sleep in the same familiar place (of sorts) every night, even if the campsite is different. Even though I'm traveling, and every day is different, with my tent as a companion I can get into regular routines of setting up my stuff inside my tent in the same spots, pre-sleep prep and so on.
Few people seem to believe a tent could be better than a hostel or especially a hotel. But I don't know; even with the really nice hotels, there's always a sense of unfamiliarity and superficiality that I think would incline me more towards homesickness than any kind of comfort. With my tent, I don't feel that. My tent is a home of its own.
Instagram: instagram.com/elisooker
Facebook: facebook.com/Eli-Sooker
Twitter: twitter.com/elisookerDon't forget to share the article!
About the Creator
Read my articles or tip to support!
Blogger, Writer ✍️・Wildlife photographer, Bear Conservationist 💚・Adamant traveler ✈️・ Hiking, Camping・Getting amongst this crazy world 🌍elisooker.wordpress.com
Reader insights
Be the first to share your insights about this piece.
Add your insights