Camden Market
Favourite markets in the world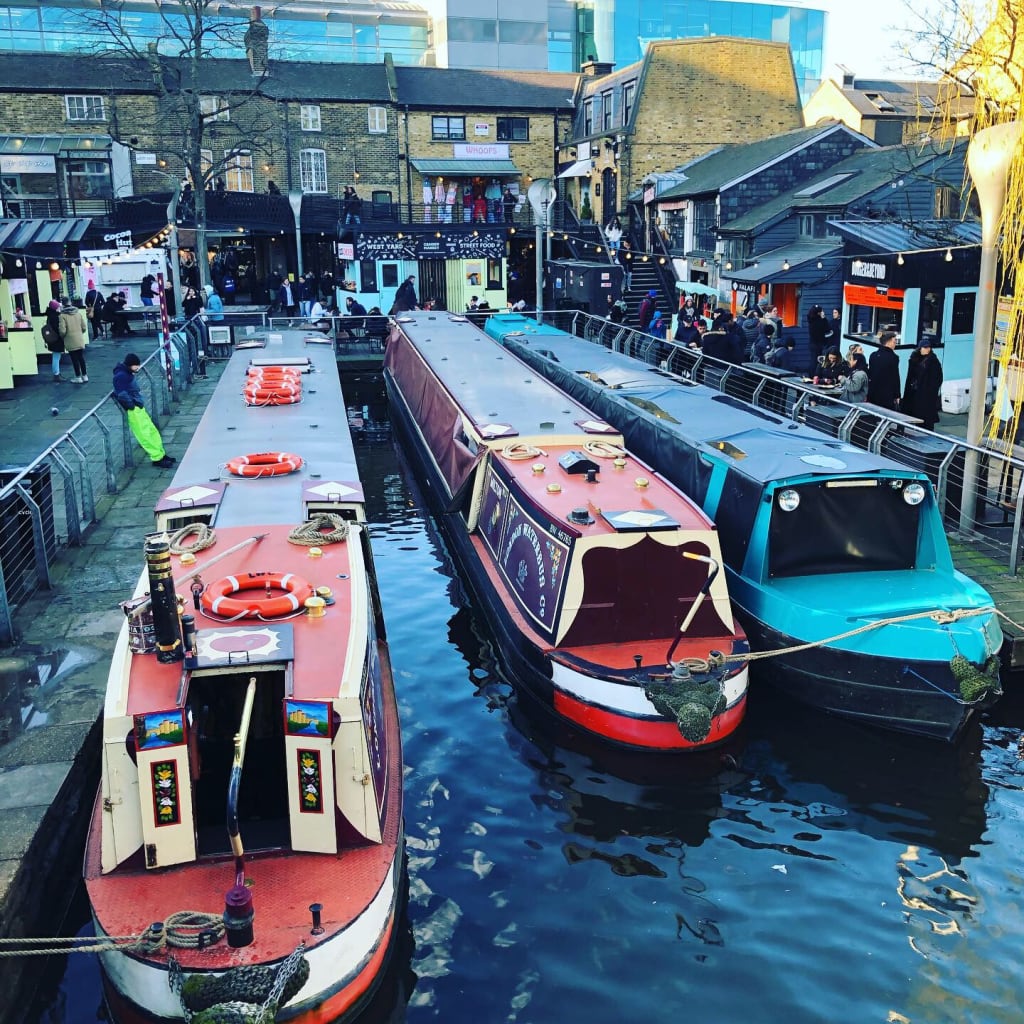 Camden Market is one of the best markets in the world, and one of my favourite places in London to go to. I've been there many times and each time it offers something different and feels like I've travelled the world. I have been to lots of countries, but I have never seen or been to anything like Camden Town. It really has something for everybody and things you might not even think off. What I love about the place is the diversity.
You couldn't miss the iconic Camden signs even if you tried. The whole area is bustling with colour. If there's anything you're looking for, there's a chance Camden might have it. Himalayan salted lamps, Japanese sencha, handmaid handbags and vintage vinyls, it's all there. Every time I go there, there's always something new. There's always a huge variety of food and drink to please everyone. I look forward to going to this place again.
As a place that is very open minded, the whole place is full of character. There's probably lots of places and stalls I don't even know about, but I think I've seen a lot of them. I always remember the orange juice stands with clumps of oranges all around it.
I was sad to hear that Chaboba had closed. There were an old bubble tea place that I used to love going to, but that is sadly gone now. They do however have a store in Wembley that I go to often when I'm seeing a gig there.
The food scene here is amazing. It's much more than your regular burger and chips. There's an alleyway dedicated the Asian cuisine and most of them will let you try their chicken. Some of the food stall owners are great characters in themselves like the Chinese man who sang his heart. It was like something you'd see from X Factor or Britain's Got Talent, but don't expect a yes from Simon.
I've had great chicken, sushi, and curries from the stalls over the years. Never had food poisoning once from there. I love how there's food that is quite uncommon like African, Caribbean, Ethiopian and I think there were a stall selling Egyptian food. This is a great place to try all-time-favorites and also discover something new.
My favourite shops from Camden, that I always try to look in when I am include:
Camden Tea Company
I often see them do pop up stalls in conventions, and their teas are really nice. They've got a super mixture of teas and flavours including green, black and fruit teas. The selection of loose teas are healthy as well. I enjoy their range of Japanese green teas and would reccomend their Lady Earl Grey.
Camden Lock Vinyl
I've bought some great records from this shop like Whitesnake's self-titled album, Killers by Iron Maiden, and one by UB40. I also bought some vinyls as gifts to friends and family in this shop as well.
Moomin
Moomin is a cute and lovable character created by Tove Janson. The Moomin shop in Camden has so much merchandise for Moomin that I didn't even knew existed. I had a lovely Moomin dairy from there.
Wild Horses Music
I remember buying some albums in this shop that went on to become some of my favourite albums ever which included the likes of Absolution by Muse, Without You, I'm Nothing by Placebo, Violator by Depeche Mode and Kate Bush's Hounds of Love.
Japan Craft
I think this one is a more recent shop. As someone who is interested in Japanese art and culture, I thought this shop is awesome. They sell a mixture of stuff like pocky, plushies and books.
Turkish Delight
I've never bought any of the lamps, but I love going in here because of the colours and the atmophere. The lights are beautiful and if I lived in the London area, I would have probally ave owned one by now.
On top of great shops and places to eat and drink, they've also got a great nightlife. Before the lockdown, they had regular events and gigs. One day isn't enough to go around the whole area.