California Gold Country Road Trip
San Francisco to Sutter Creek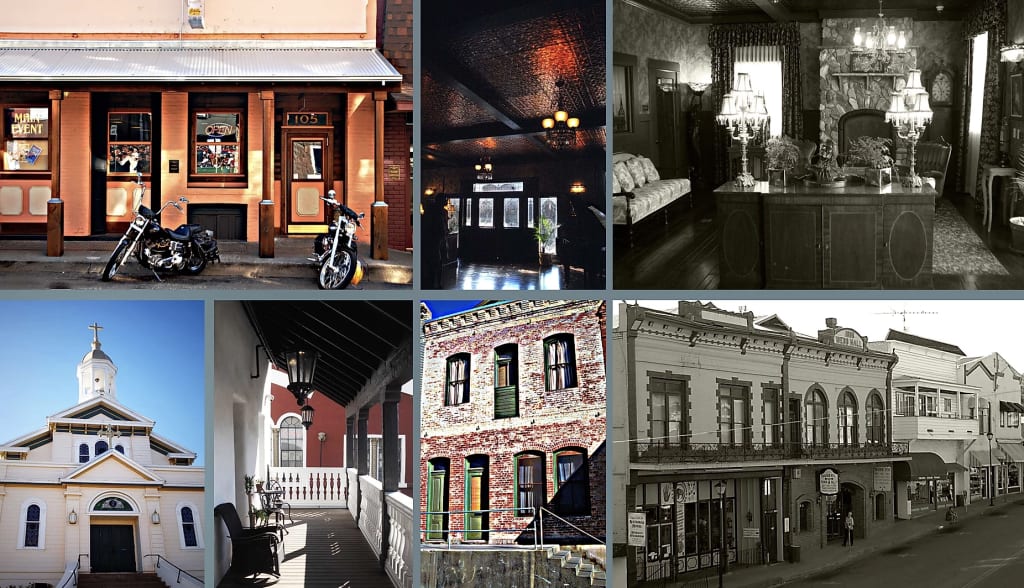 Jackson's main strip, and Jackson Hotel
It is rare to have one day to oneself, not to mention four. So I set out to find the best 3 day roadtrip getaway that would be part adventure, part leisure, within a 300 mile radius of home. With 15 pages of printouts from every source I could find on the Sierras, I determined my route in part by room availability. Given the mileage I was aiming for, and the intent NOT to spend every day, all day in the car, I decided to leave the Southern Tahoe, Carson City area to another trip. But the Eastern Sierras and Highway 395, touted as an area not to miss, were beckoning me.
After miles and miles of flat, of apple trees, of grape vines, of cows, sheep, and olive trees, I see a small silhouette about an inch high of the Sierras… A few more miles of up and down on an undulating road that my kids would give an eye tooth to ride on before the hills of the M*A*S*H set loom in front of me. I stop along the road to get a picture of a beautiful red barn set against the rolling hills covered in knee-high hay. The second I open the door, 15 flies decide to take refuge from the 90 degree heat and duck into my air conditioned car. It took me two days to get them all out.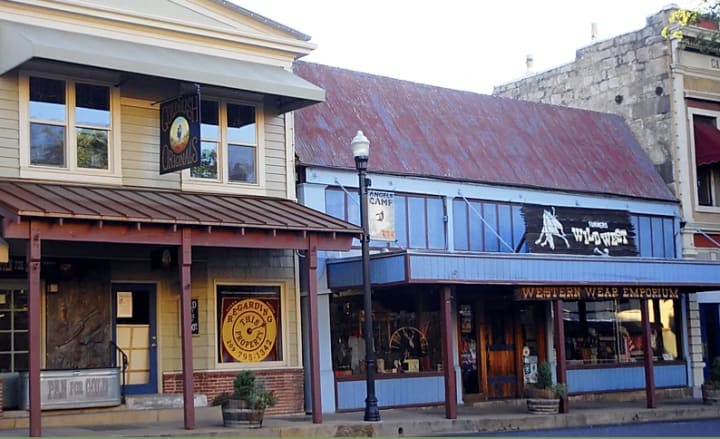 Angels Camp was my first stop (who could resist a town with a name like that?!). Crepe myrtles, old Ford trucks, front porches- the place felt like a step back in time as I strolled along the one-street town. Peering in Turners Wild West I see lots of wood, boots and cowgirl bling.
Sue's Cafe looks like kind of place I would normally tuck in for a late breakfast: kitschy, rustic, wood tables, open til 2 (though it is noon and not open at all today).
I couldn't resist the temptation to follow the huge arrows to the Moaning Cavern gold mine. Discovered by gold seekers in 1850, these naturally formed caves yielded nothing much more than bones, some over 13,000 years old. There is now a rappelling tour, and a zip line, but more impressive to me was the 91 year old stair system of 200 spiral steps. The guides do a good job of bridging historical interest with lighthearted antics, including pointing out ET's face in the rock formations for the kids. Claustrophobes beware.

Sutters Creek oozes Americana charm, with its brick buildings, colonnades, and waving American flags. Every other storefront is an antique shop. Awnings and benches line the street. There are two cute bed and breakfasts with overflowing gardens- almost a little European pull. The cheese shop is small but perfectly quaint and full interesting, modern tastes. I left with a truffled sheep's milk and an herb dusted hard Italia, both fabulous. Décor next door is worth a stroll-through. Personally, I loved everything in it; if I had a cabin I would outfit it from this store with antique drafting boards, rusty animals, old lanterns, and spice drawers.
Bazinett Hotel is the shell of what it must have once been- the vim and vigor of this John Wayne-style town (in fact the Bazinett Hotel starred in one of his movies). I learn that Bazinett once ran a hotel in my hometown of Pacifica prior to moving to Angel's Camp.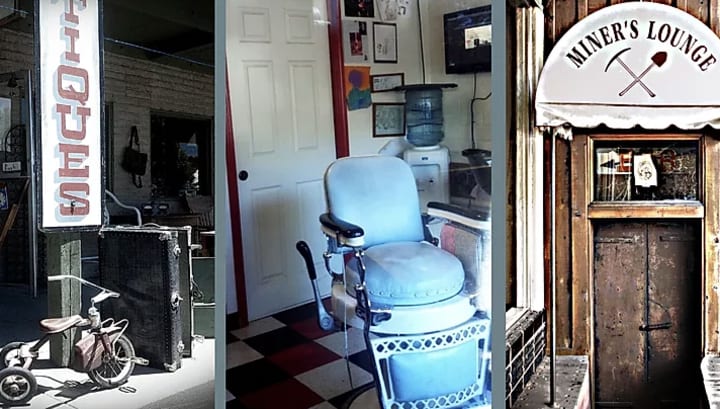 The oldest hotel in California, Bertolli's, beckoned me in for a beer. It is a little barren, but considering the number of boarded up storefronts, including what once could have been a throw back saloon, Bertollis was the most hoppin' place in town.
National Hotel in Jackson is where I decided to put up my boots for the night (yes, I took boots). The whole place, including the period dress of the desk gal, is decorated in 1900's style. The shiny, copper, textured ceiling plates throughout hotel stick with me most- that, and the off-kilter, creaky floors outside my simple, but well appointed room, overlooking main street.
Downstairs is a dark, cool bar which is a good place to catch up on chat with locals and have a casual dinner or drink. Don't let vinyl booths in the restaurant fool you, the filet mignon holds its own. The peach and spinach salad is delightfully fresh. Wine list includes one or two local choices. The rest of town was ghostly after 5:00...only the two bike bars showed any life.
I was happy to flop into bed at night-such a quiet place. Tomorrow, Bodie and Mono Lake, and more falling back into time.
About the Creator
Wanderluster, wine drinker, pro photographer and travel designer. NorCal boutique studio for weddings and portraits, but I love to discover new corners to write about, shoot, and share through creation of unique itineraries.
Reader insights
Be the first to share your insights about this piece.
Add your insights