Burger Boyz Patong
A Full Review on a Great Burger Joint
Price Range: Low to Moderate
Experience: Relaxed Outdoor Burger Joint
Food: Burgers, Hot Dogs, French Fries and Rings
If you are like me and have been in Thailand for a lengthy period of time, one of the things you really start to miss is a good hamburger. I always find Thai burgers to either be lacking in flavor or missing the proper spices. After all not everything needs to have a Thai flare on it all the time. The other thing I always have an issue with is french fries. In Thailand even places like McDonalds and Burger King tend to under cook them a little. French Fries are something that should be crispy and require a small amount (or more) of salt.
My friend Max introduced me to the Burger Boyz, and I never looked back. I will not go anywhere else for a beef burger except here. I make them at home but I do not own a proper grill so when you want that charred burger taste nothing can substitute the real thing.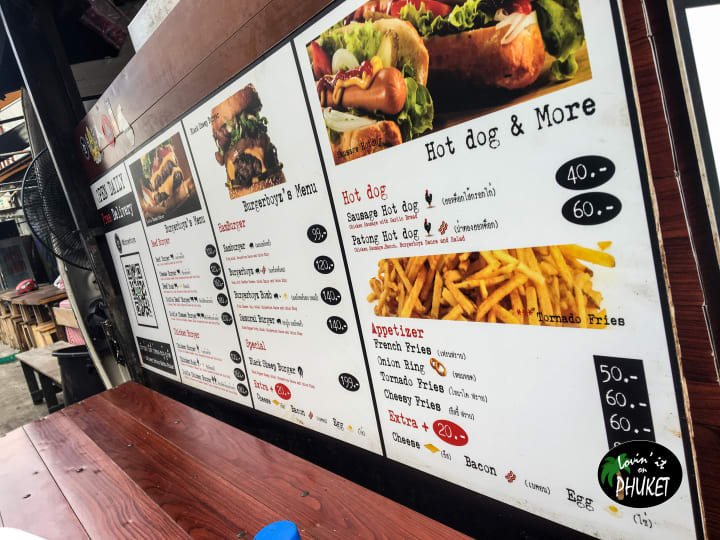 Burger Boyz Patong offers all the fixings to make your burger great. They even have fried onions and will make bacon crispy but not burnt if you ask. If a burger is not what you are after and you prefer hot dogs, they have those too. Unlike most places in Thailand they actually offer the hot dogs on buns. Yes that is right, you can get a traditional North American hot dog on a bun, its standard on the menu. If you have ever been to a 7-11 or family mart you know exactly what I am talking about here.
The price at Burger Boyz Patong seems to be moderate but when you see the portion sizes you will understand why. Beef is not an inexpensive item in Thailand and by Thai standards the burgers are huge. The dogs are a fair price however and taste really great when you have not had one in months. I don't normally eat hot dogs, they are a once a year thing for me when I go to a sporting event. But they are really good here at Burger Boyz.
The french fries are cooked to perfection so don't worry about getting limp potatoes here. Burger Boyz Patong really knows how to make the food they offer, a unique experience in Thailand for Western food. I often find many places screw up our dishes by changing sauces or adding spices that just don't belong in the dish. I understand we are in Thailand but when you are craving food from home, you don't want them to add fish sauce, chili or any other Thai seasonings. You also look for it to be cooked correctly. A clear example of this is if you ever go for a steak here in Thailand. Many places sell T-Bones paper thin. If you don't want the steak well done you are pretty much out of luck and it is going to be seasoned with steak spice and chili.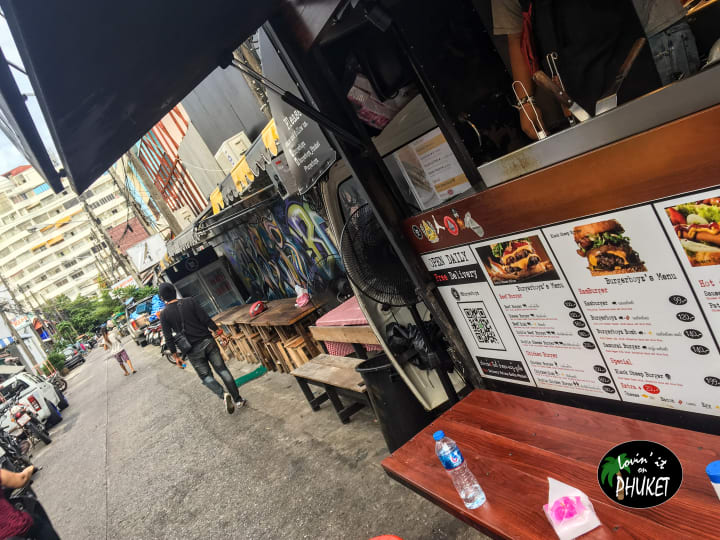 I recommend Burger Boyz to anyone looking for a real burger with real sides. You won't be disappointed even in the least. They understand that french fries need to be crispy. They understand what makes a hamburger taste like a burger. They offer toppings like fried onions and if you ask for something to be cooked well done they actually do it. If you have a Thai with you and it's not their preference to eat this kind of food don't stress it. There are lots of places directly across the street for them to get Thai take away while your burger cooks. Another option is to use the free delivery offered by Burger Bozy. At no additional fee they will bring it to where you are. The only drawback is having french fries delivered to you almost certainly guarantees they will be soggy. Its very difficult to keep them warm and not have condensation build up in the container.
Useful Links:
Burger Boyz Location on Google Maps
Burger Boyz Phone Number: 087 388 2010
For great videos and images from around Thailand, check out the Lovin' it on Phuket YouTube Channel, Facebook Page and Instagram Account. If you are a blog writer you can find images available on Adobe Stock, Getty iStock and Shutterstock by following these links.
 Shutterstock    
Happy travelling to Phuket and beyond! There are more interesting articles to come. Thanks for reading and showing your support.