Brown-Lowery Provincial Park
A trip to heaven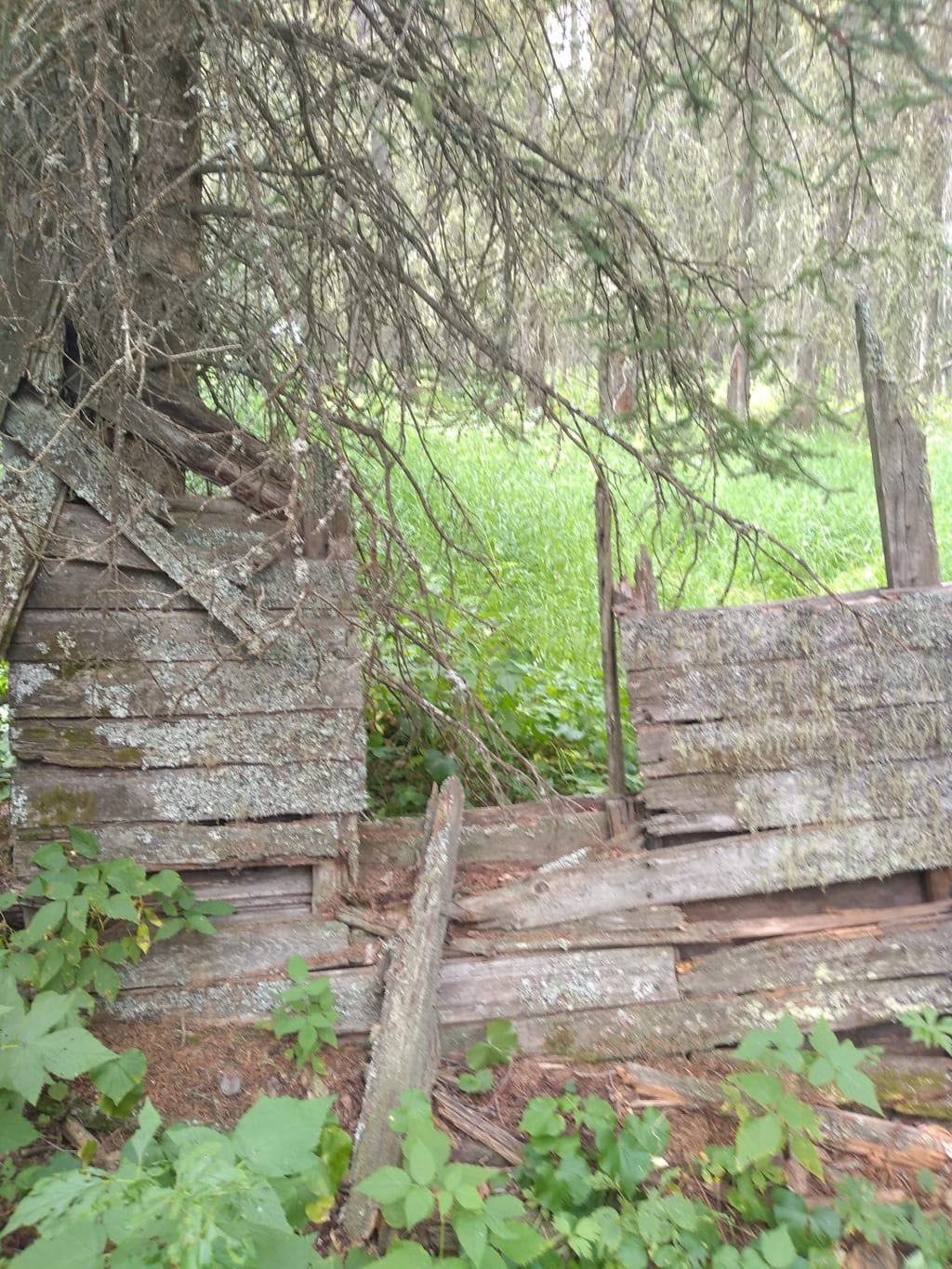 Remnants of a cabin once used when there was logging in the area.
Since Covid-19 made its appearance in 2019, many changes continue to be made to our everyday world. We recently heard on the news that Kananaskis Country will now be placing a fee for visiting there, and you can pay either by the day or buy a yearly pass. This is if the Land Amendments Act (Bill 64) passes which it probably will. Right now the fees don't seem to be a large amount; but as we know once the hooks are in, they only grow. I have always used the mountains as my escape from the city and harshness of city life, and last year went hiking weekly from June till November, so this news was not the most welcome I've ever heard.
Even with such a fee, there are many open places to roam without having to visit Kananaskis Country. Unfortunately it is one of my favourite places, but I guess it is overrun now. I remember hiking in the Sheep River area years ago and the area was not very peopled. Last year we went many times and most of the times the parking lots were full or almost full. If you're more on the hermit side like myself, this does not make for the most pleasant hiking time, but the good news is that there's plenty more hiking spots here in Alberta.
If you're looking for a smaller well-treed park to hike, one that is a favourite of mine is Brown-Lowery Provincial Park in Alberta. My brother and I have come back here a number of times, and I've brought my two granddaughters as well. This is a beautiful park whichever trail you hike. In the summertime it is very green and lush and it makes me think I'm back in time to maybe a time dinosaurs roamed the earth because everything looks larger than life.
Not only does it have some ruins of old log buildings - we found two - the one pictured above and another along the pathway, it has many animals and greenery to behold. The ruins of the cabin above are found by travelling down the Chickadee Trail and turning north onto the North Old Mill Trail. You'll find it before reaching location 9 on the map.
My brother saw a black bear with two cubs last year, but we kept our distance for obvious reasons. There are numerous paths to follow as well, so you have your choice and can come back many times and follow different routes. We had just gone last week, and it was snowing (this is mid May). The snow wasn't that deep, so we still went on our hike. I always like to go to various places in different seasons because they always look different and each season has its own allure.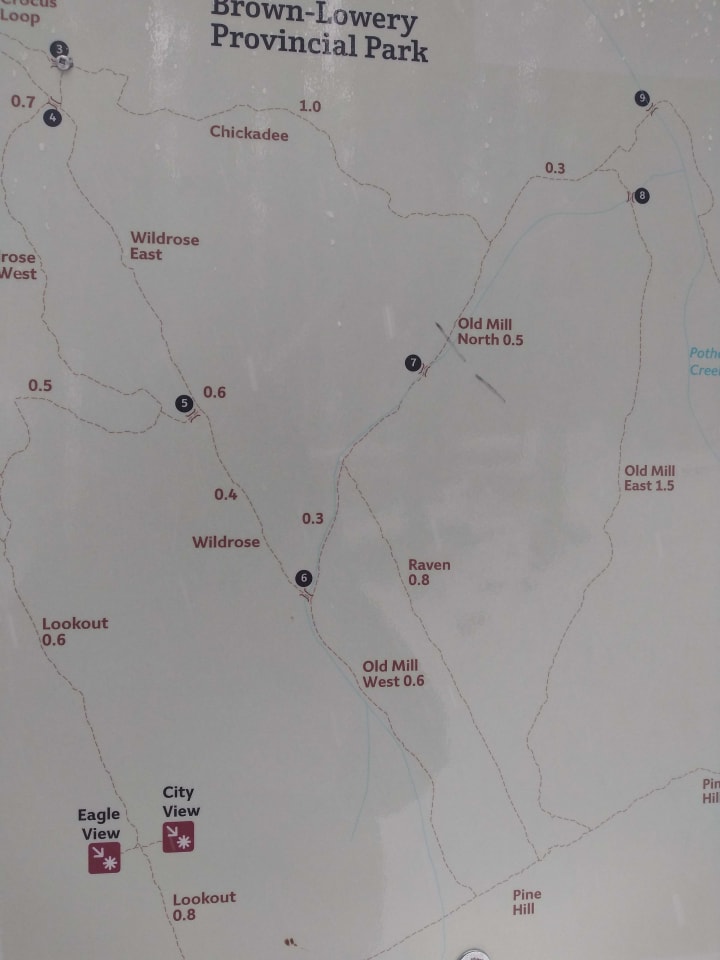 The views from Eagle View and City View here are wonderful as well and along the hikes you can find raspberries in some parts. When I came with my granddaughters we stopped at a small bridge (location #9 on the map) and there we sat being surrounding by dragonflies all around us. It was surreal and the feeling you get is too good to ignore.
I've tried to look for any sign of where the old mill was, but I haven't found anything. I thought maybe part of the building might still be standing. I will keep my eyes open and perhaps this summer I'll have better luck in searching it out.
When you go to Brown-Lowery Provincial Park, they have a donation box to help upkeep the trails which I gladly give for such a beautiful location. They ask for $5 for a carload, so I think that is quite a reasonable amount. There is also a picnic table in the parking lot as well as washroom facilities available to use in the parking lot. The other bonus to coming here if you're from Calgary, is it is not a long drive out.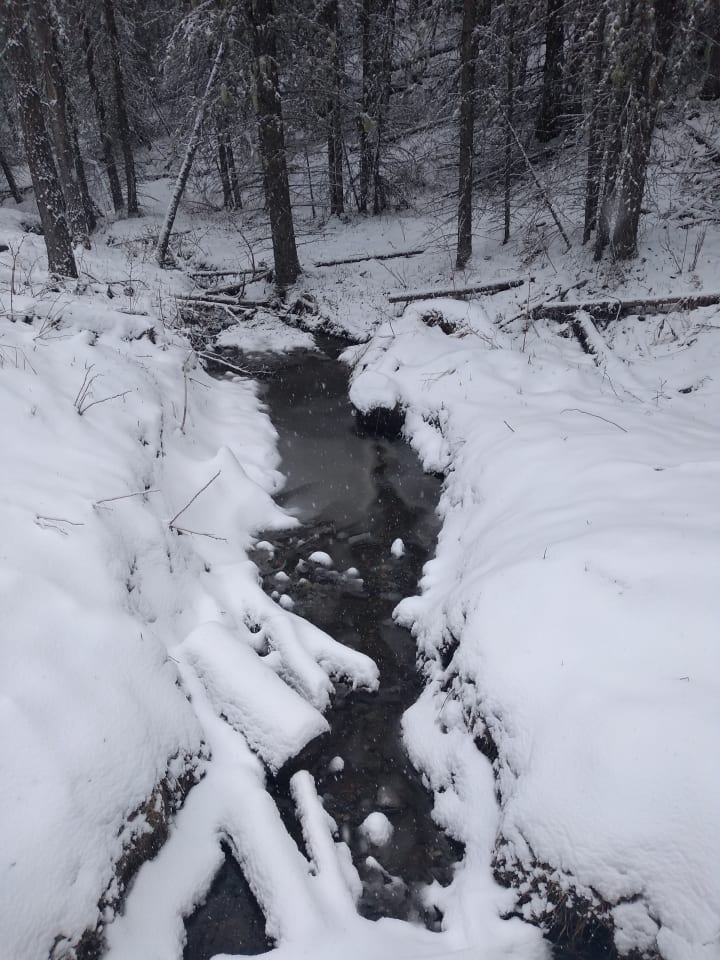 canada
I am a grandma of three; I enjoy hiking, reading, cooking and Halloween. I mainly enjoy historical and horror films or books. I also enjoy exploring old sites and taking pictures.
Receive stories by Yvette McDermott in

your feed