Blake McCoy on How to Have an Immersive Travel Experience
As an avid traveler, Blake McCoy of Chicago shares how to have an immersive travel experience.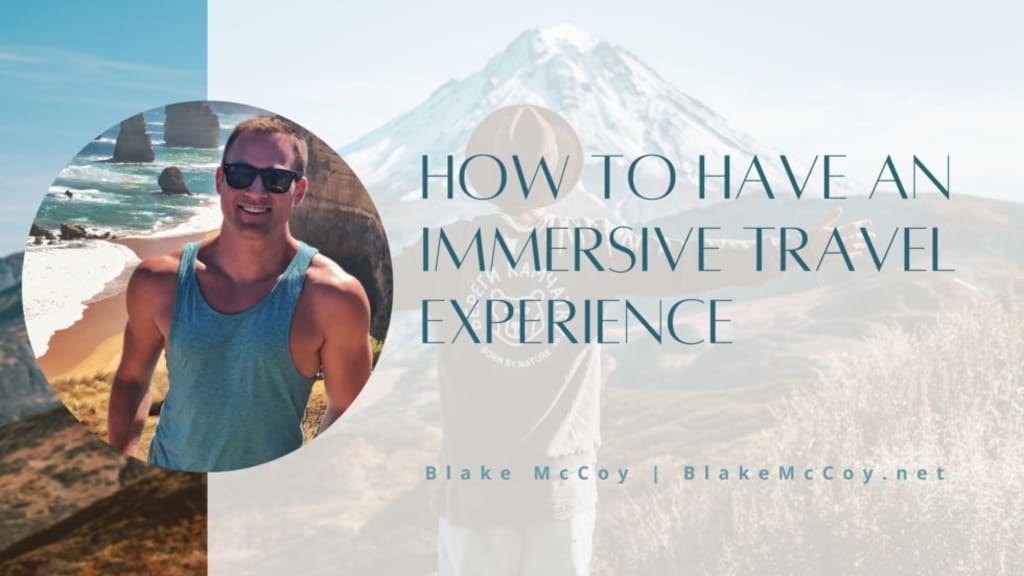 https://blakemccoy.net/how-to-have-an-immersive-travel-experience/
An immersion travel experience is about experiencing a local culture and interacting with people authentically. It allows travelers to give back to the community and go deeper than they would during a typical trip. Here are some tips to get started if you want an immersive travel experience.
Public Transportation
Getting around the city more authentically is easier with public transportation. You'll be able to get around quickly and easily as you're surrounded by locals and street vendors, which shows you what life is like in a place that's different from your usual routine.
Dine Locally
Participating in a local culture's cuisine can help you learn a lot about its traditions. Local restaurants and street food vendors provide a variety of prepared dishes that their owners and staff members lovingly make. They're able to give a more authentic and intimate dining experience than the chains that have become standard in modern travel.
Stay in a Guesthouse
A guesthouse is an excellent alternative to a standard hotel room as it allows you to sleep in the local family's home. These types of accommodations are both budget-friendly and comfortable. During your stay, you can pick the brains of the locals and get some great insight into the area and how it functions on an everyday basis.
Learn a New Language
If you're planning on staying in a country where you're likely to encounter a language barrier, such as Mexico, you should brush up on Spanish. Doing so will make it easier for you to communicate with the locals. Being able to speak the language will also help you show greater respect for the community.
Flexible Scheduling
One of the most essential factors that you should consider when it comes to traveling independently is being flexible. The freedom to change your plans can help you save time and make your trip more enjoyable. Having a plan that's too planned out can limit your freedom and prevent you from experiencing the things you want to see.
Research Customs
Researching beforehand will let you easily value and embrace their culture. Doing so will allow you to earn the respect of the people in the place you're staying. Before you go to the beach or a temple, make sure that you know what to wear to avoid offending the locals.
ABOUT BLAKE MCCOY
Forever curious — Blake McCoy has built a successful career as a broadcast journalist by traveling to new places, seeking out new people and questioning everything. Even the biggest news stories start with a tip or hunch. A journalist explores it from all angles until a story takes shape. That boundless curiosity is what makes travel Blake McCoy's favorite pastime.
Blake McCoy marked his first foray overseas studying a college semester abroad in Manchester, England. Living alone in a new country helped Blake develop the confidence to continue exploring. He spent several weeks during that time visiting friends studying in Egypt and Greece. Upon returning to the United States, Blake immediately enrolled in a winter break abroad, earning credit traveling Prague, Budapest, Vienna and Bratislava.
Since college, hardly a year has passed where Blake McCoy didn't travel abroad. Italy and Spain meant exploring historic wonders like the Colosseum, Vatican and Sagrada Familia while indulging on mouthwatering cuisine. Blake McCoy traveled to the confluence of East and West in Istanbul, Turkey. In Israel, Blake walked the sacred steps of Old Jerusalem, floated in the Dead Sea and enjoyed beaches and nightlife of Tel Aviv.
Standing in Beijing's Tiananmen Square, Blake McCoy examined a modern China's hesitance to a more a globalized world. Blake explored the Forbidden City and walked along the Great Wall of China. On a visit to Hong Kong, Blake stood awe of the dazzling skyscrapers and a vibrant modern culture just before violent clashes and government clampdowns by Beijing.
Other notable travels have taken Blake McCoy to Greece, Malta, Thailand, Denmark, Germany and Costa Rica. He welcomes any discussion about travel and would love tips from your own journeys!
About the Creator
Blake McCoy is a dynamic, engaging broadcast journalist with a depth of experience. As a network news correspondent, Blake has traveled the country sharing stories of human triumph and tragedy, struggle and perseverance.
Reader insights
Be the first to share your insights about this piece.
Add your insights