Black and Gold
On a Motorcycle-Photo Tour of Virginia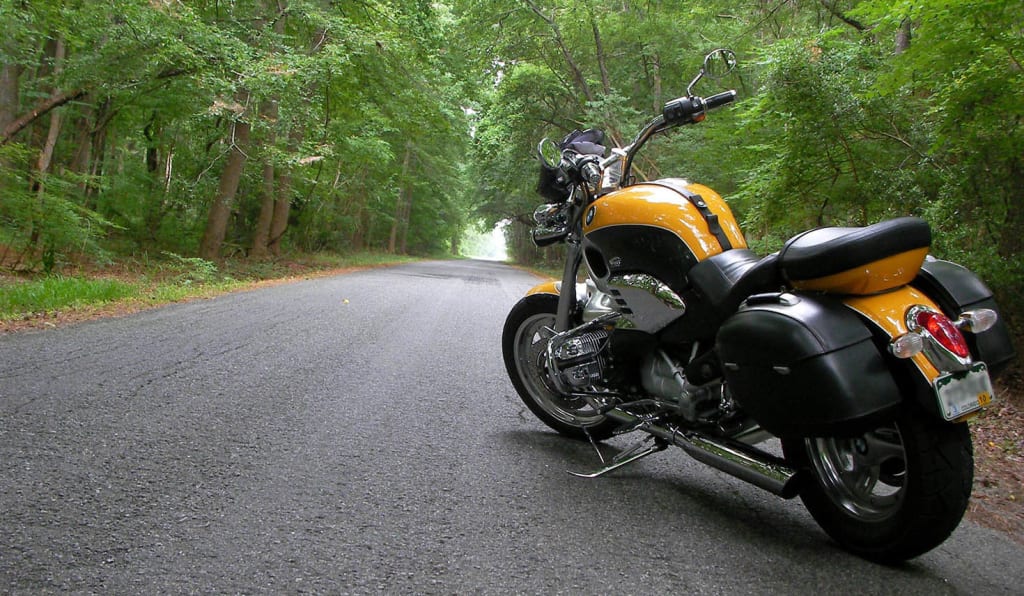 Somewhere on Virginia's Eastern Shore. (Photo by M.S. Humphreys)
It was summer 2009, and my divorce was final after a Colorado mandated three-month separation. One month prior to being "separated," I had just returned from a difficult 15-month tour in Iraq. While deployed with the 4th Infantry Division in Baghdad, I was part of a combined arms team of nearly 6000 U.S. service members fighting to win The Battle of Sadr City through the worst combat since the initial invasion of Iraq in 2003.
After my Iraq experience and a welcome home wrapped up in divorce papers, it is safe to say that I was not in a very good place in my life. I found solace in photography and the open road and fortunately I was afforded the opportunity to combine those pleasing activities near my Appalachian home. For the summer, I was assigned to a three-month course at Fort Lee, Virginia necessary for my military career advancement.
I knew I would have to return to Colorado after my course completion, but if I was going to spend the summer on the East Coast, that close to home, a newly ordained single man, I was going to trailer my Beemer and make the best of my time there. Shortly after settling into my Comfort Suites seasonal apartment, paid for by my Uncle Sam, I went online to see just exactly how "Viginia Is For Lovers."
I learned about the Motorcycle Grand Tour of Virginia and decided, "that will do just fine." I would have 12 weekends to hit 58 points scattered throughout the state from the Chesapeake to the Blue Ridge Mountains. It was going to be a great summer putting miles of black ribbon under my ass sitting on my motorcycle and documenting it all with an early model Canon EOS 30D. With only two small saddle bags packed with a change of underwear, swim trunks, a toothbrush and a MacBook, I didn't have a lot of room for lenses, so I opted for the diverse application of a Tamron 18-250mm lens. It gave me the option of wide angle as well as decent telephoto capability.
I mastered my "moto to the next photo" technique only a few months earlier when I stormed out of Colorado Springs on an unscheduled road trip to California after my then wife's first presentation of divorce papers. You can read more about the US Highway 50 portion of that trip right here in A Cold and Lonely Road. The MGTV afforded me the opportunity to put to good use everything my soul most needed right then, two wheels, one headlight and a camera.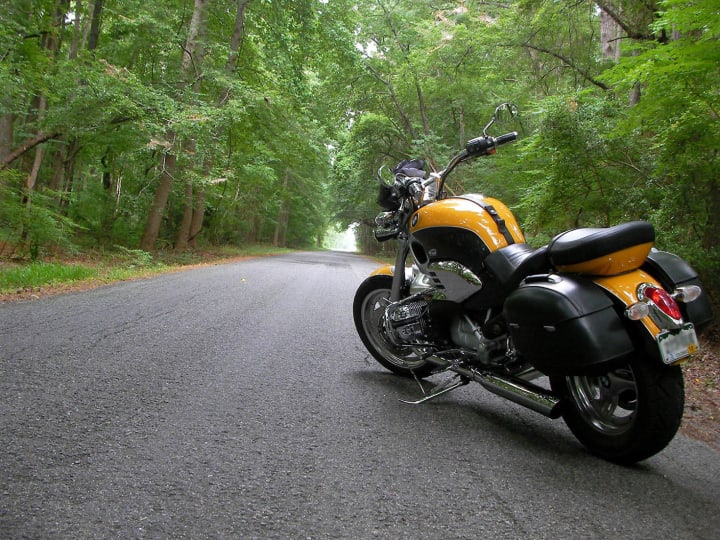 This was an old-fashioned hunting trip plain and simple, only my gun was a camera and my horse, a 2002, BMW R1200C Phoenix I called Frauless. I bought Frauless while stationed in Germany seven years earlier before my marriage of only five years. In Germany this model is called an Independent because it doesn't come with a "bitch" seat. The bike is designed to appeal to the lone rider. I called it Frauless because the German word for wife is Frau and at the time, I didn't have one. Oddly enough you will notice in the picture, Frauless does have a rear seat and so soon after my divorce. I actually met my current wife on this trip, on the Outer Banks, the weekend my divorce was final, June 20, 2009. She attended some of the MGTV with me thus the need for the aftermarket seat.
The more picturesque opportunities of the MGTV tended to coalesce on the eastern or western edges of the state, along the coast or the Blue-Ridge Parkway. Of course, either location created a stage for fabulous sunrises and sunsets. After a long day on the road and resurfacing from the Lucius J. Kellam Bridge and Tunnel, at the southern tip of Virginia's Eastern Shore, we can look west back to the mainland and see the sun sizzle into the Chesapeake. In contrast, clear across the state, there is something spiritual about waking as the day chases away the night to herald a Blue Ridge Mountain sunrise.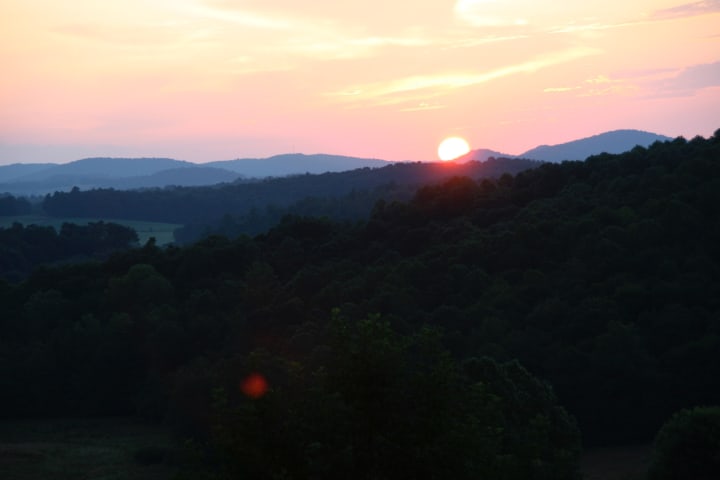 I was fast asleep in our quiet little cabin up the hill from the Blue Ridge Parkway when a swift breeze against the window caused me to wake. I looked outside and saw the sun peaking over the mountains seconds before grabbing my camera and snapping the shot.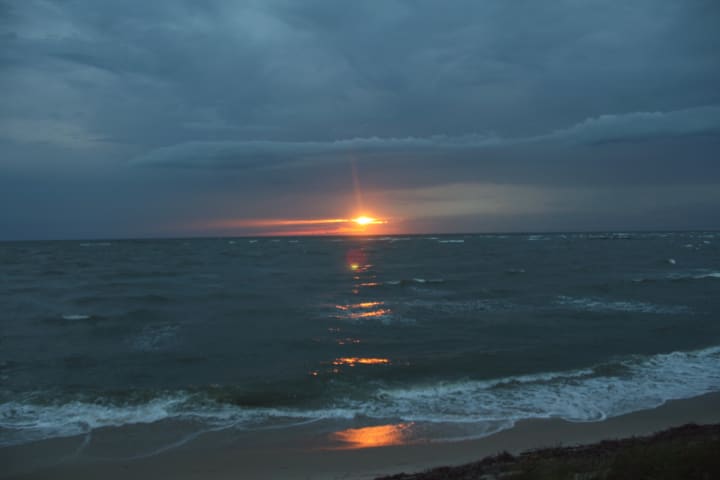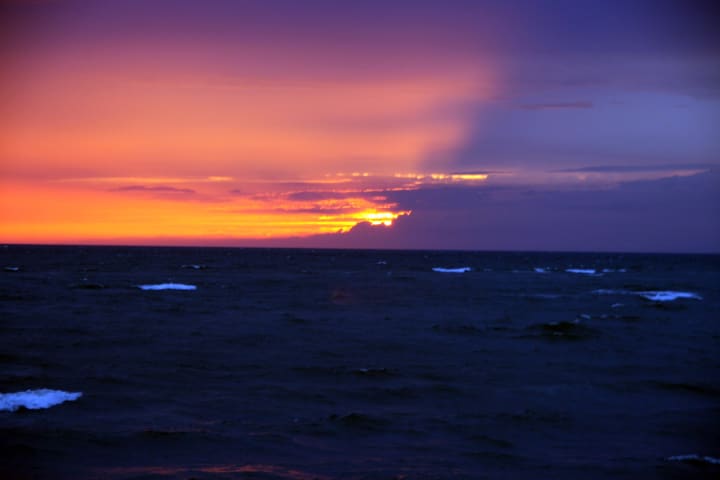 It was well past dinner time and nearing time for a bed when we reemerged from the Bay Tunnel. We wondered if we made a mistake crossing over to the remote Eastern Shore so late. It was 40 minutes back over and under the water to the nearest inhabited area on the mainland, and we wanted to be at Chincoteague National Wildlife Refuge, the most eastern point of the MGTV, before noon the next day. Our grumbling stomachs and sore butts were quickly dismissed however when we saw this gorgeous sunset looking west over the Chesapeake back to mainland Virginia. I love the turquoise sea and sky made that way by a single direct ray of sun piercing a thin crack in the clouds to reflect off the water's surface and then moments later, water and firmament turn amethyst as the last rays of the sun miss the earth all together by the width of a cosmic hair.
As beautiful as the Chesapeake sunset was, awe does not fill a belly and it isn't so soft as to put your head upon, but we did manage to find some greasy pizza and a woefully maintained motel a few miles up the road. Considering the nature of this story is in the photos, I'll save Room Number 10 at the Peacock Inn for a sequel and go on with this story.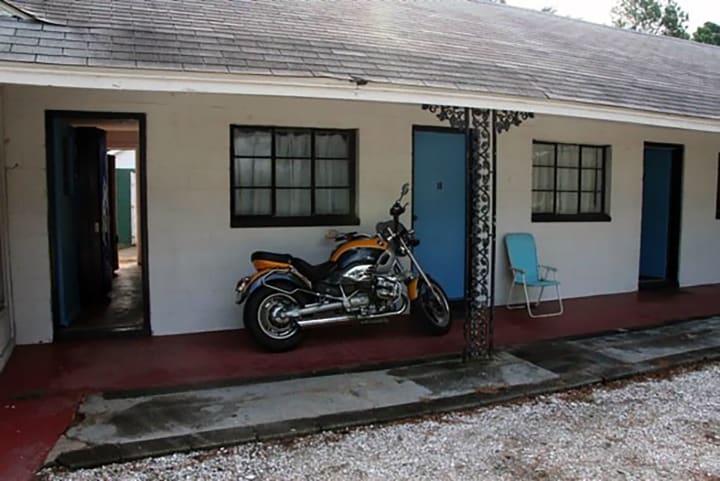 We were up early and rolling to Chincoteague to see the legendary Assateague Horses, a small herd of feral horses trapped on Assateague Island by means still debated today. Though the trip shouldn't have been longer than 90 minutes, I'm easily distracted. I am particularly fond of the birds of prey and seeing several opportunities around Chincoteague Bay to document the Osprey in its natural habitat, I couldn't resist the urge to stop again and again.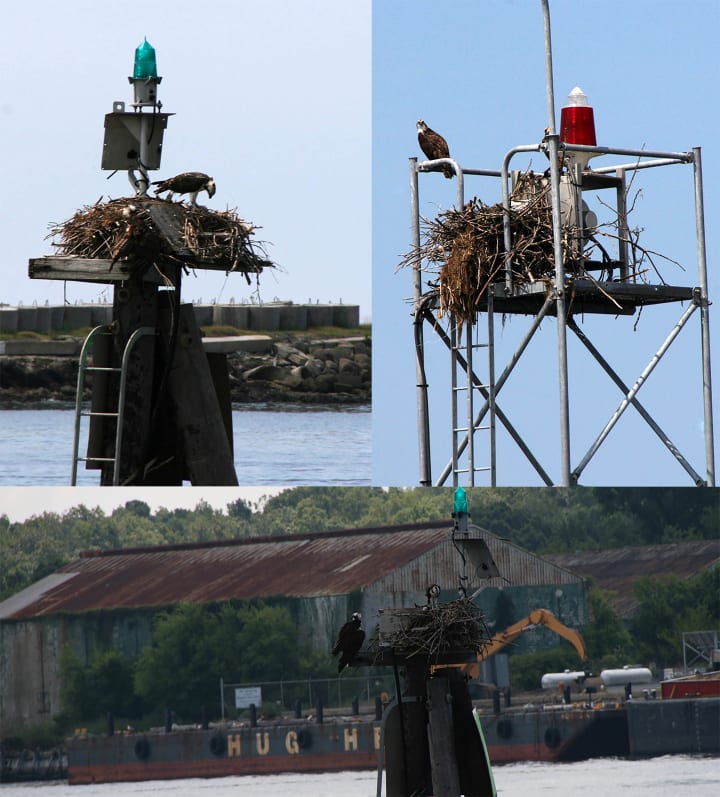 My favorite is of course the one with Daddy Osprey (I think it is the male considering the chest markings) giving me a rather dirty look. At 231mm focal length, I had a sizeable standoff, but his vision was still better than my lens and he seemed to think I was being nosey.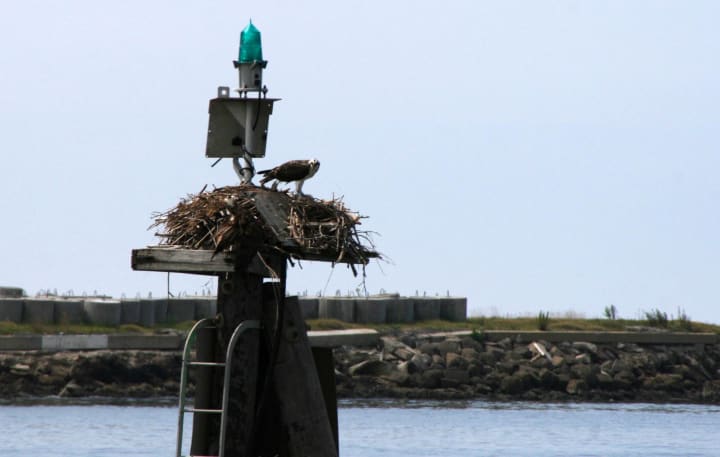 The Assateague Horse is more the size of a pony due to the poor quality of the food they have adapted to on Assateague Island. It may not pack much nutritional value, but these salt marsh grasses with the pines and the lighthouse sure make for a beautiful picture.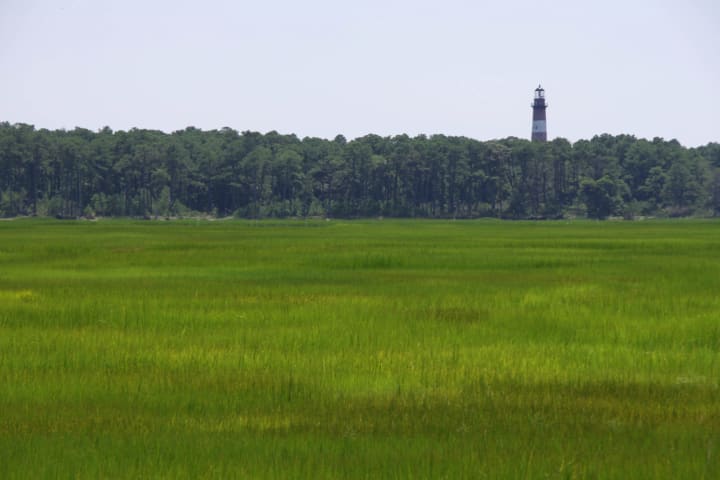 Assateague Island straddles the state line between Maryland and Virginia, but the whole of the island is federal property managed by several federal agencies including the National Park Service. There is plenty of wildlife on the island, but by nature of the island's protected status it isn't possible to get very close, so I was thankful for my 250mm lens. This great egret was fascinated by me as I waited for the horses to run into view and as it turned out was pretty photogenic.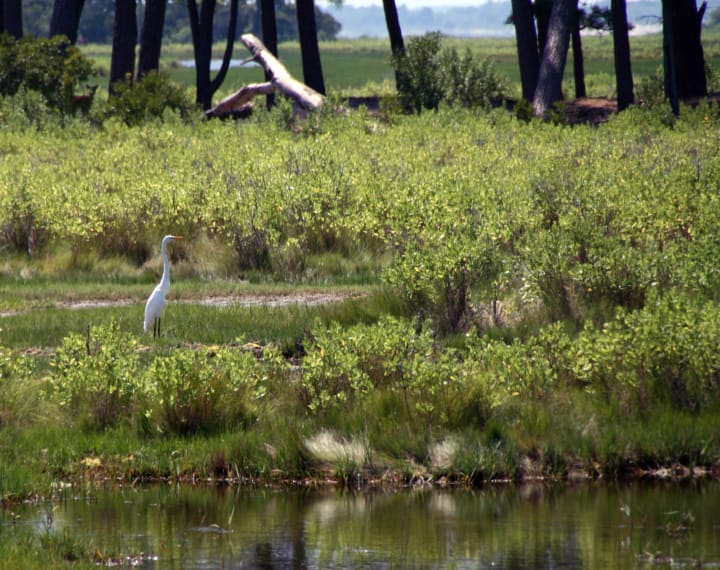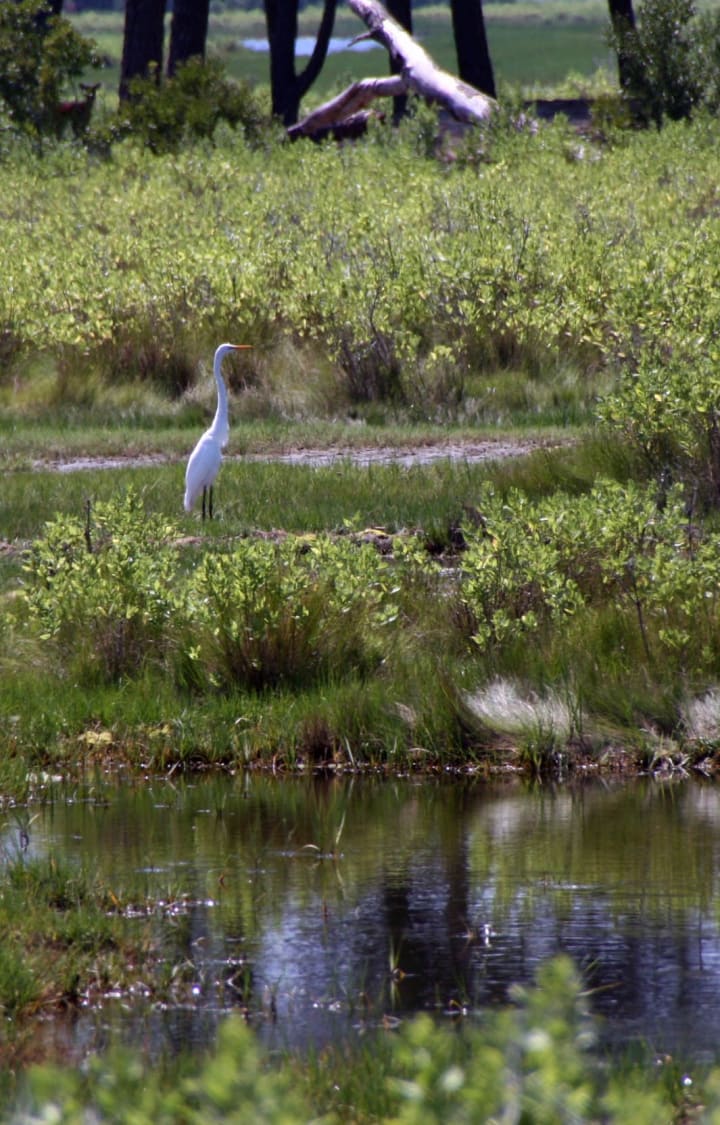 The egret wasn't the only thing watching me as I photograph the horses. I didn't notice it until years later, but there is another sneaky creature hiding in the shadows and keeping an eye on me here too. Can you see her?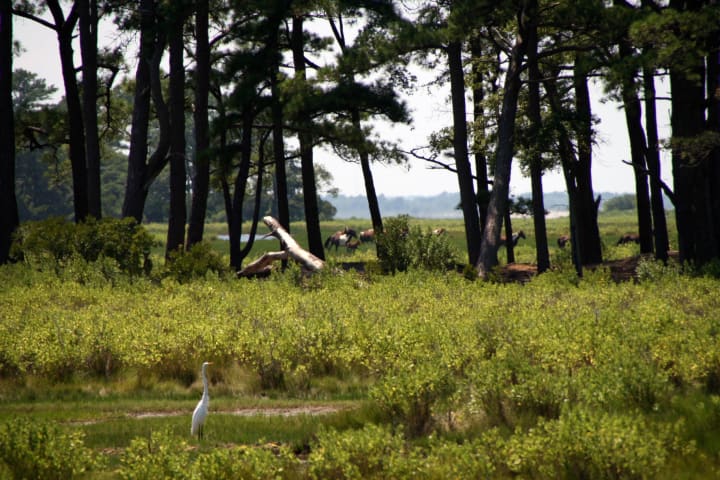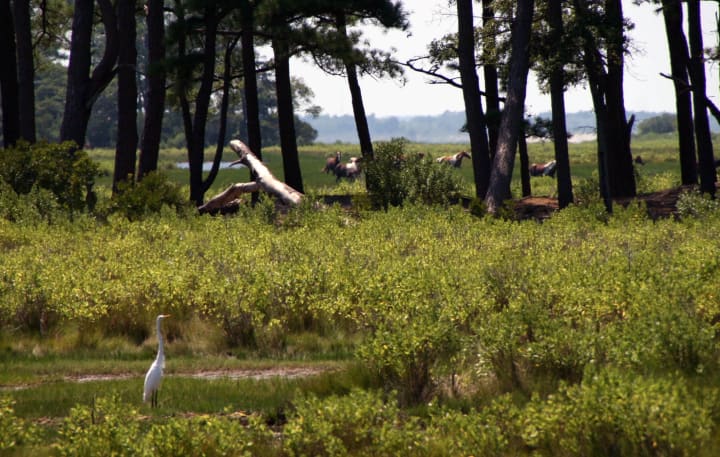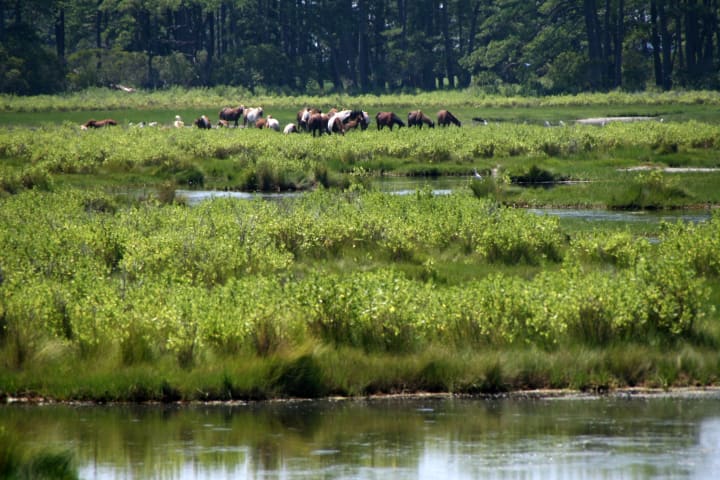 I'll come back to Richmond, Natural Bridge and other photographic moments along the MGTV another time. For now, I want to go back across the state to my Appalachia and the Blue Ridge Mountains for another critter encounter that remains one of my favorites to this day. With high, green plateaus and vast ridges and valleys, the Appalachian Mountains make for some of the best depth-of-field experiments in photography, but then again, I am biased toward my home.
Near the Virginia-North Carolina border along Skyline Drive on the Blue Ridge Parkway, we pulled off the road to look out over an expanse of hills and valleys that disappeared into a ghostly sea of muggy haze that earns the Smoky Mountains their name.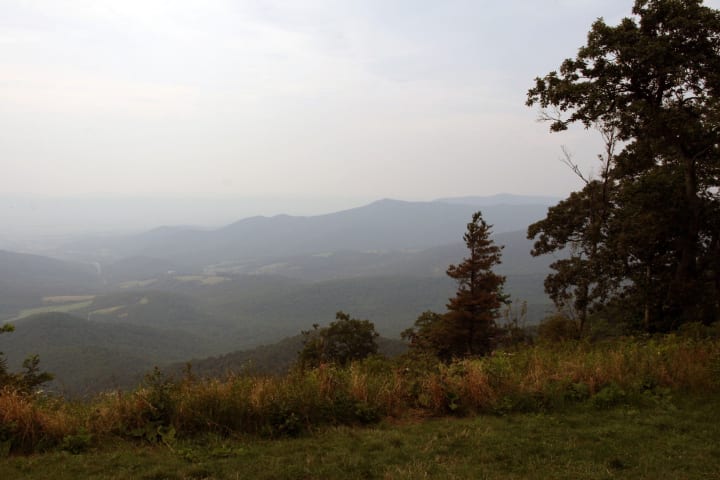 As we stared in awe at the land that fell away in front of us, I noticed a flutter of black and gold near the edge of the groomed grass. A tiger swallowtail was feeding on the nectar of a blooming milkweed, and I sat down to memorialize it with my camera. The juxtaposition of the black and gold butterfly on the pink flowers with green and yellow leaves crisply in focus against a background growing more indistinct as it blurred into infinite white and pale blue was the perfect intersection of time, subject and photographer.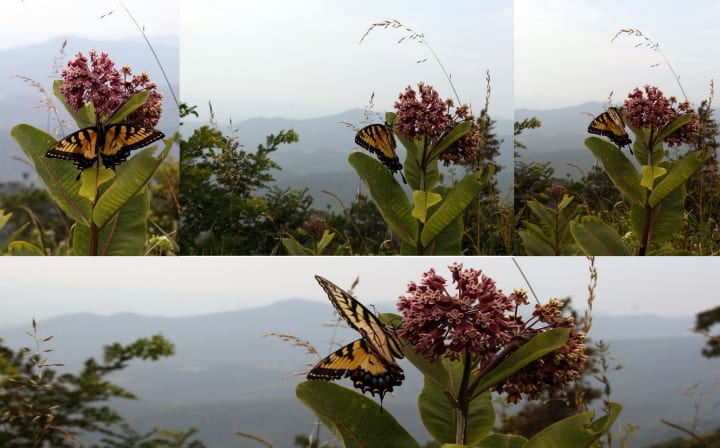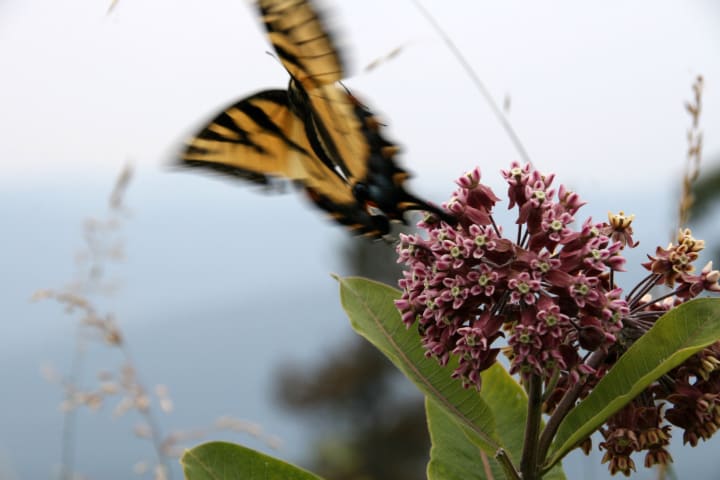 This small delicate creature took a big chunk of my time on this day, but it was worth every second. She was a pretty girl and she didn't seem to mind my camera. She took it like a supermodel, showing me all her beautiful black and gold as she maneuvered around her blooming feast. I snapped at least a few dozen photos of her that day experimenting with all angles and settings. Every photo was my favorite, even the blurred image I captured as she finally took her leave of me. I've gone backward and forward through the series of photos as many times as there are pictures and finally settled on this image that best captures the feeling of this experience and ultimately the feeling of this entire trip – one small world, one brief life and a universe of possibilities.