Guides
Best War Memorials to Visit in the US
Whether paying your respects or learning more about history, the best war memorials to visit in the US offer a sense of honor and pride.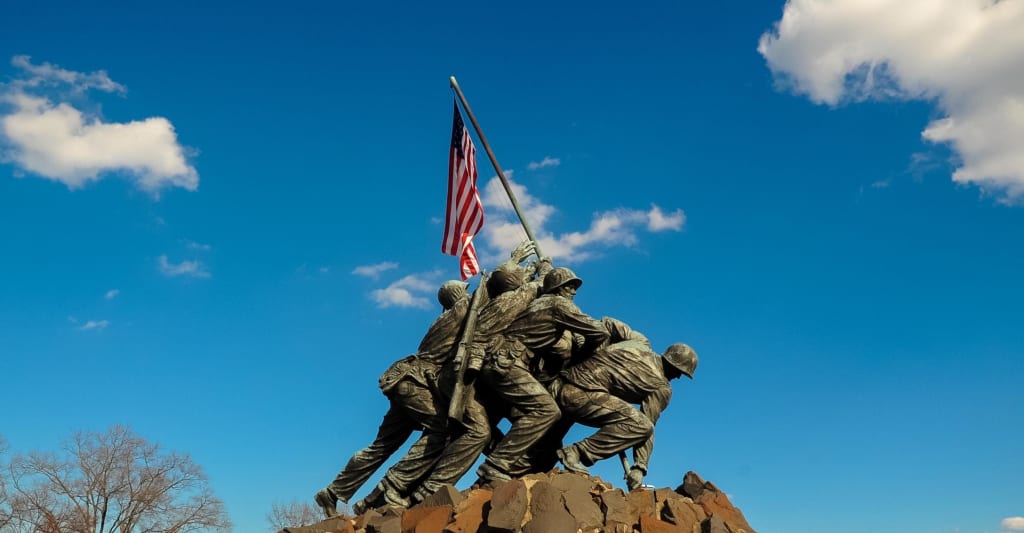 War memorials are incredibly common in America, and it's understandable why this is the case. We've fought in a lot of wars, many people have died, and we are a culture that tends to respect our fallen soldiers.
That being said, there are some war memorials that tend to be more impressive than others. If you want to feel patriotic and get a better idea of the sacrifices soldiers have made, going to one of the top war memorials in the States is a wise choice.
We've looked into it, and according to travel guides, these are best war memorials to visit in the US...
Tomb of the Unknowns - Arlington, Virginia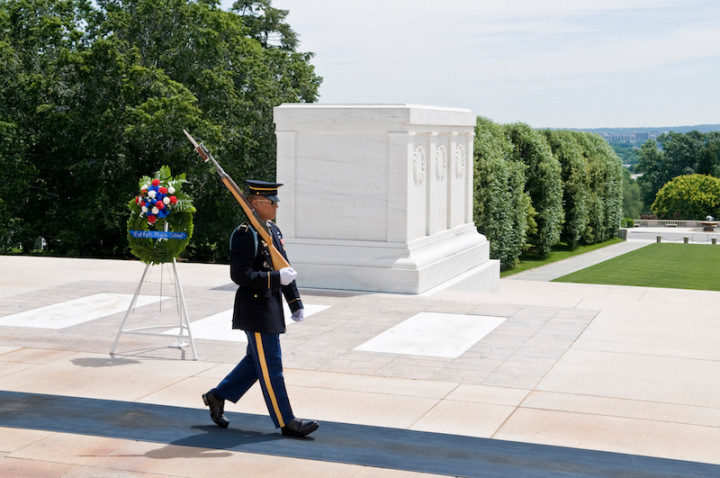 The Tomb of the Unknowns regularly is cited as the best of the best war memorials to visit in the US. Why? Because it literally is a series of tombs and graves filled with the bones of American soldiers who died in action and were too mutilated to identify.
The tomb is considered to be one of the most somber and hallowed parts of Arlington National Cemetery. Going here, you'll feel a stillness that is hard to fully describe until you've actually gone to visit.
There is a single grave for each major war since World War I, and is protected by guards dressed in ceremonial regalia. The tomb has been constantly guarded by fellow soldiers since 1937.
The changing of the guards' ceremony can be seen daily. According to legend, being one of the people who guards this tomb is one of the most difficult jobs to attain in the military, and even includes a 35-page test. So, yes, the soldiers are pretty impressive in their skill, too.
It's both impressive and incredibly unsettling — and a perfect reminder of what the real price can be for serving in the military.
The National World War II Memorial - Washington, D.C.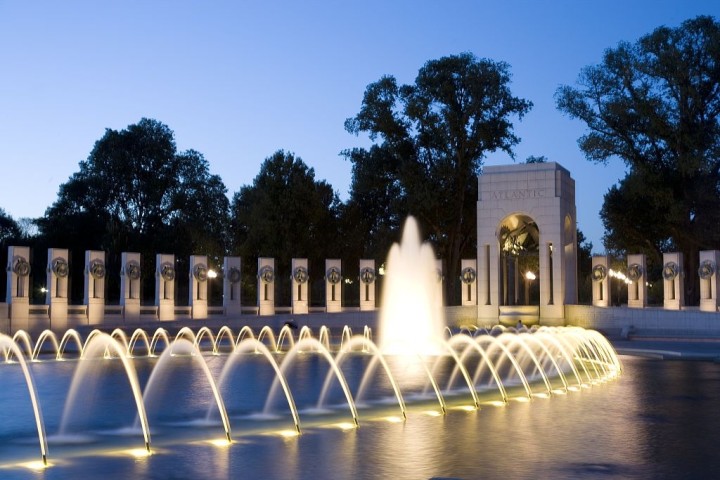 This sprawling war memorial doesn't just honor the 400,000 soldiers who died serving in World War II. It also honors the 16 million soldiers who fought and survived, along with civilians who helped the efforts at home.
Each of the two dozen bronze panels of the memorial shows an excerpt of how the war had affected people who had fought, as well as the family members who waited for them to return home. 4000 gold stars are used to memorialize those who lost their lives, and a beautiful fountain rests in the center of it all.
In terms of history, it's hard to deny that this is one of the best war memorials to visit in the US.
Vietnam Veterans Memorial - Washington, D.C.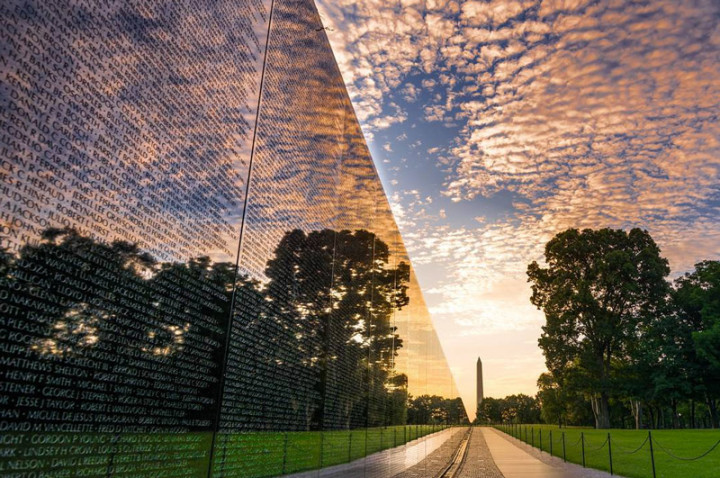 The Vietnam War was considered to be one of the most brutal and horrifying wars after World War II — and rightfully so.
Every soldier deployed to Vietnam was exposed to a deadly poison called Agent Orange, which continues to kill veterans to this day. Along with seeing child suicide bombers and torture victims, Vietnam War veterans also came home to a very icy reception.
Washington D.C.'s take on a Vietnam War Memorial definitely made an effort to put the suffering and sacrifice young draftees made on the forefront. And, it's just as poignant as you'd expect it to be.
Reflecting the bleak outlook that many returning veterans had is the Vietnam Veterans Memorial, a work of art that uses names inscribed on polished granite to show the sheer toll America's bravest paid while fighting the war.
58,000 people lost their lives during this war, and you can read all of their names on this 300-foot wall. It's haunting, and the reflections that you see in the memorial almost give it a ghostly atmosphere at times.
There are also other parts to this memorial aside from the wall. The Three Soldiers, part of this particular memorial, are statues meant to show the camaraderie and teamwork that is required in war. There is also the Vietnam Women's Memorial commemorating the ladies who served, as well as a granite plaque dedicated to the veterans who died from Agent Orange and other war-relatedinjuries after Vietnam ended.
Overall, it's a pretty brilliant and impressive work of art. That's why it's one of the best war memorials to visit in the US.
Fort Frederica National Monument - Glynn County, Georgia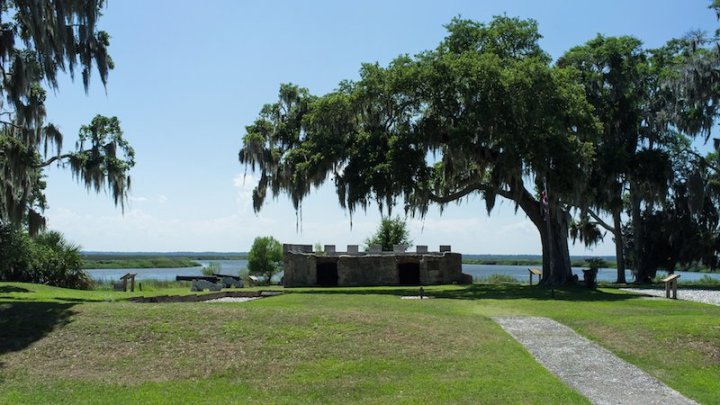 Georgia's own Fort Frederica National Monument is one of the best war memorials to visit in the US — if you want to learn about wars fought before America was even a country.
This monument is actually the remains of a fort built by James Oglethorpe, and it was built to protect the colony from Spanish raiders. Had Fort Frederica not existed, it's likely that Georgia would have been a Spanish colony before joining the United States.
As one of the oldest forts in the US, this location was in use from 1736 to 1748. Guided tours are common enough, and can give you ample knowledge on what life was like roughly 50 years before the Revolutionary War finished up.
Marine Corps War Memorial - Arlington, Virginia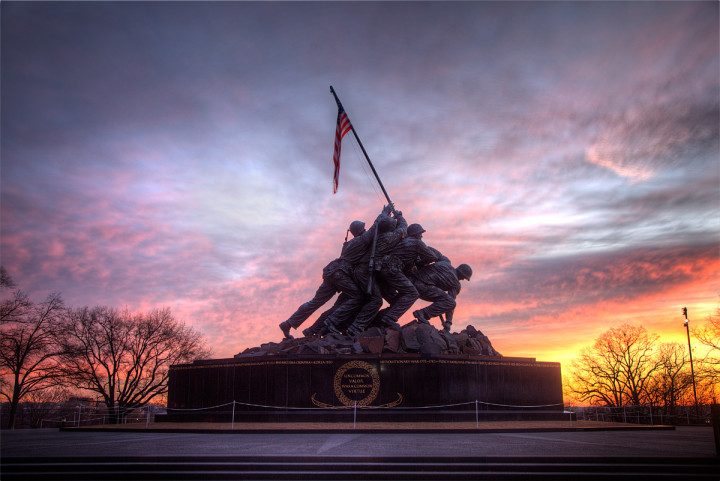 This memorial is regularly cited as one of the most visited and recognizable memorials in the nation. Considering that it's so famous, it's no surprise that travel guides also cite this as one of the best war memorials to visit in the US.
The Marine Corps Memorial was designed to honor those who served in every war America has fought. The statue, which is based off a famous photograph, shows six soldiers raising the flag at Iwo Jima — which signified the end of World War II.
Most impressively, this memorial lists every single battle that the US Marine Corps ever fought in, going all the way back to the beginning of the 1800s. Once you realize how many battles Marines have fought in, it's hard not to feel respectful of them.
African American Civil War Memorial - Washington, D.C.
When people think about the Civil War, they rarely think about the minorities who fought alongside Union soldiers. However, they shouldn't be overlooked. Without them, it's very likely that America would have lost the Civil War.
This memorial, which can be found in Washington D.C., is dedicated to the 200,000 African American men and women who fought in the Civil War. The memorial has a beautiful bronze statue titled "The Spirit of Freedom," and also lists the names of the soldiers who died helping end slavery once and for all.
The nearby museum also has an excellent perk for those who want to learn more about their heritage. If you put your name into the museum's special genealogy computer, you can find out whether one of your relatives is among those celebrated by the memorial.
Though this memorial may not be well-known, it's one of the best war memorials to visit in the US.
American Veterans Disabled For Life Memorial - Washington, D.C.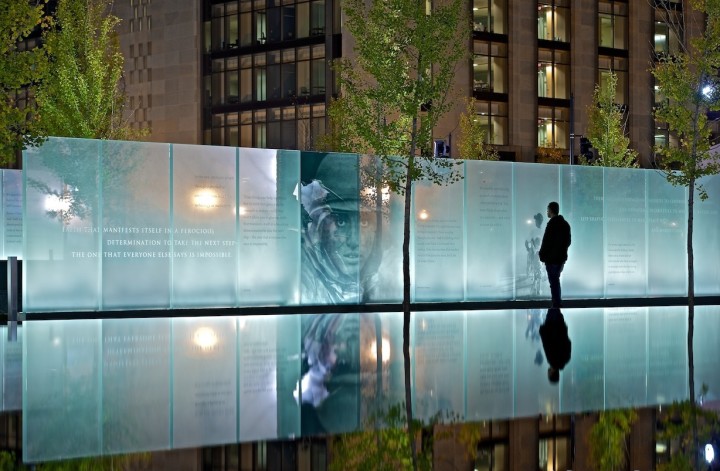 One of the complaints that many veterans had about memorials is that it often felt like living veterans who suffered serious injuries weren't celebrated. That's why this is one of the best war memorials to visit in the US, especially if you are a veteran yourself.
This beautiful etched glass memorial pays respect to the four million soldiers who left the battlefield with serious disabilities. Along with inspirational messages, the memorial tells stories of veterans and how they coped with life after war.
Though it only opened in 2014, this memorial is quickly gaining attention and traction among soldiers who feel marginalized after returning home with disabilities that leave them unable to work.
america
culture
Cato Conroy
Cato Conroy is a Manhattan-based writer who yearns for a better world. He loves to write about politics, news reports, and interesting innovations that will impact the way we live.
See all posts by Cato Conroy →