Best Luxury Dining Venues in Sydney
Sydney has many luxury dining venues such as Bennelong at the Opera House, the Quay or onboard a glass boat cruise, etc.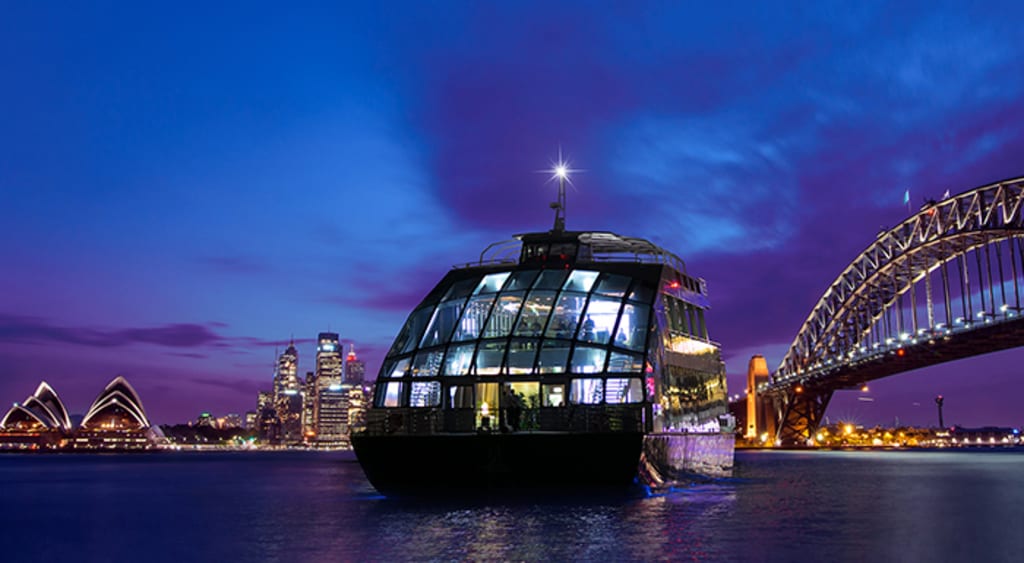 With a vibrant multicultural populace, Sydney is a foodie's fantasy.
Eager to plan the perfect surprise for your beloved? Or, do you have a special event coming up? Well, count your lucky stars… Sydney is a one-stop destination for fine dining in Australia.
From waterfront dining onboard harbour cruises with breathtaking views, fine dining in the world-famous Opera House or at the well-known Quay Restaurant and more – the city has countless culinary choices.
Dear Sydneysiders, are you ready to indulge? Read this article to get a lowdown of the top luxury dining venues in Sydney. And, let delicious food flirt with your taste-buds…
#1. Onboard a Harbourside Glass Boat Dinner Cruise
Imagine relishing flavourful dishes in a spacious glass-wrapped dining saloon with stellar views of the sparkling harbourfront, from the comfort of an airconditioned vessel!
Book a romantic dinner date with your partner onboard a premium glass boat dinner cruise on Sydney Harbour. Or, celebrate any special occasion at this extravagant floating restaurant.
Every seat is akin to a window seat on the Clearview dinner cruise.
After all, you can gaze at the jaw-dropping Sydney skyline,right from your dinner table, thanks to the floor-to-ceiling glass windows, which offer 360° night views of the scenic Sydney Harbour!
Alongside the visual delight, the freshly prepared, delicious food offered on this dinner cruise is simply divine! Moreover, to complement the onboard meals, you can purchase your favourite beverages from fully licensed bars on board.
However, for crystal-clear daytime views of the picturesque harbourside, opt for one of the glass boat Sydney Harbour lunch cruises.
#2. At Quay Restaurant, the Rocks:
If you are eager to explore a refined gourmet experience, head to the award-winning Quay Restaurant at the Rocks. It's a great choice to dine ashore in Sydney.
The executive chef Peter Gilmore awaits to treat your palate with the best of nature-inspired cuisines! Meals at the Quay are absolutely yummy – striking a perfect harmony with textures, flavours and colours.
Diners will be excited to learn that providers of local produce are consulted prior to the preparation of these exclusive meals.
This makes the food more authentic and nourishing to the body and soul.
Alongside the food, the restaurant promises a royal culinary experience complete with leather chairs and a royal blue carpet. Icing on the cake is the stunning view of the glorious Sydney Opera House that can be observed from different angles.
#3. At Bennelong Restaurant, the Sydney Opera House:
Why admire the iconic Sydney Opera House from afar when you can actually dine right inside this renowned Australian landmark?
Pamper your dear ones with an exquisite dinner and fine wine at Bennelong Restaurant. Boasting marvellous views of the illuminated Sydney Harbour and Circular Quay, it's a much sought-after dining venue in Sydney.
The restaurant is a popular choice for foodies who love to admire the harbourside.
Bennelong is also Peter Gilmore's baby and he follows the same sustainable dining approach here as well. He consults fishermen, farmers, providores and breeders all across Australia, prior to crafting delightful meals.
No wonder, the food here is quite innovative and experimental, while nourishing you holistically.
Apart from the quality of the food served, the hospitality of the waitstaff makes dining an unforgettable experience at Bennelong!
What are you waiting for? Put on your best attire. Polish your shoes and bring your coat out of the closet and make your way to a local dining hub that best meets your aspirations! It's time to give in to the irresistible culinary temptation that delights the locals and tourists alike.
Bon appetit, dear food enthusiasts!
Reader insights
Be the first to share your insights about this piece.
Add your insights