Australian Christmas Traditions that are New to the North
Here are a couple of Australia's exotic Christmas traditions absolutely new to tourists from the Northern Hemisphere.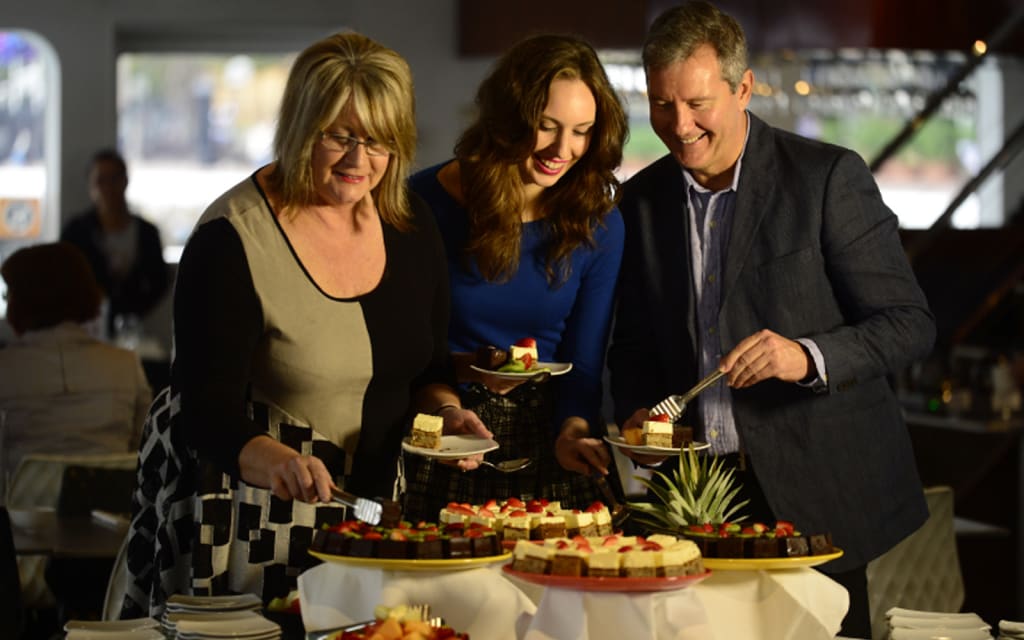 christmas day cruise
It's that time of the year again - when jingle bells signal the arrival of beloved Santa Claus. Seated on a sleigh pulled by six white boomers, Father Christmas is ready to slide down your chimney with gifts!
Wondering why the reindeer is missing?
Welcome to Australian Christmas, dear friends!
In Australia, Saint Nicholas travels with kangaroos, instead of reindeers. After all, reindeers are unable to withstand the Australian heat!
Christmas in Australia is all about bright, sunny celebrations on the beach. 'The land Down Under' greets Santa with cold beer, rather than milk and cookies.
Sounds exotic, doesn't it?
Australian Yuletide is fascinating, indeed. And of course, a marked contrast to Northern white Christmas. Read on to discover how Christmas traditions in Australia always amaze the North:
1) Lovely, Warm Summer Christmas
First of all, welcome to a warm, summer Christmas!
No need to ruin your Christmas fashion under layers of woollens. Revellers can rock the festive look with short sleeves and even attractive beachwear! Enjoy the warmth of sunshine on your shoulders as you revel in festive fervour.
2) Cheers to a Fun Beach Day
Warm Christmas here helps you steer clear of frozen toes. Australia loves to celebrate X'mas amidst the sand and surf. Yes, Australians simply hit the beach during this time.
This is a golden opportunity to bask in warm sunlight with family and friends! Families are fond of relaxing on the beach with cold beverages, a hat and sunscreen. Photo ops with Santa Claus on the beaches is another thrill factor for children and adults! Travellers from the Northern Hemisphere are addicted to Australian beach Christmas.
3) Enjoy a Christmas Lunch Cruise
Traditional Christmas Day activities include ice-skating, creating snowman or tobogganing. However, the 'Great Southern Land' will fascinate the North with her plethora of choices!
A Christmas Day cruise is perfect to pamper your partner in Australia. A classic cruise experience reveals unparalleled charm of the world's largest natural harbour, i.e. Sydney Harbour. Spread over 240 km of shoreline, Sydney Harbour's sparkling waterfront is a real treat for the senses.
Indulge in a delectable Christmas buffet menu on a Christmas Day lunch cruise and spend the finest three hours of your life!
4) Drown in Carols by Candlelight
Christmas carols are a common Yuletide tradition across the globe. But then, this southern country imparts a brand new flavour to carols!
'Carols by Candlelight' is among Australia's favourite X'mas highlights. It originated in the 19th century. This heritage event witnesses live performances and carol singing by international celebrities, accompanied by a marvellous symphony orchestra. Carols by Candlelight is hosted annually on Christmas Eve.
The eight capital cities of Australia host this large-scale, iconic event in public gardens and parks. Carols by Candlelight also acts as a fundraiser to support blind children.
5) Australian Seafood Barbeque
Departing sharply from roasted turkey Christmas feast tradition – Australian Yule is crazy about prawn barbeques.
Summer Christmas calls for lip-smacking cold seafood, particularly barbequed prawns! So, heap your plates with prawns, salads and head outdoors as you savour a royal Christmassy lunch. Conventional X'mas dishes like baked ham, roasted turkey and mashed potatoes are still common, though.
Relish your meals with cold beer or a glass of wine or champagne.
6) Christmas-Special Cricket Match
Playing cricket matches is a favorite pastime of Australians during Christmas. Europeans visiting 'Down Under' are in love with this Aussie tradition.
The Boxing Day test match is among the largest events during this time. The event is hosted on the Melbourne Cricket Grounds. Thousands of Australians throng MCG to watch the match – and even gather at local bars in Sydney and different parts of Australia, to watch the live television broadcasts.
So, don't be taken aback -- if you are invited to an elaborate Christmas beach barbeque or an outdoor cricket match while in Australia!
Invest in quality time with your dear ones by hitting sandy beaches, swimming, enjoying fun beach games and digging into irresistible seafood this Christmas.
Time to say hello to an avant-garde Aussie Christmas!
Reader insights
Be the first to share your insights about this piece.
Add your insights