An Innocent Abroad
What's this hygge thing? Is it communicable? I think I caught it in Copenhagen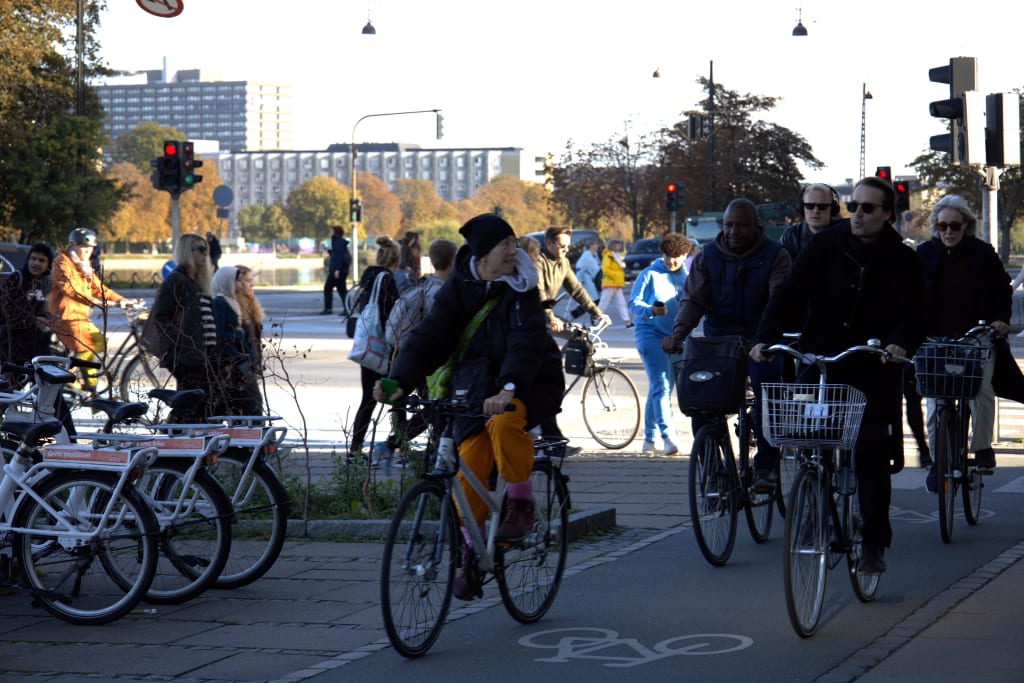 Frederiksboroggade rush hour, Copenhagen. Photo by the author
Nursing my kanelsnagle (cinnamon bun) at Zaggis on Frederiksboroggade and watching young Danes cycle past on their way to work, I have to admit I was feeling pretty chill. The Scandinavian word for contentment, hygge, came to mind and while its common to both Norway and Denmark, each country interprets it differently. The Norwegians think of hygge as simply a word meaning cozy. The Danes, on the other hand, take it one step further, incorporating hygge in the broad sense, into their national identity. The Danes are very, very chill.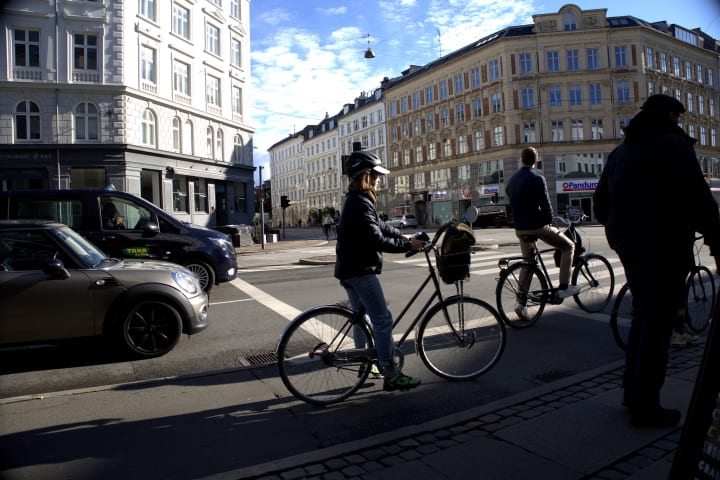 Copenhagen is a beautiful Old World city flush with churches and castles. High rises, shopping centres and motorways are located closer to the airport. There are 55 churches in greater Copenhagen; we visited Frederik's Church and its monumental dome, the largest in Scandinavia. Castles are also peppered throughout the city. Rosenborg Castle, 400 years old and harkening back to the Renaissance, caught my attention. Perfectly symmetrical, it looked more like a bank than a castle and, in a way, it is. That's where the Danes keep their crown jewels.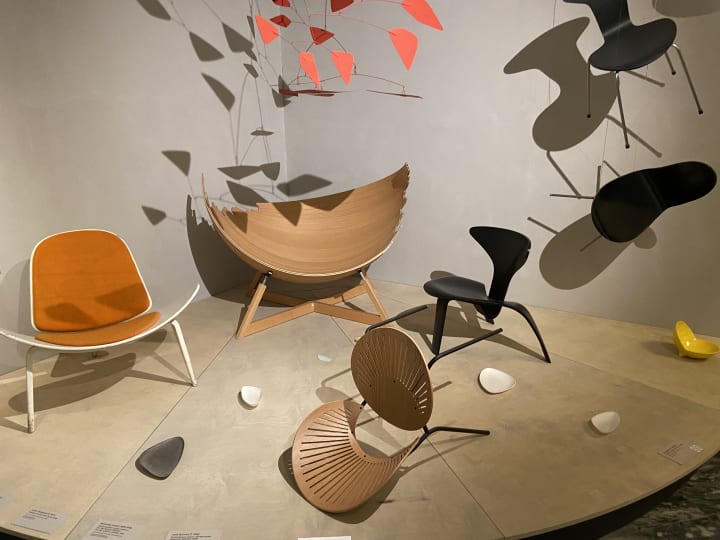 I have to say everyone we met was super friendly and accommodating and if we stumbled with directions or currency, they went out of their way to help. Some other countries resent tourists. I didn't get that feeling in Denmark; the Danes struck me as happy, contented, and secure in knowing who they are, perhaps a bit self-effacing. For instance, the manager of our hotel invited us to his daily cocktail hour. It was a freebie and a chance for the manager to introduce himself to his guests and his guests to each other. I asked him about Denmark's economy.
"We don't make anything in Denmark," he said almost apologetically.
Denmark does, in fact, make plenty of things. Like furniture. Stripped of excessive ornamentation, Danish design is simple yet beautiful. A little goes a long way. So, naturally, we ended up at Copenhagen's Design Museum, a beautiful old building chock full of ceramics, posters, clothing, and chairs. Lots and lots of chairs. How many ways can you make a chair? A zillion ways, it seems. On the other hand, I was glad to see an exhibition about design as a driver of social change whether through architecture, urban design or the choice of new materials. I appreciated the fact the Design Museum was more than just a collection of pretty things.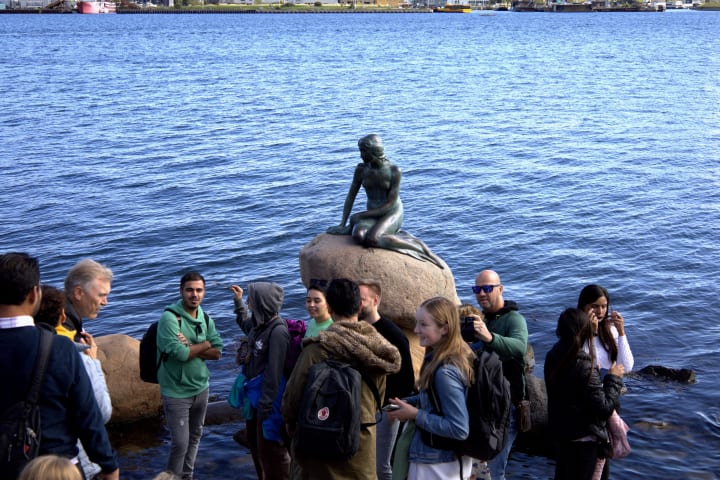 Thinking Copenhagen's iconic the Little Mermaid, was nearby, we left the Design Museum and walked towards the water. We expected signs to point the way but Copenhagen is very chill about promoting its landmarks. Like, not at all. So, we pulled out our phones and used Google Maps to direct us to the exact location. Once we found it, I was surprised to see how accessible it was. If we were in North America, the Little Mermaid would be surrounded by food trucks, a fence and numerous kiosks hawking cheap souvenirs. As it was, people swarmed around the unprotected sculpture, climbing over the rocks, myself included, to get that perfect picture. So what if the rocks were slippery? Everyone was polite and well-behaved.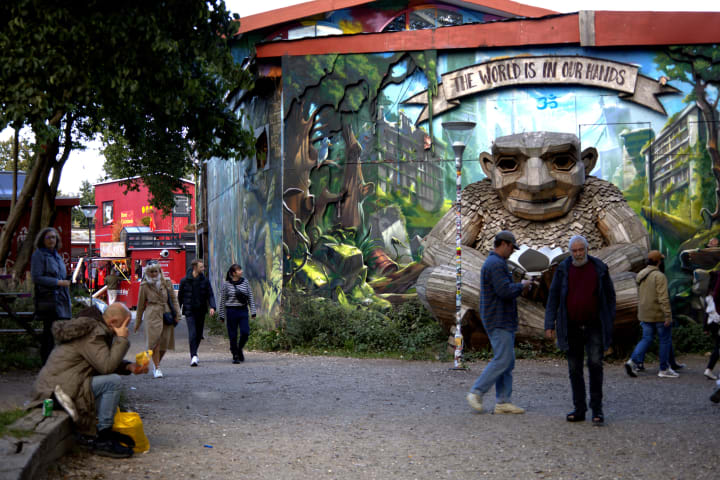 Christiana Freetown was another example of Danish chill. Located on the island of Amager and connected to the city by Metro and bridges, Freetown is a hippie community founded in 1971when student squatters cut through the wire and occupied a former military base. Over time, the community grew. Today, the population stands at approximately 1,000 souls. When Denmark's Supreme Court ruled the state still had a legal claim to the land on 2011, the city struck a deal to let the interlopers stay by allowing them to set up a foundation. The foundation is in the process of buying the land, or at least some of it, back. Freetown remains a functioning, creative community and its homebuilt houses, studios and craft shops give it a distinctive '70's vibe.
That funky feeling permeated the rest of the neighbourhood - edgy but chic. I wasn't surprised to find Noma, the best restaurant in the world, at least in 2021 as determined by the Conde Naste people, was located nearby. We looked at the Noma menu (yum), looked at the price (yikes), and decided that we couldn't justify a month's mortgage payment on a bite of high-priced nosh. Fire up those kanelsnagles.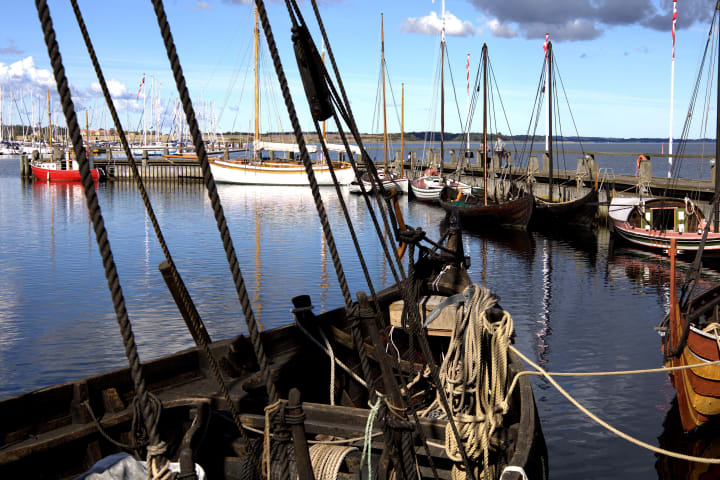 For me, the highlight of our trip was hopping on the train to the city of Roskilde, 25 minutes away. It's famous for its cathedral, its palace, and its annual rock concert but we were there for its Viking Ship Museum. I had started my search for all things Viking in Norway two weeks earlier, a result of an ancestry app that said I was 14% Norwegian - who was I to question a little bit of spit and science - and I was working my way east. I had done my homework. I knew Norse Vikings were different from Danish Vikings, separate branches of the same family so to speak. The Danes were militarily and politically stronger while the Northmen were the better sailors venturing west to Scotland, Greenland, Iceland and even North America to a settlement in Newfoundland called L'Anse aux Meadows.
After leaving the train station, we quickly hit Algade, a charming pedestrian mall but again, there was no prominent signage and we walked into what we thought was the ship museum. "Not this one," the lady at the front door said and pointed us towards the water.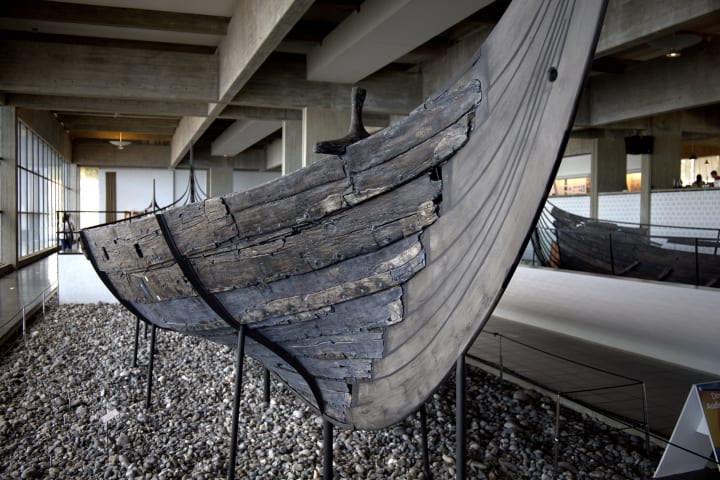 The Roskilde Viking Ship Museum was superb. Inside, a movie and a diorama told the story of how, in 1025, Roskilde tried to fend off its enemies by filling five ships with rocks and sinking them in the channel to block incoming raiders. Those five ships were recovered in 1962, preserved and what was left of them, put on display. Mounting original, thousand-year-old timbers over metal armatures created a vivid picture of that ancient fleet. Freight carrying coastal traders were short and broad in the beam while the long and slender longships served a military purpose. Outside, five full-sized replicas sat in the harbour. I could see group of tourists huddled around a one of them and listening intently to the guide. Suddenly, they got in and manned the oars. The boat left the dock. Rowing a Viking vessel around Roskilde fiord for 50 minutes was an option for the fit and muscular. History came alive. I felt transported to a different time and place.
In fact, being in Copenhagen and vicinity felt like being encased in a time zone. The people and the setting washed away all my stress and anxiety. I had that feeling of contentment. Was I in a state of hygge? I think it was more a state of avoidance - avoiding turning on my phone and being subjected to the news - the war in Ukraine, the high cost of living, and partisan squabbling in the House. The world was unfolding as it should and I wasn't missing it. Denmark will do that to you.
About the Creator
Former television news and current affairs producer now turned writer. Thanks Spell Check. Visit my web page at https://woodfall.journoportfolio.com
Reader insights
Be the first to share your insights about this piece.
Add your insights