We took an all-inclusive holiday deal to Lanzarote for my husband's 50th birthday with the family and it was a superb week away. It was a cheap deal that we found on www.cooptravel.co.uk for the price of £325 per person going on 21st June fours years ago. We didn't think it would be such a great holiday because it was dirt cheap but to our surprise, it turned out to be an amazing week away.
We went all-inclusive for the food and drink. I couldn't fault the food or hospitality of the hotel even though the reviews on Tripadvisor were not that great. Some people moan about trivial things there but we didn't let it put us off.
Of course, before we went away to Lanzarote, these reviews did get me worried about what we had paid for, but to be honest, we were all pleasantly surprised at how much better everything was compared to what people were saying on Tripadvisor. So, don't trust everything you read.
The hotel, food, and drink
We stayed at the Blue Sea Costa Teguise Gardens and had a two-bedroom apartment, which was spacious and clean. There wasn't any air-conditioning but the ceiling fans in the bedroom were enough for us at night considering it was the middle of June. Lanzarote does have some breezy weather so it wasn't a big deal without the air-conditioning.
The all-inclusive deal was amazing. We arrived late evening at around 10 pm and so we were able to start our all-inclusive package by having cocktails. It was a very generous bar too. We were allowed to have any kind of drink we wanted.
The next morning was an even bigger surprise. We all met at reception and decided to go to breakfast together. We were nervous and couldn't forget the awful reviews on Tripadvisor. But we were pleasantly surprised as we walked down a few steps into the dining room. It was a huge room with a mountain of food laid out waiting for us to try. We couldn't believe our luck. The food was delicious with lots of variety. The food was different every day for lunch and dinner too.
Breakfast was the best. There was so much variety. There was a variety of bread and rolls to choose from or you could have toast. English breakfast was cooked there and then on the spot because there was a cook standing behind the counter cooking fresh meat at breakfast, lunch, and dinner times.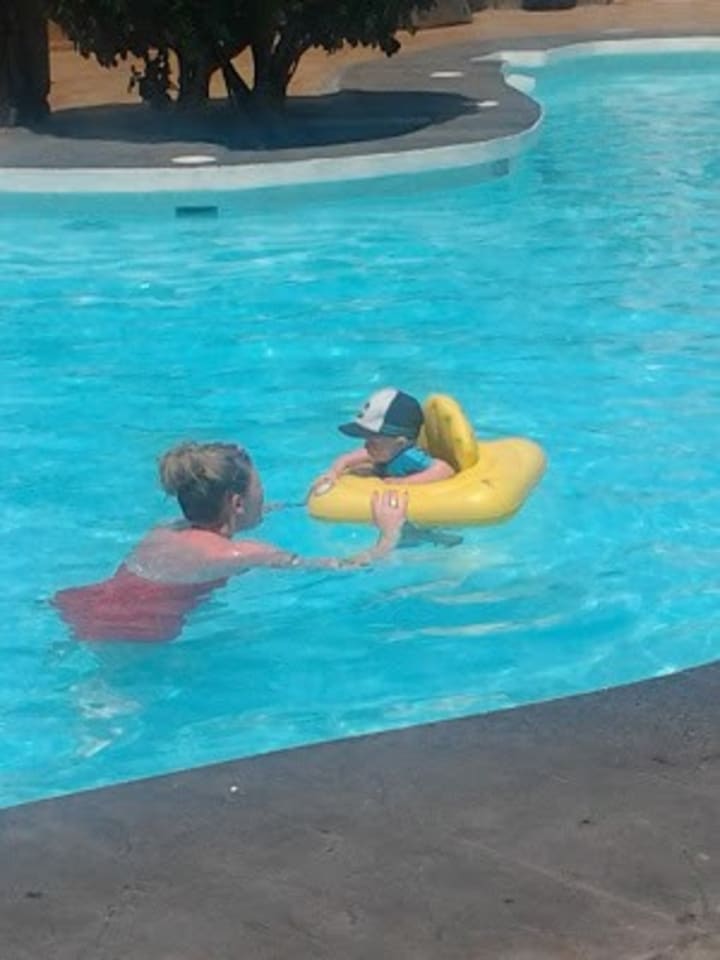 My grandson, who was only 8 months old at the time, loved the pancakes with chocolate syrup which was served at breakfast time. He always sat in his high chair and enjoyed eating them. It was his first holiday abroad.
The salad bar food was different every day too, the same as the foods that were served at lunch and dinner. The one good thing that I thought was special was the delicious soup that was served during lunch and dinner. There was a different soup every day at lunch and at dinner time. I thought it was tasty and it was always made so beautifully.
The drinks from the bar were plentiful too and you could get up as much as you like for more. At 4 pm each day, cocktails were served, which would make us all feel tipsy. The San Miguel beer that was served was a bonus too. I had some of this at lunchtime on my first day there, as it was my birthday that day, (my birthday is two days before my husband).
During the day there was a pool bar where plastic cups were used for drinks because of safety and in the evening bar glasses were given. The entertainment at night was good on most evenings too.
The entertainment
There was entertainment throughout the day too, where you could take part in playing games or trying things out like shooting, scuba diving lessons, and more. The staff was always very helpful. The evening entertainment was interesting as well on most evenings. We were had so much fun too. There were characters walking around dressed up as Spiderman and other superheroes for the kids. My grandson loved Spiderman and now we know why he's his favorite character today.
Why do people leave horrible reviews on Tripadvisor?
The one thing I would like to point out and that is, on Tripadvisor people were complaining about how many Spanish elderly people were there on holiday. People were also moaning about it like it was a problem but, to be honest, they were all pleasant and friendly especially when they saw my grandson who looked adorable. I don't understand why people can moan about such silly things really, after all, it is a Spanish destination.
Another thing I want to point out is that the hotel is only a 3-star hotel and people moaned about how shabby it was, but to be honest we saw nothing wrong with the place. Perhaps, they changed things before we arrived and if so, then I think they have stepped up considerably.
A bargain holiday
My family and I would definitely book to go all-inclusive at Blue Sea Costa Teguise Gardens again. It was great value for money at £325 per person all-inclusive. The hotel was comfortable and the staff was friendly. They helped us with excursions too.
An excursion on a submarine
We went on a submarine trip and I have to say it was an amazing trip and so incredibly interesting.
The submarine was bought for 4 million euros. The guy who bought it decided to use it for trips in Lanzarote so he could earn his money back. The submarine is used to take tourists to the bottom of the sea where you can see all kinds of fish. A guy scuba dives to the bottom and he swims around the submarine whilst you watch out of the window. We got to see lots of fish plus we saw a stingray fish which was pretty amazing.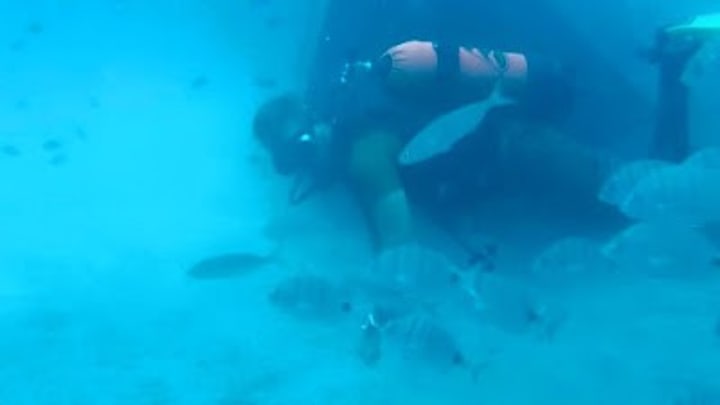 The above photo was taken by myself when watching the scuba diver at the bottom of the sea near the submarine. I have never done anything as amazing as this before so it was well worth the money.
It was a unique experience to be able to go to the bottom of the sea without having to scuba dive down there myself. If you ever get the chance to be on a submarine then I would take it.
Timanfaya national park volcanic site
Lanzarote has some interesting places for tourists and one of them is Timanfaya National Park, which is Lanzarote's volcano site. The volcano last erupted in the year 1824 and it became a national park in 1968.
Apparently, famous movies have been filmed at Timanfaya. Movies, such as Star Wars, Planet of the Apes, Apollo 13, and Clash of the Titans 2010 have used this area for some of their scenes.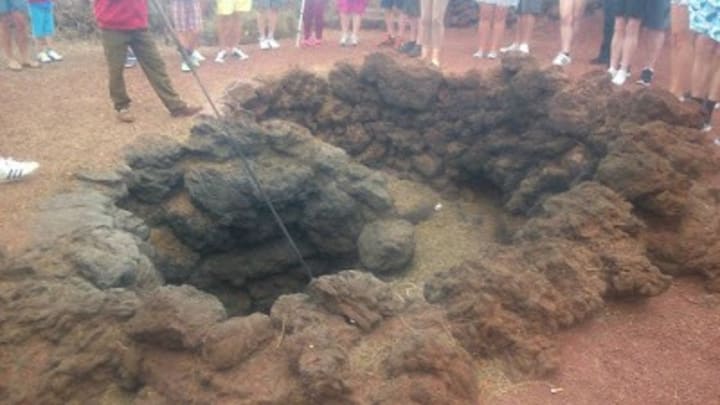 Timanfaya is a volcanic area in Lanzarote. Many tourists visit here during their holidays just like I did. The trip starts in the morning and you are, usually, back at your hotel by 2 pm.
We traveled by coach to Timanfaya and the whole trip cost us 20 euros per person. There is a detailed commentary about the volcanic area and Lanzarote, which was very thorough and informative in my opinion.
The trip includes a stop to the volcanic area to watch short demonstrations about the volcano and its history. Lanzarote has quite a bit of breeze, so be prepared, because it is much chillier at Timanfaya National Park than anywhere else in Lanzarote.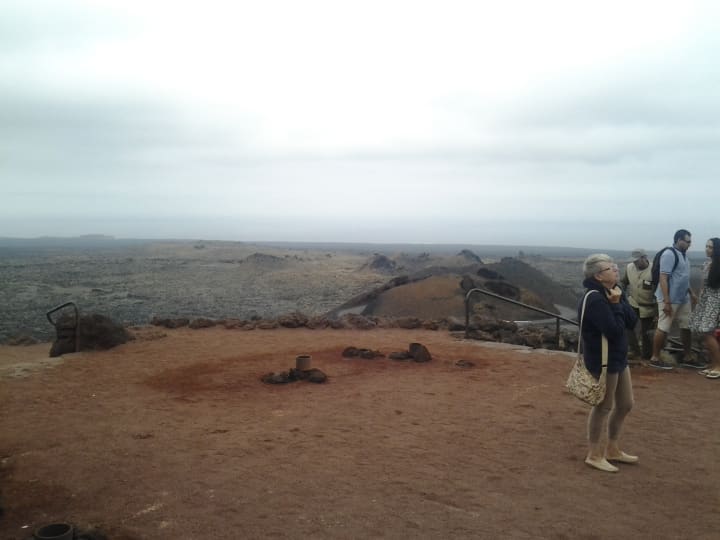 There are a few more stops on this coach tour. The first one is a stop for some lunch at the El Diablo restaurant, (which you have to pay for yourself) and the second one is to see the camels. Two people can sit on a camel, which costs extra at 4 euros per person.
The last stop is visiting a wine tasting factory. The wine there is sweet and delicious. I bought a red bottle of wine for 10 euros whilst I was there. We drank the wine in the evening with our meal at the hotel and it was so tasty that I wished I had bought another bottle.
I thought the whole trip was very worthwhile and interesting. There will, also, be many photo opportunities, so make sure you have a camera with you because the coach driver will stop the vehicle so everyone can take pictures. Some of the sites at Timanfaya are very unique and picturesque that you will definitely want to be there to see for yourself.
So, overall this trip to Lanzarote proved to be a worthwhile break for my husband's 50th and a cheap one too!
©️ Denise Larkin 2020. All Rights Reserved.
Denise Larkin writes mostly about travel and her experience with other topics.
This article was also published on Medium.com