A Review of Hotel Michelangelo in Sorrento, Italy
To stay or not to stay?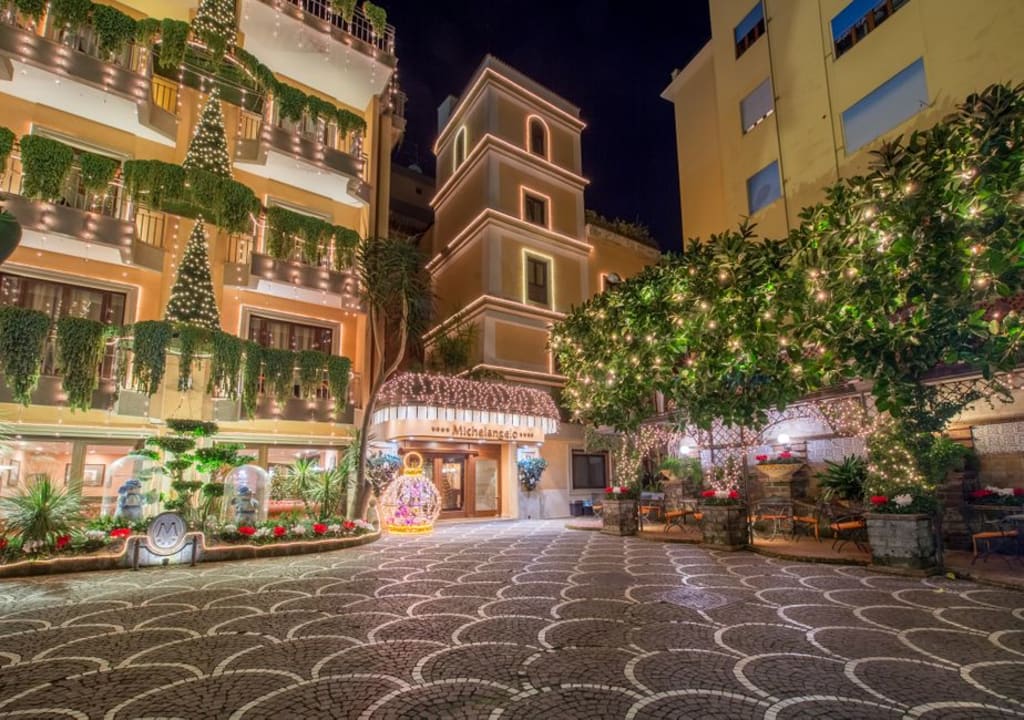 Exterior of Hotel Michelangelo
In January 2017 I traveled to Italy for a J-term trip with my college. For four nights, we stayed at Hotel Michelangelo in Sorrento, which is located in Southern Italy. Here is my honest review!
Location
I feel like with all of my hotel/hostel reviews so far, I always say that I love the location. Well, it's the same for this hotel; I loved the location. The hotel's website boasts that it is located in the "heart" of Sorrento, and I agree. You really have everything right outside of your doorstep. The Sorrento station is just a few minutes away. And, although we were located in the town center, we never had a problem with noise. Points added.
Just a few blocks down the street are restaurants and cute little shops that sell leather goods, winter gear, souvenirs, soaps, and of course...lemons! Well, lemon-flavored things, like limoncello and lemon candies, because Southern Italy is famous for its huge lemons. True story.
As you may know, Sorrento is a coastal city, so if you're staying in a coastal city, you probably want to be close to the water, yes? Well, not to worry, because you are just a few minutes away from beautiful views overlooking the Bay of Naples.
The Room
When we first arrived, we didn't have the greatest experience with our room. Here's why: there were ants. And I don't mean just a few, I mean a lot. Probably dozens. They were crawling all over our bathtub and our sink. I actually had to throw out my toothbrush because I found a bunch of ants crawling all over it. Yuck.
To be fair to the Michelangelo, hotels in Southern Italy (especially in this region) are notorious for their ants. We alerted the hotel staff, and we were put in a different room, which was much better.
So now, let's speak about the second room we were put in. The room was a bit small, but it had a lovely outdoor patio with a small table and two chairs. (This ended up being really cool for our class because we would have what we called "porch parties" on each other's patios, but that's a story for a different day). The bathroom was a decent size, and (this time) no ants! The mattresses were a little hard for my own personal taste, but they were comfortable.
Staff/Customer Service
Overall, the staff of this hotel was very nice and helpful. When we were dealing with the ant debacle, the staff was quick to assist us and offered to put us in a different room.
Amenities
This hotel offers a free breakfast buffet every morning with a wide variety of food, offering pretty much everything for everyone. Fruit, coffee, toast, bagels, muffins...you name it.
The hotel also has a restaurant (served in the same area as breakfast), which serves excellent dinner (speaking from experience). The restaurant has a very classy vibe to it; it feels as though you're in an elegant, four-star Italian restaurant. It felt almost a little too classy to be a hotel restaurant, but maybe that's how they do it in Italy?
Right near the reception desk is a bar - like the hotel's restaurant, it also had a very classy feel to it. I personally never ordered anything from this bar, but I remember walking by each morning and thinking, "Wow, that's a really classy-looking bar."
Right off the reception area is a bunch of guest seating. The couches are very comfy. I can say that because I spent hours sitting on one as I finished my presentation. Yay for class trips!
Would I stay here again? If I'm being 100% honest...I would consider it, but I would also look at other hotels in the area. However, sans the whole ant-thing, I did enjoy my experience at this hotel. It has a very old-world, Mediterranean feel to it, which I think is very cool, considering we were staying in southern Italy.
(P.S. Did you like what you read? Please consider leaving me a small tip to help support me as a writer. :) Thanks for reading!)