A Practical Guide to What You Will Experience Walking Around the Paris Catacombs
Paris Catacombs Tours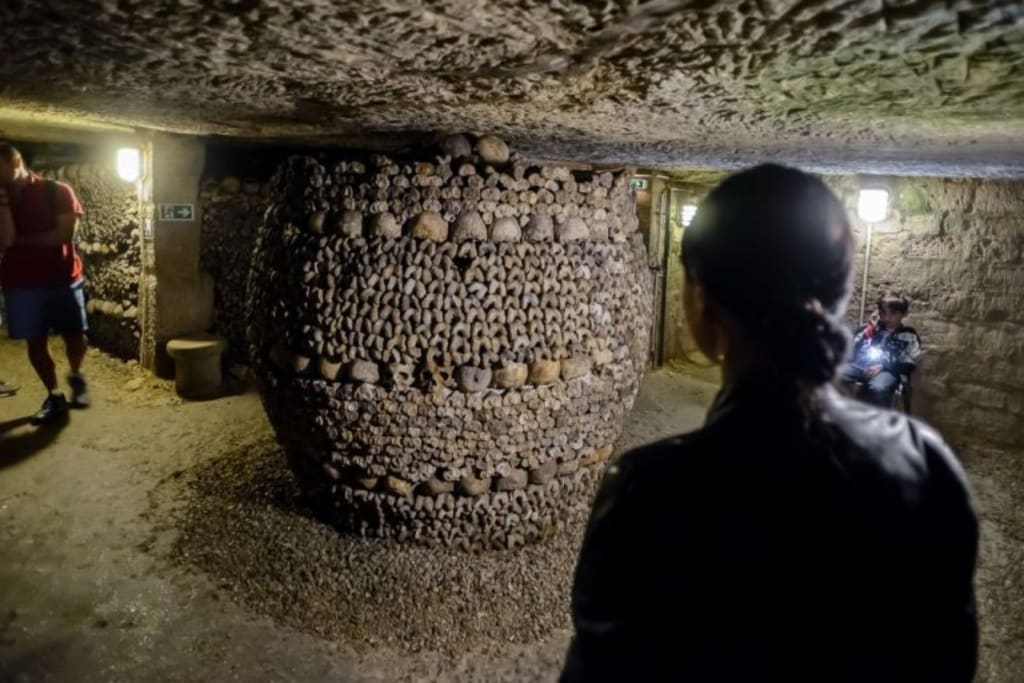 A Paris catacombs tour is unquestionably the best option for you if you have a specific interest in the history of the catacombs or simply want to go behind the scenes and see areas and rooms that are not accessible to the general public.
The catacombs are undoubtedly among the most impressive underground sights to ever see, and their lengthy, turbulent history—which includes religious rituals, illegal gatherings, and the politics surrounding their original construction—makes them the ideal location for an in-depth tour.
The Paris catacombs, to put it simply, are a network of meandering tunnels that extend beneath one of the most famous cities in the world and are home to some 6 million carefully preserved human skeletons. Is it surprising that the thought of seeing the Paris catacombs has mesmerized people for ages given that description?
This is a location where centuries' worth of Parisian dead have been laid to rest, where countless illegal parties have taken place, and where reports of the deaths and disappearances of intrepid explorers are frequently heard. It's also a location that, when done safely and lawfully, is tremendously easy to explore and fascinating.
Here are the steps and supplies you need to take the Paris Catacombs tour:
1. The Paris catacombs can only accommodate 200 visitors at a time
The ossuary can feel almost deserted when you visit, and you're likely to have at least a few moments without another person in sight if you wish. When you're inside the ossuary, it pays off in a huge way to book tickets in advance, especially during the high season.
2. Tickets for the Paris catacombs should absolutely be purchased in advance
It should not be surprising that there are extremely long wait times to enter the Paris catacombs given the preceding tight rule. We strongly advise purchasing your skip-the-line Paris catacombs tickets as far in advance as you can because the majority of you will only have a limited amount of days to enjoy Paris.
3. Arriving early
The best chance of getting in early enough to still spend most of your day exploring other parts of Paris is 30 to 60 minutes before they open.
4. There are no wheelchair-accessible catacombs in Paris
When visiting the Paris catacombs, one must descend 131 steps, then traverse 1.5 km on fairly uneven, damp, and narrow terrain, before ascending another 112 steps to reach the street level.
The Paris catacombs are probably not the proper place for you if you can't easily do it.
5. Dress appropriately by bringing a jacket and donning comfortable shoes
The Paris catacombs are not the place for sundresses because they are always a cool 14 Celsius / 57 Fahrenheit and are frequently a little damp as well. To handle the relatively rough terrain, choose comfortable shoes, and carry a jacket for warmth.
6. Avoid bringing heavy baggage with you
No items larger than 40 cm x 30 cm are permitted inside, and there is no on-site luggage storage. The catacombs ask that you carry your backpacks either by hand or in front of you as opposed to how you normally do.
7. The entrance and exit of the Paris catacombs are not in the same location
Although it's only a short distance away and hence not a major concern, it's worth noting that you won't emerge back where you started if someone is waiting for you at the top.
8. The gift shop is a little strange
Not particularly significant, but just so you know, this is definitely the place to get a goblet covered in skulls to add to your decor.
9. Hours and Important Information for Touring the Paris Catacombs
The catacombs are open from 10:00 AM to 8:30 PM, with the last admission hour. Only a few other days of the year, including January 1, May 1, and December 25, are they closed: Mondays.
10. Getting There
Through Metro
In the southern part of Paris are the catacombs. By getting off at Denfert-Rochereau on metro lines 4 and 6, you can quickly get there.
By RER
Denfert-Rochereau is a stop on the RER B suburban train line, which runs between Orly Airport in the south and Denfert-Rochereau in the north. Only 3 stops separate Chatelet-Les-Halles station and the Catacombs on the RER B. Within the boundaries of Paris, RER tickets are identical to conventional metro tickets.
By Bus
Both bus routes 38 and 68 stop close to the Catacombs. Use identical tickets for the RER and the metro.
So, book in advance to make sure that you don't have to stand in long lines. Take the Paris Catacomb tour and prepare yourself to get the chills when you witness the spooky ambiance of this place. Travel safely!
About the Creator
Our aim is to provide a high-quality product at an affordable price for our customers. Visit us & get exciting packages at affordable prices.
http://catacombs.tours/
Reader insights
Be the first to share your insights about this piece.
Add your insights