8 Traveling Tips I've Learned During My Week in Istanbul
It's my first time in Istanbul and boy did I learn a lot about traveling. Here are 8 tips that I would suggest for anyone visiting Istanbul. They can probably translate to other cities as well.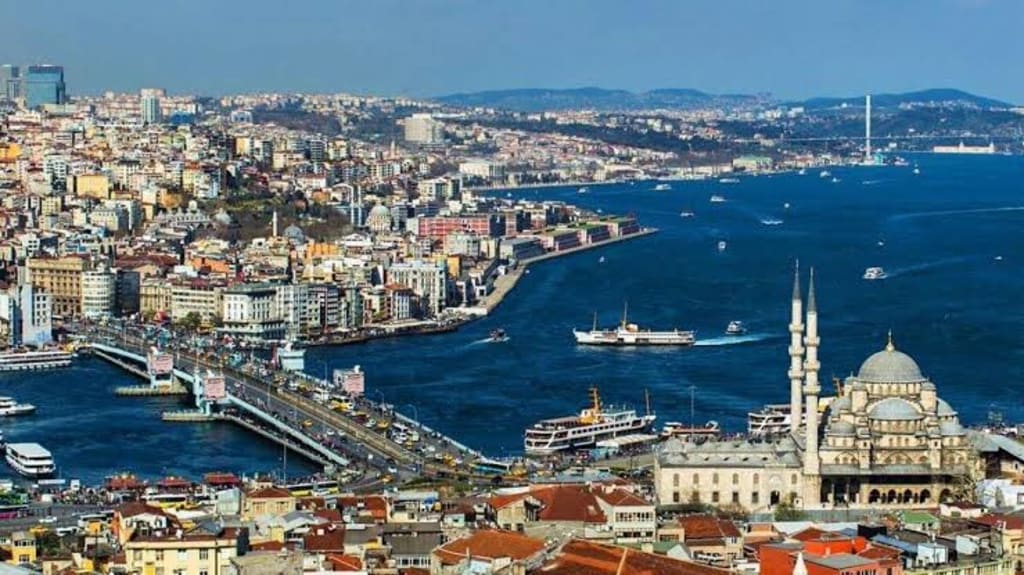 Last week I finished my week long trip to Istanbul. I of course researched the things to see and do in Istanbul but there turned out to be much more than I anticipated. You can spend weeks in Istanbul and not actually see everything you wanted to see.
1. Know what you're looking for in your trip: History/Culture
What do I mean by knowing what you want out of your trip? Well Istanbul is a very flexible city. It's got the perfect blend of modern and ancient world in one city. The food there is great as well. You also have a wide variety of different landscapes to look at. There are tons of parties at night and there's such a diverse group of people.
If you're there to see history and culture then Istanbul is definitely for you. It's been around for thousands of years and been conquered by various groups. You'll see such a variety of architecture inside the city. Go to the museums and you'll find how rich of a history this city really has.
Food
If you're going for food then Istanbul has you covered as well. I only knew of North American Shish Kababs. This city opened up my eyes to so many different varieties of Kababs (or how they call them Kabaps). They have their own take on various pasta dishes (don't forget that the Romans invaded this place years back). So you'll have their version of pizzas, ravioli etc. They even have this amazing spicey salad that will remind you of salsa.
After the main dishes we move on to desserts. Istanbul excels on dessert dishes. You think you've had great baklava? Well wait until you see the crazy variety that Istanbul has in store for you. Not only that they have tons of different Turkish Delight that you won't be able to find anywhere else. The big game changer that I discovered was a dessert called Kunefe. It's cheese surrounded by what I think is vermicelli noodles then deep fried. After they've cooked it they batter it with honey and then have this buttery cream on top of it and sprinkled with pistachios. I didn't think I'd like it, but it changed my world.
Night life
If you're looking for the night life there's clubs everywhere but I didn't get to check them out. What I do know is that this city is barely awake. You'll go to restaurants and bars at midnight even on the weekdays and it's live and happening. There are over 15 million people living in the city and that's not even including the tourists that frequent the city.
Shopping and Entertainment
Did I mention that they also have theme parks and gigantic malls to shop? I'm not referring to the Grand Bazaar but that's humongous as well. They have beaches and islands to explore as well. The diversity is actually awe-inspiring.
2. Don't be afraid to ask: Shopping
You have to know how much things cost at home and understand the currency exchange rate compared to what you have at home. Things can seem inexpensive because the Lira (at the time I write this article) is down.
You can still ask for a cheaper price. Prices in smaller shops can always be negotiated. This will feel foreign to many North American travellers but this is an art to be finessed with practice. Knowing how to negotiate and not being afraid to ask for a lower price can save you more than you expect.
Talk to people around you.
You'd be surprised how friendly everyone is and helpful they are. If you have friends in Istanbul I highly suggest that you ask them to help you around the city because they'll hook you up better than you ever could by yourself.
3. Research: Groups of interest
If you have a hobby group like you like to dance, take photos etc., find groups in Istanbul that have the same interests as you. You'll quickly make friends that will make your trip much more enjoyable. They'll know where all the great spots are that will fit your interests but you have to give them time to prepare for your visit.
When to come
Research when you want to come to the city. There is a whole month when the city is kind of in lockdown from Ramadan. Double check the temperatures and the weather when you come in. While you're at it you might as well check if there are any customs that you want to abide by so that you respect the area you're traveling to. Check for travel advisories, and when the high and low seasons are. Who knows? Maybe you can save a few dollars by choosing to travel during the off season.
Learn the language
Learn as much of the Turkish language as you can. I know learning languages can be difficult especially Turkish. Get some basics down at the very least. Generally citizens within Istanbul really appreciate that you put the time and effort to learn their language.
Use restaurant reviews.
There will be tons of walking because it's such a huge city and there will be people peddling for your business everywhere. You might get lazy and give in to their soliciting but stick to your guns and find that good restaurant. You won't regret it.
4. Don't solely depend on your credit card.
I thought that my credit card and a little bit of cash would be fine. For the most part it is, however cash is still king in Istanbul. Everyone prefers to deal with cash rather than using credit cards. It's good to bring cash with you and the amount really depends on how long you're staying there for. At times you can bargain for deals with cash in hand.
5. Remember to bring these: Good pair of shoes
Like mentioned before you're going to be out exploring the city so you will be doing a ton of walking. You'll need really comfortable shoes with you. I know some people want to look good when they're going out but sometimes you have to make some sacrifices.
Wipes
My girlfriend was really irked that there wasn't any toilet paper anywhere. Guys don't really have as much of an issue with this but you can't risk the potential risk of having to take a number 2 in a public washroom. Remember you're in a foreign place and you're eating foreign food so anything can happen. You don't want to risk it. Washrooms in foreign countries is always an iffy thing so always bring wipes.
Skin and hair care
You have to be prepared to be outside for long period of time. That means get that sunscreen on. The weather can be quite hot and humid so bring deodorant and other lotions that may help you out in that sort of climate. It is hot and humid and I know what that can do to some people's skin and hair.
Powerbank
I make an emphasis that a powerbank is a must. Not one of those small ones either. Get one that will charge at least 2 or three of your electronics. Also bring the correct cords to charge from the powerbank and a charger/adapter to recharge your powerbank. This is something unheard of 10 years ago but it is certainly an issue today since we're so dependant on our cell phones.
Something to take videos and pictures
I used a GoPro 7 black over my phone for pictures and videos. I hope this doesn't sound like a commercial but it was my personal preference only because the GoPro was able to take much smoother/higher quality videos and pictures than my phone and it had a wider angled lens to capture more of the landscape. Not only that but it has a feature that stabilizes the video so you don't have too much shaky camera work.
A phone will suffice however when you're doing video you may get the shakiness of walking around and that can be quite disrupting when rewatching your footage. I imagine this won't even be an issue as phones continually get better and better.
6. Eating out with allergies
Bring a list that contains what your allergic to in both English and Turkish. This may save you on going to the hospital if you have allergies. A ton of people don't understand English so have that list translated to Turkish just in case so they can understand what you're trying to say. A lot of people within the heart of Istanbul speak English so it's not too bad.
7. Mobile data is important!
Data is very important when traveling in this gigantic city. Although WiFi is available pretty much everywhere you can't solely depend on this. Usually they're at stores or restaurants that you need to ask for the WiFi password. Even still sometimes the Internet connection isn't optimal seeing as there are tons of people using it and Istanbul's Internet isn't the greatest. Even Hotel WiFi isn't that great.
Buy a sim card
You can buy a sim card in Istanbul but you'll have to make sure your phone us unlocked to do this. The data is really helpful if you get lost. I know I depended a lot on Google Maps to get around. It's a lot easier than using those gigantic maps in the past. There's also tons of translation apps that will help you communicate with the locals if you get lost or looking for something. A lot of people use the app "What's App" to communicate with one another using data instead of the regular talk and text packages.
Locked phone? No problem
For those that get there with a locked phone you can still get a plan by your provider and use the data sparingly by turning on and off your international roaming. Usually these international add ons give you a discount on the cost of using your own phone for talk, text and data. Using your own phone provider add on also has the benefit of being able to call people and they'll be able to recognize your number.
8. Have Fun
Whatever the reason you decide to go to Istanbul, if it's for a vacation, then you're true intentions are to have fun. Take your time and don't rush yourself. I know time is precious but you can't stress yourself by fitting too much into your schedule. Remember that your vacation is to have fun and to enjoy yourself. If that means lounging around a bar with a bunch of strangers don't feel guilty for doing that. Your schedule may change from day to day. Go with the flow. You'll thank yourself for not rushing yourself. There's always a second trip.
Those are 8 quick tips that I learned from my week in Istanbul. I hope this helped at least one person so that they can enjoy the city as much as I did. Happy travels!
guide
About the author
I have tons of opinions that change constantly. I watch a lot of movies and play video games. There are some articles on my struggles with languages and dance as well.
Reader insights
Be the first to share your insights about this piece.
Add your insights