6 Types of Accommodation in Japan!
Where should you stay when you visit?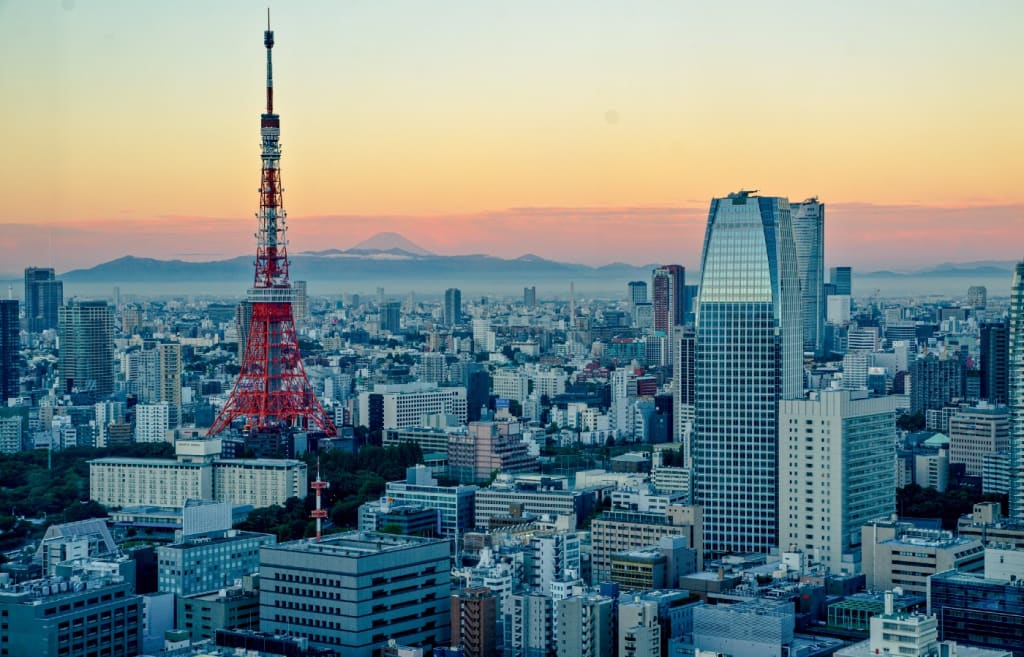 Photo by Clement Souchet on Unsplash
After living in Japan for more than a decade, I have traveled across the country, lived in three prefectures, and have stayed in a variety of accommodations.
And I realized that Japan has a lot of different options, each catered to a different type of traveler. So I made a list of types of accommodations and who should stay in them.
This list covers those who are only planning a short stay (less than a month) so if you are looking for long-term options, stay tuned for an article on that coming soon.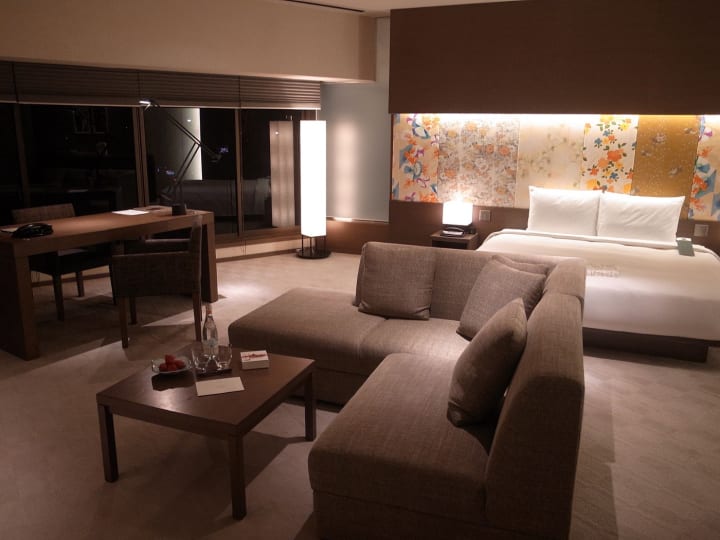 Western Style Hotels
Let's start with the typical Western-style hotels. There are many chain hotels both Japanese and foreign that are western-style and great places to stay while traveling around Japan.
If you have the money and are looking for a comfortable, familiar, and fancy place to stay then chains like Hyatt, Marriott, Ritz Carlton, Hilton, are your best bet. Most big cities in Japan have a chain you are familiar with whether it be the Sheraton or Westin or Japanese-owned hotel chains like Okura Hotel, Prince Hotels, or Hankyu Hanshin Hotels.
All these hotels are clean, safe, dependable, and great for families. If you are looking for a big bed, nice bathroom and hotel gym, pool, restaurants, and amenities, then stay here. If you are traveling in big groups or with families then you can't go wrong.
Depending on the brand name, season and location you will be paying anywhere from 8,000 yen or $80 all the way up to the thousands of dollars depending on how fancy you want to get.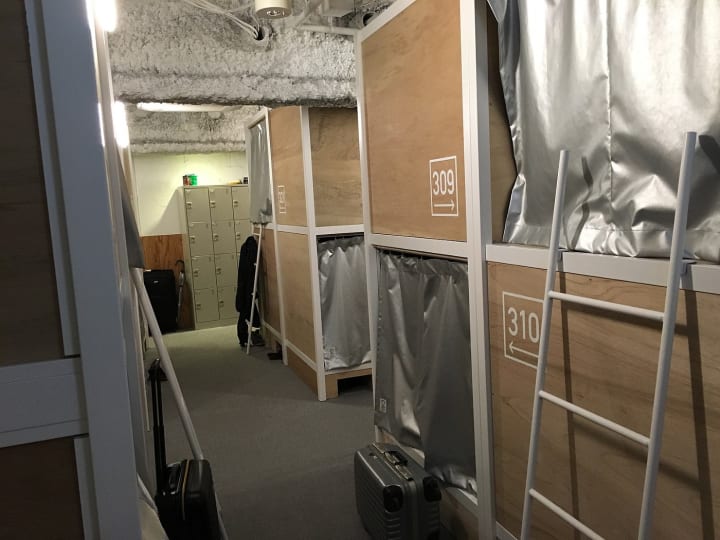 Dorms and Hostels
In the complete opposite direction, dorms and hostels are for those on a really tight budget and aren't really looking for 5-star treatment. The cost is usually about 20 to 50 dollars per night.
Available all across Japan, even in the mountain areas and small towns, you will find dorms or hostels.
The rooms are usually shared, sometimes co-ed but usually separated by gender. Anywhere from 2 to 8 people in a room, bunk beds, or rows of beds/futons, you can imagine what they are like. There are common rooms, showers, kitchen, and lounge areas so not much privacy is available if that is important to you.
Backpackers, students, those who would rather spend their money on food and travel than on accommodation will like these places.
Also, for solo travelers, not only is this option cheap but is probably good to meet other travelers or locals. For social people looking to find travel partners or friends, these dorms and hostels are a good place to start.
And unlike some countries where hostels and dorms can be dangerous, Japanese ones are really safe. But just in case, you should lock up your valuables in the lockers provided. But overall you should feel safe and secure.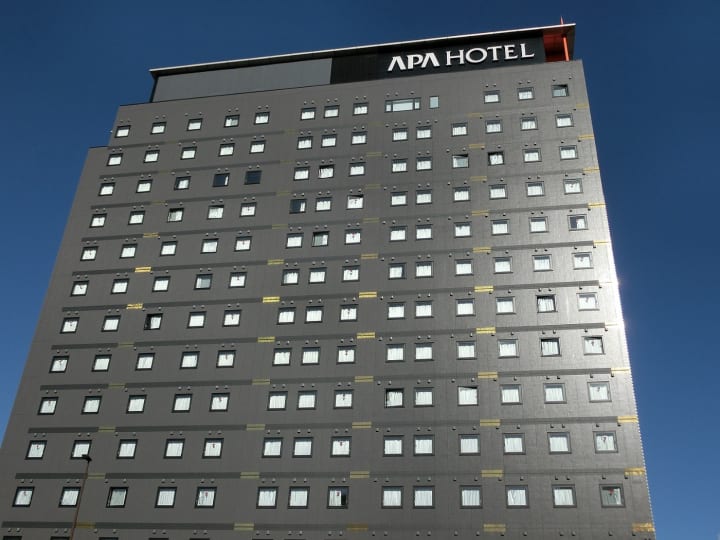 Business Hotels
These are like Western-style hotels but just one level below. I guess you could compare them to motels of North America. Although motels seem to have a kind of sleazy image, business hotels are definitely cleaner and safe.
Business Hotels in japan are usually located close to train and subway stations. They are small rooms which pretty much have a bed and bathroom. Almost like a university dorm. Not much space but you have privacy.
The cost is also lower than a regular western-style hotel usually anywhere from 40 to 80 dollars depending on location and season.
The good thing about these hotels is usually you can get a room even if you haven't made a reservation. Sometimes after a night of drinking or partying or missing the last train, an alternative is to stay at a business hotel.
The only thing to note is that if you are looking to bring someone back to your room, that might be a problem. The room's capacity is very strict so if you book a one-person room you can't have anyone come over last minute. You need to book a room for two.
The rooms are small but clean, usually have an iron, Wifi, and stuff a business person would need. Hence the name. Also if you want to stay close to the station but still save money, this is a good option.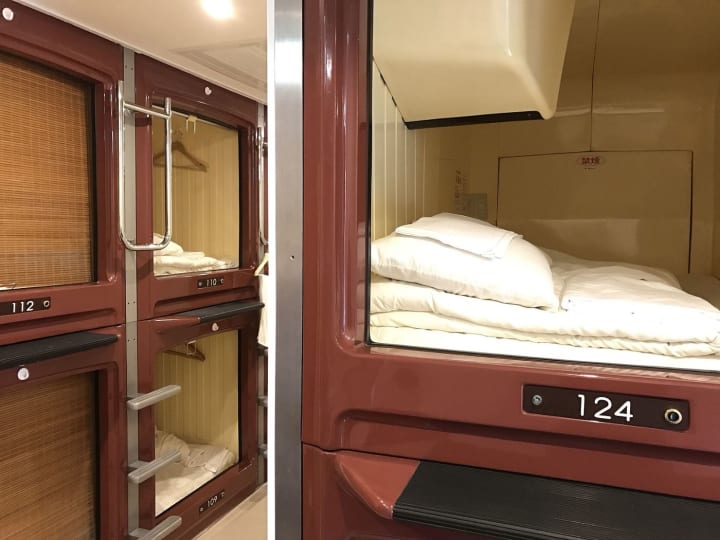 Capsule Hotels
These are exactly what it sounds like, a hotel filled with capsules. Little compartments the size of a standing shower, turned on their side. There is no door, just a sliding blind or curtain. You lie in the capsule that has a mattress, small tv, and alarm clock. That's it.
Luggage and valuables are stored in a locker and there are common areas for showering, lounging, and eating. This is a little more private than a hostel as you are in your own isolated capsule, but everything else is in a shared area.
The cost is usually 20 to 40 dollars and also reservations are not required. In fact, most capsule hotels have a vending machine where you just buy a ticket and exchange the ticket for a locker key and capsule.
Many capsules are only for men, however, there are some with women-only floors. Most likely this accommodation is more for single guys wanting to save money. Capsules are another good option if you miss the train or if you are looking to travel with a very small budget.
Capsule hotels often have a really good public bath area so if you are into that then you might like capsules over dorms that only have showers usually.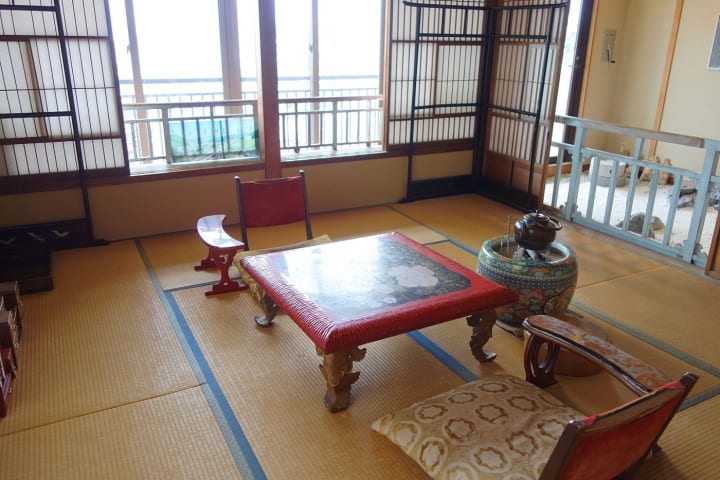 Ryokans
This is the Japanese-style inn that is popular in traditional Japanese places like Kyoto and Nara or in towns where hot springs are popular like Hakone.
Usually, you need a reservation, and you pay by the person, not by the room. And depending on the quality and brand of the ryokan it can be anywhere from 80 dollars to thousands of dollars.
The rooms are designed in traditional Japanese style with tatami mats. There are no beds and instead, the staff who are usually women in kimono's come and make futons for you while you are bathing or eating.
Most ryokans offer dinner and breakfast, Japanese style in the room. The ryokan room might have a toilet and sink but usually, the bathroom is public and the public bath or onsen bath is located in a separate section. Some of the really expensive fancy rooms might have a private onsen in your own room as well.
These ryokans are perfect for couples or friends who are in Japan to enjoy the traditional culture and food. The room has yukata pajamas and the staff usually serve green tea and snacks in the room when you first arrive.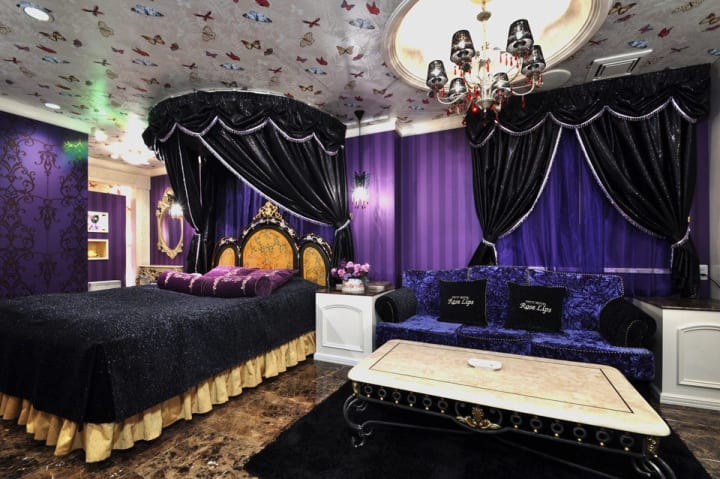 Love Hotels
These are hotels that you can rent by the hour or stay overnight. They usually are decorated in romantic, elegant, or interesting designs. They are very private and discreet which is why couples, secret rendezvous, infidelity, or short love encounters often happen here.
There is no front desk, and from entry to exit, you will not come in contact with any staff. You choose a room via touchpad, pay in the room via machine, and exit and enter via different elevators. Privacy is the key point of this hotel.
There are perks that are unique to love hotels. The beds are bigger, the jacuzzi bathtubs are bigger, and there are usually free snacks and drinks provided. Some rooms have free massagers, karaoke, cosplay rental, and other amenities.
Of course, if you are a couple and are looking for a fun and unique stay then this place is for you. But also if you are just friends and are looking to enjoy an interesting room, this is a good place. Just make sure you choose the love hotels wisely. Some of the older ones or ones in the seedy areas in Japan might be run down and a little dirty.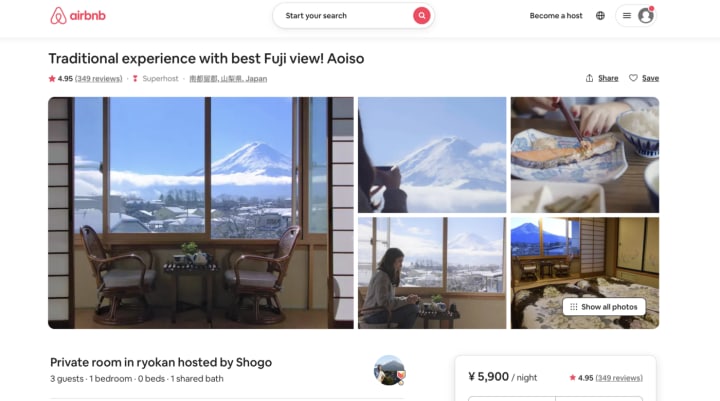 Airbnbs
These are getting popular around the world and Japan is no different. A couple of years ago a lot of Airbnbs were shut down because of Japanese regulations so now the ones remaining are top-notch.
Depending on the location and size, of course, Airbnbs can be anywhere from 50 dollars to hundreds of dollars. You can rent small apartments around major cities or even giant cottages and houses in the countryside or close to Mt. Fuji.
This is an excellent option if you are adventurous, wanting to stay in a place that has a kitchen and a more local feel to it, and if you are in a group or family.
To get a room you simply use the Airbnb app which is in English. Most places that advertise speak English so this is great for those who don't have a lot of Japanese language ability. Also, many places allow pets so if you are traveling with a dog or cat, this might be a good option.
There you have it! Six different accommodation types that you can take advantage of while visiting Japan. I would recommend staying in a variety of them so you can get a feel for Japan.
This article also appears here: https://medium.com/fml-or-bust/six-types-of-accommodation-in-japan-84e1f8135665