5 Great Things About Ypsilanti, Michigan
Living It Up In Ann Arbor's Coolest Neighbor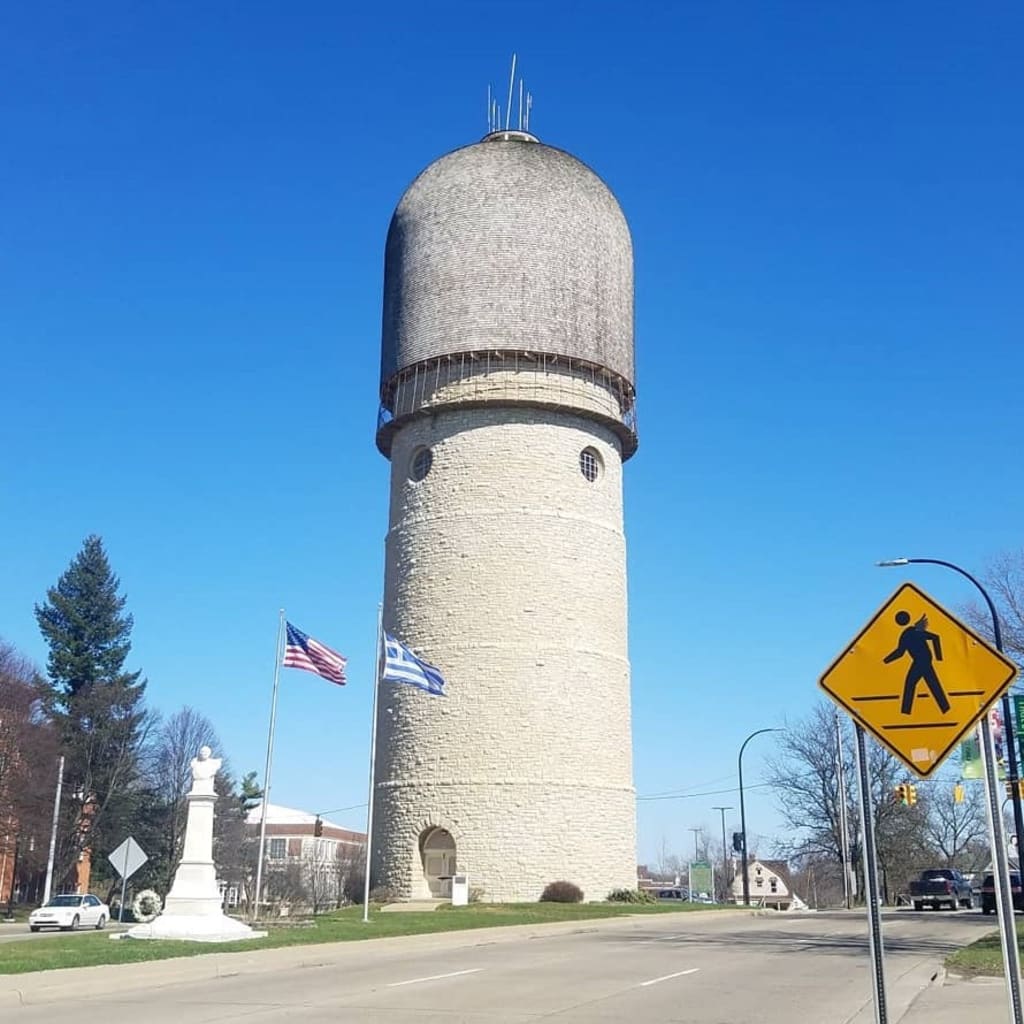 The Infamous Ypsilanti Water Tower, aka the Brick Dick.
Ypsilanti is a small city in Southeast Michigan. Some call it Ann Arbor East, but that could not be further from the truth. Ypsi (as it is affectionately known) has its own vibe and culture that is very different from its more famous neighbor. It even has its own university, Eastern Michigan University. Maybe the football team isn't as fearsome as the Wolverines, but they're ours.
I am not from Ypsilanti, and neither is my husband, but it is where we have chosen to make our home and raise our cats. We've become involved with the local theatre scene, and we're both thriving as artists. So I wanted to share some of what we love most about Ypsilanti, and why it's such a groovy place to be.
1. We Have Two Downtowns
Once rival regions, Downtown and Depot Town have since come together to help create what makes Ypsi so special. Both have unique restaurants, watering holes, and fun shops.
Along Michigan Avenue in Downtown, you will find wonderful stores like the whimsical Unicorn Feed and Supply and The Rocket, always a delight. If you're like me, and you love books, head over to Black Stone Bookstore and Cultural Center, conveniently located across from the library. If you like ice cream, you absolutely have to stop in at Go! Ice Cream. Styled like a 1950s soda fountain, you can get vegan-friendly treats as well as ice cream that is made by hand from natural ingredients sourced as locally as possible.
Heading up North Huron Street, toward Depot Town, some must-sees are World of Rocks, Evenstar's Chalice, and Twisted Things Organic Apothecary and Curious Goods, conveniently all located right next to each other. (Some have likened this brief stretch of Huron to Harry Potter's "Diagon Alley.")
If you're looking for a cup of coffee or a beer, wine, or cocktail, stop by Ziggy's, a listening room and hangout space that asked itself "What if Ziggy Stardust opened a bar?" During the shut down, Ziggy's is only open for carryout and online order pick-up. I look forward to the days I can once again sit back, listen to a local band, and enjoy a pleasant beverage. There are also old video games to play, arcade machines, and pachinko!
Moving over to Depot Town, you have multiple coffee choices. The Hyperion Coffee Co. is located on North River Street, near the Ypsilanti Food Co-op (a great place to pick up a few grocery items). This is one of my husband's favorite places to get coffee. While you can buy Hyperion coffee in several different stores as well as find it brewed in restaurants across Washtenaw County, this is their roastery and tasting room.
Across the street, and just as delightful, is Cultivate Coffee and Tap House, which has evolved rapidly since it opened in 2015. The beer garden is also a literal garden where food is grown and donated to Food Gatherers, who then distribute it to local food pantries. All tips are located to local charities that help support our community. I have attended several events at Cultivate including, but not limited to, bar trivia, game nights, open mics, local historian presentations, and monologue competitions. That is in addition to just gathering with friends for a good time and a chat.
One of several places nearby on Cross Street that I encourage people to grab a drink is 734 Brewing Company, whose motto is "Ypsi Born, Ypsi Brewed." Ypsi is a city with a diverse population, and the crew at 734 reflect that. It is a welcoming place.
As for some shops to check out in Depot Town, I strongly suggest visiting the Brick and Mortar Modern General Store and This That and the ODDer Things. And if you like thrifting, there are several thrift stores as well as antique stores in both Depot Town and Downtown that are absolutely worth checking out. A highlight would be Materials Unlimited, a high-end antiques showroom down by the river.
This is by no means an exhaustive list of all the cool places to check out in Downtown and Depot Town, but, in my opinion, it's a good start.
2. So I Hear You Like Museums
As small as we are, Ypsi is home to several museums.
First up is the Ypsilanti Automotive Heritage Museum, perfect for any car buff (and honestly interesting even if you only have a passing interest). This is located in the heart of Depot Town.
You can also visit the (allegedly haunted) Michigan Firehouse Museum. They are currently closed until further notice, but when they reopen, I suggest checking them out. I resisted visiting for a long time because I didn't fully understand what it was about, but I ended up finding it super interesting and really enjoyed it.
The Ypsilanti Historical Museum is located in a gorgeous Victorian mansion that was built in 1860. I have walked by so many times on my way from Downtown to Depot Town and admired it, but I've yet to make it inside. The pictures I've seen are just stunning.
One of my favorite things about Ypsi is how walkable it is. Each of these museums is located within easy walking distance of the others, making a fine day of exploration.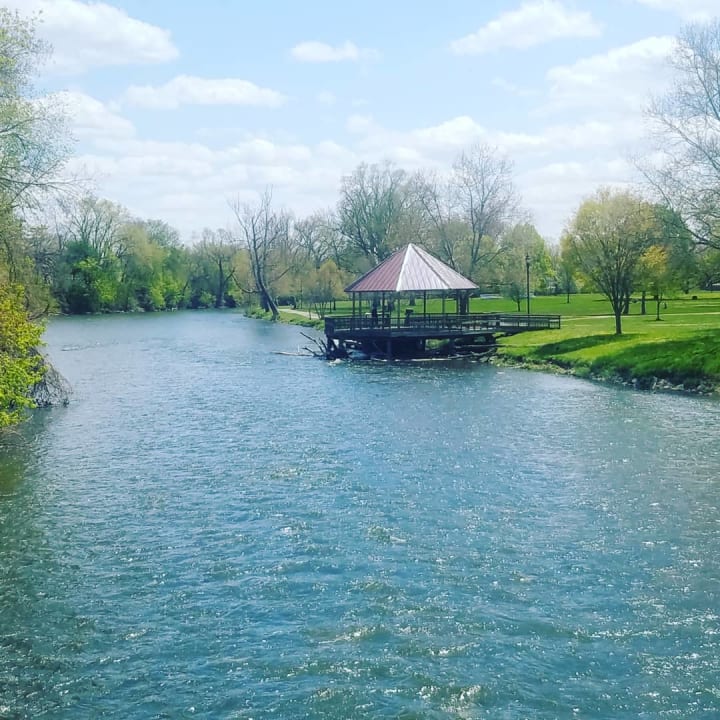 3. You Can Party Like The King
That's right, I'm talking about Michigan ElvisFest, the annual two-day summer festival that takes place in Riverside Park. (It was canceled in 2020, and 2021 is in still a bit in question.)
My husband once accidentally parked in Depot Town while ElvisFest was going on, and he was blown away by the spectacle. So many different kinds of Elvis! They partner with Ypsilanti Meals on Wheels, so they're all right in my book.
Another popular summer festival is the Michigan Brewers Guild Summer Beer Festival, also in Riverside Park. (It's a popular place to hold a shindig.) This is a must-do for all craft beer fans.
A much smaller, much tamer yearly festival (also in Riverside) is the Ypsilanti Heritage Festival. There is always a display of old timey engines, one of which runs a corn grinder. My husband and I always stop by to pick up a bag or two of free freshly ground cornmeal, which we keep in the freezer to stay fresh. I eat gluten free, so cornmeal gets used frequently in our house. And it's fun knowing that we saw this particular cornmeal be ground fresh.
4. Catch A Glimpse Of Ypsi's Own Cryptid
Yes, Ypsi has its own cryptid! (A cryptid is a creature that may or may not exist, such as Bigfoot or Moth Man.) Ours is called the Smeet Frog, or simply Smeet.
Ok, so it's not technically a cryptid in that someone saw it once. It appears on a sign (that disappears occasionally) on the tridge (that's a three-way bridge) in Riverside Park. The Smeet Frog, according to the sign, is a furry flying frog that inhabits the shores of the Huron River. It only comes out at night, so it's difficult to spot.
Two local theatre companies, Dreamland Theater and Neighborhood Theatre Group, have immortalized the Smeet in various productions. In NTG's fictional universe of Huron Valley, which is based on Ypsilanti and similar small Michigan cities, Stevie Smeet is the mascot of the local university.
Read all about the Legend of the Smeet Frog here.
If you stroll through the Normal Park Neighborhood, you might also catch sight of some fun-loving dinosaurs. While my job was temporarily closed down last year, I often took walks in this area, and it was always a delight to see how the dinos were dressed up for different occasions. In spring, they donned brightly decorated rain boots, gave rides to bunny rabbit, and guarded giant pastel eggs. Whoever owns the dinos clearly has a terrific sense of humor - and style.
5. The Moment You've All Been Waiting For...
It's time to talk about the Ypsilanti Water Tower. Yes, the Brick Dick itself. This was the first thing I learned about Ypsilanti way back in college on the other side of the state. A friend from Ypsilanti informed us that his hometown was home to the World's Most Phallic Building, a claim that is pretty undeniable.
During the winter holidays, the tower is lit up with a ring of colorful lights. My husband thinks this makes it look like a UFO. I think it looks like something different. (I'll let you guess what that is.)
The tower is 147 feet in height, with an 85-foot base, and is located, fittingly, at the highest point in the city. Construction was completed in early 1890 in the Queen Anne style. If you look closely, you will see two Greek Crosses embedded in the limestone. (There are two more inside.) The inclusion of these cross-talismans by the workers angered the architect, W. R. Coats, but there wasn't much he could do about it after the tower was - ahem - erected.
The Water Tower was actually impressive in its day, holding 250,000 gallons of clean water and servicing 471 customers in its first year. (Read more about the tower here.) Now it has become a beloved landmark found on countless post cards and handicrafts. You can buy tower-shaped candles, pillows, nightlights, and tree-toppers, just to name a few. A popular local T-shirt design features the tower along with the words "Ypsilanti is happy to see you."
The people of Ypsi are brimming with creativity, and it is joy to be a part of this vibrant community.