30 Examples of Stunning Architecture Around the World
A Brilliant Form of Art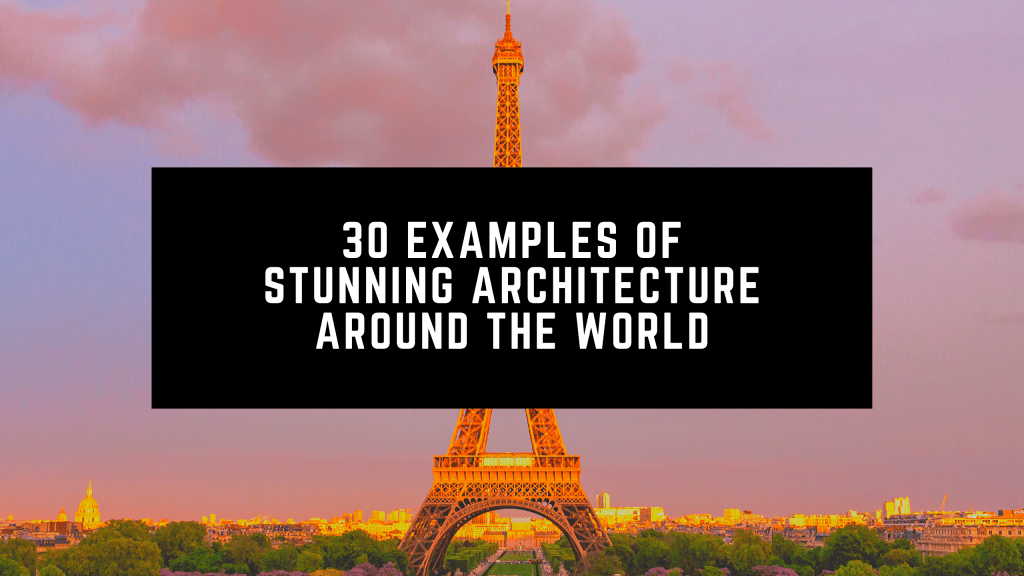 1. Burj Khalifa, Dubai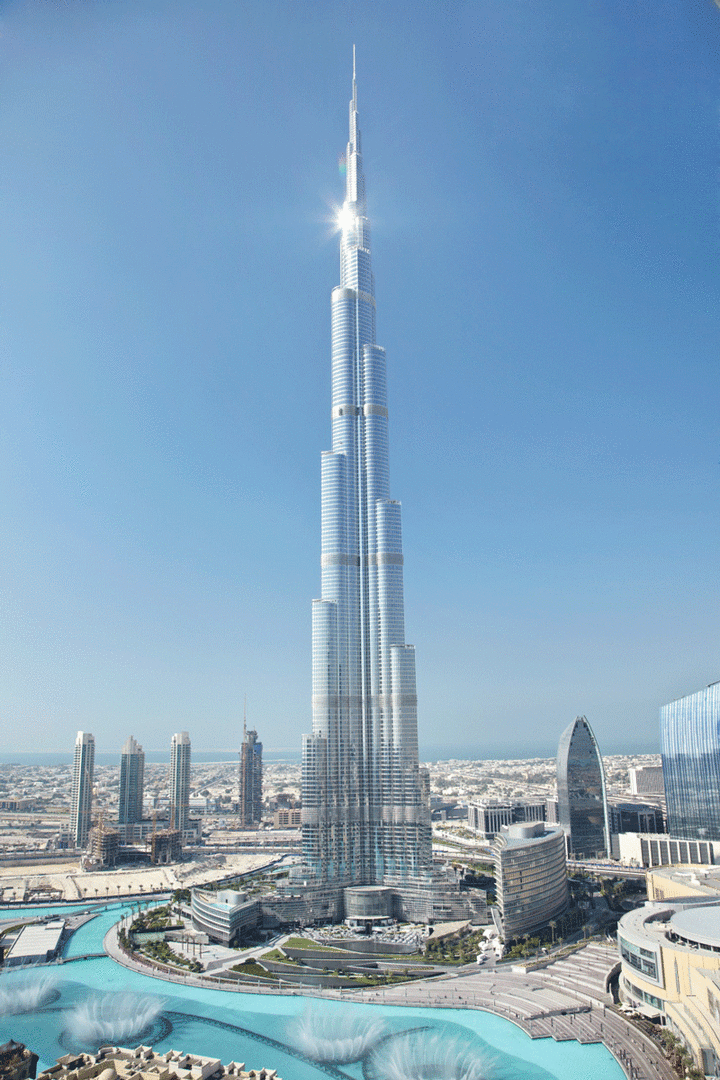 "The Burj Khalifa in Dubai is the tallest man-made structure in the world!"
This stunning building in Dubai brings in tourists from around the world seeking the stunning architecture that can be found here. Of course, beyond this epic building Dubai has so much to offer the eager traveler. Dubai has a long, and complex story of it's upbringing. Despite it's tribulations, it cannot be denied, it is FULL of stunning architectural pieces.
2. Shwedagon Paya, Myanmar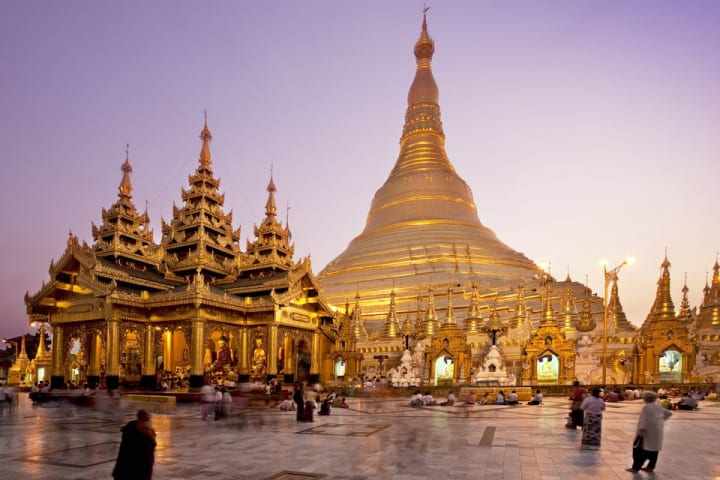 "One of the world's largest Buddhist shrines, Shwedagon Paya in Yangon, Myanmar (Burma), is crowded with ornate, multitiered pagodas and dome-shaped stupas trimmed in gold."
When someone asks me "Where do you want to travel to?" my typical response is not "Myanmar" After more research, the beauty and uniqueness of Myanmar has really stood out to me though and certainly has placed itself on my own bucket list!
3. Marie-Elisabeth Luder House, Berlin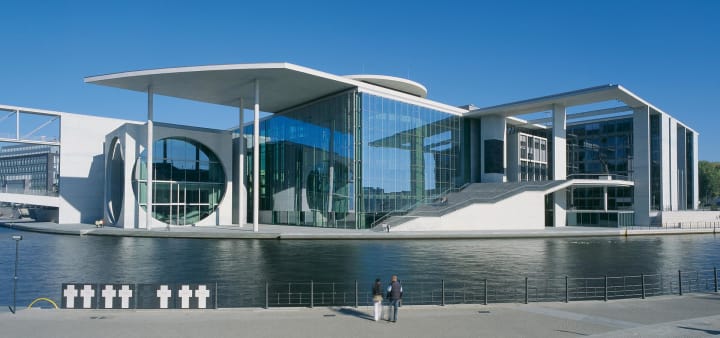 "This building in the Bundestag parliament complex, completed in 2003, holds the parliamentary library and archives."
How stunning is this house? Look something similar to the ones you've been pinning lately? The architecture and colour palette come together to create a spectacular piece of art. The home is now used to store documents from the Parliament in Berlin.
4. Tower Bridge, London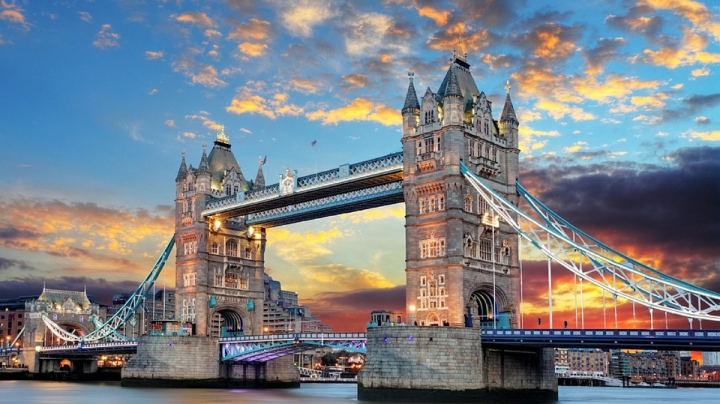 "Tower Bridge is a combined bascule and suspension bridge in London built between 1886 and 1894."
This iconic symbol of London. The bridge crosses the River Thames, and is not to be confused with the London Bridge, which isn't far away. During my trip to Europe, the Tower Bridge is definitely on my list to see.
5. Samuel Beckett Bridge, Dublin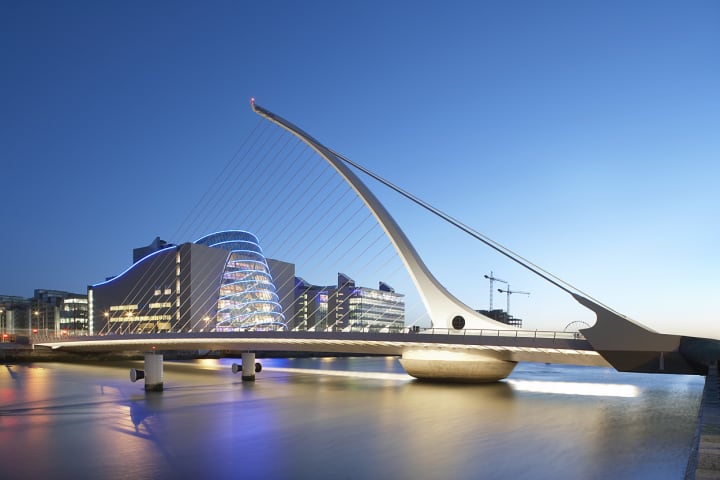 "The Samuel Beckett Bridge in Dublin, Ireland, opened in 2009. It is a cable-stayed bridge."
Modern, slick, clean, brilliant. Some words I think of when looking at the Samuel Beckett Bridge. Located in Dublin, this is one sight you certainly shouldn't miss when visiting Ireland!
6. Sheikh Zayed Mosque, Abu Dhabi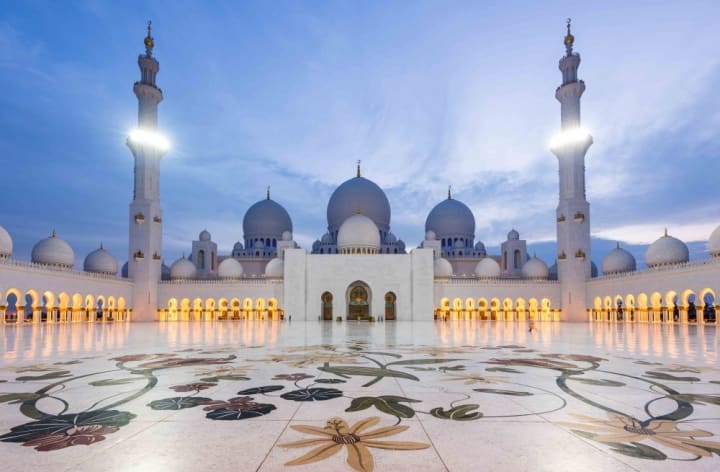 "Inlaid flowers wind across the 183,000-square-foot marble courtyard of the Sheikh Zayed Mosque, the largest mosque in the United Arab Emirates."
This is simply: breathtaking. Right? A wonderful representation of Abu Dhabi and all of it's grace. This Mosque is very well known and captures the hearts of millions of travellers.
7. City of Arts and Sciences, Spain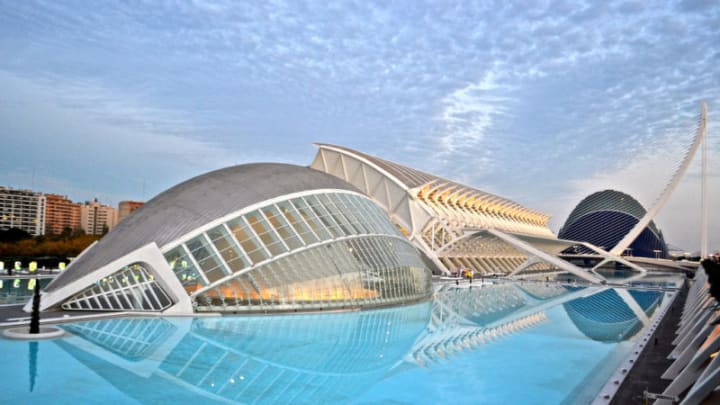 "Museums, an opera house, a planetarium, an oceanarium, and more make up the City of Arts and Sciences in Valencia, Spain."
When searching for a photo of this incredible building, I struggled picking one! This work of art is an opera house, planetarium, oceanarium (I haven't even heard this word before either) as well as a museum. It's an amazing place I most certainly cannot wait to see! Plus it's in Spain :)
8. Hagia Sophia, Istanbul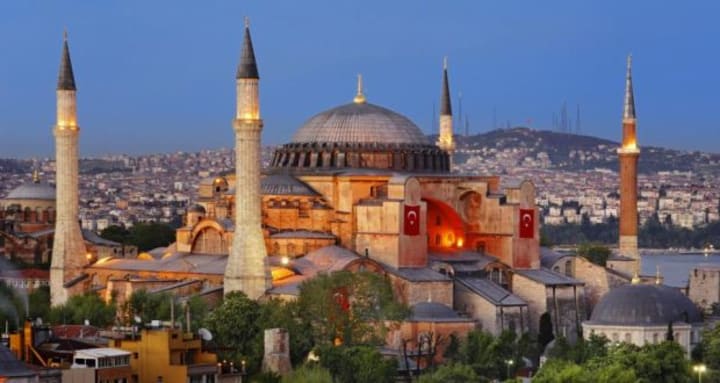 "Built in just six years in the mid-sixth century A.D., Istanbul's Hagia Sophia has been a place of worship for Christians and Muslims. Today it is a museum."
Located in Istanbul, this museum is absolutely stunning. Wildly famous for it's reputation for place of worship, people of various faiths have come to visit for many years from many places. And beyond the worshippers, architects flock to see this beautifully layered building.
9. British Museum, London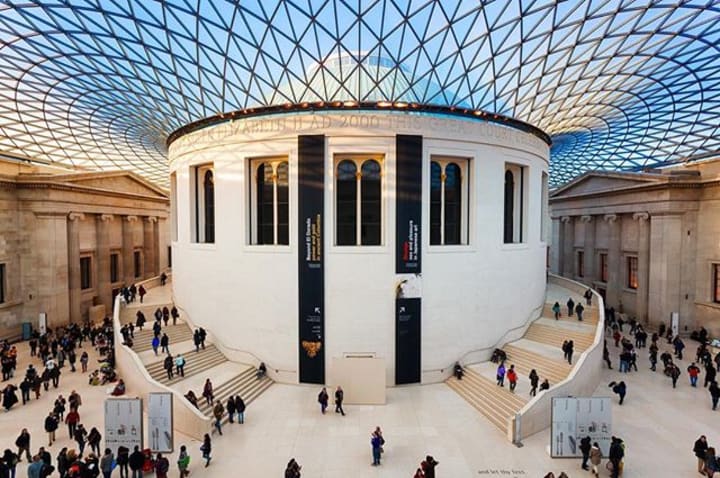 "Inside London's British Museum, the glass-roofed Great Court surrounds the original Reading Room."
London's British Museum is one of the largest museums of the world, it also is considered one of the most important museums of human history and culture. It has more than seven million objects from all continents! The architecture and continents of the museum are all wonderfully beautiful.
10. Cloud Forest, Singapore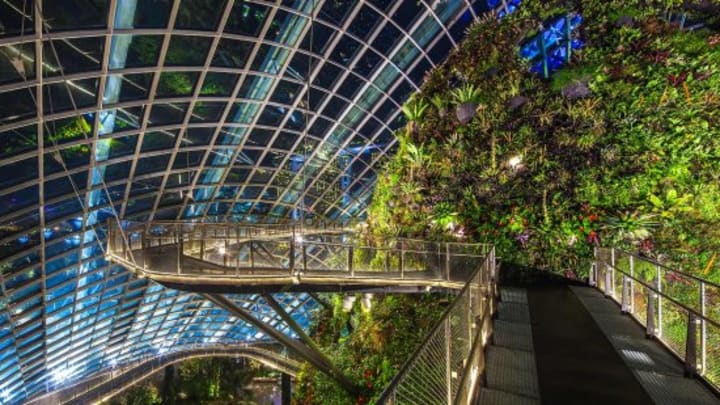 "At the Gardens by the Bay complex in Singapore, the Cloud Forest attraction gives visitors a look at life high in the mountains."
As a nature lover, this excites me! I plan on going to Singapore soon in my travels and am stoked to see this cool feature of the city! With walkaways high above ground, guests walking through the trees, this epic above ground forrest attracts people from all over the world each year.
11. Hawa Mahal, India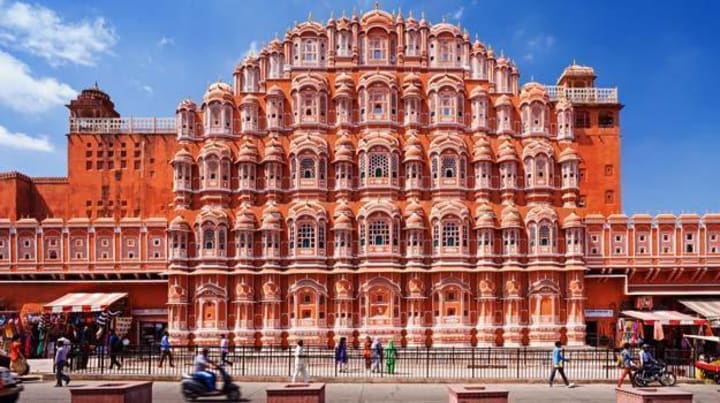 "Made of pink and red sandstone, the Hawa Mahal (Palace of the Winds) was built in Jaipur in 1799. It forms part of the City Palace complex."
1799! That was a long time ago, some of these buildings seriously amaze me. With brilliantly bright colours and a unique visual front, the Hawa Mahal attracts architecture lovers and many curious travellers!
12. Eiffel Tower, Paris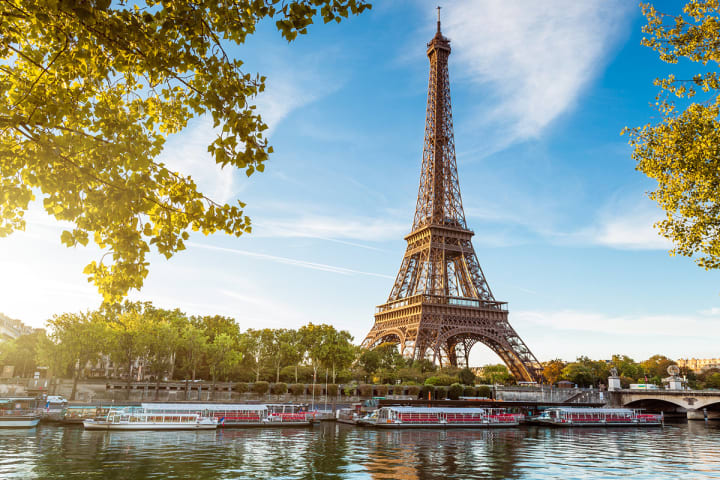 "Built for the 1889 World's Fair in Paris, the Eiffel Tower, has a record height and panoramic view; today it's one of the most recognizable buildings in the world."
But of course, what is a list of amazing architecture without the Eiffel Tower?! Crazy to think once though, the building critics of the time were actually not pleased with it. Thankfully, we all came to our senses and continue to admire the beautiful, love inspiring french piece of history.
13. Gardens by the Bay, Singapore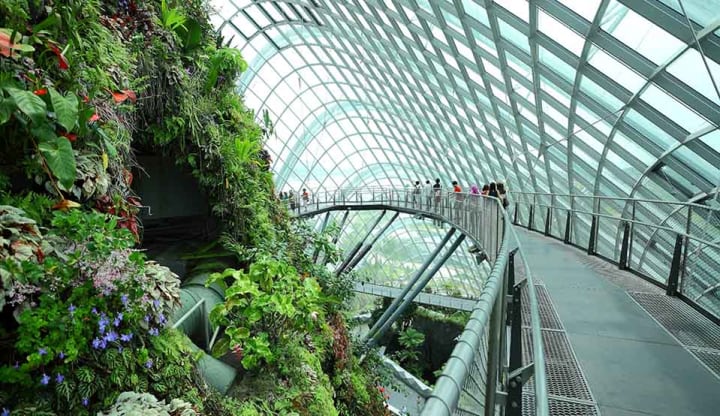 "A grove of 18 "supertrees" - vertical gardens up to 164 feet tall that capture rainwater and filter exhaust - are capped with solar panels that provide energy to light up the trees at night."
Garden of The Bay, which holds inside it the "Cloud Forrest," is a popular tourist attraction. And rightfully so. It is filled both with stunning architecture as well as beautiful segments of nature that can be experienced walking through.
14. Seattle Central Library, Washington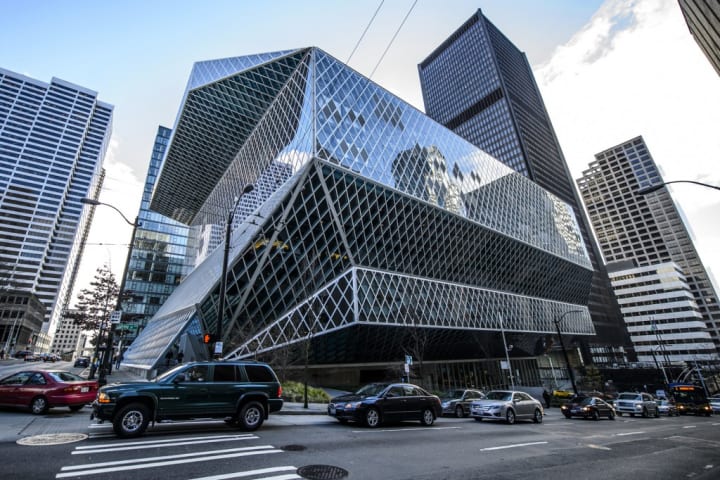 "A showpiece of the Seattle Public Library System, a redesigned Central Library opened in 2004. It has nearly 10,000 pieces of exterior glass and 4,644 tons of steel."
I live not far from Seattle, and wish I would have seen this while there this summer! Such a unique and modern twist (pun intended) to a traditional setting.
15. Reichstag, Berlin
"The Reichstag, Germany's parliament building, was retrofitted in 1999 with a new dome that uses glass and mirrors to reflect daylight into the main chamber reducing dependence on artificial lighting."
Personally, I would love if my workplace was a giant orb with heaps of natural light like this epic parliament building is. Besides it being the parliament building, it's a also a popular tourist spot as the light shines on it's unique structure.
16. Putra Mosque, Malaysia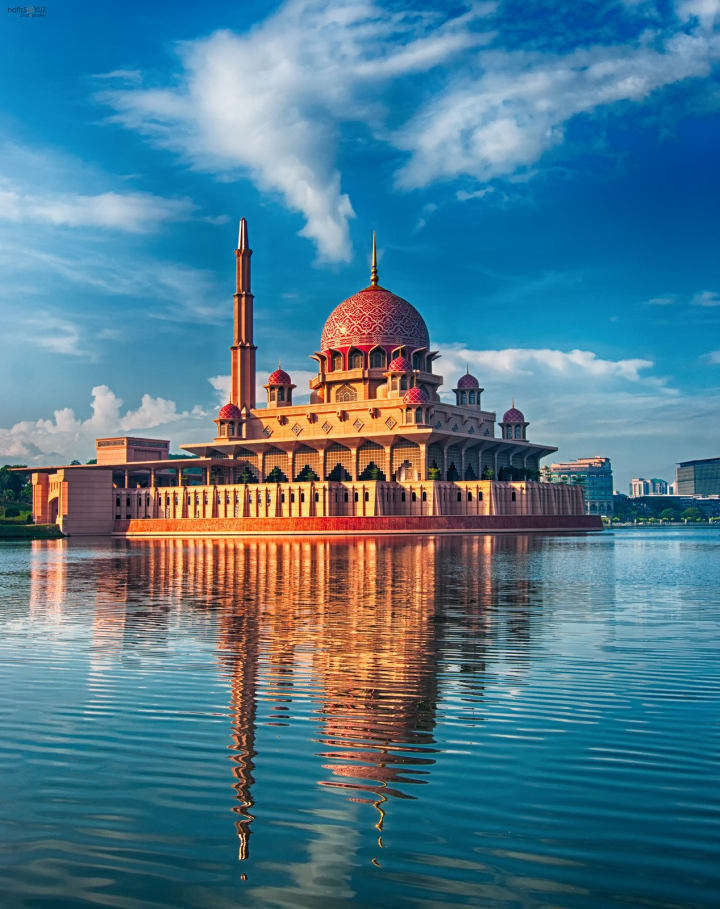 "The Putra Mosque is a landmark in Putrajaya, the new administrative capital of Malaysia."
BRB, currently adding Malaysia to my bucket list. Seriously though. This building is so serene, and beautiful. Malaysia is somewhere not a lot of people think of immediately when planning travel, but certainly deserves the consideration! And this Mosque is one of the more famous ones in the world with it picturesque location and architecture.
17. The Dancing House, Prague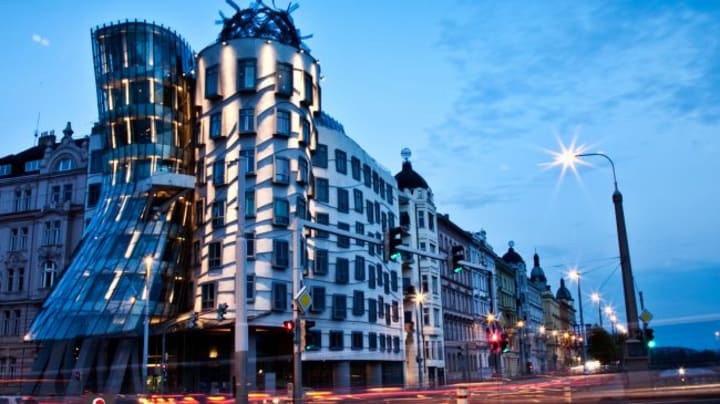 "Nicknamed The Dancing House, Prague's Nationale-Nederlanden building was designed by Croatian-Czech architect Vlado Milunić and Canadian-American architect Frank Gehry."
Well, besides being just honestly really cool The Dancing House is such a famous piece of architecture. Set in Prague, this unique and fun tourist attraction reels in people every year to see it's famous bend.
18. Great Mosque of Djenné, Djenné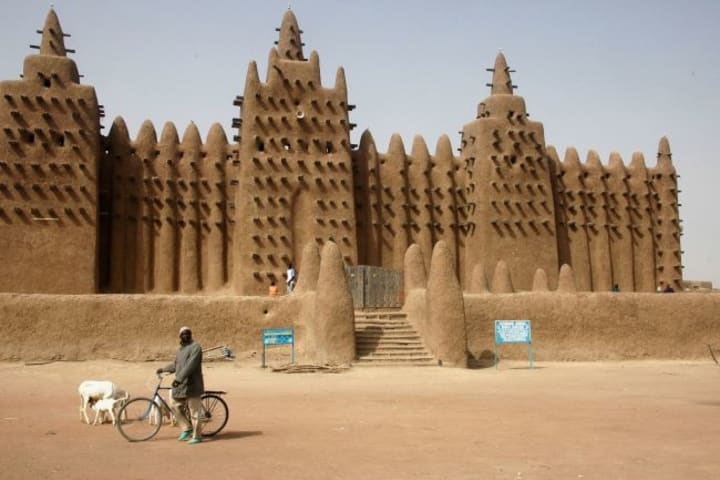 "This mosque in Mali is one of the most famous buildings in Africa. It is thought that a mosque has existed on this site since the 1200s, and the current structure was rebuilt in 1907."
Set in Africa, this mosque is incredibly unique and interesting. It's stand apart exterior has lured tourists in almost as much as spiritual seekers wanting to see this exquisite work of art.
19. Lotus Temple, New Dehli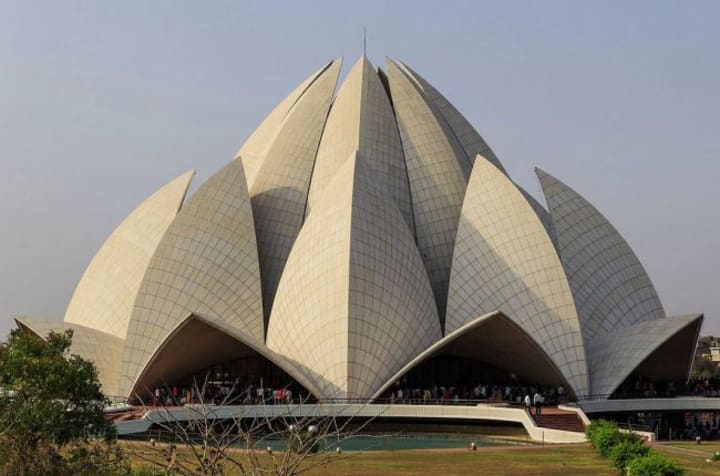 "The Lotus Temple is a Bahá'í House of Worship in New Delhi consisting of 27 structures resembling petals of the lotus flower that open onto a central hall around 40m high."
This particular building really has no competitors. Some places of worship are alike many others, but not this one. It has nine sides, nine doors, and can accommodate 2,500 people. Its surface is made of white marble from Mount Pentelicus in Greece, the same marble used to build the Parthenon! Amazing right?
20. Himeji Castle, Himeji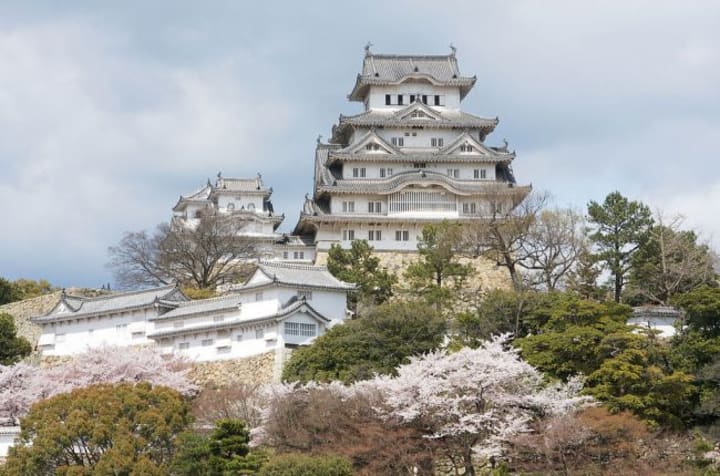 "Himeji Castle is a spectacular Japanese castle located near Kyoto."
This absolutely breathe taking building is set near Kyoto, Japan. It is over 400 years old and hasn't been damaged by war or any natural disasters. It is made up of over 80 buildings, which are all connected together by gates and winding paths. Majestic, really.
21. Cologne Cathedral, Cologne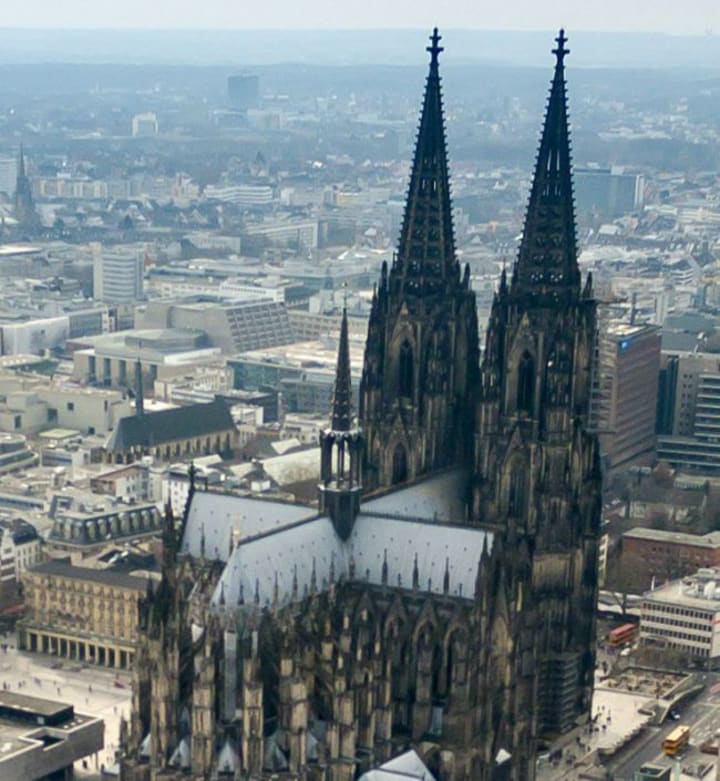 "Cologne Cathedral is a High Gothic five-aisled basilica, the construction of which began in 1248 and stopped in 1473, before the building was complete. Work did not resume until the 1800s, and it was finally finished in 1880."
Need I say more? This cathedral has been in the making for a very, very long time. Understandably so. It's unique shape, style, and message reel in thousands of new comers wanting to see it's dominant architectural offerings.
22. Petronas Towers, Kuala Lumpur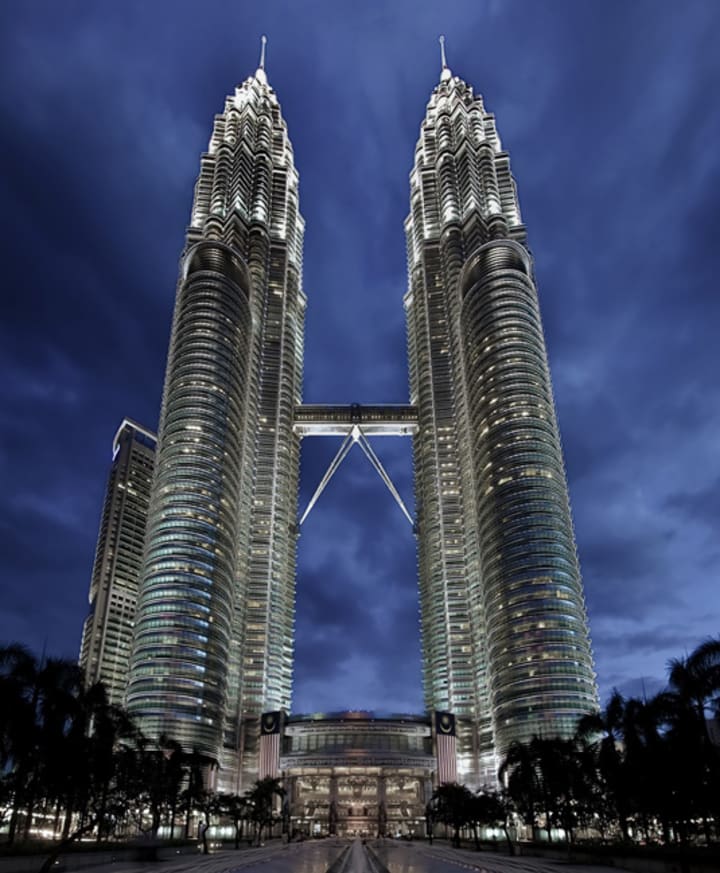 "Standing at 451.9 metres-tall, the Petronas Towers are twin skyscrapers in Kuala Lumpur, Malaysia. The buildings, which held the title of tallest in the world between 1998-2004, are an iconic landmark of the capital city."
450 Meters! Isn't that crazy? It always amazes me there are buildings all over the world that have such interesting and wild stories behind them. This one went up fairly quickly, only taking builders about 6 years to do. While it may sound like a lot of time, it truly is not for the structure and detail of the building. And, it's beautiful!
23. Leaning Tower of Pisa, Pisa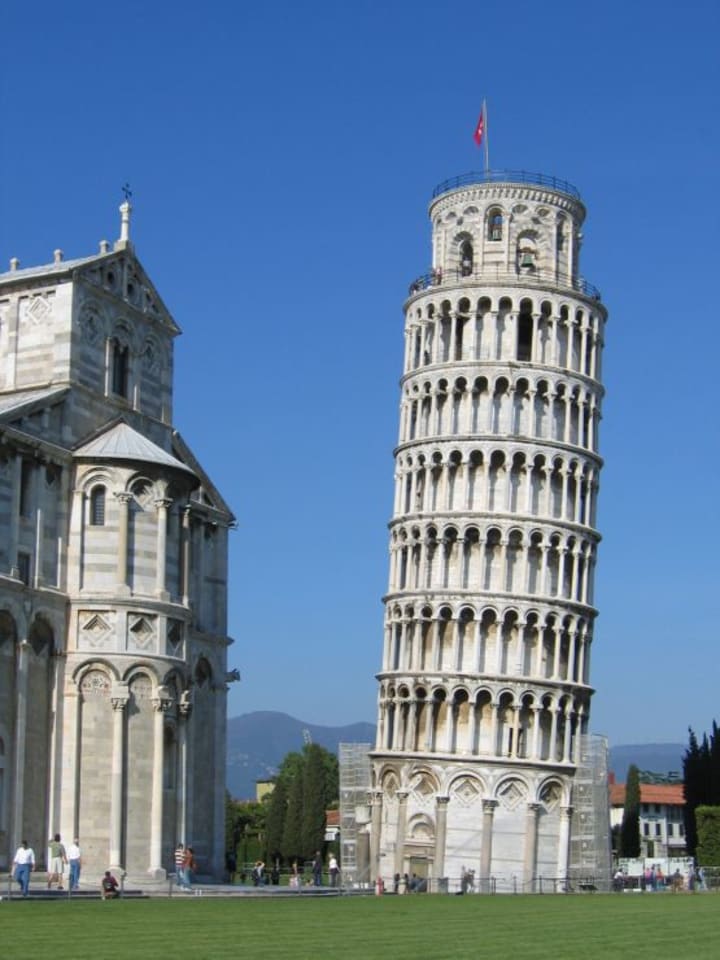 "The Leaning Tower of Pisa is one of the most remarkable architectural structures in Europe. Most famous for its tilt, the tower began to lean during construction after soft ground on one side was unable to properly support the structure's weight."
The leaning tower of Pisa is so unique in that it was not intentionally left to lean as it is. The ground beneath it is soft, and therefore resulted in this uneven famous structure. It's sought after as one of the most amazing pieces of architecture in Europe to this day.
24. Las Lajas Sanctuary, Nariño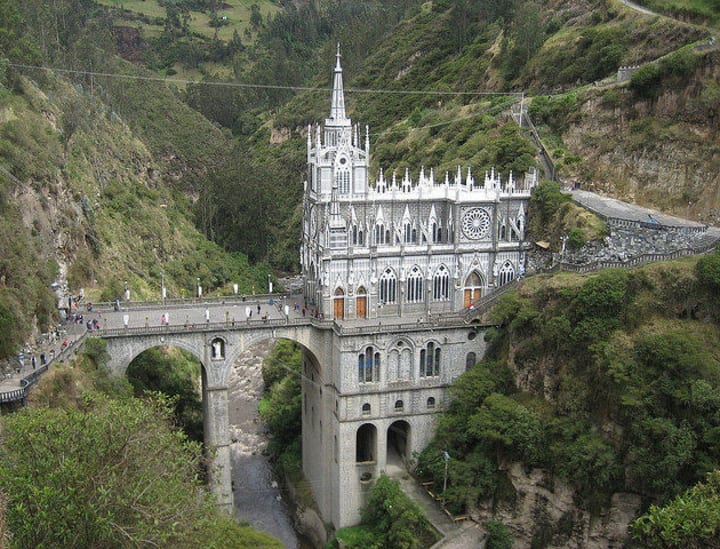 "Las Lajas Sanctuary is a basilica church located in the southern Colombian Department of Nariño, in the municipality of Ipiales, and built inside the canyon of the Guáitara River."
This church is built inside a canyon and connects one side of it to the other, if that isn't impressive, I don't know what is. It was even declared the second wonder of Colombia in 2007!
25. St. Basil's Cathedral, Moscow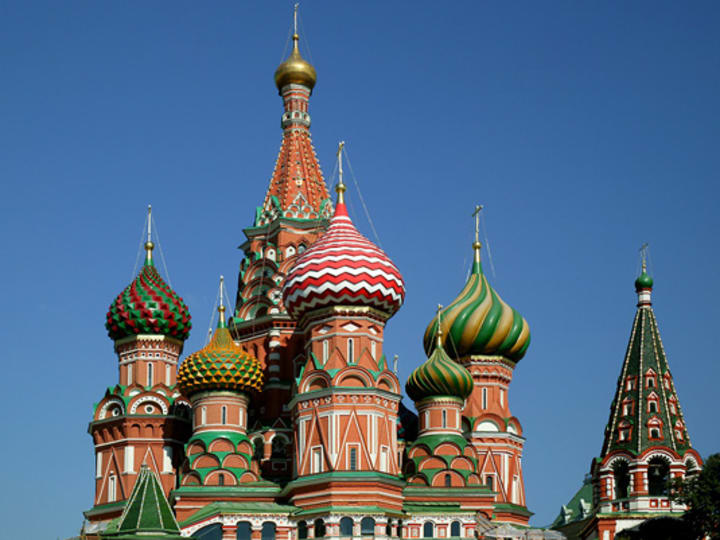 "The famous landmark, shaped to resemble the flame of a bonfire rising into the sky, is located just outside the Kremlin gates and marks the geometric centre of the city."
This story book, candy coloured cathedral is in fact Moscow's most visited tourist attraction. And I understand why! Between being so beautiful and vibrant, it also is one of the most popular symbols of the entire country.
26. Lloyd's Building, London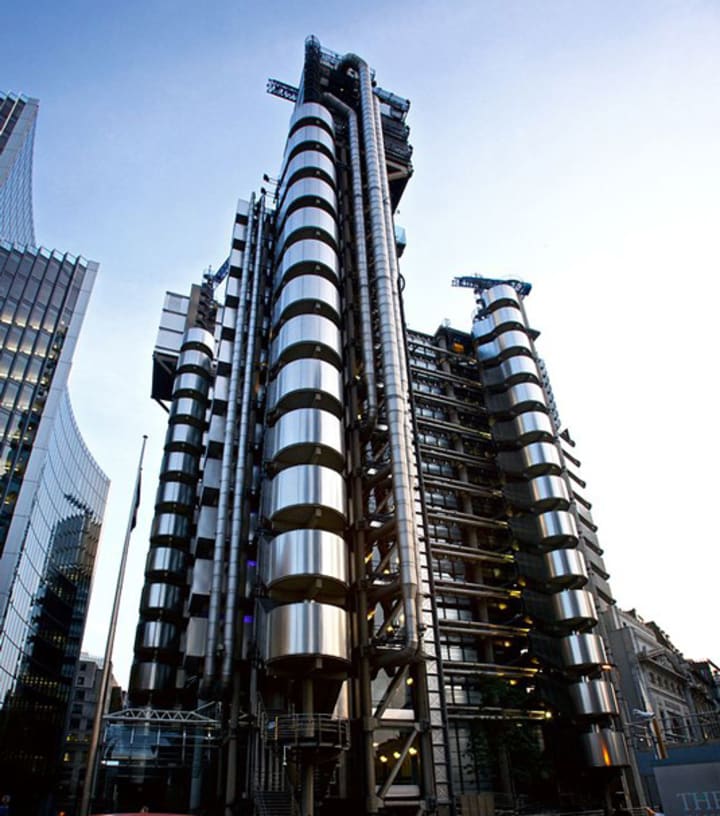 "The award-winning Lloyd's building (also known as the Inside-Out building) is an iconic architectural landmark and one of the most recognizable constructions on the London skyline."
This futuristic building looks like it belongs in a sci-fi movie rather than Lime Street in London! During my trip to Europe this year I definitely plan on touring this crazy cool piece of art.
27. Taj Mahal, Agra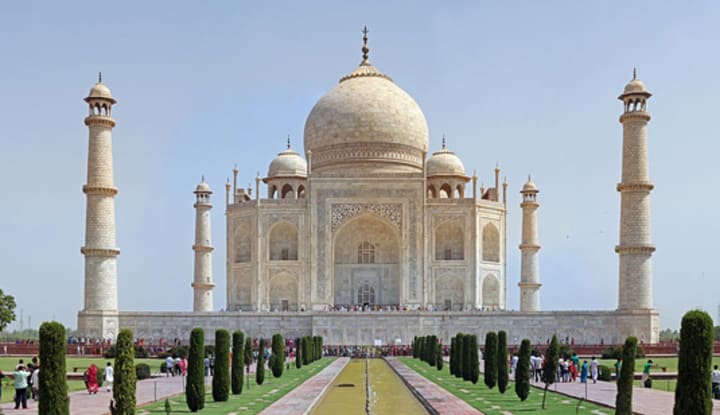 "Recognised as 'the jewel of Muslim art in India,' the Taj Mahal was built by Mughal Emperor Shah Jahan. Often mistaken as a palace, this famous landmark was actually built as a tomb for the Emperor's wife after she died giving birth to their 14th child."
All my travel idols on Instagram have beautiful photos of the Taj Mahal. It's wildly popular and absolutely stunning. The Taj Mahal, in my opinion, truly stands in it's own power.
28. Sydney Opera House, Sydney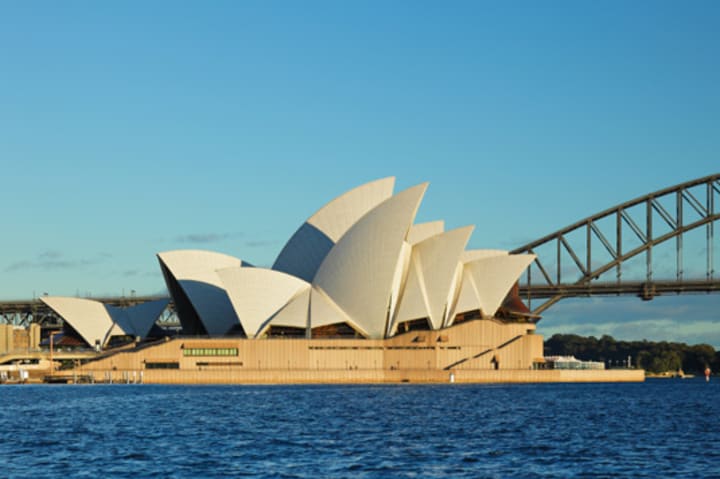 "The Sydney Opera House is widely regarded as one of the greatest architectural works of the 20th century. The innovative design came from architect Jørn Utzon."
The Sydney Opera House is a performance arts center in Australia. And is incredibly beautiful. Jorn Utzon, the designer, actually ended up winning the international design competition with his blueprint of the building!
29. Space Needle, Seattle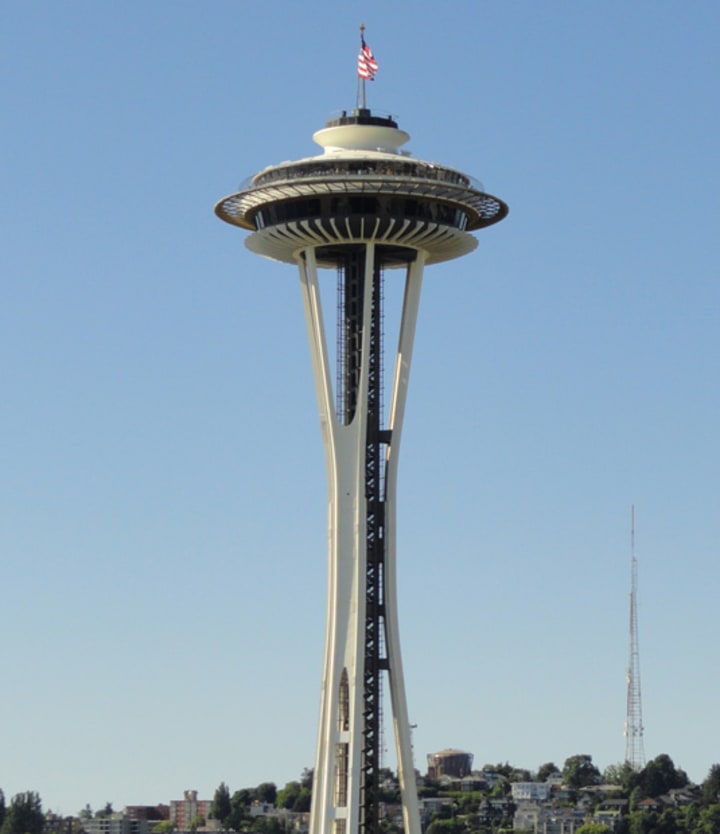 "The futuristic Space Needle in Seattle, Washington was built for the 1962 World's fair. The famous landmark stands at 184m high and 42m wide at its widest point."
Last summer during my west coast road trip I visited the Space Needle, and it was AMAZING. Sure the view is amazing- but what was even more exciting was the 3d bungee jumping simulation they had set up. You sit it in a box with a 3d mask on, and the chair you're sitting on actually raises up and down with the simulation, making it totally feel like you've just jumped from the top! So much better than the real thing! Hahaha
30. Hagia Sophia, Istanbul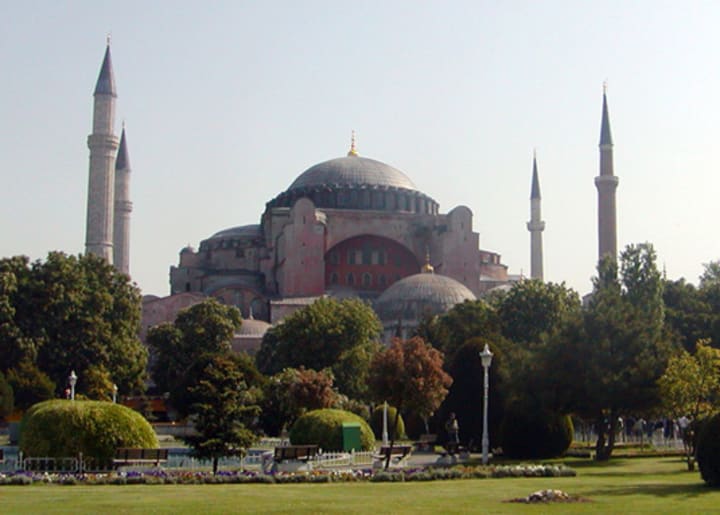 "Once a church, later a mosque, and now a museum, Hagia Sophia is an architectural masterpiece. A perfect example of Byzantine architecture, Hagia Sophia is located in Istanbul, Turkey."
Established in 1935, the Hagia Sohpia is an absolutely beautiful bit of architecture. It was actually created by the Byzantine emperor Justinian the First, and is now one of the world's most important pieces are architecture.
Which is your favourite? Would you ever travel to see one in person?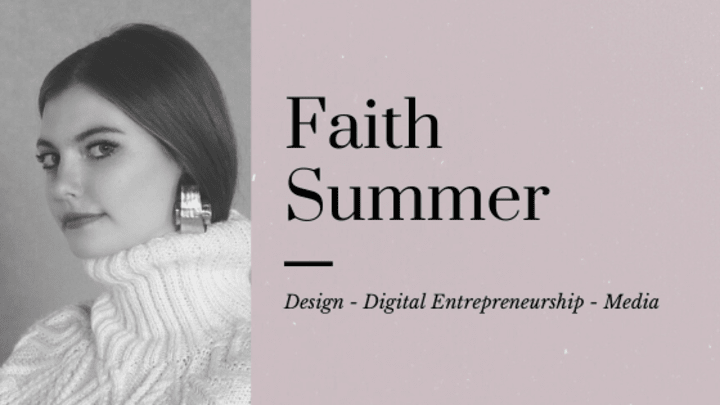 I appreciate you stopping by. You can find more here:
Love & Light